Why Israeli Bandages are like Pepperidge Farm Bread
Why Israeli Bandages are like Pepperidge Farm Bread
To quote the late comedian Mitch Hedberg, "You know that Pepperidge Farm bread, that stuff is fancy. That stuff is wrapped twice. You open it, and it still ain't open. That's why I don't buy it, I don't need another step between me and toast."
Well that's exactly how an Israeli Bandage is wrapped. You may asking yourself why this is important, so allow me to elaborate and to also explain the new changes in the 4″ Israeli Bandages.
History
The Emergency Bandage, AKA Trauma Wound Dressing, AKA Hemorrhage Control Bandage, AKA Israeli Bandage, has quite a few names. It was invented by Bernard Bar-Natan, a 2nd generation Holocaust survivor, who immigrated to Israel in 1979 and was drafted into the military there in 1983. During his service he saw a need for a dressing that didn't exist.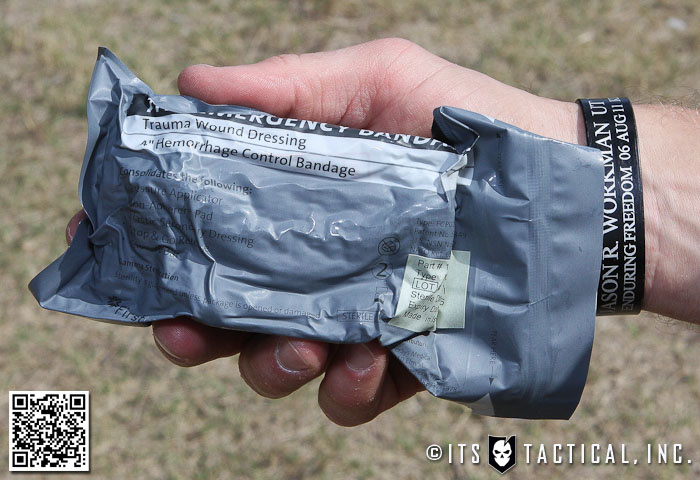 What he envisioned, was for medics like himself, to not have to create field expedient pressure dressings and for bandages to evolve like everything else in the military had been. With a loan from the government in the 90s, he turned his idea into a reality and The Emergency Bandage was born.
Bar-Natan's company, First Care, introduced the bandages to the U.S. Military in 2000 at Ft. Sam Houston in San Antonio. It wasn't much longer after that before elite units quickly adopted them for standard use. They were also know to have played a part in saving lives during the recent Tucson Tragedy in Arizona.
Israeli Bandage
While the technical name is The Emergency Bandage, it's a bit of a misnomer, as the Israeli is really a pressure dressing. It combines a sterile dressing, elastic bandage and pressure applicator capable of exerting up to 30 lbs. of pressure on a wound. The closure bar, which secures the bandage at the end of wrapping, can also be used to exert additional pressure.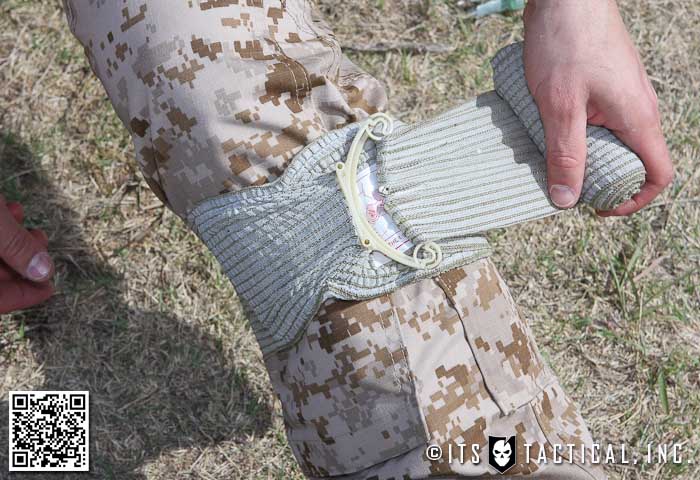 The Israeli is truly a multi-purpose bandage and can be used as a make-shift tourniquet, ACE Wrap, or even a sling to immobilize an appendage. It's truly a versatile item to include in your trauma kit or first aid kit. It can also be self-applied, even one-handed.
Usage and Application
We've always thought highly of Israeli Bandages. The only downside to them is that they're wrapped twice like that pesky Pepperidge Farm Bread!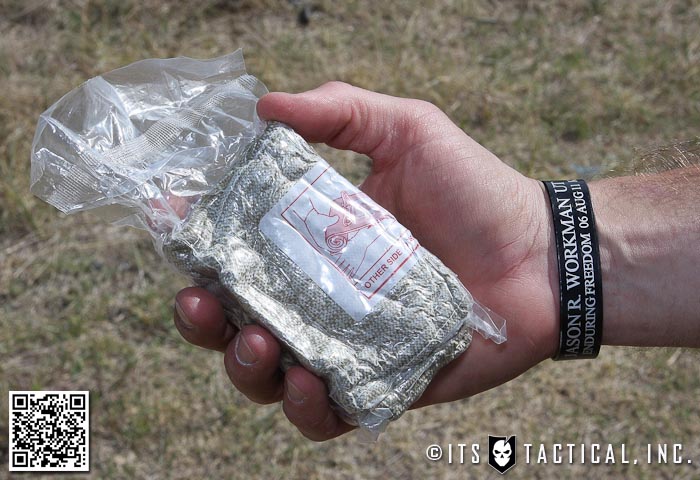 Truthfully, this isn't really a downside, as the double packaging ensures their sterility. Although, if you haven't been trained on using an Israeli and opening it from the package, you can be setting yourself up for failure and wasting precious seconds in a life-threatening situation.
Hopefully you've all heard the phrase "seconds count," this is no joke when you're talking about stopping a severe hemorrhage and having to open a pressure dressing like the Israeli Bandage twice isn't practical.
I'll let the video explain the instructions for applying the bandage and just what the packaging looks like when they're opened. We've also got step-by-step photos below.
Storage
We recommend storing them out of the outer vacuum sealed wrapper (still wrapped in the inner vacuum sealed wrapper).
The outer wrapper is clearly marked on the new Israelis with tear marks, but if you don't know what you're looking for on the interior wrapper you may waste precious time. With the added potential of having gloves on and slippery hands, this is no time to be wildly tearing at a plastic wrapper to get to the bandage.
The inner wrapper is clear and has a small pre-cut tear mark on the very top of the bandage, but both the top and bottom of the bandage's long side look the same. You'll have to pull on it slightly to loosen up the side with the slack (top) to find the pre-cut tear mark to open it.
Additions
Something new on the Israeli is the addition of a small tied string that runs throughout the bandage called the "Stop and Go Release." One of the issues with the past version of the Israeli was that if you dropped them while wrapping, the bandage could potentially hit the dirt and lose it's sterility. You certainly don't want to be wrapping dirt into an open wound, that's just asking for an infection.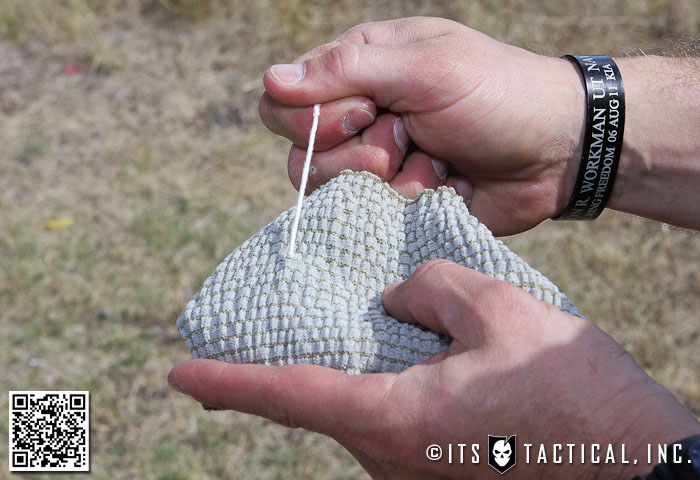 We've also noticed that the entire Israeli is now vacuum packed even smaller in the 4″ size. They're also available in a 6″ size if desired.
Another thing to note is that you should save the packaging from the dressing. A large piece of plastic can be used as a make-shift occlusive dressing to treat a tension pneumothorax aka sucking chest wound. For more on this, check out our article on Developing a Blow Out Kit.
Hopefully this article has given you a glimpse of how effective and versatile the Israeli Bandages can be. It's definitely a must to have in your kits and keep in your vehicle and the office. They're available in the ITS Store and at many medical distributors as well.