Making Your Own Military Mountaineering Kit
Making Your Own Military Mountaineering Kit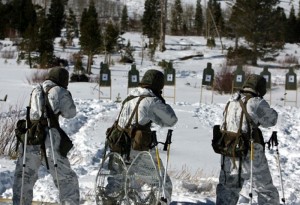 There are thousands of mountaineering products available. Remember 'light is right' and only bring what you need.
If you have no training, get it so you can make good educated decisions.
Soldiers, Sailors, Airmen and Marines are deploying to mountainous regions every day. Few have proper mountaineering training or experience. This leads many to ask, "What gear do I need?" Fortunately the answers are simple.
Overview
The first thing we have to remember is that the average soldier will be performing only basic techniques. Nothing cosmic.
There are thousands of mountaineering items for sale and just as many individual techniques. You only need a few items and a few techniques.
Natick has recently released their High Angle Military Mountaineering (HAMM) Kit for soldiers deploying to Afghanistan. It is designed to be very simple and I will discuss the items below.
One may look at this kit and think that it comes in underpowered. However, you have to understand that this kit is built as an inherent cross-loaded system to reduce the load on soldiers and avoid carrying excess equipment.
Basic Kit Items
To make your own HAMM kit is fairly inexpensive. A quick trip to REI or EMS is more than adequate.
Do not get seduced by the cool sexy expensive stuff. At the same time, stay away from those cheap oval carabiners!
Harness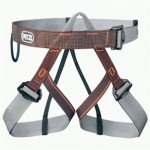 While almost any harness will do, remember to keep it simple and light. Harnesses built for climbing gyms with a single gear loop are more than adequate.
Something along the lines of the Petzl Pandion is perfect. Later when you have more real world experience you can upgrade.
Locking Carabiners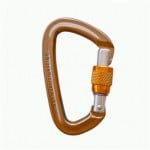 Locking carabiners do not need to be steel unless you are carrying one for those high friction/high heat situations like a Tyrolean Traverse.
For everything else, stick with 2 locking aluminum carabiners with a "D" shape.
Non-Locking Carabiners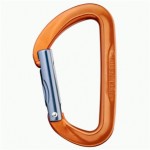 Non-locker carabiners are important too. Remember that 2 non-lockers can be set opposite and opposed to equal one locking carabiner.
For such general purposes use I prefer to use "D" shape carabiners rather than the more exotic shapes. The reason is that those shapes are very specific to a particular function and may not be ideal for all military mountaineering applications. Keep it simple!
Belay Device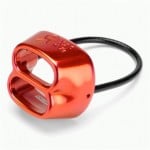 Debate rages over the use of a belay device versus the old Alpine/Munther Hitch. The problem with the Munther is that it twists the snot out of your rope and you don't want that.
On the other hand, modern belay devices are not exactly GI Joe proof. So I recommend a very simple solution called the ATC made by Black Diamond.
Slings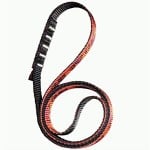 Slings or pre-sewn runners are an important addition to your kit. They are used for many things, most importantly creating anchor points. Be sure to buy 100% nylon slings and not Spectra or Dynema.
These fabrics have a lower melting point and have a higher incidence of failure and they should never be shock loaded. I have used nylon slings from all manufacturers for years and they are all pretty much the same. Just buy 2-4 of different lengths and you'll be good to go.
Additional Team Items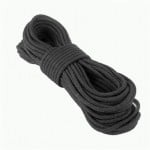 The above items are carried by each soldier. But every team should have two 10.5mm Static Ropes and several lengths of 7mm accessory cord.
Accessory cord is great for tying a Prusik Knot and many other useful knots used in mountaineering.
That completes a basic military mountaineering kit.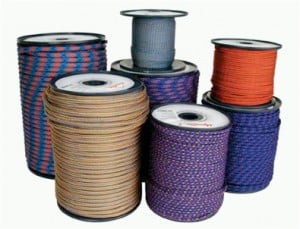 With these items a team is capable of installing fixed ropes, rappelling, limited climbing, Tyrolean Traverse, belaying over difficult terrain and much more.
About The Author
Nathanael Morrison was a USAF Special Tactics and Pararescue team leader for 15 years before transferring to the US Army. He has written "the most complete book on military specific training ever published, Military Fitness: A Manual of Special Physical Training."
He is available to teach or speak on a wide variety of military and special warfare subjects. Visit his web site at www.alpin-gruppe.com
WARNING!
Climbing & Mountaineering is a hazardous activity. The author assumes no responsibility or liability for any injury incurred by the reader. The information presented here is for information purposes only. Always seek the instruction of a certified climbing or mountaineering guide.