Magpul B.A.D Lever Update
Magpul B.A.D Lever Update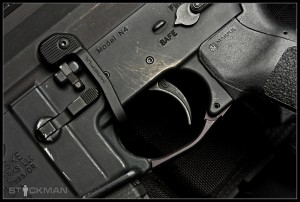 Just announced by Travis Haley in the comments of our post, "Magpul BAD vs. Phase 5 EBR," the Magpul B.A.D Lever has officially been  listed on the Magpul Web site.
A big thanks to Travis for throwing up a link and letting our readers know about the release!
From the Magpul Web site:
Developed from the operational experience of the Magpul ®Dynamics team, the B.A.D. Leverâ"¢ (Battery Assist Device) is designed to considerably improve the speed and efficiency of the AR15/M16 bolt catch. The B.A.D. Leverâ"¢ quickly addresses reloading and malfunction clearance shortcomings of AR15/M16 platforms by extending a paddle to the right side of the weapon, allowing manipulation of the bolt stop from the fire control/ready position with the right-hand trigger finger.