Comfort Fit Belly Band for Women: My Go To for Concealment with a Slight DIY Modification
Comfort Fit Belly Band for Women: My Go To for Concealment with a Slight DIY Modification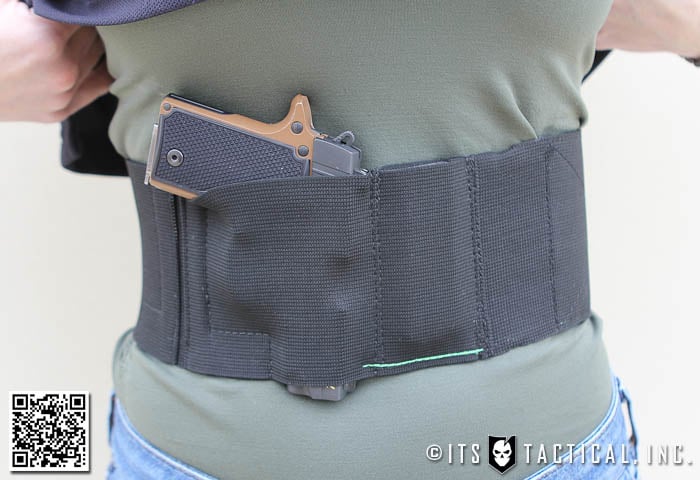 What do you think of when you hear the words belly and band? Perhaps images of exercise straps or maternity pants waft through your mind, but what I'm actually talking about is handgun concealment.
Most of the people I'm around who have a concealed carry permit use Kydex or leather holsters when carrying, so when I began looking for ways to carry that's naturally what I migrated towards. The three rigid holsters that I invested in over time haven't worked that well with my wardrobe, so I thought it would be cheaper to keep looking for the right holster solution instead of buying a bunch of new clothes. Plus, I didn't want to greatly modify the style of clothing I like to wear.
For several months, I've been wearing a Comfort Fit Belly Band by The Well Armed Woman instead of a waist band holster and it's actually become my go-to concealment option. There are some definite pros and cons when it comes to wearing a belly band, but I thought it might be helpful to share my experience for anyone who might be considering one.
An Epiphany
When I first began wearing a belly band I couldn't stand the feeling of lugging something around right up against my body. I've tried to reduce the size of my purse and the volume of stuff I tote around with me everyday, so the idea of tacking on something else to my daily wardrobe was initially an irritating thought.
I had an interesting conversation with Rob at the office one day that changed my perspective, however. I told him how uncomfortable wearing my gun was and that I wasn't really diggin' it. Rob told me directly, "Carrying is supposed to be comforting not comfortable, as they say."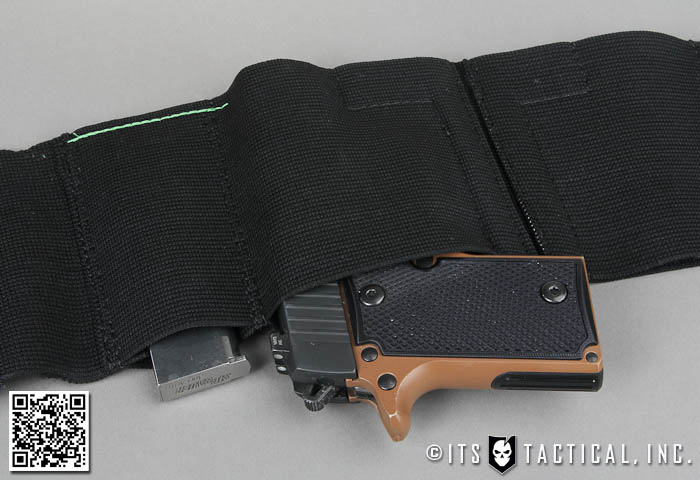 That poignant statement got my attention. It made me take a deeper look at why I originally wanted to carry and I began working harder to make concealed carry work for me. I know myself well enough to know if an accessory is irritating then I'll stop wearing it eventually. I wanted to figure out if the belly band concealed carry option could become a favorite, or if I'd be better off with a rigid holster and altering my wardrobe.
Research
When I first started looking online for where to buy holsters designed for women I stumbled across a Website called The Well Armed Woman. There were several holster options for me to consider and this Website had written descriptions as well as video demonstrations to help educate me before buying. Other Websites offered belly bands that were designed for men or more unisex purposes. Because I was looking for a small size I wanted a belly band made exclusively for women.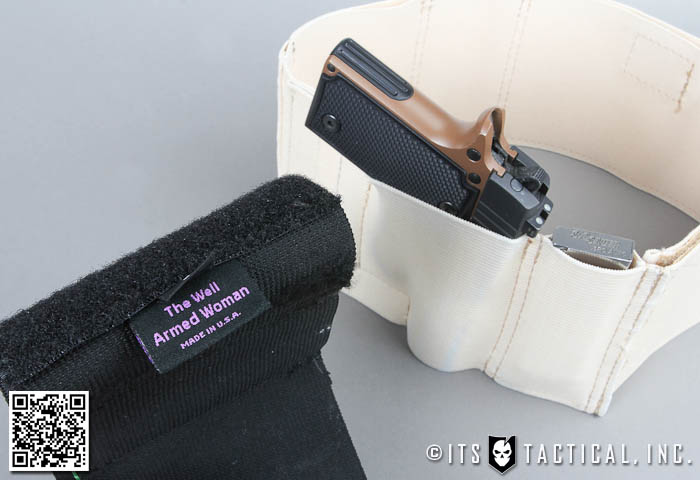 I decided to try the Comfort Fit Belly Band. There were two different width options, a 4″ and a 5″ band. I decided to go for the shorter one since my torso isn't very long. There were pockets sewn into the belly band for my pistol, as well as extra magazines. From what I saw it looked like something that might work well for me. The price was $40.99 and came in Nude or Black with sizes ranging from Small to 2XL.
This form of concealment also didn't have to be made to fit my gun, which I liked. I carry a Sig P238, but the belly band will accommodate a wide variety of hand guns.
Putting it to Work
Wearing the belly band was definitely an adjustment. I found out very quickly that I needed to wear a tank top under the belly band in order for it to feel comfortable. It's made of elastic that irritates my skin as I move around, but as long as I've got an undershirt on I'm good to go.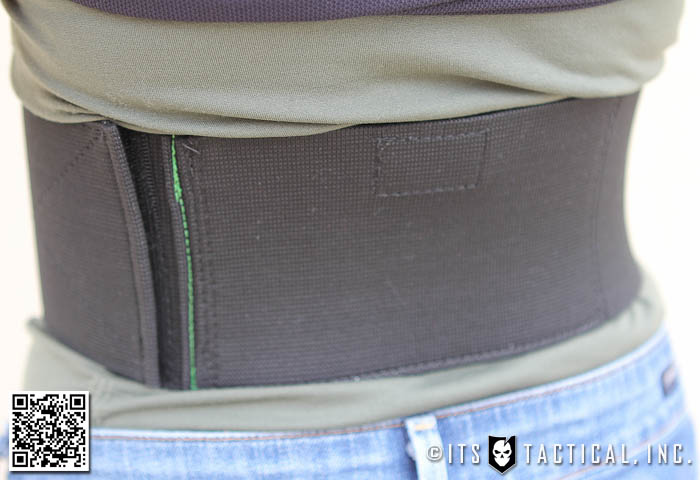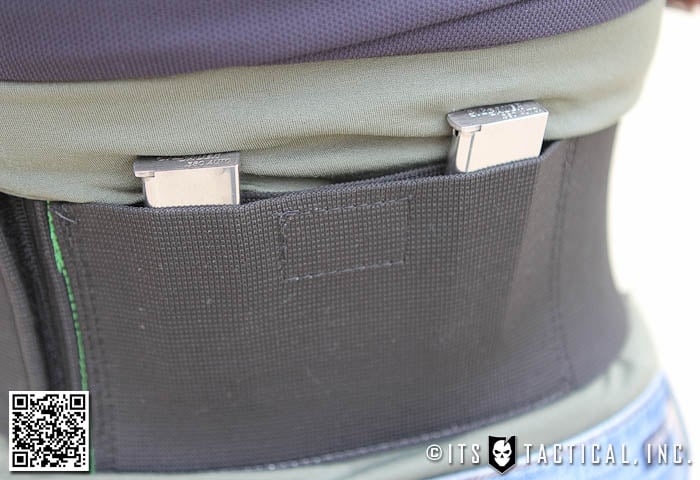 The magazine pockets featured on the belly band were sewn in a place that wasn't easily accessible for me. I wear the band so that my pistol is either above my appendix area or directly centered in my torso (depending on my outfit) which puts the magazine pockets all the way around to the back of the band. If I needed to reload I wouldn't be able to access my extra magazine easily without taking the extra time to turn the belly band 180 degrees.
After breaking in the belly band and realizing that I wanted to keep using it, I stitched one of the double layers of elastic closed that was located right beside my pistol allowing easier access to my extra magazine. If you look at the photo below, I used green thread so that you'd be able to see just where I put my stitch line. The pocket that's supposedly designed for use as a magazine pocket will serve me better by carrying my i.d. or cash since they sit so far out of reach.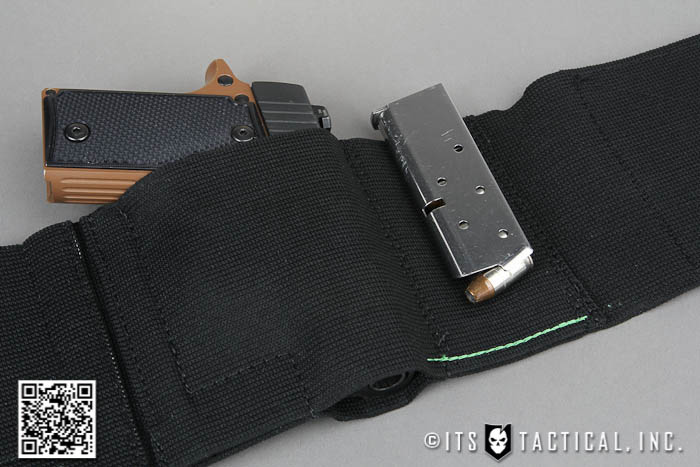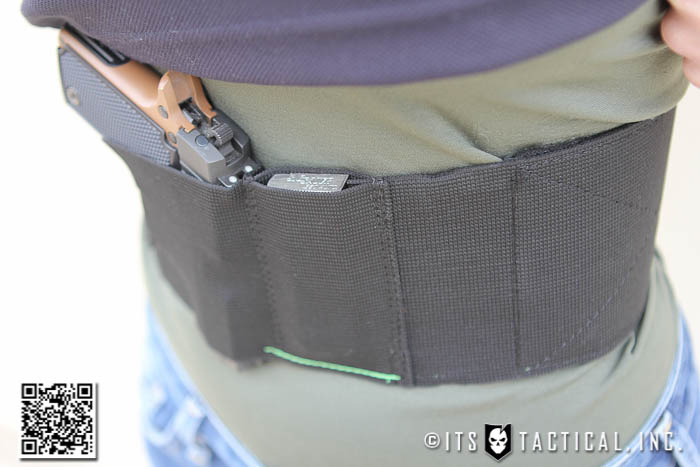 After wearing my first belly band (the nude colored band) for a few weeks, it began to stretch out. This isn't a big deal except that I had ordered the smallest size available. I decided to fold over and stitch down one of the areas of the belly band that wasn't used for holding anything important. This provided me with a better fit and eliminated another problem I'd been having.
Pulling the belly band snug around my torso always left top part of the Velcro closure (the loop side) hanging past the available hook. This would brush my arm through my shirt when my arm would move close against my side. It also caused the hook and loop to  occasionally  snag my shirts or the tank top under the belly band, which would result in my shirt bulging. Once I cinched up the circumference by folding and stitching an unused section of the elastic, the Velcro closure was able to line up and close as it was designed to. This stitch line is also seen in green in the photo below.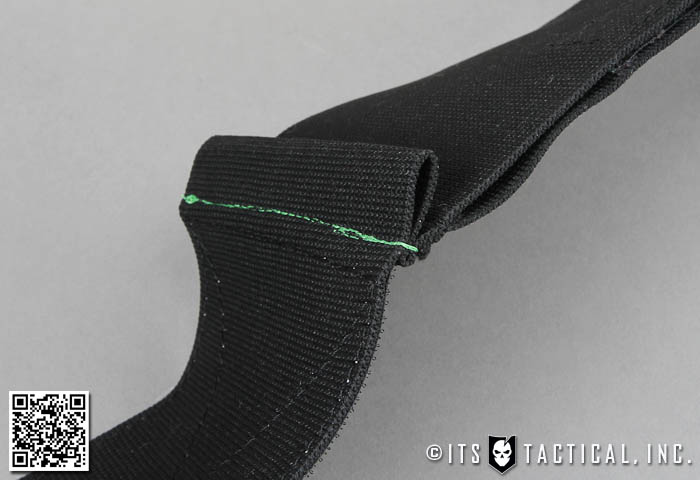 Lessons Learned
Since the belly band isn't a rigid holster and definitely stretches as it's worn, I've realized that I need to keep an eye on the stitching and that it doesn't get overly stretched out. When I was modifying my first belly band (the nude colored one) to tighten it up, I saw that some of the stitching in the pistol pocket had come loose. I restitched this so that my gun would fit securely between the elastic layers and not fall out if I bent over. This is definitely something to pay attention to if you choose to wear a belly band. There will come a time, however that the elastic will become too worn out to restitch and I'll need to invest in a new one.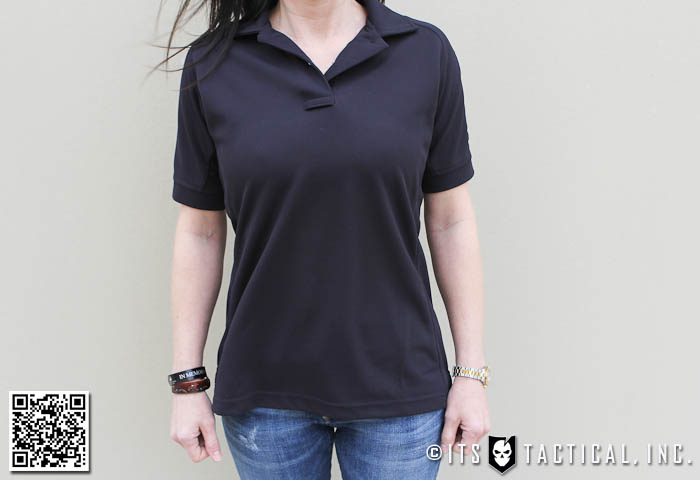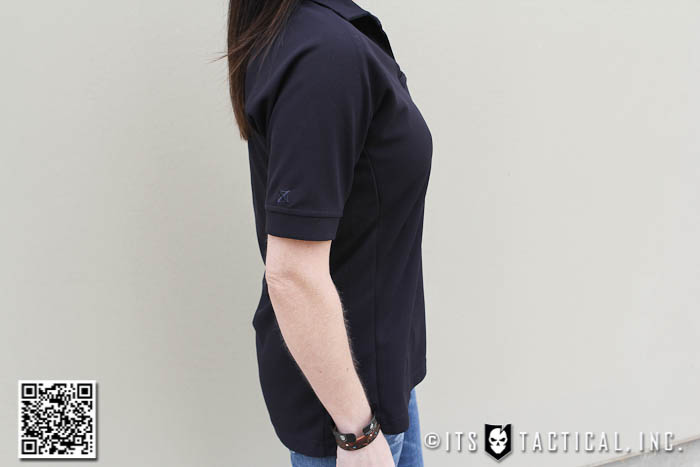 The belly band offers me quite a bit of flexibility (no pun intended) when it comes to how I wear it. I can pull it down around my waist or wear it right under my bra. I've found that I like wearing it higher up because it's easier to conceal my gun right under my chest.
It's also very easy to adjust if I change clothes or need to switch activities. I don't have to worry about adjusting the cant of the holster or adding a belt to my outfit to make this form of concealment work. I can wear the belly band when I exercise, relax and also when I go to work. It's really quite versatile for me.
The main downside I've found while wearing the belly band is the body heat it generates. It's been great for me during the winter months, but now as we move into spring and summer in Texas I'm curious to see what happens. I'm going to try wearing tube tops under my belly band instead of full tank tops and see how that works. I may have to make some undershirts by hand so that there isn't a lot of extra fabric to hold in body heat, but I'm willing to take that extra step since the belly band has been such a great concealed carry option for me.
Is the Belly Band for You?
Women who are looking for a concealment option that can be easily worn, easily adjusted, affordable and can be modified at home, may find the Comfort Fit Belly Band the right holster to buy. In my opinion, finding light weight, comfortable undershirts will help the belly band be more comfortable to wear. Also remember to inspect the stitch lines from time to time just to make sure the holster isn't losing its grip.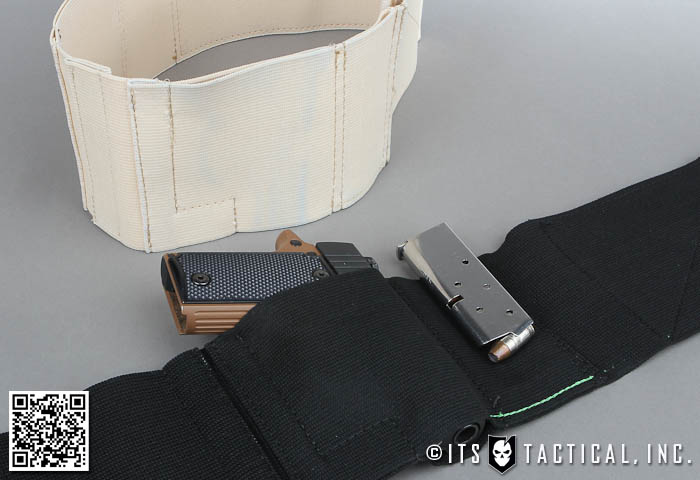 Let us know what you think of the belly band if you're already wearing it or if you decide to give it a try!
Please note the Comfort Fit Belly Bands I've worn were not provided for review by TheWellArmedWoman.com. I purchased both holsters and am reviewing them without input from the retailer.