DIY AKS-74U Krink Build – Part 1: Parts, Tools and Disassembling the Parts Kit
DIY AKS-74U Krink Build – Part 1: Parts, Tools and Disassembling the Parts Kit
DIY AKS-74U Krink Build
DIY AKS-74U Krink Build – Part 1: Parts, Tools and Disassembling the Parts Kit
It's been a few months shy of a year since I embarked on the AKS-74U Build and I've learned a whole lot along the way. The single most important thing being that assembling an AK from a demilled parts kit is no easy feat. I've mentioned this before in other articles about the AK platform, but I equate assembling an AK like this as true craftsmanship, while the AR is more like putting together a LEGO set.
When you break down the tools, steps and fitting that's required, it may not be a project that you want to dive into. For the adventurous that are still with me, I'm going to go through everything I've learned about building an AK in this series and by the time it's over, I hope that you'll know exactly what you'd be getting into if you want to take on a project like this.
I'd like to first thank Jim Fuller, Billy Cho and the Rifle Dynamics crew for their time in helping me with the various questions and concerns that came up while tackling this project. The Rifle Dynamics AK Builder Class that I had the opportunity to attend earlier this year, gave me the confidence to continue with this project. I'll be honest, looking at a box of demilled AK parts is very intimidating and it's hard to know where to begin. Again, that's my hope with this series, to give you an overview of what you'll need to know to do this yourself.
AKS-74U History
If you remember my first DIY AKS-74U article from last year, I talked about the history of the platform and how in 1974 the Soviets began fielding a new AK design that utilized the smaller 5.45x39mm cartridge, which they dubbed the AK-74. It's been said that the utilization of a smaller round came out of the US adoption of the 5.56mm, although that was ten years earlier. The 5.45 did significantly reduce the weight of the 7.62x39mm round to about half.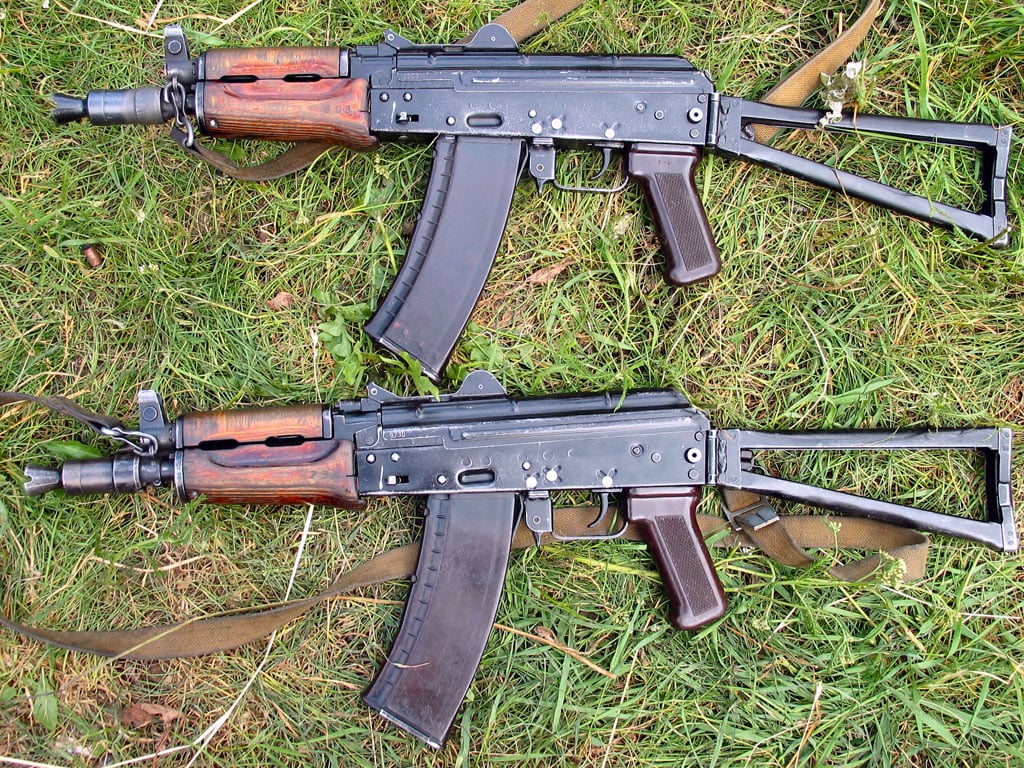 Moving further along in nomenclature, I've always heard that the Krink (which is short for Krinkov) was a nonsense word in Russian and only recently have I learned from Jim that it is in fact an Americanized way of referring to what the Russians call the Suchka (sooch-ka) or "little bitch." The captured Russian officer that was carrying the first AKS-74U that Americans had ever seen, was named Krinkov, thus why we refer to it as the Krink over here.
The other parts of the AKS-74U designator are that the "S" in AKS stands for Skladnoy, or in english, folding. The "U" stands for Ukorochenniy, or shortened in english. So basically a shortened (8″ barrel) folding stock variant of the AK-74 chambered in 5.45x39mm.
Parts Required
The core of the AKS-74U I'll be building comes from a Tula Parts Kit that I picked up at RGUNS. They're still available and run $775 at the time of this article. Just note that once these parts kits are gone, they're gone. It's highly unlikely you'll continue to be able to source these in the next few years other than through a personal sale. They're drying up according to Jim and my suggestion is that if you're interested in ever building one of these on your own, go ahead and buy a quality demilled parts kit like the Tula and worry about the rest later.
I'll be ensuring that this build is 922r compliant by using many US parts, like a US barrel and US Receiver. The point of mentioning this is that everything else is available here in the states, it's the parts kits that will be unobtainium at some point. This brings us to those core parts I just mentioned, the receiver and the 8″ barrel. I was referred to 74U, LLC by Jim and I've been extremely happy with the authentic US made receiver I purchased from them. Note that it's currently a three month wait on their work, but it's worth it. For a little more than $200 I purchased their AKS-74U receiver, built specifically for the 1986 Tula kits.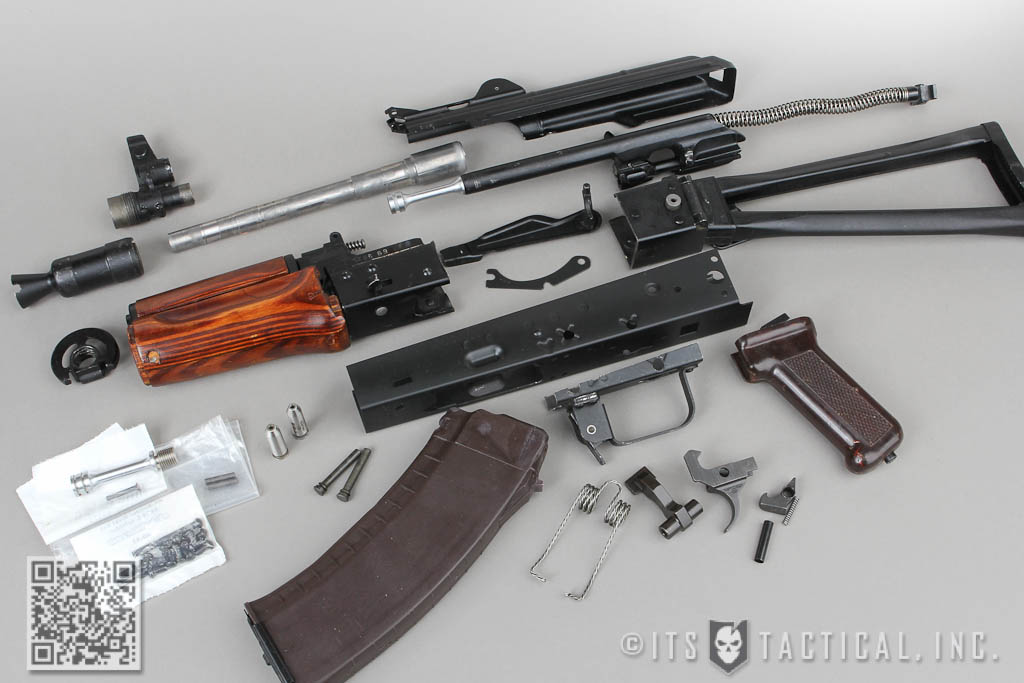 The attention to detail was incredible on the receiver; stamped selector markings, milled selector detents, correct size, number and placement of spot welds and even the correct style center support rivet head. What really intrigued me about the 74U, LLC receivers was that they offered a service to engrave the correct serial number from the parts kit into the receiver, as well as add the NFA SBR markings. This build is classified as an SBR and you'll need to Form 1 it (see this article for more information on building an SBR.)
Next up is the barrel, I used a barrel that I was fortunate enough to obtain directly from Rifle Dynamics. I'll be honest, getting an 8″ Krink barrel right now is tough. RGUNS has them on their Website for $100, but they're always out of stock. This barrel from Rifle Dynamics was made for them by Montana Rifle Company, which has recently been acquired by Freedom Group. I received the barrel and had to have it turned down on a lathe by about 20 thousandths of an inch. RD obtained these to fit the approximately four different sized front-trunion barrel journals out there, with only a slight turning required. Just remember the 5.45 barrel should to be chrome lined. Another resource for barrels you might also want to check out is Green Mountain Rifle Barrel Co., Inc.
A rivet set is also required. I'll try not to stray too far on rivets, but something to remember is that AKs aren't rigid and firm like US guns, they stretch, move and flex like jello. Everything is hand fit, there's no CNC Machining or Mil-Spec on the AK. One of the results of this flexible design is the need for leaded rivets. Not just any rivets will suffice and the reason leaded rivets are used on the AK is that they stretch like a rubber band right along with the gun.
Regular pop rivets will shear right off. You may get off a round or two off before the gun falls apart, or you get physically damaged when the front trunion falls apart. Same goes with screws and don't even think about welding an AK together. Build it properly from the beginning and it will run forever. I purchased a proper rivet set from AK Builder. I'd highly recommending buying two or even three sets, as it's easy to mess up when pressing rivets and you'll need to replace what you screw up with a new rivet. The rivet sets are only around $9, so it's not a huge deal to pick up extra sets. We'll get into the different types of rivets this build uses in a later article.
922r Compliance
In addition to the US Made Barrel and US Made Receiver, I need an additional four parts to bring the total to six US parts. While the original specs of 922r identify that if an imported firearm has more than ten of the 20 identified parts that make it an imported "assault weapon," it's illegal. As the AK only has 16 of those 20 parts, you need to replace six in order for it not to have more than 10 and be 922r compliant. If you're interested in reading the full 922r compliance specs, they can be found here:  http://www.atf.gov/firearms/faq/firearms-technology.html
For this build, the four additional US parts I've used are a US made Piston and a Tapco G2 Trigger Group, which along with the hammer, trigger and disconnector, count for three US parts. Something else you might want to consider is a Retainer Plate, which replaces the spring that holds in the hammer and trigger pins. It makes things much easier during installation and I'd highly recommend one.
This pretty much sums up the parts required with the exception of AK74 Magazines. I was able to pick up a few from AK Builder, but also give K-Var a look.
Here's a look at the cost thus far:
$775.00 – AKS-74U Parts Kit
$240.00 – Receiver
$100.00 – 8″ Barrel
$9.00 – Rivet Set (buy two or three)
$33.00 – US Piston
$30.00 – Trigger Group
$5.00 – Retainer Plate
$65.00 – GO/NO-GO Gauges
$35.00 to 50.00 each – Magazines (5.45x39mm)
TOTAL $1,292.00 (minimum)
*Include $200 for the tax stamp on your Form 1 as well*
Tools
While I'm going to get more into the different tools as they're used in future build articles, I'd like to start by listing the bigger ticket items so you'll get a sense of what you'll need overall. You'll quickly see how much sense it makes to go in with a few buddies on these tools and save some money. Unless you plan on building multiple AKs, purchasing all these tools isn't very cost effective. The actual rivet tools and jigs from AK Builder are more than likely what you'll have to purchase as many of the other tools are fairly straight forward and might already be owned or obtainable from a buddy.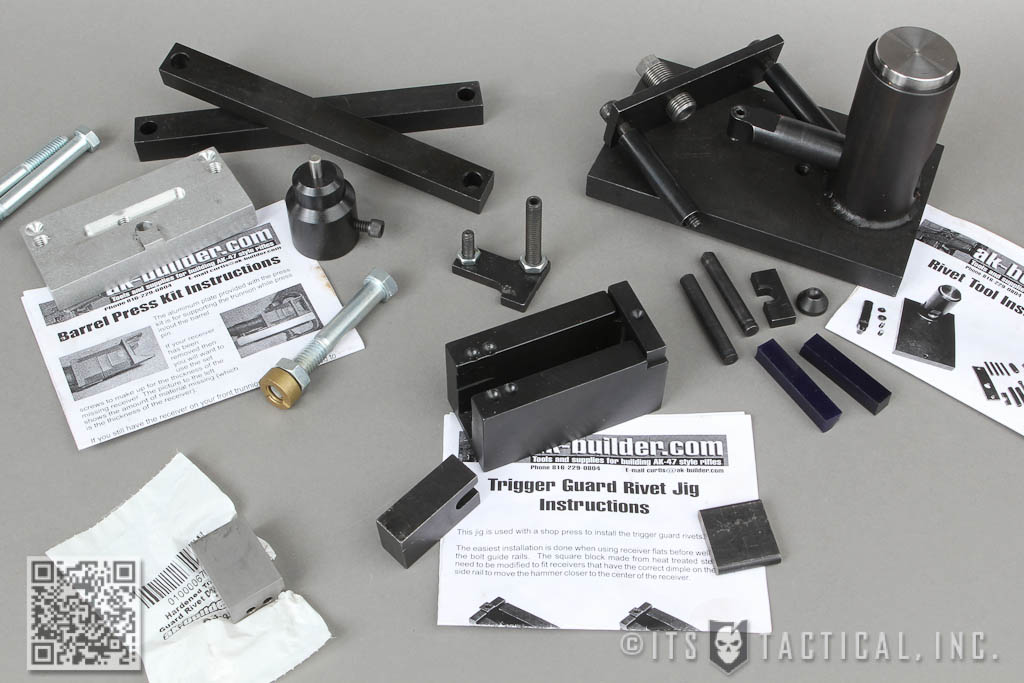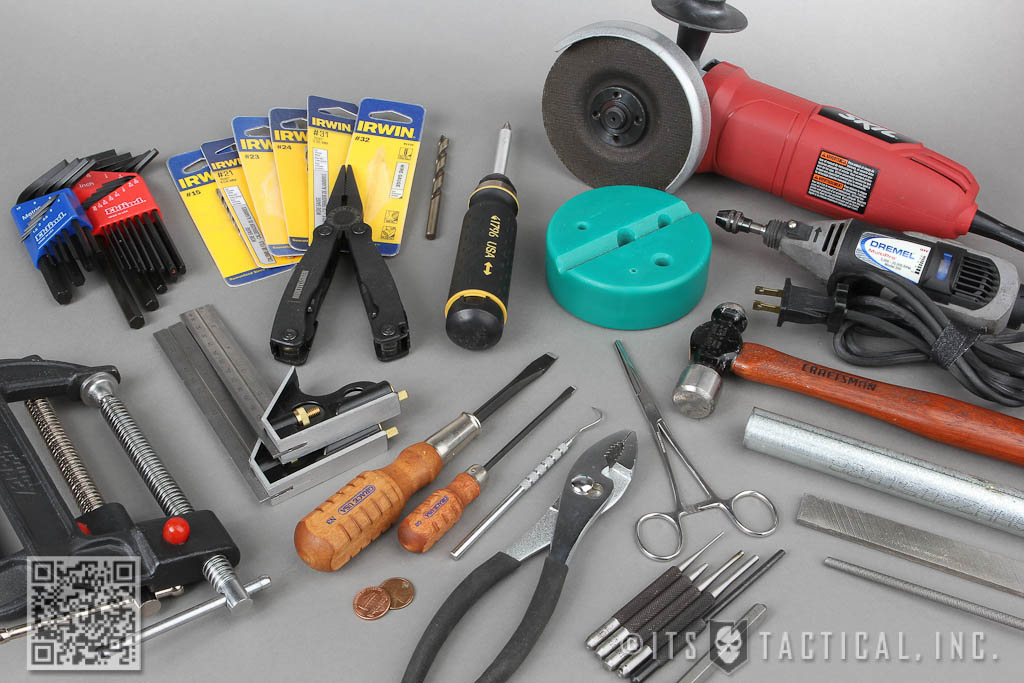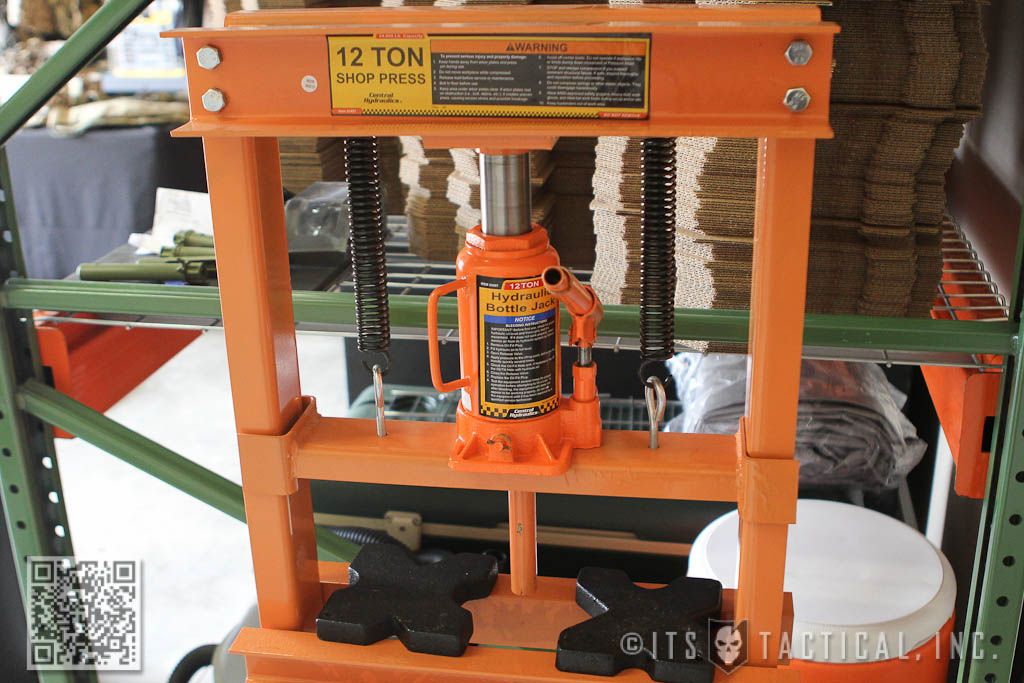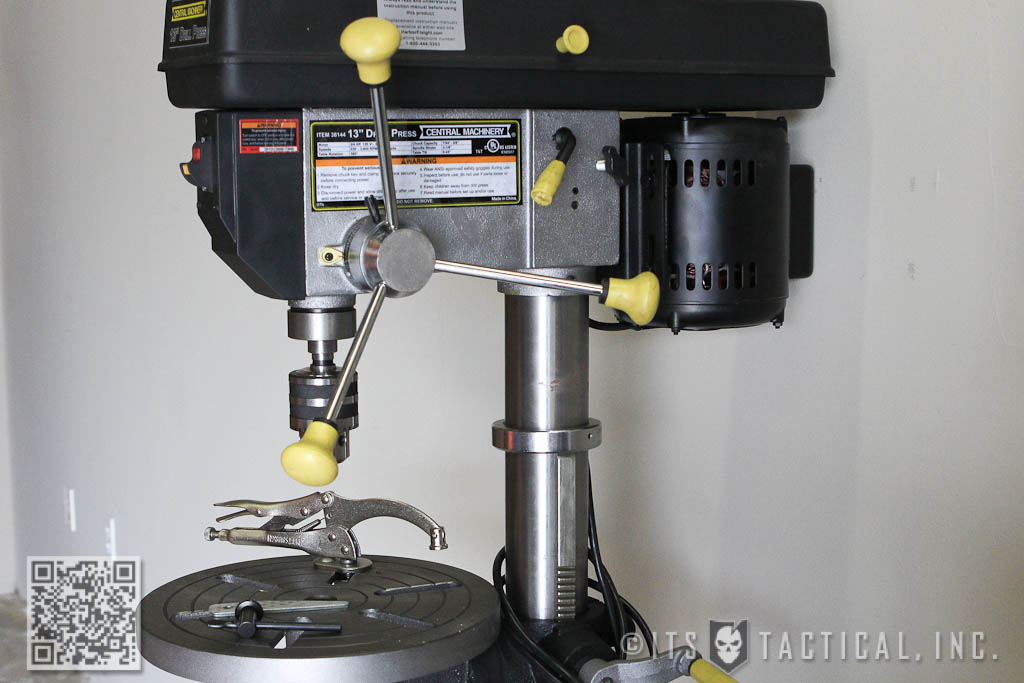 Disassembly and Demilling
We've created videos for each step of the process we'll be going over in this series, as it's hard to truly describe what's happening in words. The AK is such a hands-on build that video is really the only way to go. In this video, we'll show the disassembly of the stock latch, removal of the folding stock hinge pin, disassembly of the front trunion, punching out the pins on the front sight/gas block and removing the trigger guard.
Stay tuned for the next article in the DIY AKS-74U Krink Build coming soon!