AKS-74U Krink DIY (Sort of) Build: Obtaining the Parts Kit
AKS-74U Krink DIY (Sort of) Build: Obtaining the Parts Kit
I've always dreamt of owning a Krink, but until recently hadn't taken the time to properly research putting one together or the steps I had to take to make it a reality. To put it plainly, it was overwhelming to take the bits and pieces of information I'd learned about the AKS-74U and do something about putting one together for myself.
First off, I'm going to make the caveat up front that building an AK is more than likely not something the typical AR hobbyist is going to be able to assemble themselves.  The AK requires jigs and machining that the average person doesn't have access to, such as being able to properly dimple the receiver for strength or utilizing harder rivets vs. standard american aluminum rivets; working on the AK is definitely a tedious process.
Don't get me wrong, there's certainly a lot of tedious work that goes into the AR as well, but you can build an AR from the ground up with just a few tools and a vice, not so with an AK. Unfortunately I can't just simply present you with a list of tools to purchase from Brownells to start your AK build.
Through the time I've been fortunate enough to spend with Jim Fuller over at Rifle Dynamics, I've been able to ask a lot of questions and start piecing together the steps I need to take to create my own Krink. Starting today, you'll be learning along with me as I start the process for myself and try to put the procedures into layman's terms for everyone to understand and hopefully answer many of the questions I had before undertaking this project.
Tula AKS-74U Krinkov
If you've read our article when Kelly and I headed out to Las Vegas to visit and interview Rifle Dynamics, you may remember that in 1974 the Soviets began fielding a new AK design that utilized the smaller 5.45x39mm cartridge, which they dubbed the AK-74. One thing you have to give to the Soviets, is that their naming convention is pretty straight forward! It's been said that the utilization of a smaller round came out of the US adoption of the 5.56mm, although that was ten years earlier. The 5.45 did significantly reduce the weight of the 7.62x39mm round to about half.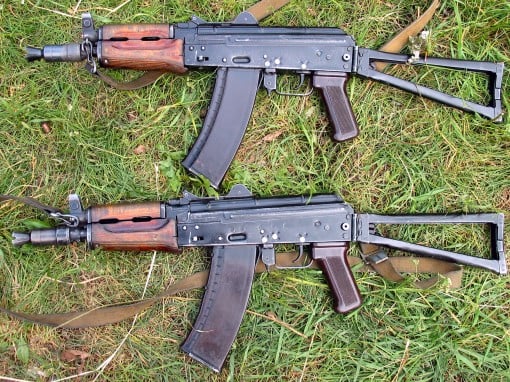 The Krinkov or Krink for short, seems to be a nonsense word in the Russian language and some argue that is wasn't until the Russian/Afghanistan conflict heated up, that it started being used here in the US. Either way, I like the word and don't plan on getting rid of it to describe a shorty AK-74. The AKS-74U nomenclature I can definitely elaborate on. The "S" in AKS stands for  Skladnoy, or in english, folding. The "U" stands for  Ukorochenniy, or shortened in english. So basically a shortened (8″ barrel) folder variant of the AK-74 chambered in 5.45x39mm.
Something I asked Jim about were his thoughts on side-folders vs. under-folders. I'd always been a big fan of under-folders for aesthetic reasons, but Jim brought up some interesting points on the construction of the triangle folding stock and how it's not only superior to the under-folder, but also doesn't hamper the safety manipulation as under-folders do when collapsed. The Triangle Stock feels more like a traditional stock when deployed and the under-folder just feels flimsy. Since taking to Jim I've experienced this for myself and completely agree.
Going with the Tula Kit
[flickr id="7946229762″ thumbnail="medium_640″ overlay="false" size="medium" group="" align="center"]
After learning more about the AKS-74U and picking Jim's brain on where to go to get quality parts, I decided to pick up a 1986 Tula Krink Parts Kit from RGuns. These have increased in price recently and I wanted to pick one up before they're completely gone forever. These kits are demilled, which means the receiver and barrel are cut out of the kit so that the leftover parts can be imported into the US, where they can then be reassembled.
Right now in the process of my assembly, I have the Tula kit from RGuns and have just ordered my receiver. A fantastic resource Jim turned me on to was David Riggs who runs 74U, LLC. David manufactures  correct AKM and AK-74 receivers to match a particular country's kit? His goal is to provide the most authentic AK pattern receivers ever offered and what's even better is that he'll match your kit's serial number on the receiver to increase the authenticity of your build.
I'll be back as the process gets further along and talk about the finer details of how everything is coming together and the legal aspects of putting together a short barreled rifle.  For more information on the legality of creating a short barreled rifle, check out our detailed article here.  If you're interested in the comprehensive series we put together on building an AR-15 from the ground up, check it out here. For more background on the AK platform, be sure to check out the interviews I did with Jim Fuller while visiting Rifle Dynamics out in Las Vegas earlier this year.