Hands On with Desert Tech's Innovative Micro Dynamic Rifle
Hands On with Desert Tech's Innovative Micro Dynamic Rifle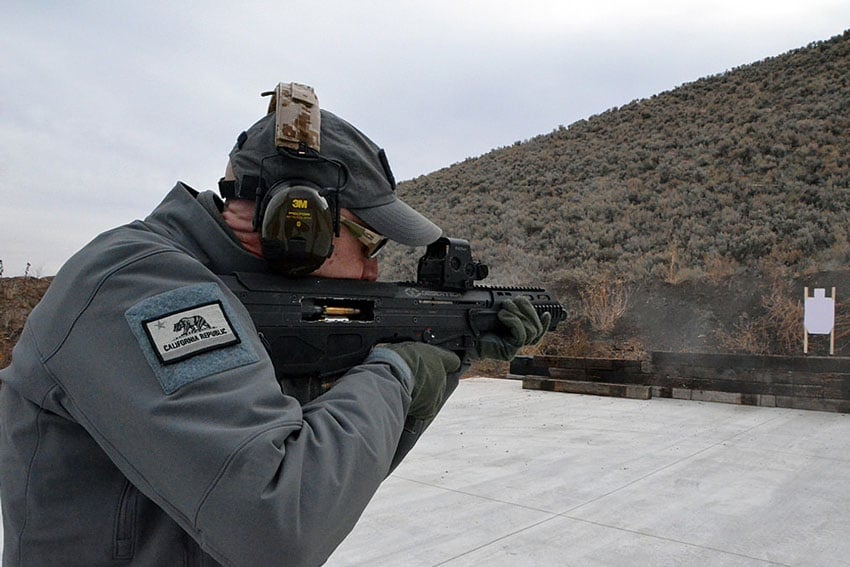 One of the most exciting things exhibited at last year's SHOT Show was the Desert Tech MDR (Micro Dynamic Rifle), in development by Utah's Desert Tech. I was fortunate enough to represent ITS Tactical at a recent Desert Tech media event that allowed us to learn more about the company and what makes the MDR tick. There was of course, time to get hands on with the MDR, which provided a good opportunity for me to try out its capabilities.
The media event was hosted at Desert Tech's Sniper Country training facility, near Tremonton, Utah, in Box Elder County. I've actually been to Sniper Country before, back in 2012 when I was a participant in Competition Dynamics' "24 Hour Sniper Adventure Challenge." It was great to come back as a media guest and get to sleep, eat and socialize in the lodge building.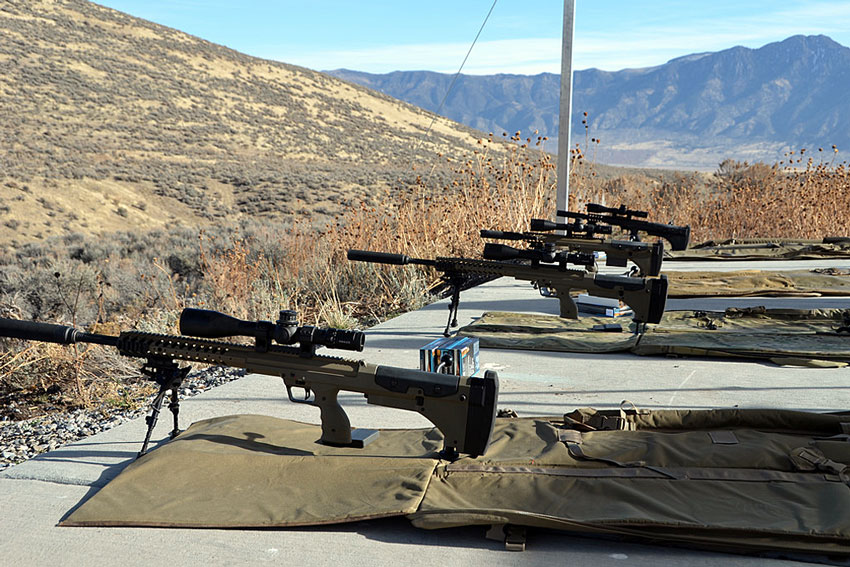 They've also made a lot of improvements to the training facility since the last time I was there. There's now concrete pads that have been laid down for the ranges in front of the training area. In the long range known-distances area, pads and an overhead shelter have been put up, making the experience they offered us as media absolutely delightful. We also lucked out with the weather on the day we spent at the range, which is rather surprising considering this was December in Utah.
Desert Tech MDR Media Event
Thursday night we had a safety briefing at the lodge along with some amazing food cooked by Desert Tech's ATF compliance officer. In preparation for getting the MDR ready to be seen for this event and the upcoming presentation at SHOT, everyone at Desert Tech has been wearing multiple hats for some time now. For a company of roughly 40 people or so, this has meant working some long nights, but they all seem excited to get the MDR ready to release and are dedicated to doing what they need to do to make that happen.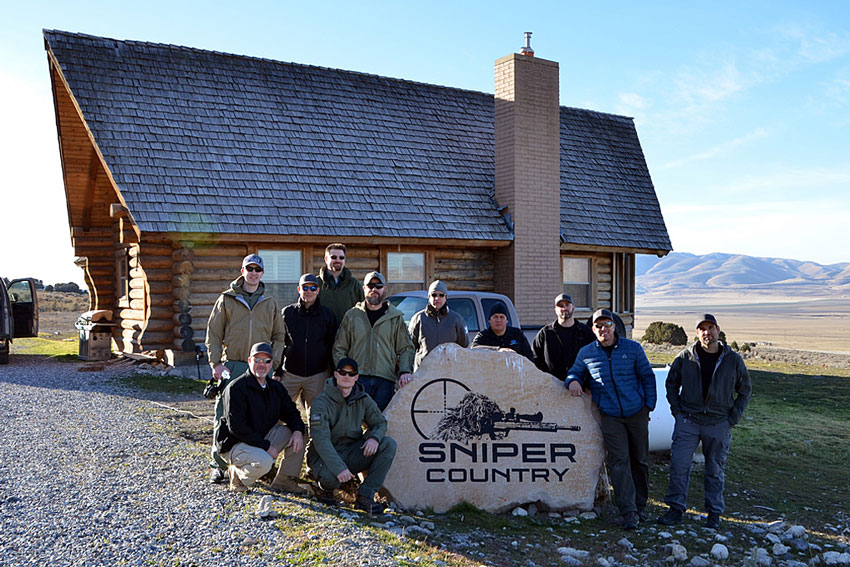 Friday morning, after some coffee and a hearty breakfast, we all loaded into the van to head the four miles or so from the lodge to the range. I remembered the last time I'd taken that road, carrying a 70 pound pack and splitting the weight of 100 pounds of rocks in a duffel bag between myself and my teammate. Needless to say, riding in the van is definitely the way to go. Once at the range, there was a round of introductions to the people who'd been assembled for this event.
This included a number of Desert Tech people, as well as people from TwistRate and Deliberate Dynamics, who'd all chipped in to make this range day pretty special. It's refreshing to see how companies in the firearms industry often work together to help each other succeed, as that's so often not the case in other industries. After the introductions, we broke into three groups, which would then rotate through three different stations, with three different purposes. Though each group started at different stations, I'll be describing them in the order which my group ran through them.
Shooting Stage 1
Stage one was the AK/Pistol/Shotgun station. Jeff Kirkham, president of TwistRate, gave us a demonstration on the AK-47. He first taught us an efficient technique for loading and reloading, then had us practice by running through a "fire two shots from cover, reload while moving around the van, fire two more shots" drill.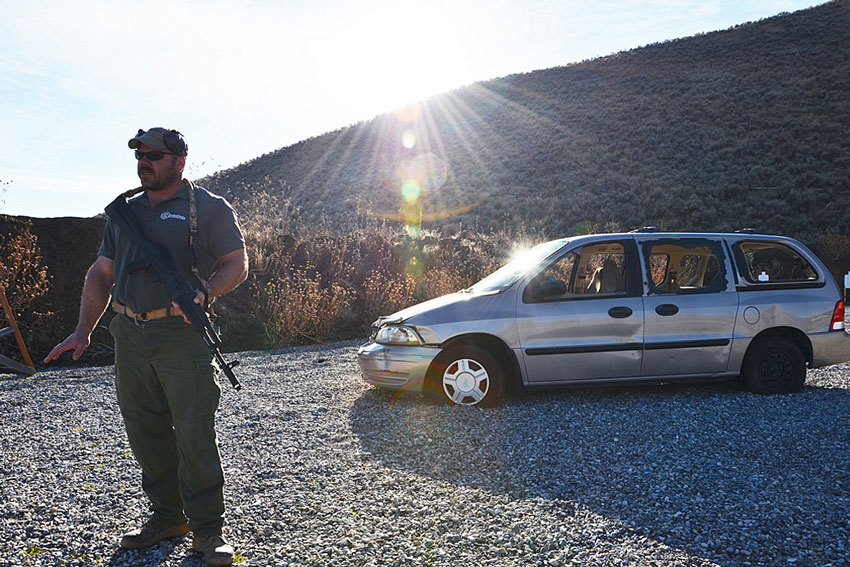 We then moved to the pistol range, where Evan Hafer, CEO of TwistRate had us run through some strong hand/off hand pistol drills. We then took on a moving steel target, first from a stationary position, then moving through a course of fire. Both Jeff and Evan were top-notch instructors with a wealth of experience between them as Green Berets. Unfortunately for us, we ran out of time before moving to the skeet portion of the stage, as it was time to move to stage two when the van arrived to cart us and all our photo gear to the long range pad.
Shooting Stage 2
The long range pad at stage two featured a pair of Desert Tech SRS rifles in 338 Lapua and a pair of Desert Tech SRS Covert rifles in 308, each with suppressors. Having only seen the SRS before and never having shot one, I was pretty excited. The long range station was run by a Special Forces Sniper and a former Marine with experience as a PRS competitive shooter. They provided us with both the dial settings and performed as spotters, allowing our group to rapidly hit targets at 500, 600, 700, 800, 900 and 1000 yards. This was done with both the 308 Coverts and the 338 SRS rifles.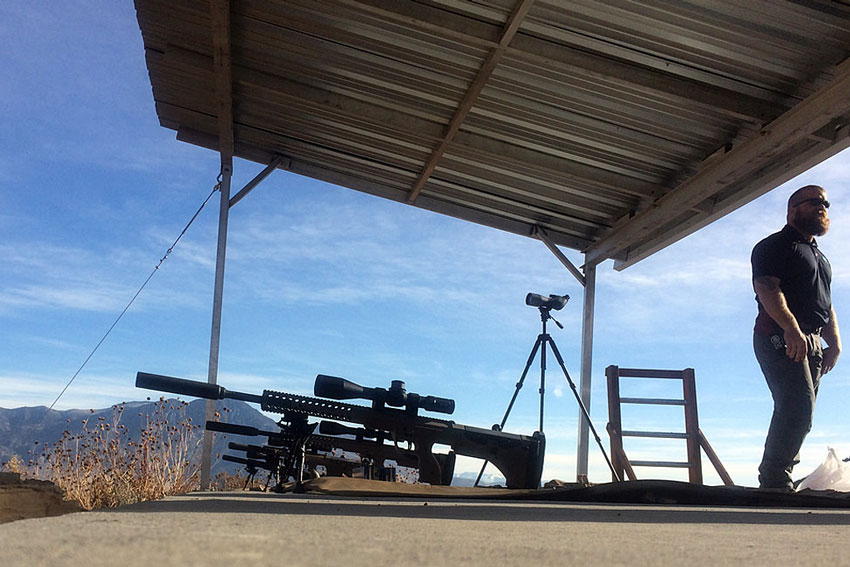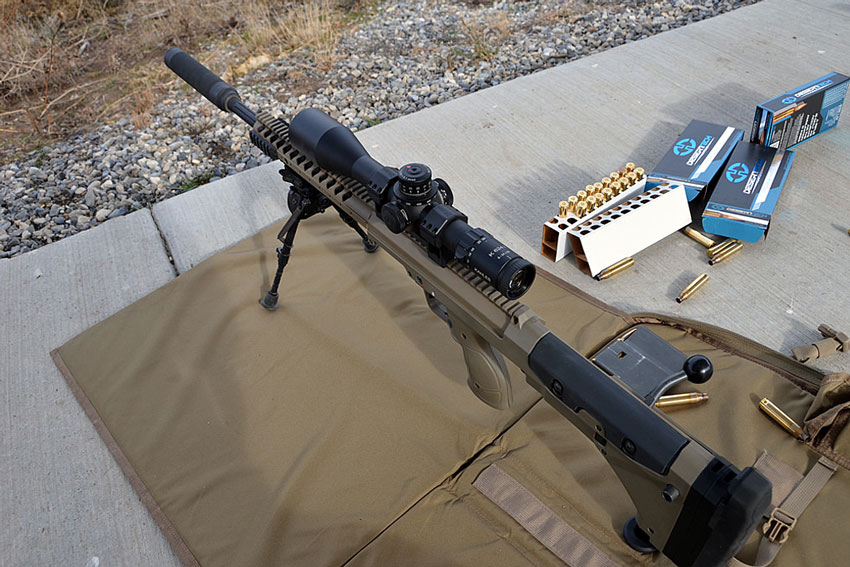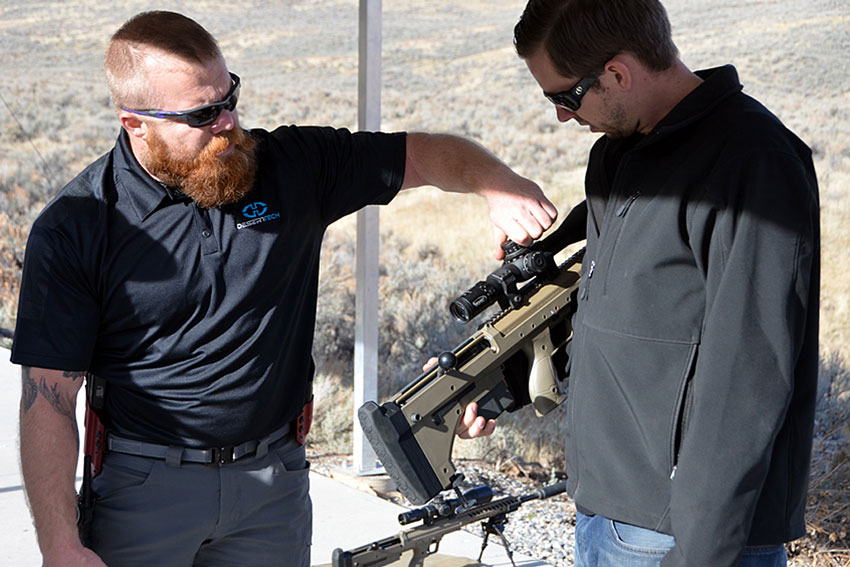 There's little more gratifying than taking a shot and hearing the metallic ding a couple of seconds later, but that experience was made even better by the use of the SRS and Covert rifles, which have what is now my absolute favorite trigger in the world. After everyone rotated through successful hits on both rifle systems, we had a little more time, which turned into handgun distance shots. First at 60, then at 100, then, for some, 240 yards. Shortly after that, we were picked up in the van again and taken to the MDR station, which was stage three.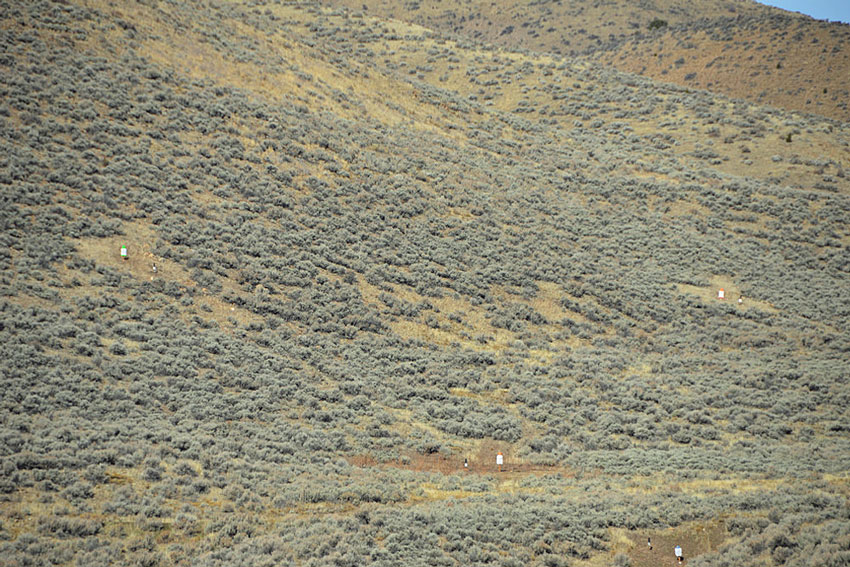 Shooting Stage 3
The first part of stage three was the demonstration of a few rifles that had been influences during the development of the MDR. This was so we could see what they were influenced by in each firearm as they designed the MDR. We each got hands-on with the Heckler and Koch MP5 and G36, in full-auto mode and the Bushmaster ACR. We then moved down the range to see (and fire) the reason we'd all come there; the Desert Tech MDR.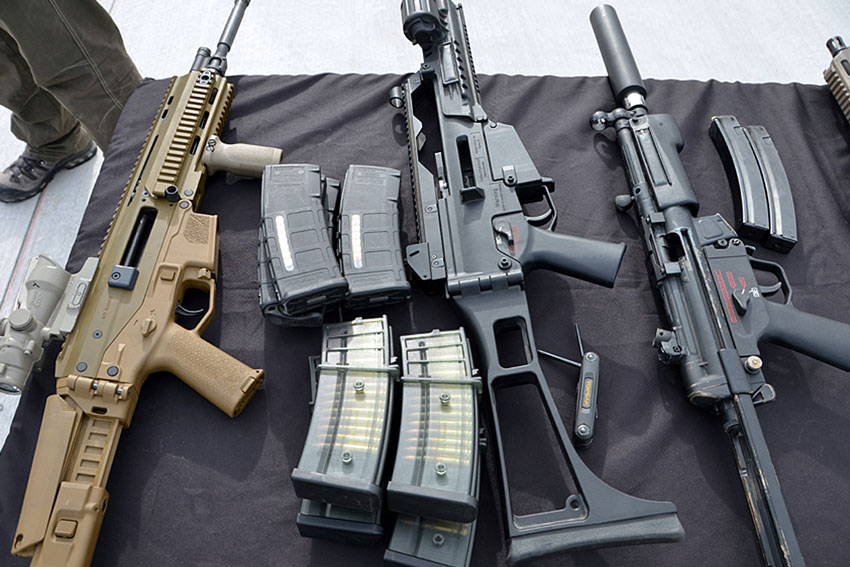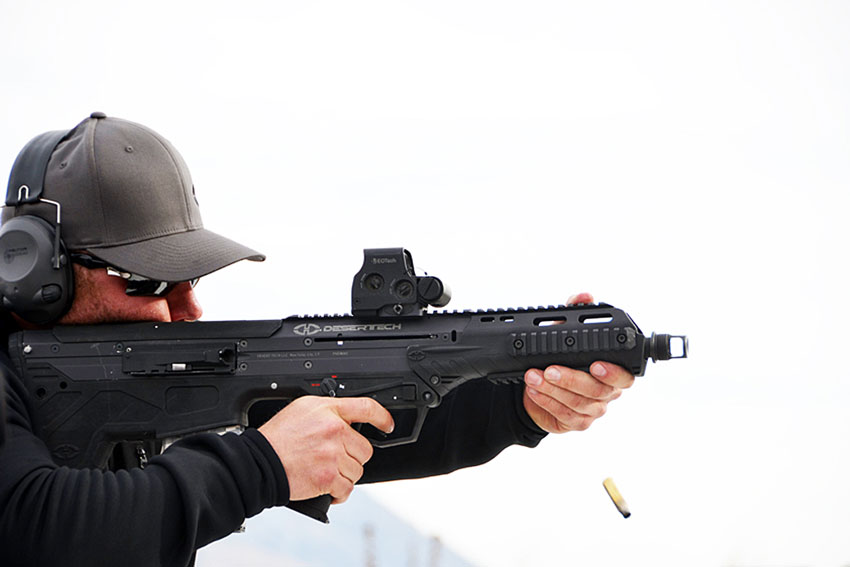 It needs to be stated that it wasn't always smooth in firing the MDR, which ran into some technical difficulties. However, it also needs to be said that these were prototype rifles and for prototype rifles, they're well down the path towards ironing out the kinks. Considering the strong design work they've succeeded with in the SRS and Covert rifles, I remain convinced that by the time these are a ready-to-ship product, they're going to be fantastic.
MDR Specifications
The MDR is an ambidextrous rifle, with the ability to switch calibers by simply swapping out the barrel and the insertion or removal of a magazine insert. It was stated that the MDR will maintain a barrel zero throughout that transformation within a very narrow margin of error. It also features a barrel length of 16″ and an overall length of 27.1″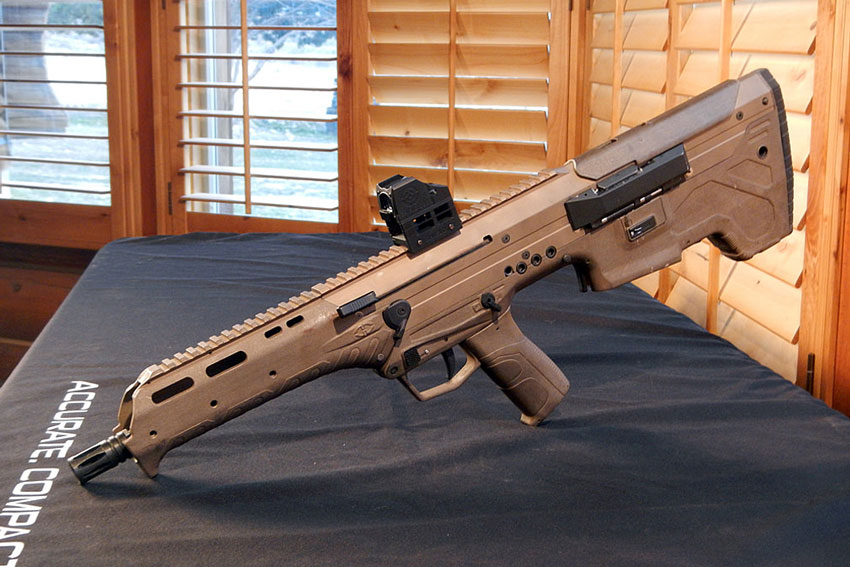 For the initial release of the rifle, the calibers offered will be 5.56 and 308 (7.62×51), with future plans to release 6.8 SPC, 300 Blackout and 7.62×39 after that. The MDR is a bullpup rifle, which places a good portion of the weight behind the trigger. When firing, it's more easily supported with the shoulder. The charging handle is ambidextrous with minimum modification, as is the ejection port. The ejection port is forward-ejecting and launches the casings in that direction with significant force.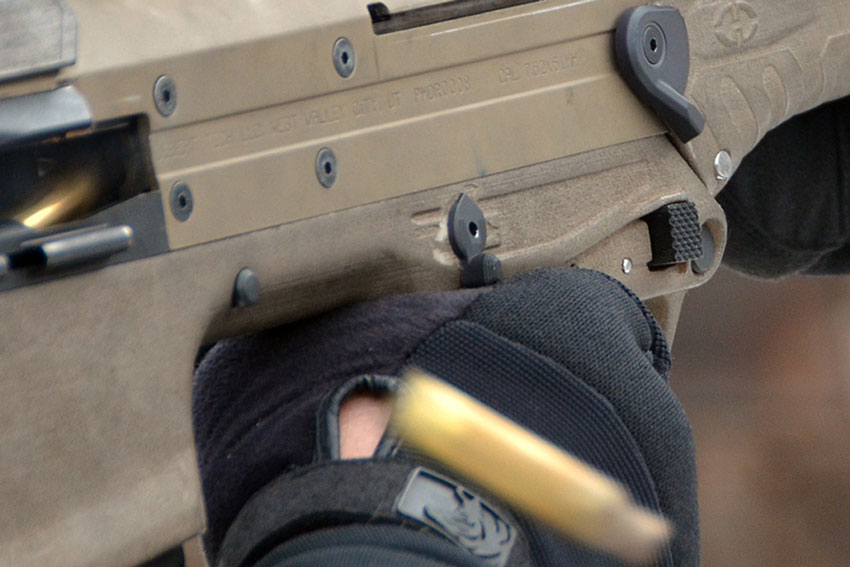 The prototypes we got to play with were select fire, with semi-auto and full-auto settings. In the end, there will be a couple of different versions of the MDR produced, a select-fire MDR for military and law enforcement use and a semi-automatic version. There's also an MDR-C being developed, with a 10.5" barrel and a paltry 21.6" overall length.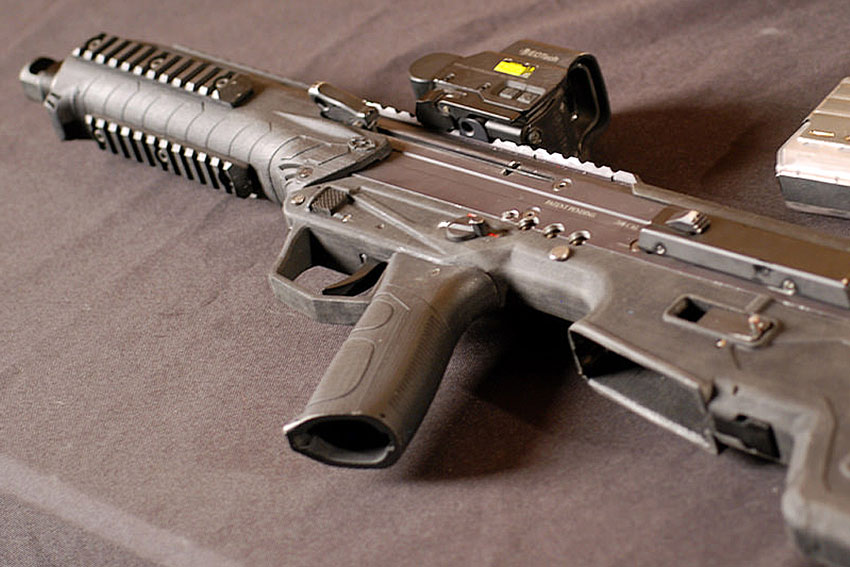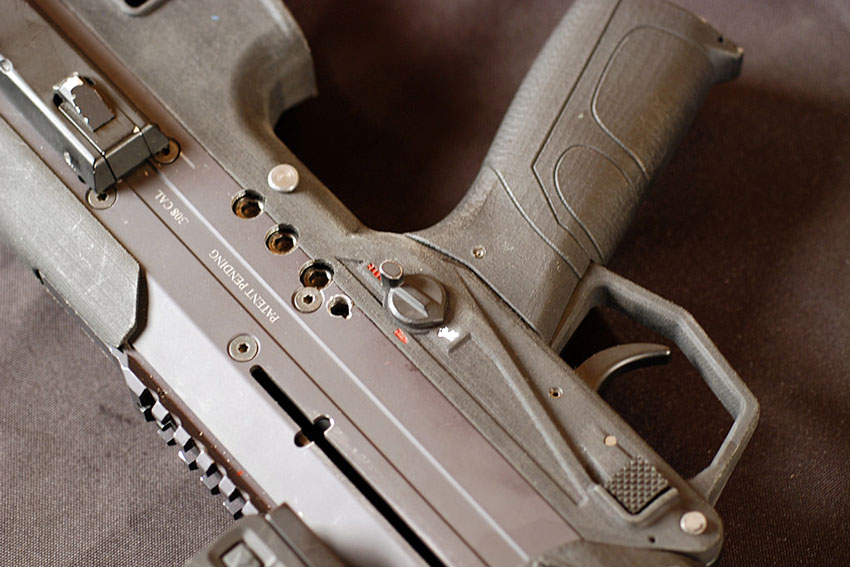 From either side the rifle, the magazine can be released with mag release buttons, just above the trigger well. There's also a thumb-manipulated bolt release button right behind the magazine well that doesn't require any additional hand motion to accesses someplace else on the rifle. Between that, the select fire control and the ambi charging handle, you can see the influence of both the H&K G36 and the Bushmaster ACR, though obviously different with the MDR being a bullpup.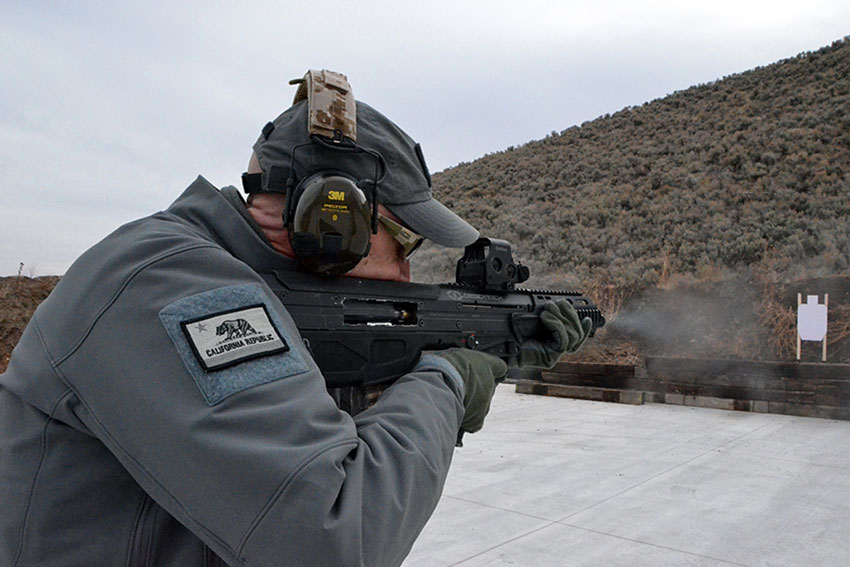 When I had my turn with the MDR, it had no feeding or ejection issues and was a delight to shoot. The weight of the rifle was well-balanced and recoil was perfectly manageable, making it easy to stay on target round after round. For those in the group that came upon feed issues or ejection issues, they were addressed by the team of Desert Tech people, including Desert Tech's president, Nick Young and worked on until they had things resolved.
MDR Info and Factory Tour
After we wrapped things up on the range, everyone went back to the lodge for a meet-and-greet/Q&A session with Desert Tech's people and the trainers who had run the range day. This was a valuable opportunity to ask questions that we didn't get to ask during the range exercises. We found out that they expect to get the rifle finished and shipping by late summer or early fall, 2015, with other caliber conversion kits to follow later.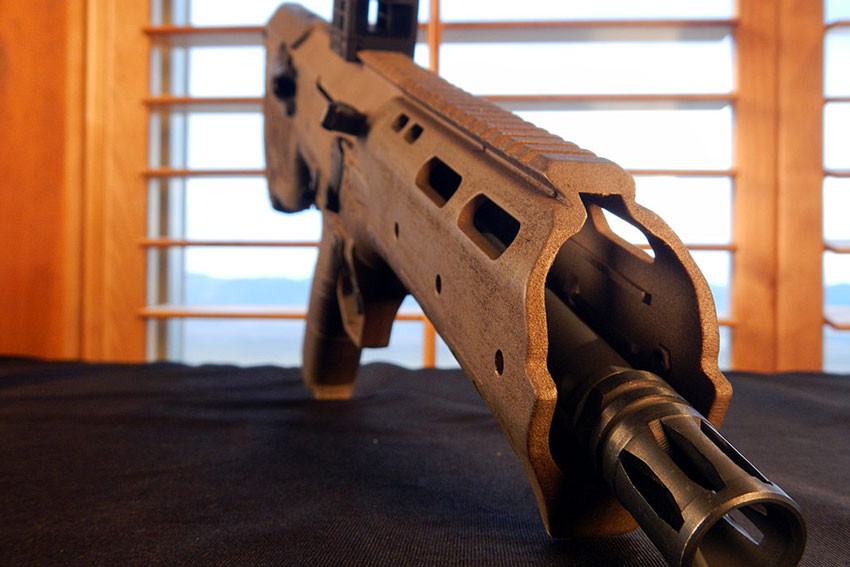 They also expect to go through another prototype iteration before arriving at the final production rifle. The versions we'd looked at were between prototypes 2 and 4. It was also a pleasant surprise, for me at least, to discover that there will eventually be a California-compliant version of the MDR available. This is a side-effect of them working with an unnamed Canadian vendor to deliver Canadian-compliant rifles. This apparently requires the same longer overall-length and magazine locks that California requires, as well as a couple of other states on the East Coast that have seen fit to neuter themselves.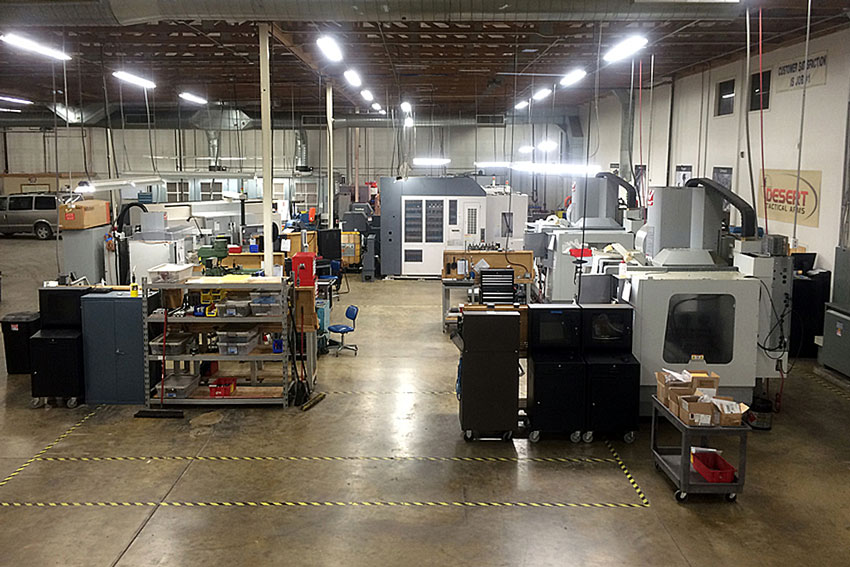 On Saturday morning, we were given a tour of the Desert Tech manufacturing facility and had a chance to look at the machinery they use to build both their bolt action rifles, as well as the pending MDR. The facility is about 20,000+ square feet, with a good deal of space for growth.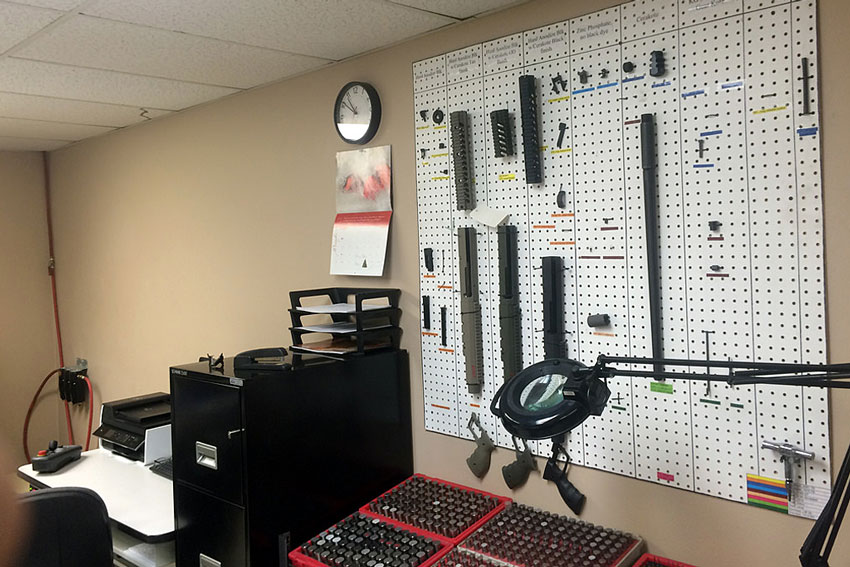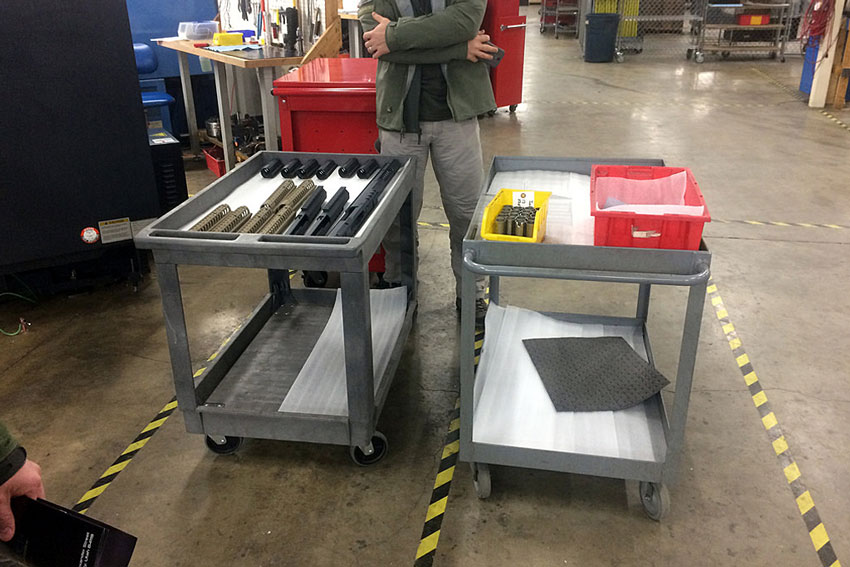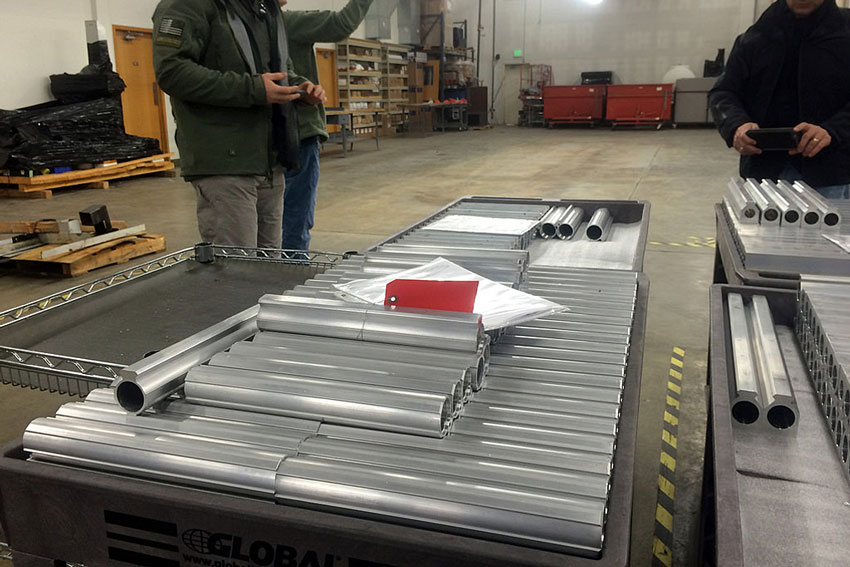 They've got a wide variety of equipment, including fully-automated CNC lathes from Haas and Okuma and enclosed painting/coating booths. They also house some very precise quality-assurance equipment and everything is manufactured in-house. Their production goes from metal tubes, to finished rifles in a circular workflow, finally landing in assembly before moving over to shipping.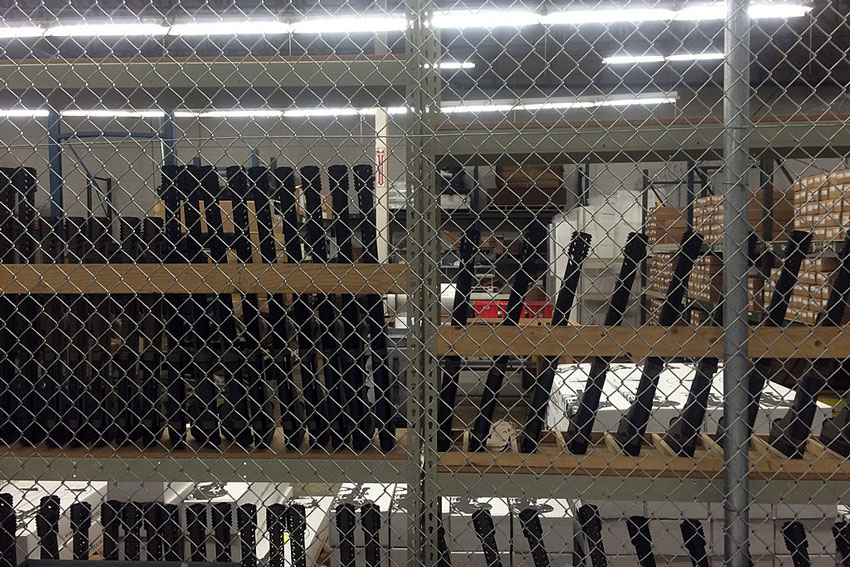 Final Notes
I was excited about the MDR when I first heard about it and I'm even more excited about it now. While they've obviously still have some work to do before its ready to ship, Desert Tech impressed me with their dedication to getting that work done. They're building something entirely new here, not just regurgitating a prior design with modifications.
This takes time, patience and dedication, which based on what they've managed to do with the SRS series of rifles, I believe my faith in them is not misplaced. The Desert Tech MDR is a promising rifle, with a great deal of versatility and an absolute joy to shoot.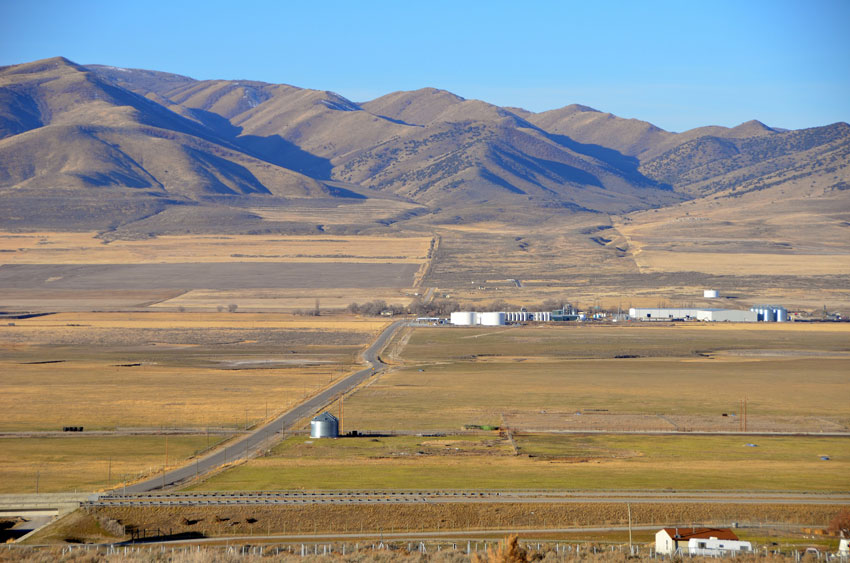 Editor-in-Chief's Note: Matthew Sharp is a Plank Owner and Life Member at ITS and goes by the username "viator." He lives in The People's Republic of Northern California and enjoys long range shooting, carrying heavy objects great distances and fuzzy little puppies.