The Powerful Punch of the Edgun Matador R5 Airgun
The Powerful Punch of the Edgun Matador R5 Airgun
It's been couple years since EdGun introduced their Matador R3, which immediately became an iconic bullpup airgun. Their version 4 was actually skipped due to business-related issues, so when an updated version finally emerged from Eduard's drawing board, I had to have it! Today I'll be covering the beautiful monster that is the Edgun Matador R5.
When I decided to pick up a new PCP (Pre-Charged Pneumatic) air rifle, I knew I wanted not just performance, but undisputed power! So when Ed announced the Limited Edition R5 in .30 cal, I was all over it. After finalizing the purchase, the Edgun Matador R5 was delivered into my hands in a sturdy wooden box. There are three versions available, including standard, long and extra-long. When I look for bullpups, I want a short size and good maneuverability, so my obvious choice was the standard version at 75cm long (or short, actually).
Overall Look and Feel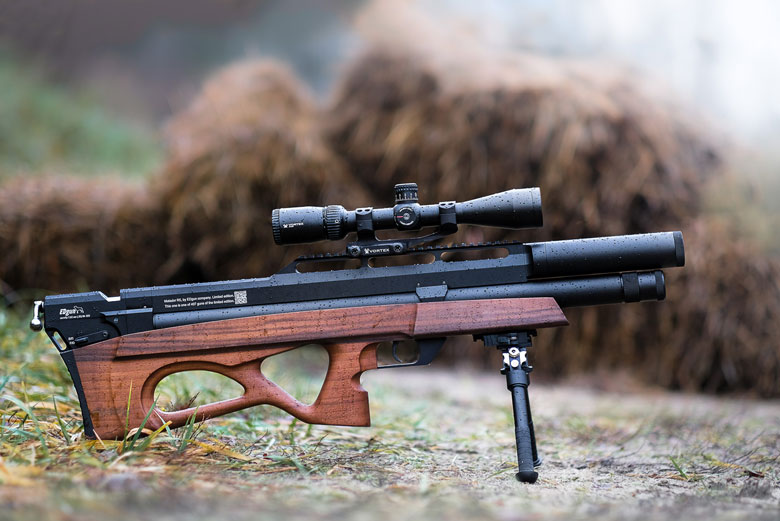 When I picked up the R5 in early November, my first scope of choice was the Vortex Diamondback Tactical 3-9×40. It's lightweight, compact, equipped with good glass, has a proper reticle and very good target turrets.
As I mentioned previously, the Edgun Matador R5 is a completely new design that doesn't share much in common with the previous Matador. While my R3 is quite a looker, the R5 is in a league of its own. It's compact, muscular and features a distinctive "gun-like" look thanks to its bold moderator and long weaver rail on top. Speaking of the integral moderator, it does a tremendous job! My R5 in .30 is just as quiet as the Matador M3 in .22, which is quite an achievement. It's a very quiet airgun with a muzzle report considerably quieter than the sound of the .30 cal pellet hitting the target. However, it's not just about sound, the moderator also acts as an air stripper, making the air behind the pellet less turbulent when it leaves the gun. This instantly helps the accuracy of the R5.
Overall the R5 feels like a serious shooting tool
The protruding bolt and breech showcases Ed's out of the box thinking at its finest. It makes the R5's total length as short as possible, but also moves the breech back so the cheek weld is considerably nicer than on most bullpups. It also hooks over the shoulder, which helps to keep the R5 steady when shooting off-hand. Additionally, in the breech block you can see an integrated attachment point for a tactical sling.
The trigger of the Edgun Matador R5 is a 2-stage, which is smooth and predictable with no creep. It's also fully adjustable! Of course it's not a match trigger, but you wouldn't want a touch-sensitive trigger on such a powerful hunting-style airgun.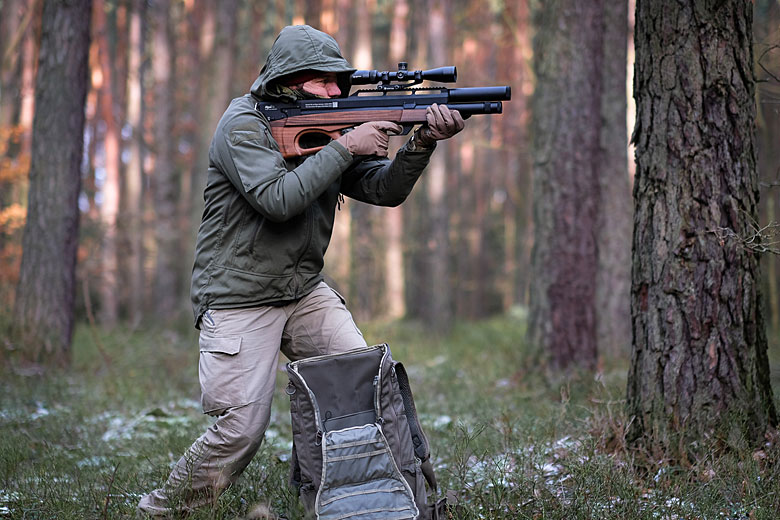 Another innovative feature is the electronic pressure gauge with built-in screen and computer. It works very well and is very precise (+/- 1 bar). It also displays other important info, like air usage statistics and the number of remaining shots, so there's no more guessing!
I love that the modern lines of the walnut stock look like an integral part of the gun. However the stock lacks an integrated weaver rail for a bipod, so I purchased a short rail and attached it with two screws and nuts. It was an easy job, but I'd prefer to see some sort of integrated bipod rail in future iterations.
The R5's bolt operates surprisingly smooth considering it also cocks the heavy hammer spring. It's a single shot gun, but in the more powerful .30 caliber, which I don't have anything against. It actually helps to slow the shooting process so I can focus on each shot. However, I believe a regular multi-shot version should be released soon.
The safety catch makes the gun really safe, as it blocks the hammer in place and not just the trigger. Whatever happens you should be safe, which is important when dealing with a .30 cal projectile.
Overall the Edgun Matador R5 feels like a serious shooting tool. It's a big bore sniping bullpup, something like a .50 BMG in the airgun world. It's made for both precise long range target work and hunting silently (and safely) around the farm. However, it's not just for hunting traditional airgun small game and could easily take down a coyote or a wild hog with one well placed shot.
Pairing with a Pack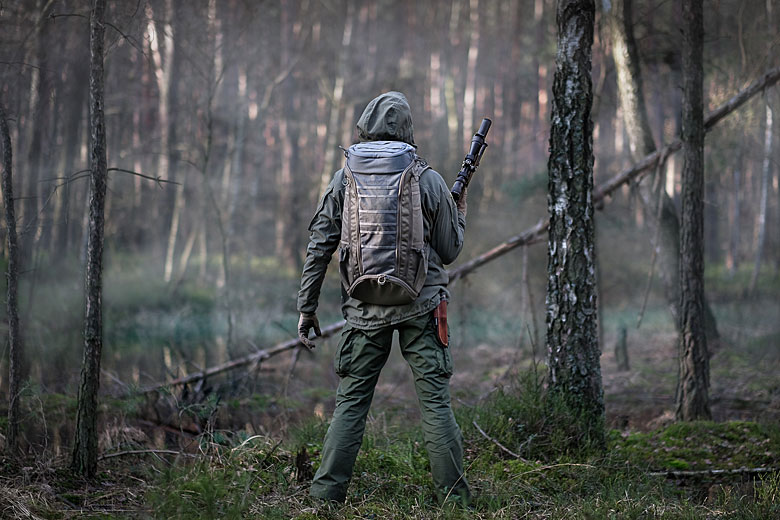 The R5 is a bullpup, so it's the perfect candidate for discreet carry. After a great experience with the Eberlestock S26 and S34 packs, I knew where to look for a new pack. I picked up the new Eberlestock S45 Big Trick pack as my new carry platform and it's a stunning piece of kit! It carries like a mountaineering pack with a pure alpine pedigree.
Something I haven't seen before is such an advanced harness on a discreet gun pack before. It protects the gun inside in a separate sleeve, so even if you fill your pack with some extra stuff (and there's plenty of room for that) it won't snag on your gun and you can still get your carbine to your shoulder in seconds. Additionally, in the extended mode you can carry a rifle up to 76cm long butt to muzzle.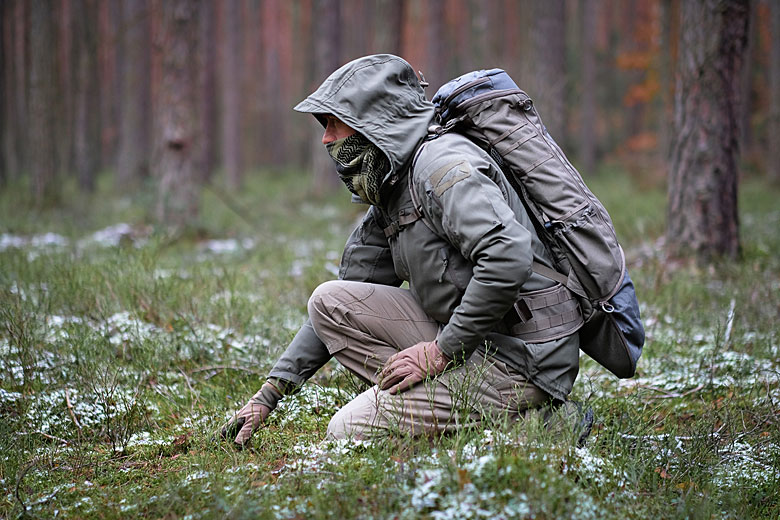 That Eberlestock S45 is discreet, oozes quality and is a joy to carry around. I've also tried it as a mountaineering pack and it carries heavy loads really well. So it would be a perfect day hunting pack in almost any terrain. Just put your carbine into the internal sleeve, add some snacks, a rain jacket, ammo and you're good to go!
Fine Tuning the Edgun Matador R5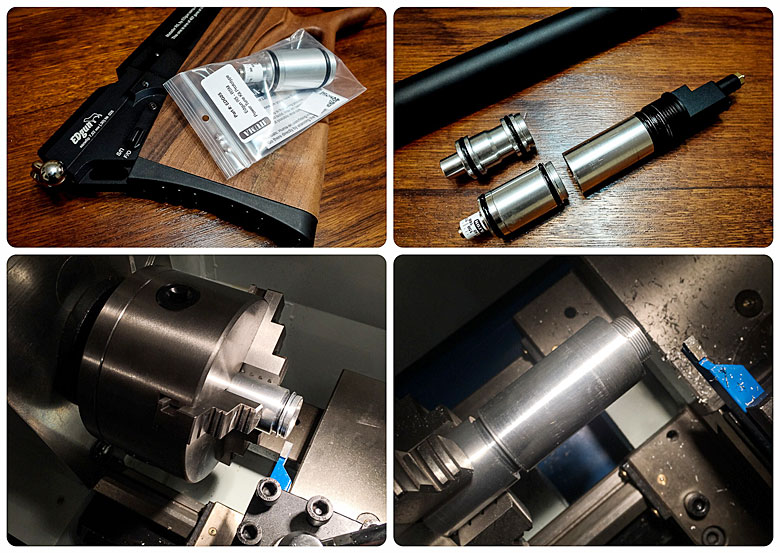 The Edgun Matador R5 is capable of MOA accuracy at 100 yards straight out of the box. For me though, gun tuning is a part of the game, in addition to being a lot of fun. It's just like with sport cars, even the coolest modern ones can be tuned on the outside and inside with the suspension, engine, exhaust, etc. Thankfully it's a bit less complicated to tune airguns, not to mention way cheaper.
Long story short, I was asked by my buddy, an airgun tuner from New Zealand, if I'd be willing to take part in HUMA's development for the R5 (HUMA is a world leading company in internal tunings for PCP airguns). So I tried my lathe operating skills and built a hybrid of the original plenum and valve to use with HUMA's regulator.
It's just so easy to work on them
I tried many different settings and in the end I set my pressure regulator at 125 bar. That way, depending on my needs, I can get either high power (900+ fps) or have a very efficient shot count at slightly lower muzzle energy (850 fps, which is still in 100 Joule territory). All that is achievable with just a single adjustment screw. (You just need to remove the stock.)
Air consumption is the key benefit of my mod and with my new custom setup (gun filled to 250 bar) I can get 40 very stable shots at 850 fps, which is roughly 10 shots more than in the original setup. It also shoots a bit quieter and smoother thanks to the considerably lower regulator pressure. (125 bar vs. the original 140 bar.) 10 shots isn't a day and night difference though. The .30 cal still eats air very fast, so remember to get a bigger filling tank if you plan to step into .30 cal territory. Was my mod worth all the hassle? Well, that would be up to the user to decide. As a final note, a full fill of 300 bar now gives me about 50 good shots. Anyway, I hope HUMA can use some of my findings and suggestions for their final R5 tuning kit.
A small digression here, I really like the way EdGun designs his airguns as an overall concept. It's just so easy to work on them. There are no special tools required, just basic technical skills. One important note; when assembling the Edgun Matador R5, be sure to install the supplied breech block insert and tighten the block screw really well, otherwise it can get loose with time. Additionally, you can find a full disassembly/assembly tutorial from EdGun.
Range Day at 50 Yards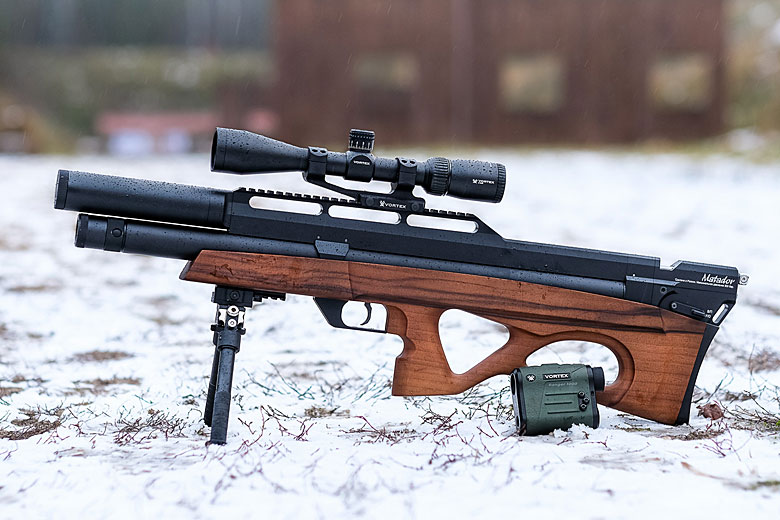 At 50 yards, a half inch group wasn't a problem when shooting off the bipod. I tried both versions of JSB's 7.62mm ammo, with their 50 grain at an average speed of 836 fps and 44 grain at 869 fps. So both had a healthy muzzle energy of 100+ Joules. By the way, I was quite glad that the .30 cal ammo could be easily loaded with gloves on a cold day, like the Arc'teryc Contact Gloves. Good luck trying that with .177!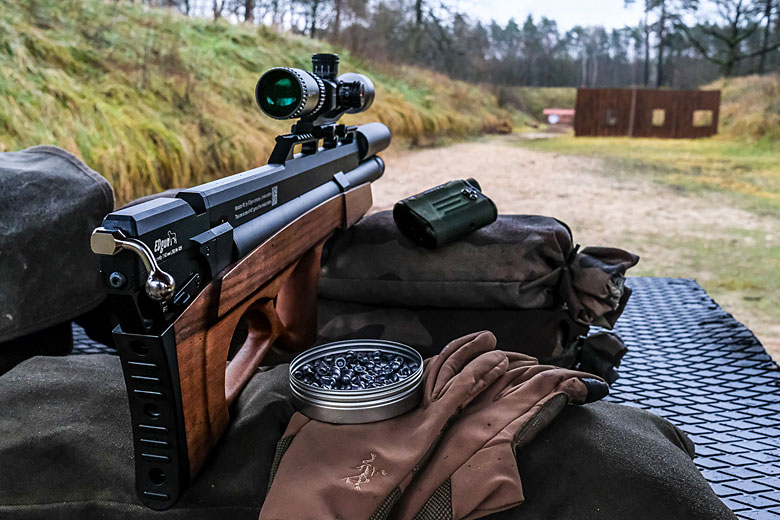 I also tried shooting at 100 yards, with my best groups coming in under 1 inch and average groups of just above 1 inch. Of course they weren't all perfect, but there's a lot of potential in the R5, especially considering my weather conditions were good but not perfect. It's a quantum leap going from .22 to .30 for long range shooting though. However, shooting an airgun at 100 yards with a 3-9x scope was just not enough. It was time for another upgrade!
The Scope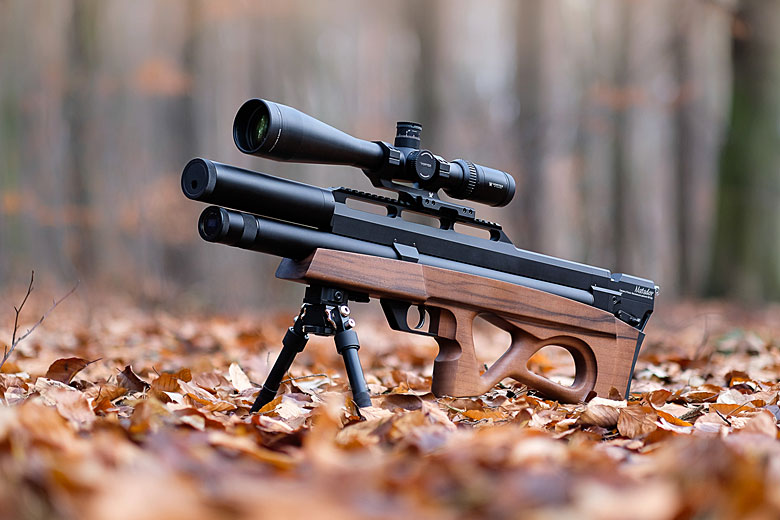 My choice for a long range scope was the Vortex Viper HST 6-24x with MRAD reticle and turrets. The change was so substantial that it needed its own separate section of this article. Don't get me wrong, I'm really happy with the Diamondback Tactical scope and it's great for long range airgun hunting, but the difference between 9x and 24x at 100 yards is massive!
The HST has extremely clear glass, a very crisp reticle and parallax adjustment, which to me is mandatory for 10x magnification and up. The Viper features a 30mm monotube with resettable target turrets using 0.1 MRAD adjustments. The multi-coated 50mm front lens gathers a lot of light, so shooting in the late afternoon isn't an issue. For my peace of mind I mounted the scope on a solid 1-piece Vortex mount.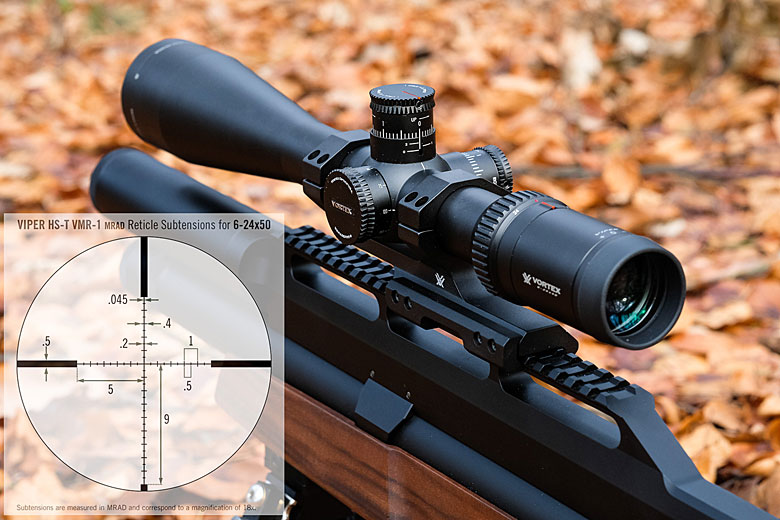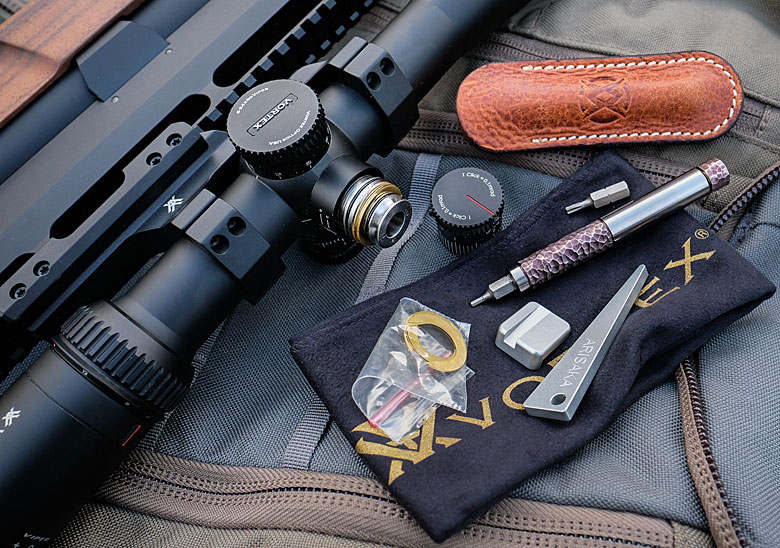 Zeroing an MRAD scope is the easiest process you can imagine. Shoot a 3-shot group and measure the distance from bullseye in MRAD. Then dial in the scope with those measurements and you should be done. With 2-3 fine tuning shots, the scope is zeroed. Making the process easier, the turrets of the Viper are very accurately marked, repeatable and use crisp clicks.
I knew I'd be dialing in my shots quite a lot, so I put the brass zero-stop rings on my up/down turret for easy re-zeroing. (This feature is amazing!) Overall, I'm extremely pleased with this big piece of glass from Vortex. It's a very shootable one, with a great reticle and no-questions-asked lifetime warranty. As a final note, for ballistic calculations I use the Strelok Pro app on my iPhone. It's not free but it's one of the best and has all the Vortex scopes and reticles in a database.
Range Day at 100 Yards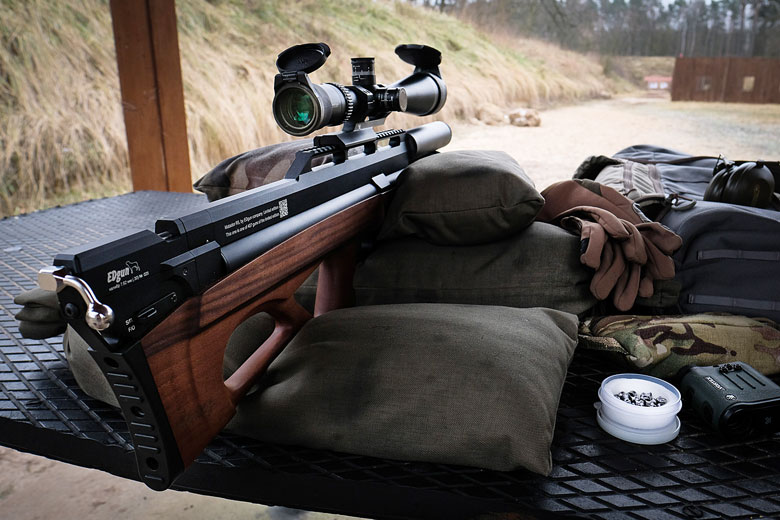 As a complete airgun nerd, I went full monty and bought a precision scale to check my pellets. Not just visually for any damage, but also to confirm their weight. I also built a more solid shooting platform out of sand bags, with additional side bags to stabilize the R5 side-to-side. It was now time for a final check of the Edgun Matador R5, with new glass, a super-steady shooting bench and hand selected ammo. I had eliminated any variable factor I was able to, except me and my trigger finger.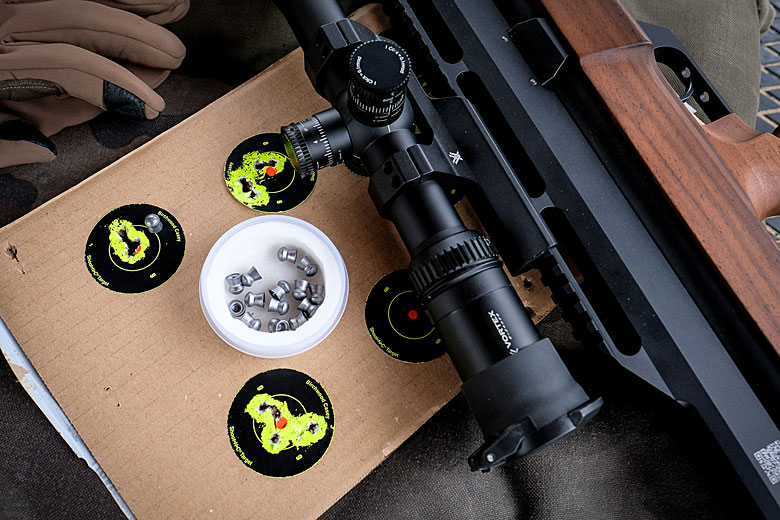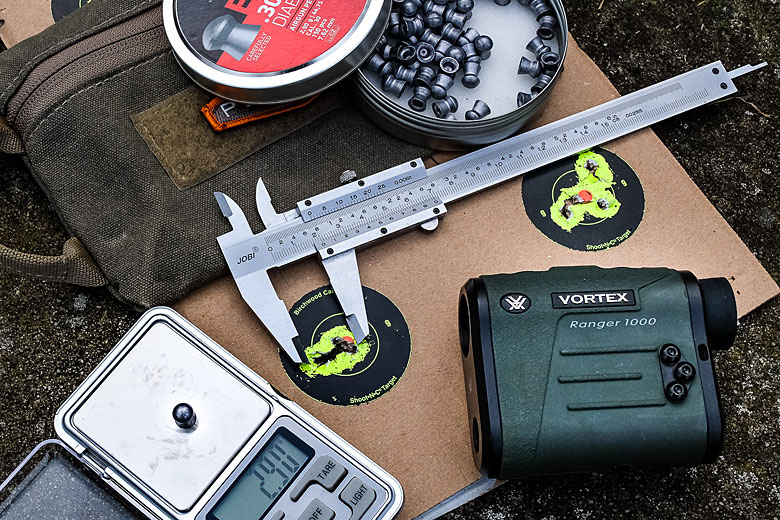 Now check out these 5-shot groups! That "opened" group on the right is about 1.2 inches edge-to-edge and the tightest group was just above .8 inches edge-to-edge. So even if we exclude that crazy tight group of the day as "the lucky one" (it must have been a lucky group, I'm not that good) my Edgun Matador R5 with a proper scope and selected ammo can potentially group at below 1 inch at 100 yards, so it's clearly an MOA-capable gun. I think that's all I need in a .30 cal airgun, as MOA accuracy is more than enough for serious hunting or recreational target work. Now what I need is more time at my range and more pellets through my Matador.
Final Thoughts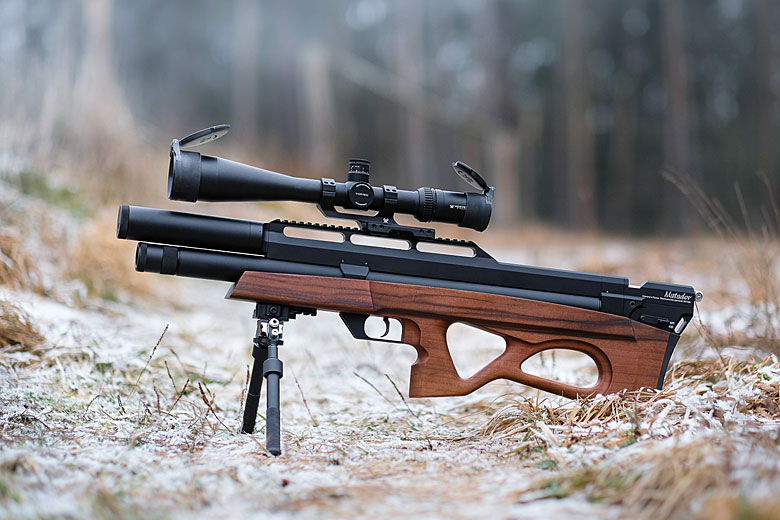 Like anything else, airguns are subject to personal judgement. However for me the R5 is just amazing. I like its "gun looking" muscular aesthetics a lot. It's all CNC made with extreme precision, utilizing the best materials available today for airguns. The Edgun Matador R5 is sheer power in a compact and purpose-looking form, that's MOA capable at 100 yards. Together with Eberlestock Big Trick pack, it makes a portable and super-quiet hunting or target package. It's a combo that will surely stay with me for long time.
Editor's Note: Piotr Ma is an avid outdoorsman, adventurer, mountaineer and certified open sea sailor. As an enthusiast of quality gear, he's always seeking the most un-compromised and best performing gear available worldwide. He's also known as an edged tools specialist. Piotr was introduced to his adventurous lifestyle when he was 10 by his father, a certified sailor and alpine-style climber. Now he continues his family tradition and shows his kids how to live a full life in the great outdoors; teaching them survival skills, shooting and archery. These days, he gladly shares his 30+ years of outdoor experience with people around the globe from his current location: Poland, European Union.