Supporting America's Elite Canines through The Warrior Dog Foundation
Supporting America's Elite Canines through The Warrior Dog Foundation
Working K-9 military dogs are an  incredible force multiplier. Simply put, they can do things that humans cannot. Besides being faster and more agile, they are amazing at tracking while remaining stealthy. More specifically, the  Special Operation Forces working dogs are truly America's Tier One K9's.
According to the Warrior Dog Foundation, each entity of SOF employs a Multi Purpose Canine program. These dogs train in nearly every aspect  imaginable. The MPC's have the ability to sniff out IED's and other explosives as well as pick out the scent of an insurgent from several hundred meters away. These incredible animals are usually the ones helping us, but this time they need our help and this is where the Warrior Dog Foundation comes in.
The Military Dog Transition
The goal of the Warrior Dog Foundation is to transition these military dogs from their operational environment to a state-of-the-art kennel facility where they can be cared for throughout the rest of their time.  The foundation was established by Mike Ritland who served as a Navy SEAL in Operation Iraqi Freedom and other deployments. Ritland knows firsthand how much support these dogs provide and wanted a way to give back some of that support.
We strive to educate the public on the importance of K-9s in the combat environment, and showcase the level of sacrifice these dogs give in support of our troops.  We care for each individual SOF K-9 with dignity and grace, including both mental and physical rehabilitation for the rest of their lives.
The Warrior Dog Foundation is working to establish a scholarship fund for the families of handlers who are wounded or killed in combat. They are also planning to build a living memorial and museum for SOF K-9s to showcase the talents and awards received in combat operations in support of our nation's military.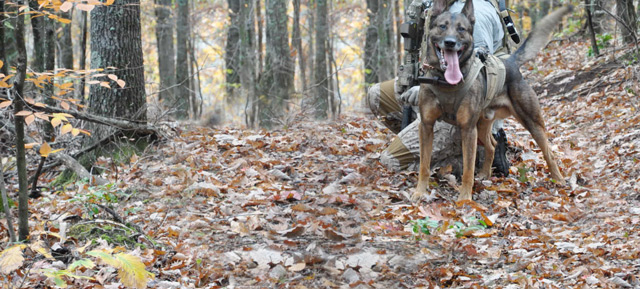 Many people have expressed interest in adopting former military working dogs and that's now a possibility through H.R. 5314. Not every dog is available for adoption though. The needs of the dog comes first and their future home is closely examined.
Trident K9 Warriors
If the video above does not load, view the 60 Minutes special on cbsnews.com
As the founder and lead trainer of  Trikos International, Mike Ritland  trains and provides private protection dogs to companies and high net-worth individuals as well as the  SEAL Teams, U.S. Government, and Department of Defense.
Prior to starting Trikos International, Ritland was a multipurpose K9 trainer for the SEALs. He's also served 12 years of active duty as a Navy SEAL and is a disabled combat veteran. He records his experiences in handling these highly trained working dogs in some of the toughest of battlefield conditions in his first book, Trident K9 Warriors.
For the first time ever, Trident K9 Warriors gives readers an inside look at these elite canines–who they are, how they are trained, and the extreme missions they undertake saving countless lives, asking for little in the way of reward. From detecting explosives to eliminating the bad guys, these powerful dogs are also some of the smartest and most highly skilled working animals on the planet.

Support America's Elite Working Dogs
You can support the Warrior Dog Foundation by donating directly or by purchasing Mike Ritland's book. Proceeds from Trident K9 Warriors will be donated to the Warrior Dog Foundation.