Fight For Your Knife Rights Now!
Fight For Your Knife Rights Now!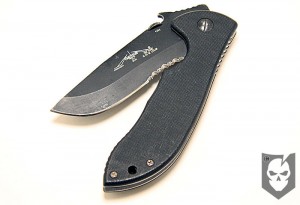 We just received an update on the next step in the battle against the U.S. Customs and their proposal to revoke  earlier rulings that assisted opening  knives are not switchblades.
To recap, the proposal would not only outlaw assisted opening knives, but its overly broad new definition of a switchblade would also include all one-handed opening knives and most other pocket knives!
If you have not been keeping up with the news surrounding the legislation, we invite you to read these posts, which will get up to speed.
U.S. Representatives will be back in D.C. right after Labor Day and  American Knife & Tool Institute has been working behind the scenes to get them on board with the Senate amendment to the Homeland Security Appropriations Bill (H.R. 2892).
What You Can Do
AKTI needs you to support this effort!   If you are a company representative or an individual, it's time to ask for amendment support from key House committee and subcommittee chairs and ranking members.
If you have a business in, sell products in, live in, or plan to vacation in, or hunt or fish in WI, CA, NC, KY, TX, IL, NY, MI, go to the AKTI Web site where  you'll find a list of key Congressmen with addresses and fax numbers.
You'll also find individual and company letters to House Members for you to download, personalize, sign, and then both fax and mail.
Please choose the appropriate letter and do this ASAP. The fate of the sporting knife industry and your ability to carry/use folding knives depends on it.
Contact  David D. Kowalski,  AKTI Communications Coordinator at  715-209-7389 (cell) with any questions.
Behind The Scenes
The Customs fight is NOT over. During this August recess, AKTI's DC lobbyists are contacting staffers of important House committees and subcommittees. With their bosses typically spending time in their home districts, staffers have more time to meet in August.
AKTI's lobbyists are focusing on key committees to get them to support House adoption of Senate amendment 1447 to the Homeland Security Appropriations Bill (H.R. 2892).
This amendment would add a fifth exemption to the Federal Switchblade Act at Section 1244 that would exempt any folding knife with a bias toward closure from being declared a switchblade.
Customs supported this amendment in a conference call with key Senators in July where the AKTI lobbyists were the only lobbyist participants. AKTI keeps working on this critical effort because it is so vital and is not done until the bill becomes law.
Please help fight for your knife rights by acting now!