The Spyderco SpydieChef: A Versatile Chef's Knife in Your Pocket
The Spyderco SpydieChef: A Versatile Chef's Knife in Your Pocket
I'll preface this article, by saying that I really like Spyderco and what they do. I'm also a big fan of Marcin Slysz, the talented knife maker who's the designer of the Spyderco SpydieChef. He's a humble guy living in the South of Poland and his shop must be one of the simplest professional knife making shops I've ever seen (considering he's been professionally making knives for a living for about a decade now).
I'm also a sucker for titanium frame lock folders, so you can easily guess my reaction when I received my SpydieChef, I fell in love instantly. However, despite my immediate love, I decided to wait and use it for awhile before writing a proper reality-based user review. Now after more than six months, I'm ready to share my thoughts, so grab your coffee and enjoy the review.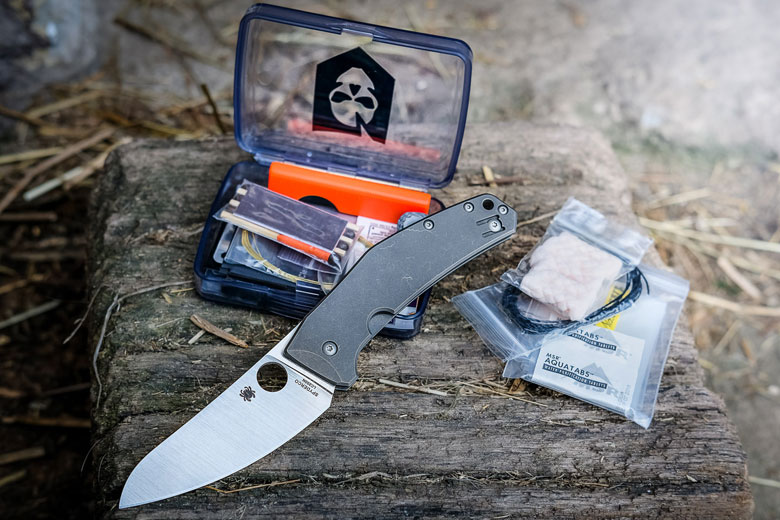 Basic Specifications
Overall Length 7.78″ (198 mm)
Closed Length 4.46″ (113 mm)
Blade Length 3.32″ (84 mm)
Blade Steel: LC200N
Weight 3.8 oz (108 g)
Blade Thickness 0.118″ (3.0 mm)
Lock Type: R.I.L. (Reeve Integral Lock)
MSRP: $329.95 (Street price is about $199.95)
The Folding Kitchen Knife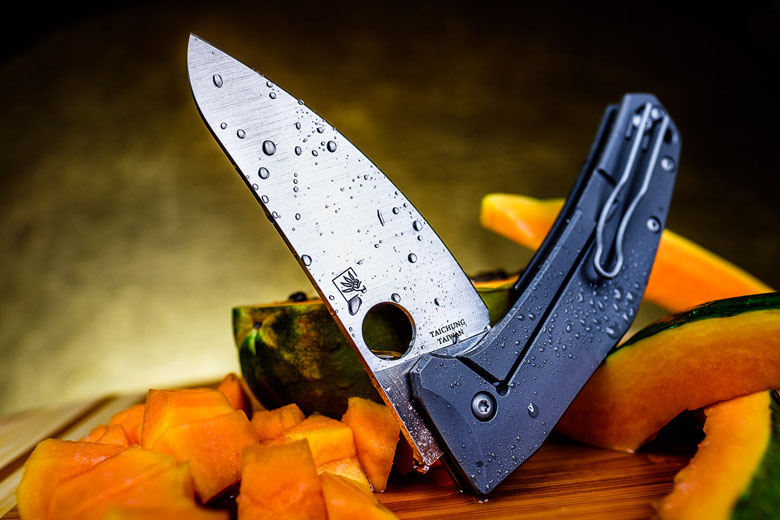 A folding kitchen knife is definitely not a new idea and I've seen and actually owned one before with A.G. Russel's folding Santoku. However, most of them were designed with the same type of pattern, which is taking a kitchen knife and shortening the blade so it can be used as a folding knife. The usual result (as expected) was a knife that was indeed good for kitchen use, but only for kitchen use.
Good luck trying to skin a whitetail with a folding sushi knife. Now the SpydieChef's genesis was very different; it was designed foremost as a lightweight EDC folder with great ergonomics and a good edge-to-handle ratio. Only later in the design process was it tweaked to be well suited for kitchen use. Add to that Marcin's talent and sense of design (plus top materials) and a pocket slicer was born!
Construction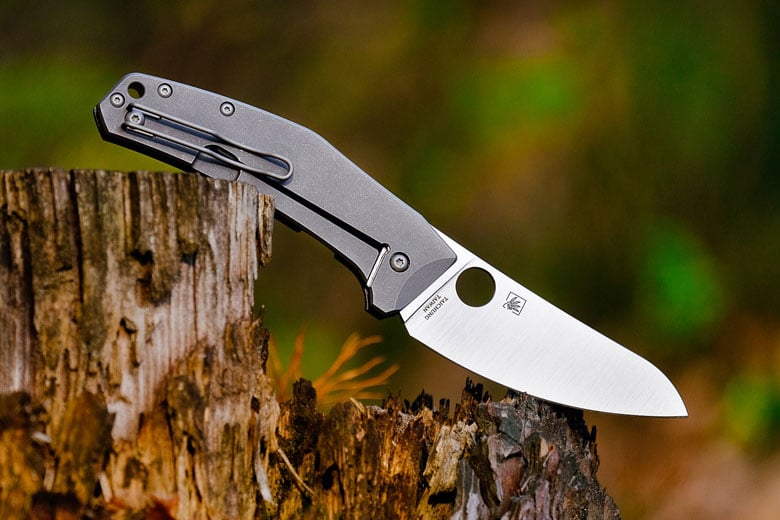 Technically speaking, the construction of the SpydieChef is an industry standard for a frame lock. It features two slabs of titanium separated by two stand-offs and a stainless blade running in between on bronze washers. It's an open-back design, which means easy washing after messy use. The manufacturing quality is excellent, but that's no surprise as it comes from the state-of-the-art Spyderco manufacturing plant, located in Taiwan.
This plant is where the most advanced Spyderco models are produced. Frame lock is personally my favorite lock and I've repeated it countless times on all the forums since the day I got my Sebenza years ago. Frame locks are strong by design, easy to operate and foolproof.
The harder you grip your knife, the stronger the lock actually becomes, due to your palm preventing the lock-bar from opening. It's also great that Spyderco's owner, Sal Glesser credited Chris Reeve (inventor of the frame lock) and named it R.I.L. (Reeve Integral Lock). Well done Spyderco! We (knife junkies) owe it to Chris.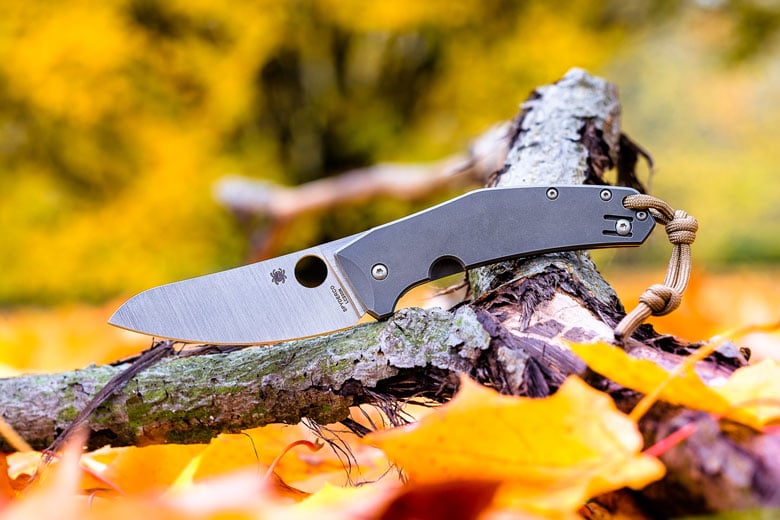 Moving on, a generous finger cut-out makes opening a cinch, even when wearing gloves. Left-hand opening is also possible, but only with a bare hand. Is that an acceptable compromise for a utility kitchen folder like this one? I'd say conditionally, yes and that's probably why there's no southpaw version available (for now at least). Honestly though, how often do you wear leather ranch gloves in your kitchen?
It's the kind of knife you can always carry in your pocket.
Because it was designed as food preparation folder, there was no need to overbuild it. Both the titanium handle slabs and the blade stock are a little bit thinner than on other Spyderco folders designed by Marcin Slysz (Bowie and Techno folders), meaning it's definitely not a folder I'd pry anything with. It wasn't designed as a tactical beast. For hardcore use, I'd take one of the dedicated heavyweight models like a Strider SmF or Spartan Harsey.
Make no mistake though, at 0.118″ stock, the Spydiechef's blade is still robust enough for serious cutting chores and works well as a lightweight EDC field folder. It's the kind of knife you can always carry in your pocket.
Comparing the custom version to the production, you'll notice that Spyderco did a really good job on transferring Marcin's design into the production model. However, there 's one big difference between the custom and production version and that's the wire clip implemented by Spyderco. Aesthetically, I preferred the long flat custom clip, but after working with the wire clip, it was a very welcome change.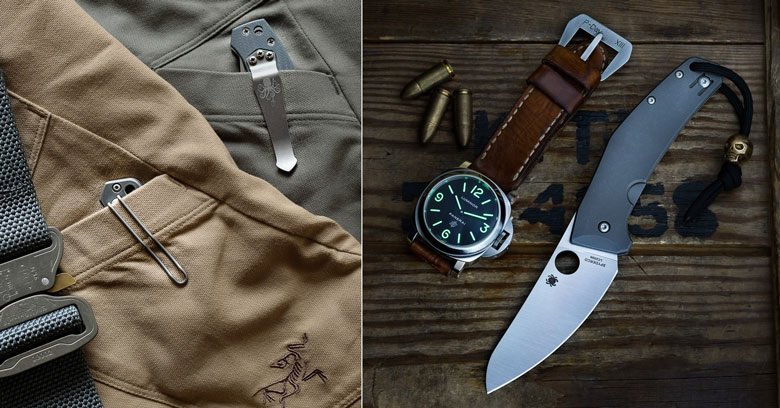 The SpydieChef's clip positions the knife really deep in the pocket, leaving only a small portion exposed. However, you can still grab the knife and draw relatively fast in an emergency. This kind of low signature, bead-blasted wire clip is the way to go in urban environment, as even with the clip partially visible under your t-shirt, no one would give your pocket a second glance.
It looks like the clip of a standard pen and it's way less obvious than a bold, shiny full-size clip would be. Plus the knife itself is flat, so there's no bulk and no easily visible imprint of a folder carried in a pocket.
Pictured above is the SpydieChef compared to a classic tactical folder (Emerson Specwar) where speed and sure grip is everything. Both of them are best in class for intended application, but only one of them is really urban-friendly. It's also ambidextrous too! Oh by the way, you can see the lanyard hole still has enough clearance that you can easily tie a piece of cord on your Chef.
Use in the Kitchen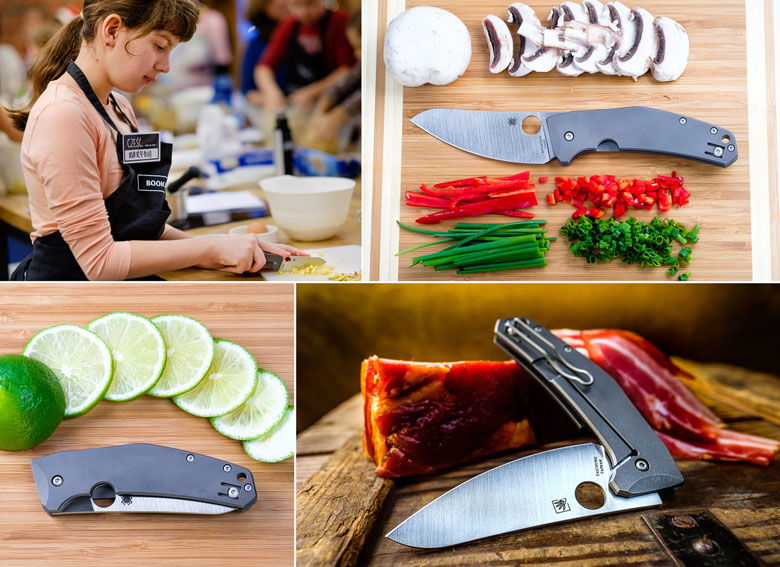 When I got it finally in my hands, I gave it a good run in my kitchen on all kinds of food. Mostly to test if it sliced as easily as I expected, but also to check edge retention when chopping things on a hard bamboo board. With a full flat grind finished with quite a thin cutting edge, it just glides through meat and vegetables. It also glides through through rope, cloth, cardboard, or other stuff you usually cut around house.
After about 30 minutes of extensive cutting, there was still no real need to resharpen it. This is partially due to the new super stainless Nitrogen-based and US made LC200N steel. The LC200N isn't a CPM 3V kind of toughness of course, but it's way better than VG10 or N690, which are the industry standard in quality EDC folders these days.
LC200N holds an edge also considerably better than H1, which is widely regarded as a high quality rust-proof steel, or rather, was regarded as such before. Actually I find LC200N easily on par with S30V and 154CM regarding cutting performance and edge holding. I've also seen many other reports on various forums, all sharing a similar message. So LC200N seems to be a logical choice for a kitchen slicer.
Quality Materials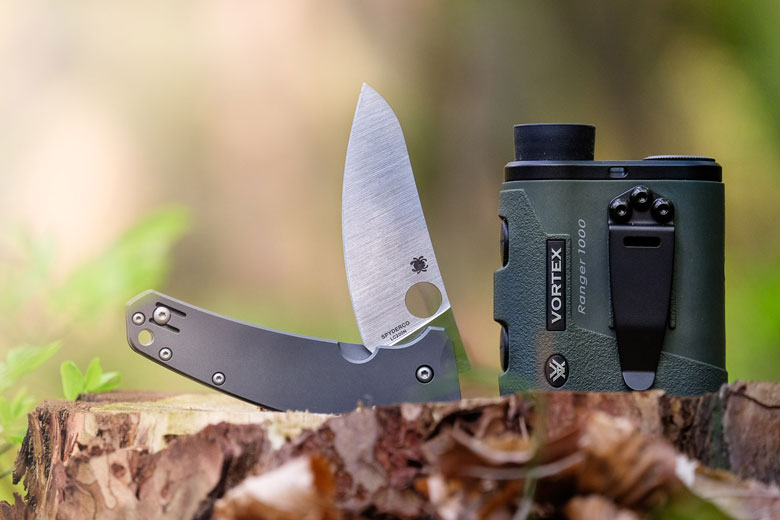 The SpydieChef's tip is a hybrid between a Santoku style and classic drop point shape. It's pointy enough for most precise kitchen jobs, but at the same time it's higher and more robust than a classic chef knife's needle tip. What's really important in a small cook's knife though is that it allows a user to use the whole length of the cutting edge for slicing and chopping on a cutting board, up to the very tip.
NASA-developed steel in a pocket knife sounds cool, doesn't it?
The cutting edge is perfectly sharpened down to the choil, which creates an excellent "cut starting point" for tomatoes and other delicate vegetables.
So the overall blade profile offers a good compromise between cutting performance and reasonable strength; it's really optimized to be used on food.
Since I've put it in my pocket, I've used it in way more situations than I usually use my EDC knife. Lunch preparation in the office? Sure! Helping friends in the kitchen when cooking together on Saturday evening? You bet! I even gave it to my daughter when she attended a "creative cooking" workshop. SpydieChef saved the day for her as the knife they gave her was so dull it was neither easy nor safe to use.
Last but not least, I checked out whether this new latest and greatest steel stands by Spyderco's promise, regarding corrosion resistance. A mix of chives, lemon, vegetables and salted bacon makes quite an aggressive rusting agent. The results after a couple hours? Absolutely no effect on the blade, not even the smallest dark spot. It's a very good steel. In fact, it was developed for NASA about a decade ago and only now is it widely available for manufacturers like Spyderco. It might not be that important, but NASA-developed steel in a pocket knife sounds cool, doesn't it?
Kitchen Knife for the Field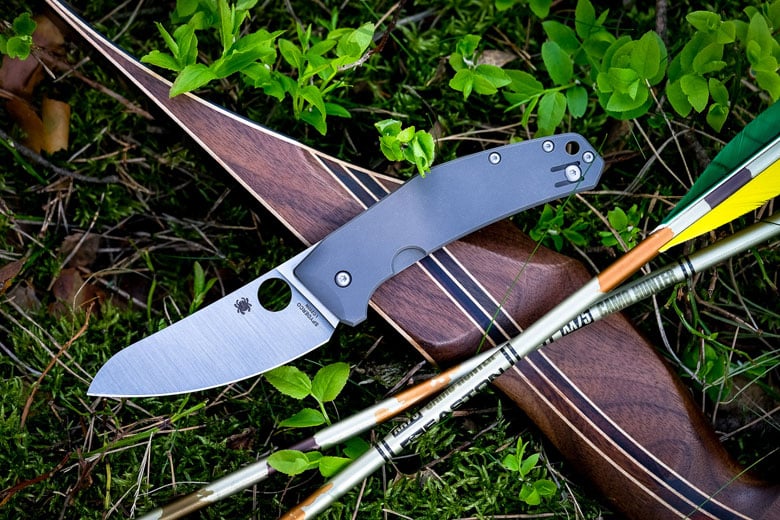 Working with the SpydieChef on a cutting board is comfortable and easy. The key is using the overall profile, with the handle line raised above the long-bellied edge. Thanks to the design, your fingers are positioned above the surface when chopping food, which makes work easier and more precise than with the usual straight folder. Its sandblasted titanium surface and clearly noticeable finger guard also make it safe to operate and non-slippery, even with wet hands.
It's also relatively easy to choke up on the spine of SpydieChef's blade when chopping things like herbs or chives, because the blade profile is high enough and the Spyderhole with the front scallops on the handle make great indexing points. Overall, the ergonomics are indeed optimized for kitchen work, whether at home or out camping.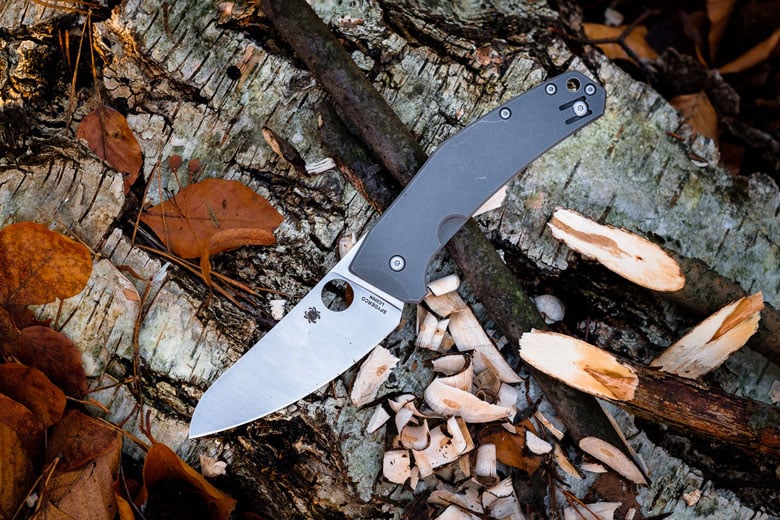 I also wouldn't hesitate to use the SpydieChef as a field knife. Definitely not for anything crazy like wood splitting, but it cuts too good to leave it at home. It's an impressive whittler, just check the big clean shavings of that birchwood branch above. Sharpening stakes, removing bark, clearing some twigs on a tree-stand while bowhunting that elusive deer, none of these are a problem for the SpydieChef.
…it's easy to forget it's actually in your pocket.
The SpydieChef makes a really good lightweight forest companion, especially on ultralight archery hunting trips. Skinning whitetail or cleaning game birds and fish would be easy and effortless with a .118-inch bellied blade that holds its edge for a long time.
As I said, I've been using my SpydieChef for well over six months now, in wet autumn, snowy winter and sunny spring. It's been in my pocket as my office EDC, weekender and hiking/mountaineering folder. In addition to the countless uses around my country cabin. With its thin profile, plus weight saving design and materials, like titanium, it's easy to forget it's actually in your pocket. That is until you need a sharp edge, then it comes in handy. I'm also more than sure that in an emergency, it would slice through flesh like a razor blade.
Closing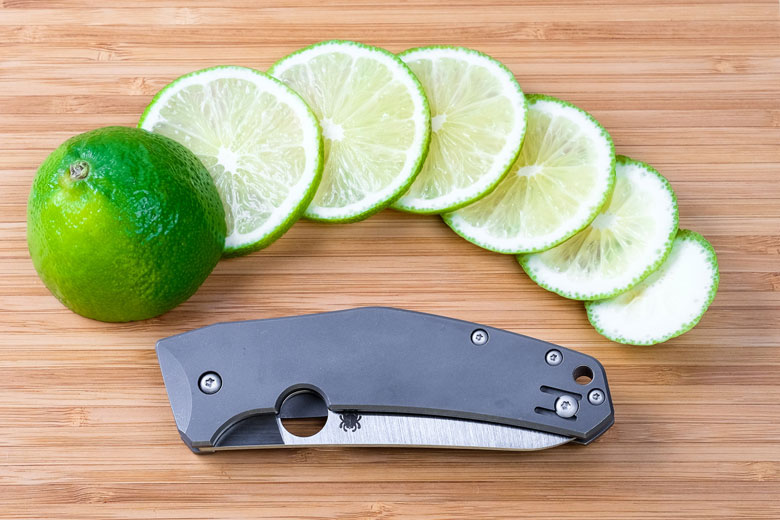 In summary, I can say the SpydieChef is easily one of the most advanced and EDC optimized "pocket food processors" on the market today. It's comfortable to work with, scary sharp and lightweight to carry, but still robust and safe to use. Plus it'll never rust, so there's no need to clean it immediately after cutting that lime for your gin and tonic. You can focus on your drink, no need to worry about your folder. NASA engineers took care of that for you when they approved LC200N as appropriate for corrosive environment use.
The SpydieChef is a field and camp proven knife as well. In the future, it would be cool to see a larger version of this knife. Sal, if you read this, please consider it at some point! Also I'm sure the southpaws would love to see a dedicated left-hand version available. Overall, I really enjoy using and carrying my SpydieChef. It'll stay with me for a long time in rotation with my EDC. Especially on hiking trips, when I want a frame lock in my pocket, but am counting every ounce at the same time.
Three Years Later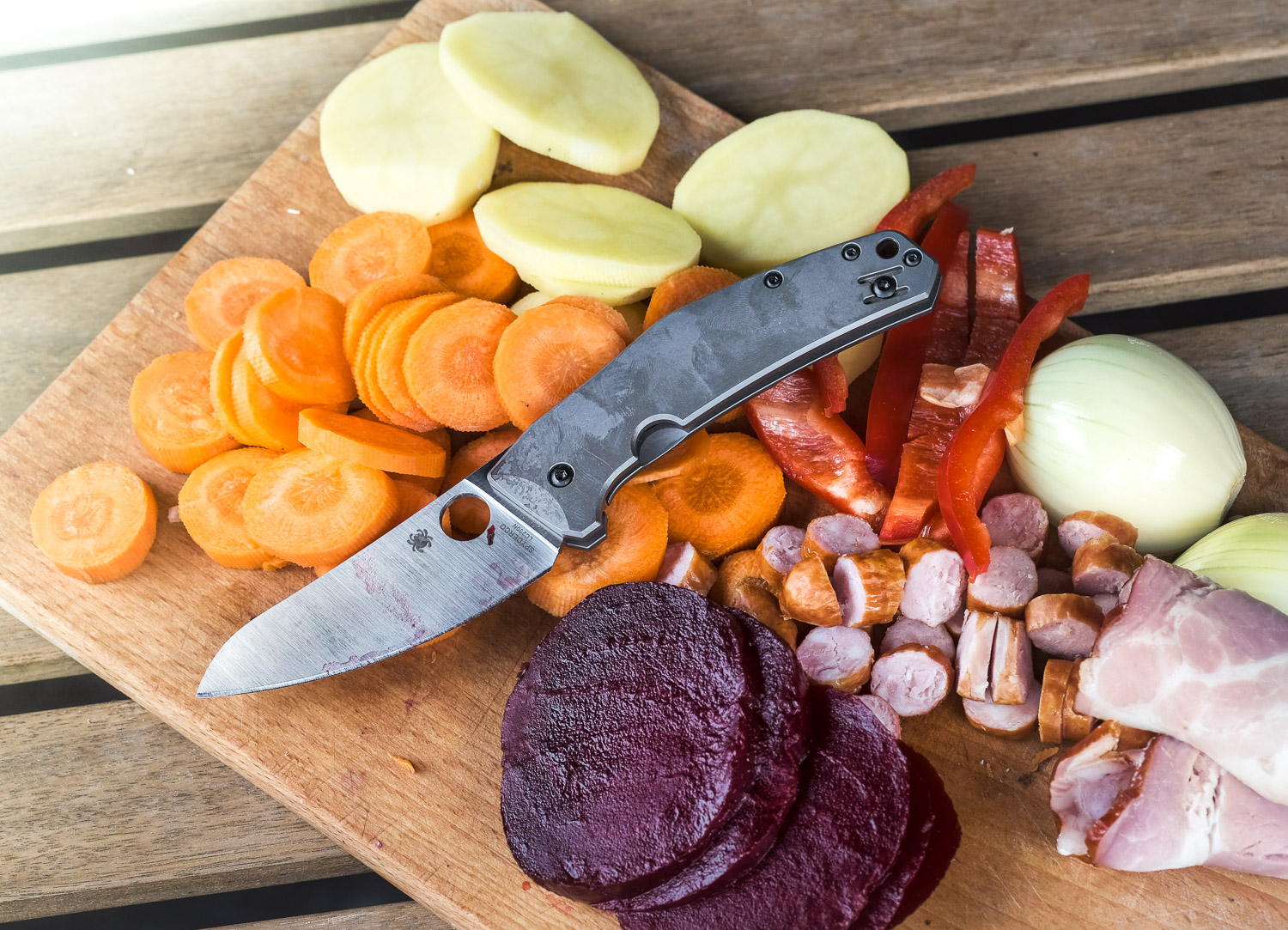 For the last 3 years the Spydiechef has been my number one folder for food preparation when hiking or camping. However, Spyderco never gives up on improving things and their term for this process is Constant Quality Improvement. After three years, they've now introduced the Spydiechef CQI, with a few changes.
First up, the detent ball is now ceramic instead of stainless steel. There were a few cases were the steel detent ball stained when using the knife in saltwater for a prolonged time and the result was roughened action. I haven't experienced this, but the ceramic ball is a welcomed change and makes a smooth knife even smoother.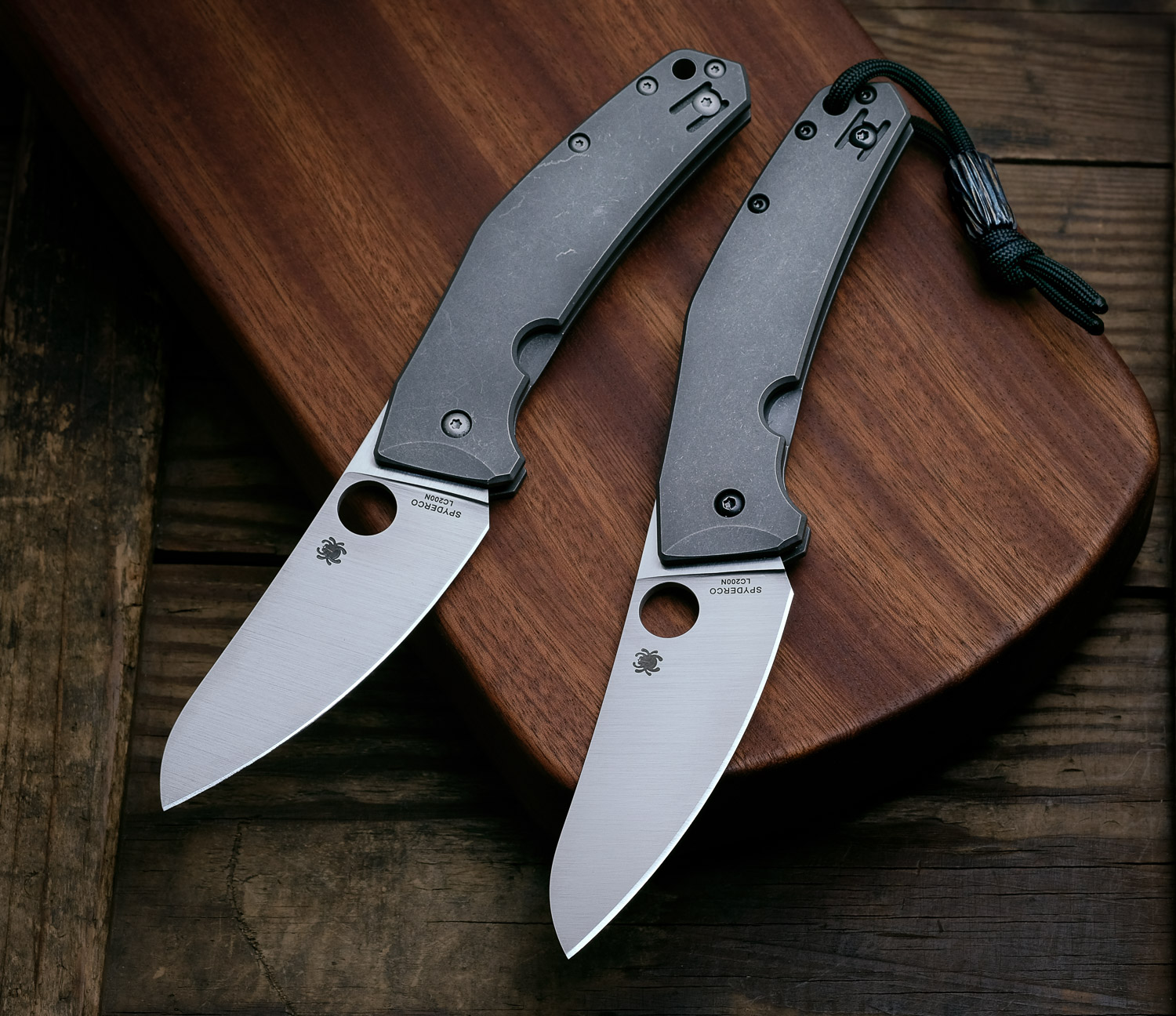 Next, they've added blackened screws. This is probably more a cosmetic change than anything else, however it's definitely true that coated screws are more corrosion resistant. As one of the main uses for this knife is food preparation, this change makes sense. Not to mention it makes a clear visual distinction between the original and CQI version.
The last change is a slightly steeper factory sharpening angle, which is clearly visible when directly comparing both knives. This angle makes the blade an even better slicer, even if it's just a bit incremental.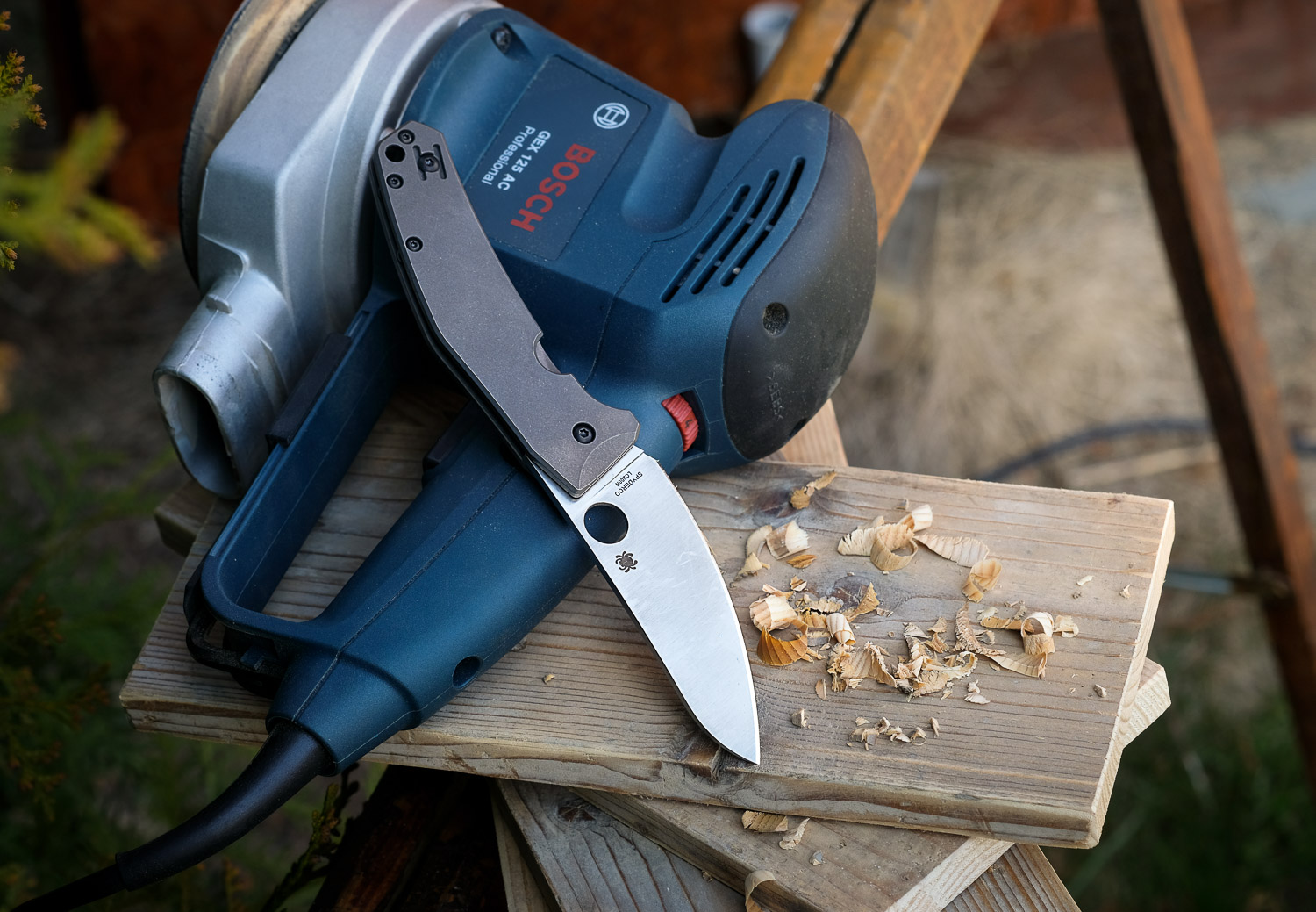 As you can see, the changes are rather subtle, but what could you expect when the original Spydiechef was already a great piece? I've been using the CQI version for about three months now, mostly to check out its cutting performance and edge retention with the new blade angle. As you might guess, it cuts and slices like a champ, with no downgrade in keeping its edge. The edge held up well as I whittled and cut various things (ropes, bags, webbing) around my cabin. So as with the original, this is still a valid tool for almost any issue, including use as a camp kitchen knife.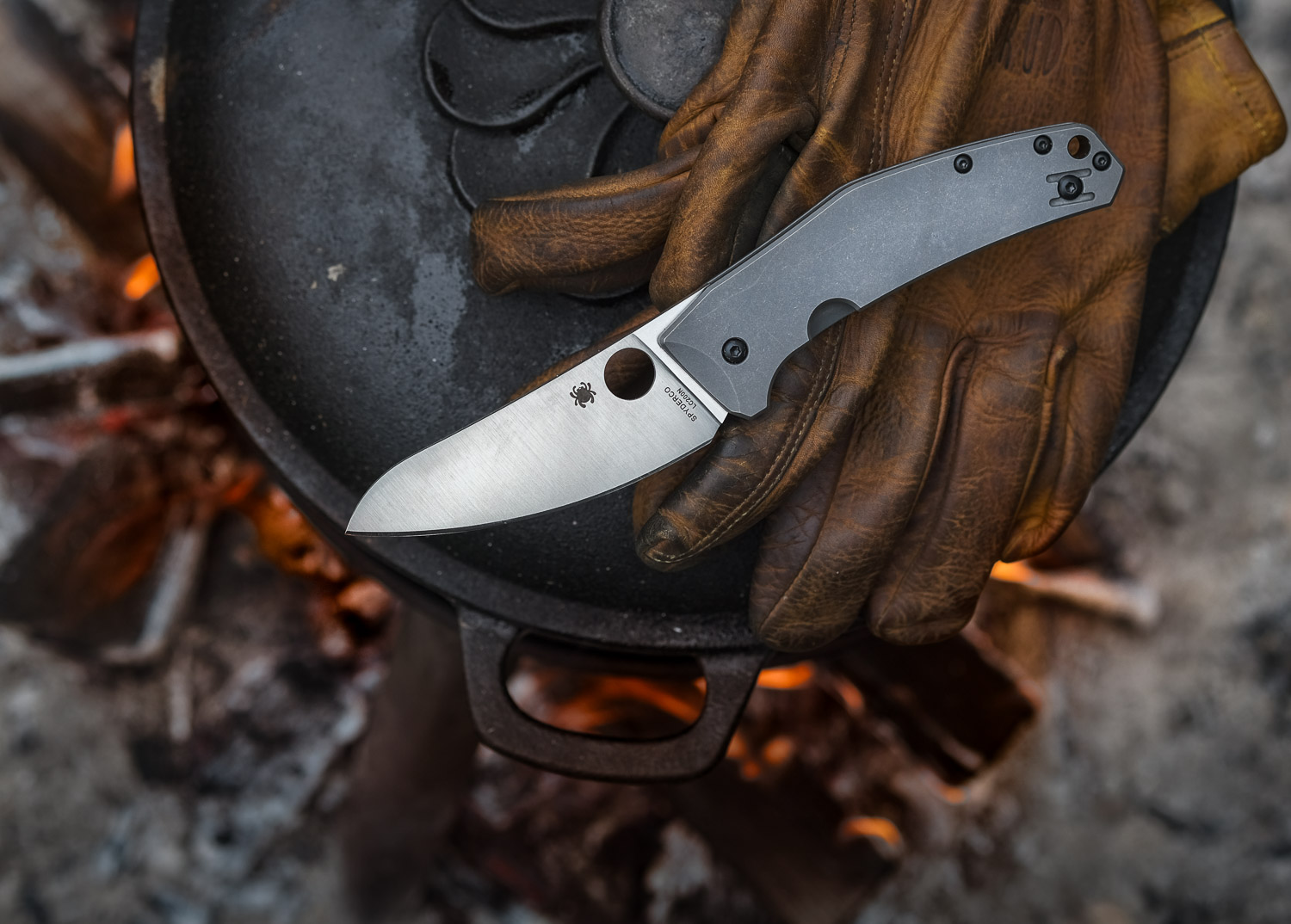 With all that being said, is there any point to upgrade if you already own the original version? I would say no, unless maybe you use a ton, cleaning fish in seawater on a kayak or something similar. However, if you were on the fence about purchasing a Spydiechef, the CQI version is about as perfect as you can get. If I didn't own one, I'd be jumping on this just in case Spyderco decided to discontinue it.
Editor's Note: Piotr Ma is an avid outdoorsman, adventurer, mountaineer and certified open sea sailor. As an enthusiast of quality gear, he's always seeking the most un-compromised and best performing gear available worldwide. He's also known as an edged tools specialist. Piotr was introduced to his adventurous lifestyle when he was 10 by his father, a certified sailor and alpine-style climber. Now he continues his family tradition and shows his kids how to live a full life in the great outdoors; teaching them survival skills, shooting and archery. These days, he gladly shares his 30+ years of outdoor experience with people around the globe from his current location: Poland, European Union.