Two Blades, One Knife: The Spyderco Dyad Jr.
Two Blades, One Knife: The Spyderco Dyad Jr.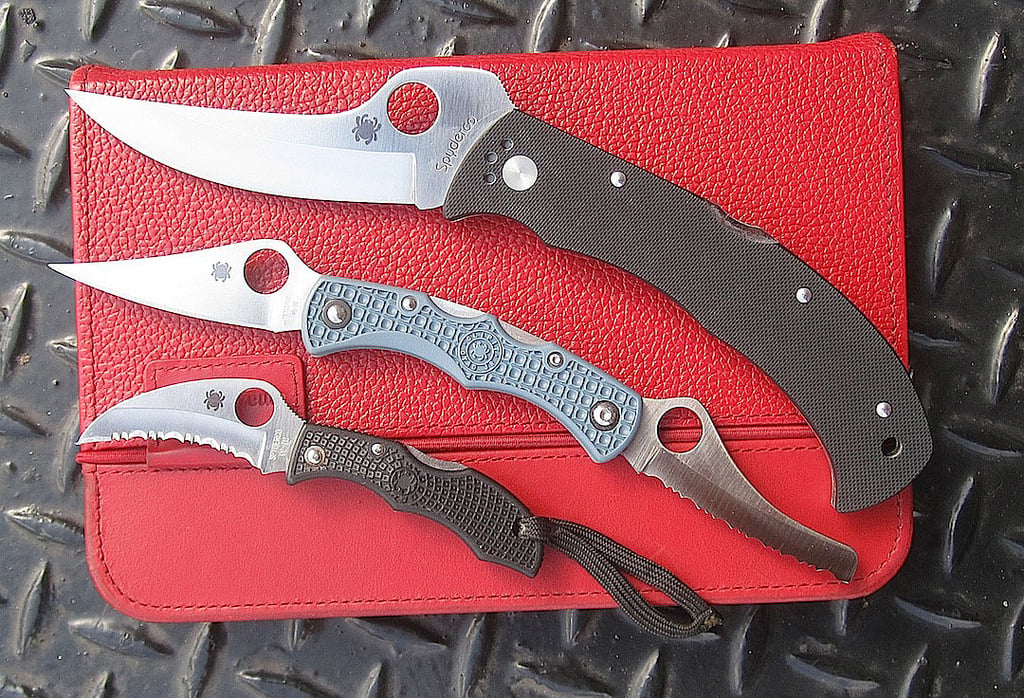 The Spyderco Dyad Jr. was a small two-bladed folding knife that was introduced for a short period in 1999. Spyderco occasionally produces what they call Sprint Runs; limited productions of previously discontinued knives. When I learned that Spyderco planned to do a Sprint Run of the Dyad Jr. in 2011, it quickly became one of the knives I was most excited for.
I had never handled a Dyad Jr. before, but it looked like it would be a really handy, practical knife, and since there would only be 1,200 made I figured I could always sell it if I didn't like it. Well, I've been using mine every day for the last month, and I can already tell this little gem will be one of my favorites.
What makes this such a great knife is the efficiency of it. In terms of cutting edge per inch of handle, or cutting edge per ounce of knife, the Dyad Jr. cannot be beat. It's a 1. ounce knife with 4.25" of cutting edge (not just blade length), all in a handle barely over 3". That's a hell of lot of cutting power in a very compact, lightweight package.
Dual Blades
The Dyad Jr. achieves this with its unique, two blade system. There is an extremely fine, full flat ground plain-edge VG10 steel blade, and a sturdy, hollow ground serrated sheepsfoot blade, all tucked into a blue-grey fiberglass reinforced nylon handle with a volcano grip.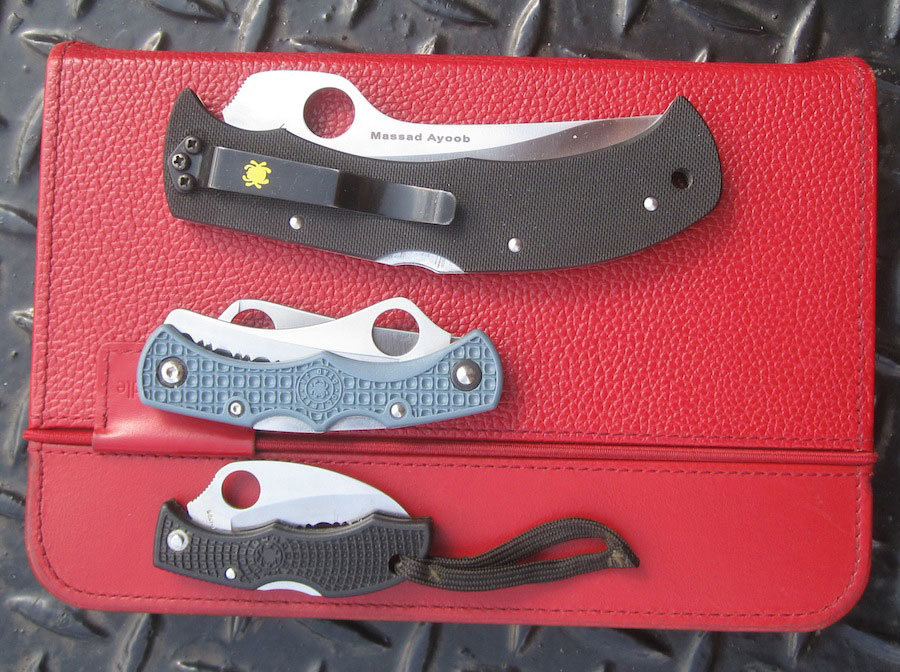 The plain-edge blade is the finest I have seen from any production knife; the tip is like a heavy gauge needle, and the 2mm blade is ground so thin that it looks like it's been sent to Tom Krein for a regrind. Let me repeat: this is an extraordinarily fine blade. Its great for detailed cutting or zipping through cardboard, which will please an experienced knife aficionado; the average clumsy user will rapidly snap the tip off. Never, ever, lend the plain-edge blade for someone to use.
For rough use, simply depress the bypass lock, flip the plain-edge blade closed, then thumb open the serrated-edge sheepsfoot blade. This blade is a full 2mm thick all the way to the tip and hollow ground for durability, so its will survive anything short of full on prying. There are 6 sets of scallops on the blade. They are nice and shallow, to cut smoothly without snagging, which is essential for a reliable high performance; overly steep serrations tend to snag in fibrous material. What I like about this blade is that there is no tip to snap off, which makes it great for loaning to a friend who needs a knife. It would also be handy if I were cutting something in a confined space where I might accidently jab something hard with the tip of my knife.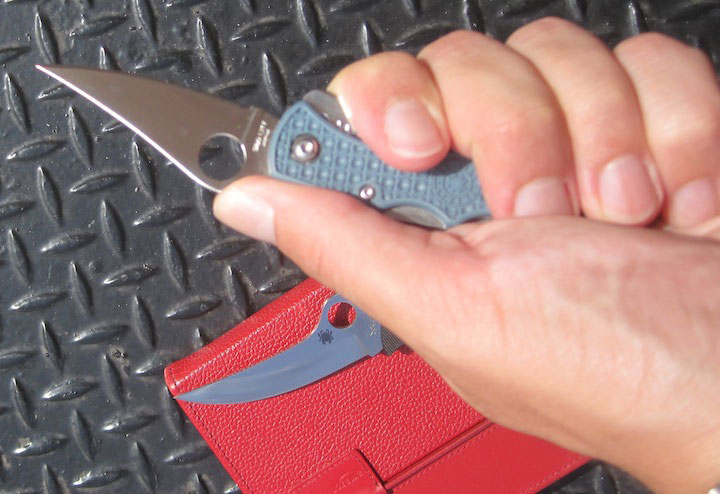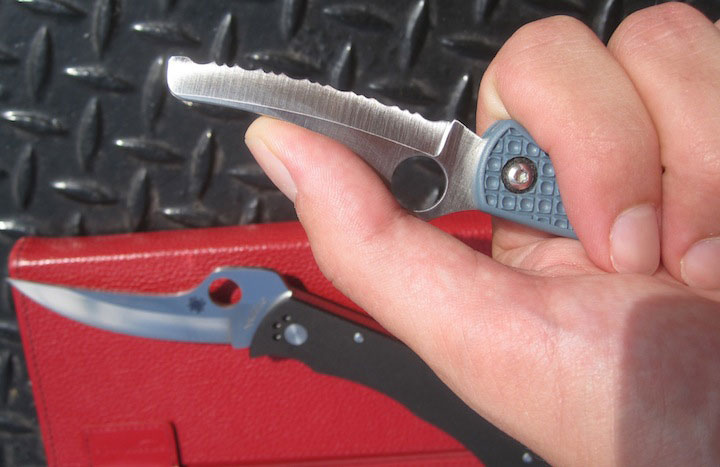 Both of these blades are great in their own right, but it's having them both within the same lightweight handle that makes the Dyad Jr. exceptional.
Applications
For one thing, it's a great travel knife. The small size and blue grey handle makes the knife universally friendly, even in non-knife cultures. Obviously there will be exceptions, but by and large this is not the type of knife that's going to make people uncomfortable or worse, land your ass in a foreign jail. It's just an eminently reasonable pocketknife, and people I've shown it too seem to like it.
But the real advantage for travel is the dual blades, which allow you to use one blade until it gets dull, then simply switch over and use the other, fresh blade. If you're traveling for an extended period of time with one knife and no sharpener, the extended cutting endurance of the Dyad Jr. is a very valuable feature to have. The small size and dual blades also make it a great knife for an emergency survival tin, if that's the sort of thing your interested in.
Redundant EDC
This extended cutting performance also makes the Dyad Jr. the ideal second knife for your every day carry. I'm a sucker for redundancy, with the cliché wisdom that "two is one, one is none" being very dear to my heart. So in general, I like to carry one large primary folder, and a smaller backup knife. The backup is primarily for using in public so as to not alarm the knife averse, but it's also there in case I loose or destroy my primary — which is extremely unlikely, but that's the way my brain works. So having my backup knife have two blades creates a nice, triple redundancy safety blanket that I find very reassuring.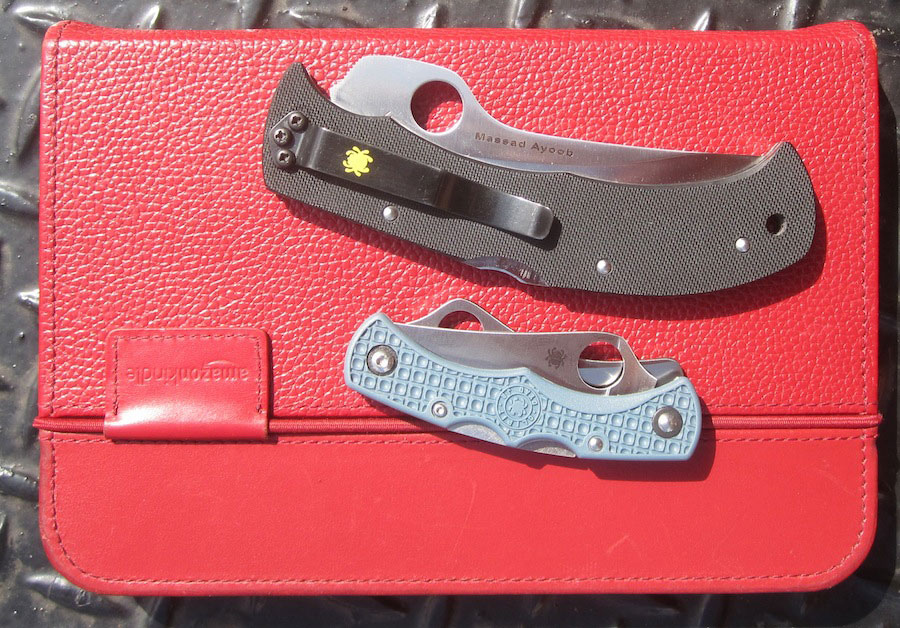 The way I have it integrated into my EDC is to have my large primary knife (usually the C60 Ayoob) IWB, as my big task/ private use knife, while the Dyad Jr. rides in the front pocket with my Maratac AAA light. If I have a small cutting chore or need to do something in public, I use the plain-edge blade. I do not use the serrated-edge blade unless totally necessary, so that I always have one factory fresh edge with me at all times in case of emergency (seatbelts, rope, clothing.) The result is triple redundancy cutting tools, with only two knives.
Considerations
My biggest concern when looking at pictures of the knife was that it would be uncomfortable to hold, due to the spine of the folded knife digging into the hand. I am pleased to say this is not the case. Spyderco's "design in the dark" adherence to ergonomics makes the Dyad Jr. surprisingly comfortable to hold. The spines of the knives, especially the serrated-edge sheepsfoot, are curved in such a way that they are comfortable to hold. Not the ergonomic bliss of most Spyderco knives, but more comfortable that many other pocketknives I've used, and certainly fine for a few minutes of use. If you expect to be whittling for hours at a time, however, I'd go with a more comfortable single blade knife like the Dragonfly.
One critique of the Dyad Jr. is that it needs either a pocket clip or a lanyard hole. Pocket clips have spoiled me, and it took a total re-arrangement of my EDC load out to allow me to carry the Dyad Jr. loose in my pocket. Obviously, this was a 1,200 piece run of a 1999 era design, so I am totally satisfied in that regard. But if this knife were ever re-introduced, it really should have a pocket clip or lanyard hole for ease and security of carry.
I would also like to see another sprint of this knife, with either a polished micarta handle, or, ideally, with the beautiful, woven glass fiber handle featured on the CF Lum. Equipped with a pocket clip, that would be a truly wonderful knife.
In conclusion, I am an especially happy Spyderco customer this year, and the Dyad Jr. is a big part of that. This is one of the rare small knives that I would feel comfortable with as a primary, because there is so much cutting edge on hand that it is unlikely that I would ever "not have enough knife." But where the Dyad Jr. really shines is in the roll of the secondary knife, where its two useful blades offer a reassuring backup to a primary folder. That's how I'm using mine, and I look forward to carrying my Dyad Jr. for years to come.
Editor-in-Chief's Note: Mark Greenman is an ITS contributor and creator of good-kit.com