ITS Life Member Enrollment now Available for Plank Owners and Crew Leaders!
We've just re-opened our Life Membership today for an open-enrollment period of one week to Plank Owners and Crew Leaders only! Click here for more info (You must be signed in as a Crew Leader or Plank Owner to view this link.)
While we'll get into all the awesome Life Member benefits below, know that we've decided that this and any other potential Life Member offerings will only ever be available to our existing supporting members. There will never be a "publicly available" release.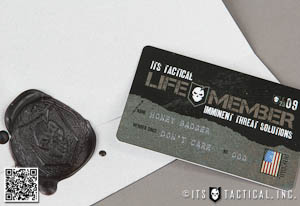 We want to keep the ITS Life Membership exclusive and there's no guarantee it will even continue to be offered after this year. Last year we had an overwhelming response and had to quickly close down the offering, which left many of you disappointed that you couldn't get in.
We hope that this week-long Life Membership open-enrollment period will give each and every one of you the opportunity to become a card-carrying Life Member, without affecting the integrity of the close-knit group our existing Life Members have all helped to create. We've also disabled any new sign-ups of Crew Leaders until the Life Membership offer has expired, just to ensure our existing members have the opportunity they deserve.
For details on how you can join ITS Tactical as a Life Member, click here  (You must be signed in as a Crew Leader or Plank Owner to view this link.)
Life Member Benefits
No Renewal Fees. Ever. Period.
20% off all orders in the ITS Tactical Store
25% off all future ITS Events (Including next year's Muster!)
ITS Tactical Life Membership Card (serialized card with your name and the date you originally joined as a Plank Owner or Crew Leader!)
The ITS Life Member Patch Collection

Black and Gold ITS Logo Patch
Black and Gold Matching Plank Owner or Crew Leader Rocker
Black and Gold Matching Life Member Rocker
Gold Chevron for Every Year of Membership (we send a new Chevron each year)

ITS 2013 Life Member T-Shirt
Pre-Purchase Ability on all New Items added to the ITS Tactical Store (Never miss your chance to get a newly released item)
Preferential Order Processing (Your orders get filled first)
Access to Life Member Section in the ITS Forums and the Life Member Facebook Group
Use of the ITS Branding Iron anytime you're in Arlington! (Our HQ is by appointment only, so please keep that in mind.)
You'll be grandfathered in to any other benefits we come up with in the future!
Plus all the great member benefits you're already receiving!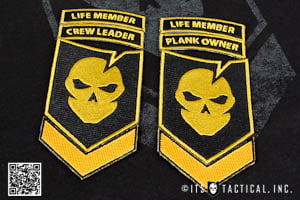 Check out how you can Join the ITS Life Membership here! (You must be signed in as a Plank Owner or Crew Leader to view this link.)
You don't want to wait too long though, you've only got a week to secure your registration and your unique Life Membership number is based on a first come, first served basis!
Thank you to everyone for all the support we receive on a daily basis, we wouldn't be here today without it!  There's a lot to look forward to in 2013 and we can't wait to share it with you!
Are you getting more than 14¢ of value per day from ITS Tactical?
Please consider joining our Crew Leader Membership and our growing community of supporters.
At ITS Tactical we're working hard every day to provide different methods, ideas and knowledge that could one day save your life. Instead of simply asking for your support with donations, we've developed a membership to allow our readers to support what we do and allow us to give you back something in return.
For less than 14¢ a day you can help contribute directly to our content, and join our growing community of supporters who have directly influenced what we've been able to accomplish and where we're headed.