Zulu Nylon Gear: Out of the Box Thinking and the M4 Double Mag Pouch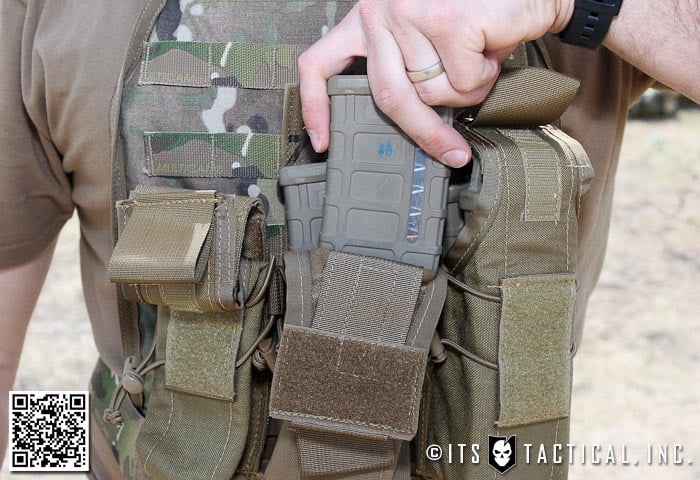 It's no secret that we're huge supporters of Zulu Nylon Gear and have thought highly of their craftsmanship since the beginning days of ITS Tactical when we first reviewed their Mega Admin Pouch and have gone on to develop our own products with them.
We're also thankful to have been involved in the T&E process of the M4 Double when Zulu was first manufacturing these. This review of the M4 Double Mag Pouch has been a long time coming and we hope you look at its evolution as an advance forward from traditional mag pouches, as we do.
M4 Double Mag Pouch
The advancement and out of the box thinking are what truly makes the M4 Double unique. It features a "reverse flap" to enclose the magazines, yet provides quick access to the covered pouch with a simple pull of the large 2″ webbing tab.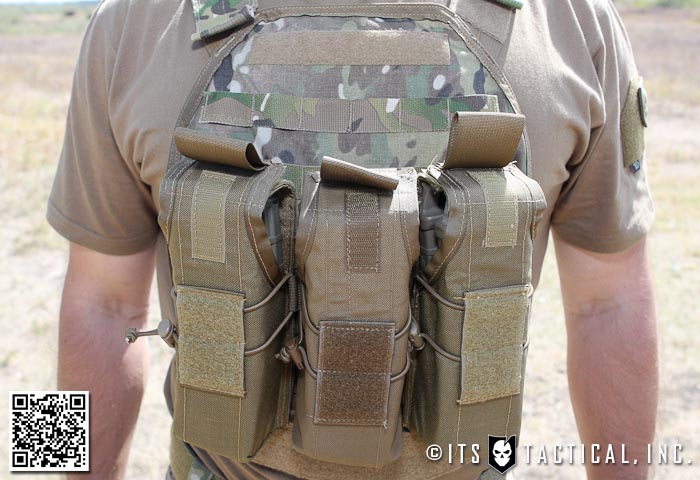 Traditional magazine pouches typically have a flap that covers your magazines to help prevent additional dirt and debris from entering and somewhat protecting them from damage. Magazines are accessed by lifting up this flap which is secured with velcro, a slide release buckle or sometimes both. The flaps typically have to be either removed, if the pouches feature removable flaps, or pre-positioned to tuck behind the mags and out of the way. Removing or tucking the flap can be a pain and the alternative of opening the pouches when needed, can produce a loose flap that gets in the way.
These pouches have performed very well for us and we recommend them highly. As we'll get into below, it's effortless to access your magazines from a closed pouch and quickly reload your primary weapon.
Reverse Flap
What Zulu has developed is a "reverse flap" that not only gives you all the benefits of a flapped mag pouch, but easily pulls out of the way and secures itself naturally to the exterior of the opened pouch. The result is quick access to a closed mag pouch with a simple pull that gets the flap down and out of the way instead of up and in the way of your mag draw.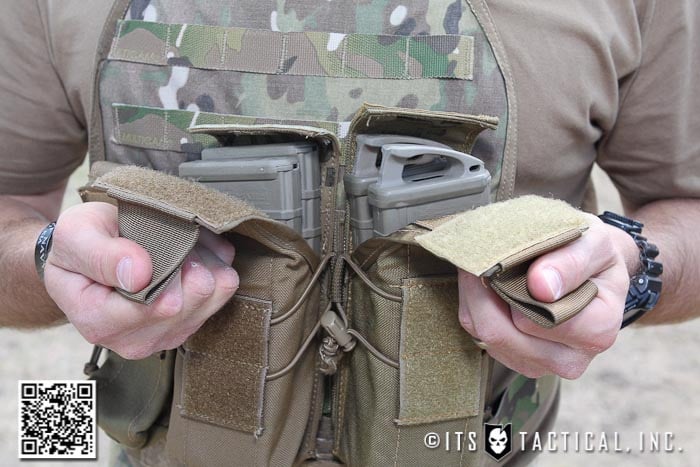 The exterior of the flap has a small 1″ section of hook that mates to the 2″ wide x 3″ tall loop below it when the flap is pulled down. This secures the flap and ensures it doesn't move back up and in the way. The caveat to the reverse flap design is that you're left with a longer section of fabric at the rear of the mag pouch, this has the possibility of falling down and getting in the way when you're reinserting mags into the empty pouch.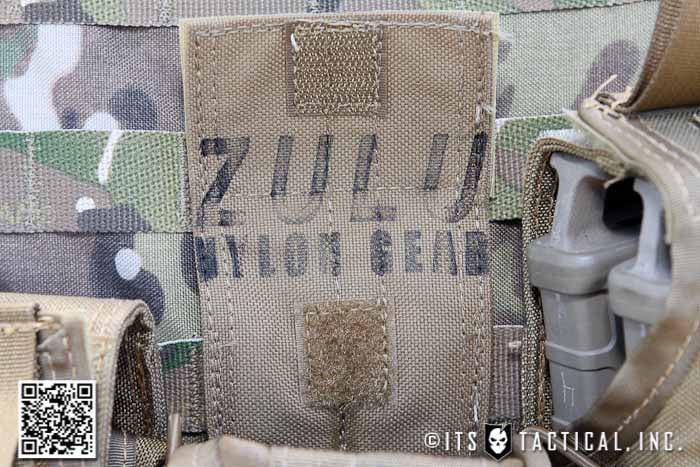 We're proud to say that we worked with Zulu to address and fix this in the early development of the M4 Double. The solution was simple and just required a little square of hook and loop to secure the possibility of having the hanging rear fabric get in the way.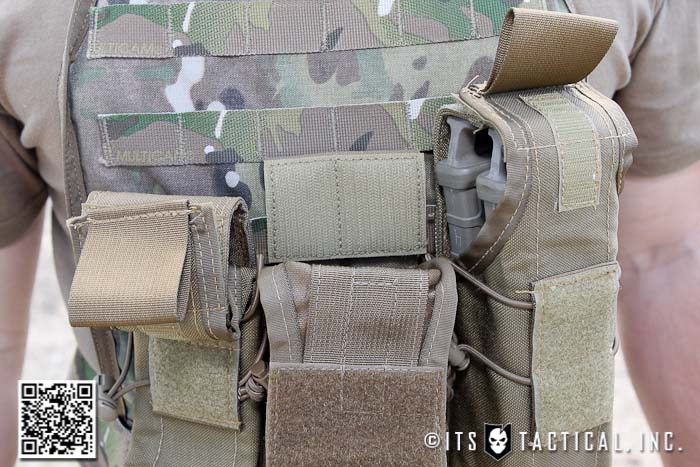 Field Replaceable
Another great aspect of the M4 Double is that it features shock cord and a cord-loc for retention of the two mags. We can report that it securely holds a single magazine as well once the first one has been removed, provided that the shock cord is tightened enough. Shock cord is readily available and can be replaced by the end user in the field if necessary, as opposed to elastic retention that's been stretched out from repeated use and has to be sent in for repair.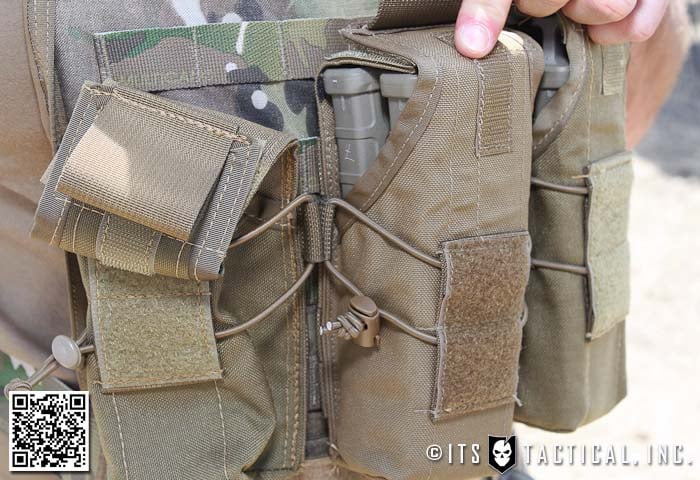 The shock cord is also routed through the front 2″ x 3″ reinforced panel into two channels. These channels are created by a single horizontal stitch line in the loop and combined with the 1″ webbing loop on each side, it gives the shock cord plenty of separation to enable superior retention. If the shock cord wasn't as distributed as it is on the M4 Double, the resulting smaller surface area of the shock cord retention would lead to inefficient retention.
Mounting and Additional Features
On the bottom of each M4 Double, you'll find a drainage grommet to allow accumulated water and grunge a method to escape. On the reverse of the pouch you'll find 5 rows of PALS webbing woven into two columns for mounting to MOLLE compatible equipment. Zulu uses two (long) MALICE Clips for mounting, which aren't included with the pouches.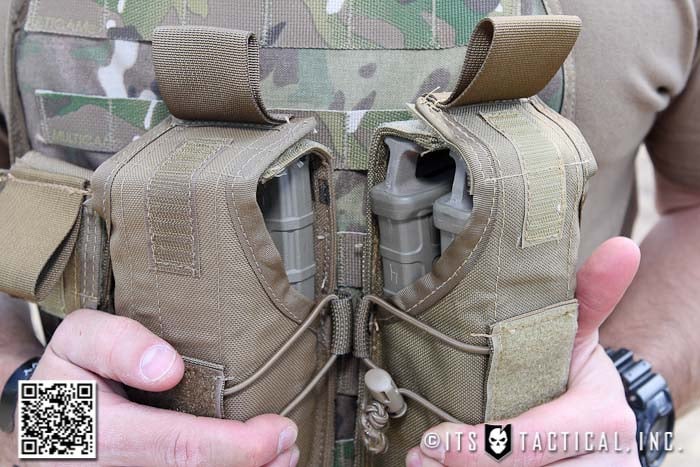 While Zulu describes that these will fit USGI Mags and PMAGS without Ranger Plates, you'll see in the video below that Ranger Plated PMAGS actually fit well in the pouch, but don't allow it to close as securely as without using them.
The M4 Doubles are sewn by Zulu in Chicago out of 1000d Cordura and available in Coyote, MultiCam, ACU/UCP, OD Green and Black. Get yours here on Zulu Nylon Gear's Website.
<----- scroll or drag ----->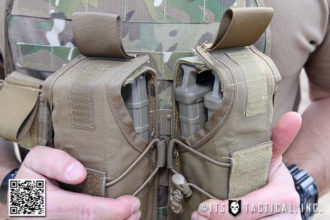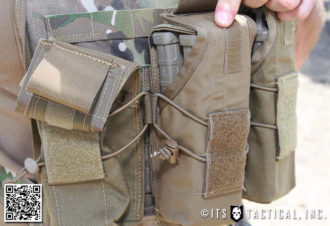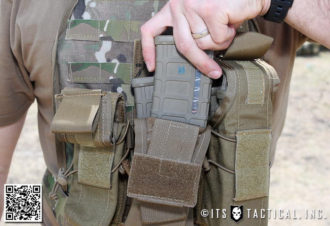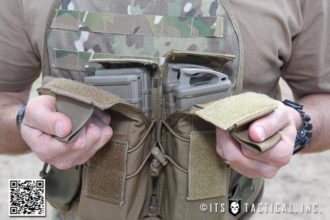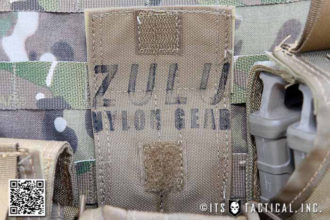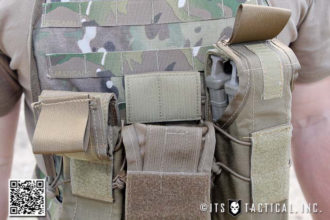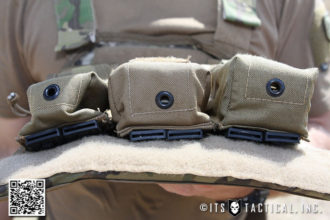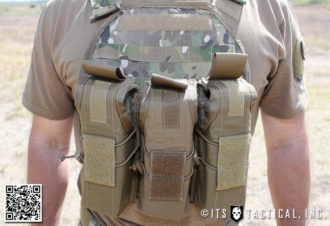 <----- scroll or drag ----->
(*Please note that the lighter color loop velcro shown in the outside pouches are the pre-production pouches and the center pouch is the version that's currently manufactured.)
Are you getting more than 14¢ of value per day from ITS Tactical?
Please consider joining our Crew Leader Membership and our growing community of supporters.
At ITS Tactical we're working hard every day to provide different methods, ideas and knowledge that could one day save your life. Instead of simply asking for your support with donations, we've developed a membership to allow our readers to support what we do and allow us to give you back something in return.
For less than 14¢ a day you can help contribute directly to our content, and join our growing community of supporters who have directly influenced what we've been able to accomplish and where we're headed.