Custom Discreet Messenger Bag from Zulu Nylon Gear
Custom Discreet Messenger Bag from Zulu Nylon Gear
Before SHOT Show this year, I decided it was time to invest in a better messenger bag then what I'd been using for the last few years. Unfortunately, while I looked high and low for something being currently produced that fit what I needed and wanted in a bag, I came up empty.
I've been a huge fan of what Joel at Zulu Nylon Gear has been doing since I first met him through ITS back when we first started the site. In fact, I think we were the first site to review his Mega Admin Pouch back in the day (which was a Wednesday by the way) and I've always liked what he's done.
While searching for a messenger bag, I noticed his Photobucket account had all the custom bags he'd made and saw a lot of awesome! I contacted him right away and asked if he'd be interested in creating a custom messenger bag for me using many of the features I saw on the bags he'd made, along with a few ideas of my own.
What came out of the project was a bag design that was exactly what I was looking for, an unobtrusive messenger bag that's capable of fitting into any role needed.
UPDATE: This bag is now branded as the ITS Tactical Discreet Messenger Bag and available exclusively in the ITS Tactical Store!!
The Jack Bag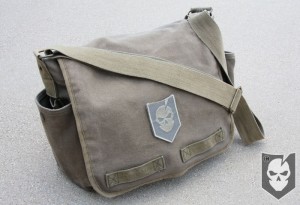 As I mentioned previously, many of the features you'll see on this messenger bag are based on a few of Joel's other custom messenger bags, but the main idea for what I wanted incorporated in this bag came from a bag that I'd carried for a few years, the Classic Messenger Bag AKA the Jack Bauer Bag.
While I didn't know it when I purchased it, this bag was used by Kiefer Sutherland on 24. Not that it makes it special, just something to note. What originally drew me to this bag were the large pockets on the exterior of the bag, which I hoped would hold a 32 oz. Nalgene. I was happy to find out that a Nalgene did in fact fit perfectly in these side pockets.
Other things I grew to like about the bag were the pockets that were accessible when the top flap was opened, the large interior compartment and the easily adjustable shoulder strap. I used the Jack bag for everything from an EDC (Every Day Carry) bag with a laptop, to a bail out bag in training that required using one.
The Jack bag left me wanting more though, such as something made out of better materials that could take a beating and provide more water resistance. The canvas that the Jack bag is made out of takes forever to dry out when it gets wet, and offers no protection to what's inside.
Custom Discreet Messenger Bag
Using the Jack Bag as a base, I saw a custom bag that Joel had built which incorporated many of the features I wanted, such as a dedicated interior padded laptop pocket, loop Velcro-lined interior, grab handle on the flap, Fastex buckles to secure the lid and killer exterior pockets both on the flap and outside the main compartment.
This bag became the new base, and with Joel's help we modified the design into exactly what I needed. An EDC bag that doesn't scream tactical, yet can be used to fight out of if necessary.
Exterior
Nalgene pockets were added to the exterior, along with Joel's handiwork in creating a 1″ wide by 12″ long removable webbing strap that would secure the Nalgene bottles and provide more security than the Jack Bag.
When the security strap is removed, there's Velcro hook and loop that secures the pocket shut for a low-profile when not in use.
Another nice feature that we added to the exterior of the top flap was a 4″ loop Velcro field for patches and identifiers that has a removable discreet cover that can be applied for those times when Velcro panels scream tactical. This is by far one of my favorite features of the bag.
Above and below the discreet Velcro field are a large and small zippered pocket, respectively. The large pocket spans almost the entire dimension of the lid, and the small pocket is just big enough to hold small items for easy access, like ITS business cards or pens.
On the rear of the exterior I wanted a pocket to conceal carry with the bag, so that when carrying it I didn't have to worry about accessing my waistline to draw. The pocket is secured with just a small strip of Velcro, so that it can be broken by reaching directly for a weapon that's attached via a 8″ wide by 9.5″ tall loop-Velcro field reinforced with HDPE. Of course anything could be mounted here as well.
A 1″ webbing waist strap was integrated into the rear of the bag that can not only be removed via dual 1″ Fastex buckles, but the female portion of the buckles are ITW Nexus repair buckles, which are mounted to 1″ webbing loops and completely removable.
While I liked the waist strap Joel included with the bag, I've been a huge fan of the Down Range Gear Adjustable Waist Strap and have recently been trying one out on the bag to see how it works.
The bottom of the bag is lined with an abrasion resistant covering which helps to extend the life of the bag. There's also some removable shock cord fed through 1″ webbing loops to secure a jacket or anything you might need to.
The 1″ adjustment straps for the top lid are routed through lashing slots on the bottom and cover the drainage grommet on each side (doesn't impede draining).
As mentioned previously, I really liked the design of the shoulder strap on the Jack bag and how easy it was to adjust on the fly. Using that as a starting point we created a 2″ strap that not only has a quick adjustment, but incorporates a quick-release via 2″ Fastex buckle.
The shoulder strap can also be completely removed. There's also a shoulder pad that Joel created, but I find myself not using it so I can utilize the quick adjustment feature of the strap.
Interior
The first thing to note about the interior is the top flap, containing a large 14″ x 12″ vinyl map pocket with a side-access zipper. Moving further into the bag is the padded laptop pouch, which fits a 15″ MacBook Pro perfectly. There's also a 14″ wide loop Velcro-lined removable HDPE divider to give the large interior compartment some options.
Moving forward there are two large 7.5″ wide by 9.5″ tall zipper pockets that are full of places to put whatever the situation dictates.
The left and right side pockets are almost identical, featuring the ability to add paracord and a cord lock to turn each into a drawbridge (like on the Mega Admin Pouch). One thing I would have liked to do differently with the drawbridge feature is to have asked Joel to build a reinforced channel for the paracord, as with any weight in the outside of the pocket they start to fold in.
Starting from back to front on either pocket side, there's a large pocket big enough for an ETA Kit and two elastic retention pockets that will each hold up to two 5.56 PMAGS. On the flap of these pockets there's a slight difference between the right and left side.
They both have a large rear pocket, but the left has a wide second pocket with 1″ elastic retention loops inside. The right has the same dimension, but is split into two separate 3.5″ wide pockets with the same 1″ elastic retention loops. To top off the flap pockets, there's a large 7.5″ long strip of 2″ elastic sewn in the middle to create two retention slots.
Notes
The Discreet Messenger Bag is made from Coyote Brown 1000d coated Cordura and measures 15″ long, 5.5″ deep (not counting the pockets) and 12″ tall. This bag has been the perfect solution for what I need in a bag and is just the right size. It can certainly be loaded down like you'll see in the video below, but definitely becomes huge.
I've named this bag the Discreet Messenger Bag with Joel's ok, but at this point it's still a custom bag. Just let him know if you'd like to get one like this made. I'll tell you this, the bag in not cheap, but you get what you pay for. The build quality on this bag is phenomenal as is all of Zulu's gear that I've had the pleasure of getting hands on with. I've been running this bag hard for the last 8 months including travel, classes and running it like I'd fight out of it with nothing but great results.
Zulu Nylon Gear has also recently released their Emissary messenger bag which is based on some of his custom designed bags as well and has a great design!
There's a bunch of photos and a video below, but you can also check out Zulu's Photobucket account for more pictures of the Discreet Messenger Bag.
UPDATE: This bag is now branded as the ITS Tactical Discreet Messenger Bag and available exclusively in the ITS Tactical Store!!
[flickrset id="72157624594140765″ thumbnail="square" overlay="true" size="medium"]