ETA Trauma Kits Save a Life Overseas
ETA Trauma Kits Save a Life Overseas
We just received an email this morning about our ETA Trauma Kits being used out in the field to save a life. Here's the account of the incident from the first responder. As he states, certain details have been left off, including his name and location.
I'd like to apologize first for the lack of proper medical terminology as I'm only trained minimally and anything beyond that is self taught. Due to OPSEC I have to be brief on my story, sorry.
None the less, we were under fire, seconds felt like minutes and minutes felt like hours. Making use of rubble as cover during a rain of fire, I noticed my buddy next to me hit the ground, getting hit with what looked like two ricochet rounds. Making sure all the targets were neutralized and covered, I then rushed to my buddy to assess his injuries.
He was bleeding from two areas, the first area was where he was holding his left side of his abdominal, which was a quarter sized hole about three inches above his pelvis. His second wound was to his left leg. Falling back on my training, I was taught that 90% of leg wounds need of a Tourniquet. At that point I made the decision to address his leg wound first, as it was bleeding a lot faster than his abdominal wound. Due to the location on his leg where he was hit, I was worried it might have been a major artery.
I grabbed my "blow out bag" which had one of your ETA Trauma Kits in it, as well as a SOF Tactical Tourniquet. I quickly put on the tourniquet to help stop the bleeding as much as possible. I then cut open his BDU's and the blood came rushing out, in my mind I was saying "OH F**K" but the words that came out my mouth to my buddy were "Piece of cake buddy… your gonna be ok… stay with me."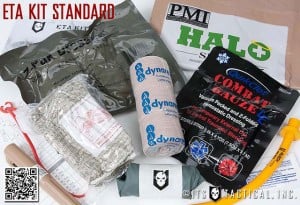 I ripped open the ETA Trauma Kit, grabbed the QuikClot Combat Gauze and packed it into his wound. Once I was done with that, I grabbed the Z-Pak Dressing and placed it on the top to make a seal; ensuring the QuikClot stayed in the wound. I then wrapped his leg with the Israeli Bandage to finish treating it, before moving on to his second wound.
As I was treating his leg, I was telling him to keep pressure on his other wound to his abdominal area. Maybe I should of put some gauze on it, but at the time I was worried about his leg and had to make a quick decision; I couldn't waste time.
His abominable wound was a clean through shot and by the time I started to treat it the bleeding had pretty much stopped. I grabbed another ETA Trauma Kit out of my buddy's backpack, placed some gauze on the exit wound and a HALO Seal over it. I then put some gauze and the other HALO over the entry wound. He was stable enough for our 75 mile ride to the nearest medical facility in our given area.
We made it to the medical facility where he was treated by higher echelon care and survived his wounds. Because of your ETA Trauma Kits I had what I needed to help my buddy survive. Even someone not as highly trained as myself was able to save a life! Your kits had everything and more that I needed for that particular scenario.
Thanks a lot guys, I didn't personally buy your kits but I had the chance to use them in the field. I did just pick up your ETA Trauma Kit Pouch though, as we always need a good quickly accessible pouch.
I hope this info was helpful and I'll be buying more from your company in the future!
Thanks,
***Name Withheld***