Happy Thanksgiving! Here's Our Gift To You
Happy Thanksgiving! Here's Our Gift To You
This Thanksgiving we have a lot to be thankful for, not only to all our great customers, but also to our Military, Law Enforcement and First Responders who are spending the holidays protecting the freedoms we enjoy.
As our way of saying thank you, we're currently running our biggest sale of the year, saving you 20% in the ITS Store through November 28th. Check out all the details below!
We'd like to wish you a very Happy Thanksgiving as we head out to spend the next few days with our friends and families. Our offices will be closed until Monday, November 28th and orders will resume shipping first thing when we return.
ITS Black Friday Sale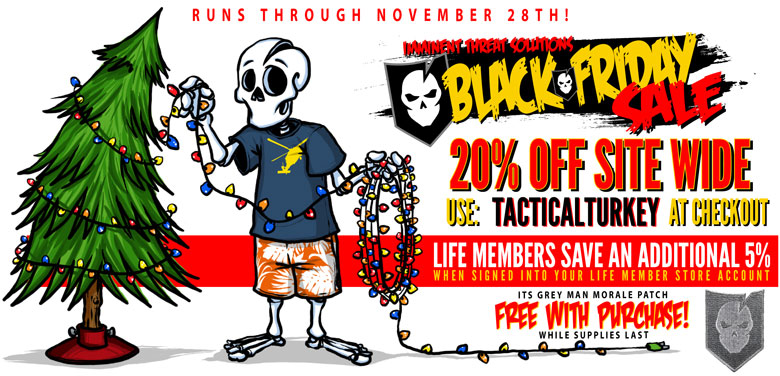 Now through November 28th, save 20% in the ITS Store using the coupon code TACTICALTURKEY at checkout. Life Members save an additional 5% by logging in and shopping with your Life Member Store Account! (Discount will be automatically applied for Life Members.)
After completely running out of our ITS Murdered Out Morale Patch, we're now including a free ITS Grey Man Morale Patch with every purchase! (While supplies last.) Get your order placed today, at these prices things will move fast and we can't guarantee what you want will be in stock if you wait too long!
**Please Note: Black Friday/Cyber Monday discounts are our lowest prices and cannot be combined with existing offers. Discounts are not valid on the purchase of a new membership or existing sale items. Sale prices are limited to stock on hand, sorry no rainchecks. Free gifts with orders are while supplies last.
Small Business Saturday
When I started ITS back in 2009, it was just me, an idea and a computer. It grew into a home based business that soon expanded to include a bedroom, the dining room and eventually the garage, before Kelly gave me the nudge that it was time to find real office space.
Over seven years later, we've moved into larger space a few times and are now up to 9 employees. While we're still very much a small business and growing every day, on this Thanksgiving I'd like to pause and tell you that we're all truly thankful for you!
Whether you just come to read the articles, have made the commitment to become a member, or shop at our store, we value that you appreciate what we provide enough to be reading this message today. Thank you from every one of us here at ITS!

I set out here to describe a small story of our origin, but also to express my gratefulness to be included in American Express' Small Business Saturday campaign this year. They recognize small businesses like ours each year on the Saturday after Thanksgiving and encourage communities to "Shop Small" and positively impact small businesses and neighborhoods across the country.
I've always loved that they've done this and we're proud to be an American Express merchant. If you're an AMEX cardholder, you'll also earn 2x the rewards by shopping at places like the ITS Store during Small Business Saturday, so please keep our small business in mind as you do your holiday shopping this year.
We wish you a Happy Thanksgiving and while you're enjoying it with good friends and family, don't forget to remember those protecting our freedoms both here at home and around the world.
~ Bryan Black, Founder