Shoot Quietly and Loudly Benefit Wounded Warriors
Shoot Quietly and Loudly Benefit Wounded Warriors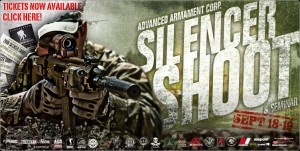 Join Advanced Armament for their fifth Silencer Shoot September 18-19, 2009.
Experience the advantages suppressed firearms have to offer while checking out  silencer product demos, explosives, door-prizes and giveaways benefitting the  Wounded Warrior Project!
This year's raffle prizes include 5+ fully customized rifles and pistols, more details are available at  The AAC Blog.
You don't even need to show up in Georgia to win, just purchase a $10 raffle ticket online to enter.
The raffle ticket purchases are tax deductible and 100% of all raffle ticket sales will go directly to the Wounded Warrior Project.
Last year $27,000 was raised for the Wounded Warrior Project, so let's all help them out to make 2009 an even better year!
The AAC Silencer Shoot is open to the public, Military, and Law Enforcement.
For more details on entrance to the AAC Silencer Shoot and the 3rd annual Silencer Seminar visit the AAC Web site.
Update: From now until the shoot, for every 10 raffle tickets bought, you will receive an additional 5 tickets free!