As a Disabled Veteran I No Longer Support Wounded Warrior Project
As a Disabled Veteran I No Longer Support Wounded Warrior Project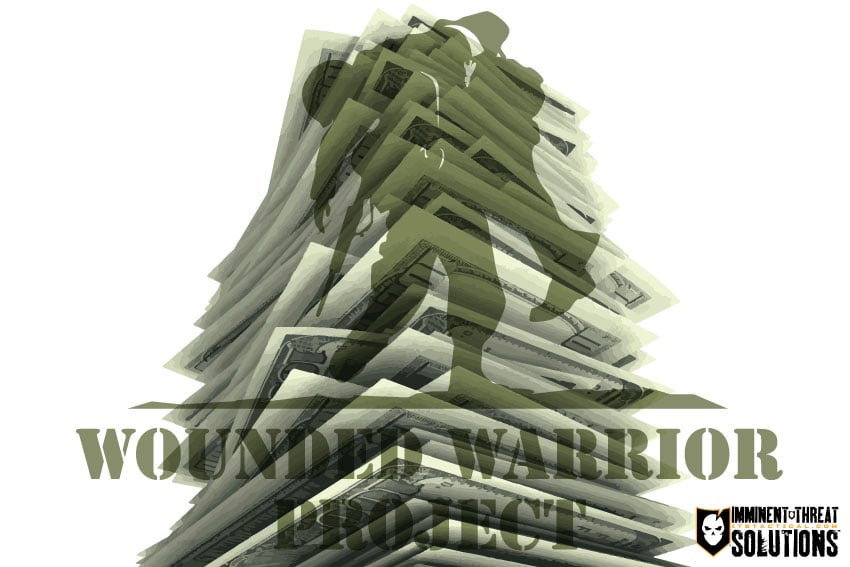 As a Disabled Veteran and Alumni of Wounded Warrior Project, I've continued to sit by and keep my mouth shut publicly about the Veteran Service Organization's practices, but that ends today.
Thanks to our readers and customers at ITS, we've proudly raised thousands of dollars over the past six years to help various Veteran and Military related charities. We've always tried to focus on the smaller charities that are making a difference, which means those without a CEO making $300k+ a year, those who don't spend their raised funds to frivolously sue other charities and those who don't refuse donations from entities that are related to firearms.
High Salaries
I'll address the first issue by being up front and saying that as a business owner, I understand capitalism and the free market economy that's paved the way for high salaries, but what I have a hard time with is seeing how this is feasible in a non-profit like Wounded Warrior Project. Their mission is raising money to "help thousands of injured warriors returning home from the current conflicts and to provide assistance to their families." Again, I struggle with how large salaries are helping that mission.
For full disclosure and to present all the facts, WWP is ranked with an 86 out of 100 on Charity Navigator, a website that helps to inform the public of various non-profits nationwide and their rating based on financial health, accountability and transparency.
That score of 86 for WWP is derived from a September 2013 income statement, or IRS form 990 and is an average of their financial score of 80.77 and a accountability & transparency score of 96.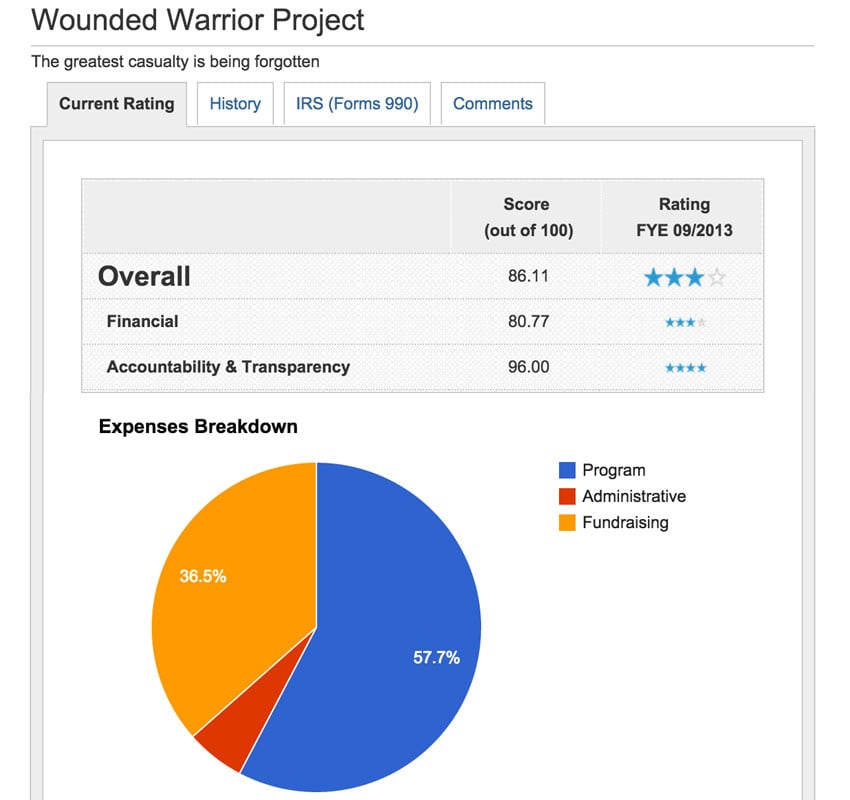 Their total revenue was $234,682,943 and 57.7% ($91,220,626) of that went back to the Veterans and their families in the way of programs. 36.5% ($57,718,417) went to fundraising and 5.8% ($9,134,900) went to salary. Here's an article from the Tampa Bay Times that speaks directly to that 58% going back to programs.
Don't get me wrong, I think $91.2 million dollars is a lot of money that's going back to Veterans and their families and it's amazing that WWP is able to facilitate this, however I feel it needs to be a greater percentage of overall revenue. Perhaps it's the $57.7 million in fundraising that needs to be taken a look at. I just know that from my perspective there are better organizations to donate your money to, who give more than 58% of it back to the people they're raising it for. My list of these is further down in this article.
Lawsuits Against Other Charities
Salaries are just one reason I disagree with donating money to the Wounded Warrior Project, another is that WWP is suing other Veteran charities over their use of the term "Wounded Warrior" and logos that contain silhouetted soldiers.
An article from The Daily Beast yesterday is what prompted me to finally write my article, because I've had enough of WWP. They're currently suing the all-volunteer Pennsylvania based Keystone Wounded Warriors over their name, who according to The Daily Beast, has an annual revenue of $200k, which is less than the WWP Executive Director Steven Nardizzi was paid in 2013. I'm sure it's even more now.
There's even more stories in The Daily Beast article about WWP flexing their wallet and using up more funds to sue, rather than using that money to help Veterans and their families.
Again, to put this into perspective as a business owner, I understand protecting your business name and your logo. It's tough with the term Wounded Warrior though, which is what WWP is suing for. I personally view that as a non-enforceable trademark, much like my company ran into years ago.
In short, we had one of the first commercially available vacuumed-sealed trauma kits out on the market back in 2009, which we were calling the ITS Blow Out Kit. A blow out kit is a term that's been around for a long time in the military and predates the 2006 trademark registration that an individual filed for that term.
We were contacted with a trademark infringement and a request that we change the name of our product to avoid confusion. I was extremely cooperative and held a contest on ITS to change the name of our kits, which are now called ETA Trauma Kits. However, I later learned from a trademark attorney that we could have pushed for that being a non-enforceable trademark, due to its usage in the military before being registered as a trademark.
Either way, I'm sure we would have wound up in a lawsuit and as a young company, I knew that we couldn't afford that, so the product name was changed. I was naive then too in my feeling that it was what others should do as well. My retelling of this story is to illustrate what these charities might be dealing with when WWP comes calling with their infringement notices and such. I'm willing to bet that the Keystone Wounded Warriors were not only standing up to WWP, but fighting them for everyone else out there that couldn't. I don't see what the outcome of that lawsuit was, but I'm definitely interested to find out.
Firearms and the WWP
The final reason I'll list today on why I don't support the WWP is because they don't fully support the 2nd Amendment. Back in 2012 the Wounded Warrior Project Public Relations Director, Leslie Coleman, declined an opportunity for the WWP to be represented and appear on Tom Gresham's Gun Talk radio show.
Coleman stated in emails (that can be found here), that the WWP doesn't participate in interviews or activities related to firearms. When pressed for an explanation, Coleman quoted the following policy, which has since been buried on their website:
"Please note the following notice that appears on our website which also applies to WWP public awareness policy and inquiries from media outlets:
http://www.woundedwarriorproject.org/additional-opportunities.aspx

WWP does not co-brand, create cause marketing campaigns or receive a percentage or a portion of proceeds from companies in which the product or message is sexual, political or religious in nature, or from alcohol or firearms companies."
She further went on to say that the policy is not a judgment on those who own and use firearms, "clearly every member of our armed forces has been trained in the use of firearms and then called on to use them in the course of their service to this country. Our position regarding firearms and alcohol is in response to the struggles that many injured service members face with substance abuse and suicide and the roles those items often play in those issues."
I agree with Tom Gresham, who said that's the nuttiest thing he's ever heard of and that suicides aren't linked to firearms. As he goes on to say, Japan has more suicides than the US without the use of firearms and that suicide is a serious issue regardless of methodology used.
It's been mentioned that WWP organizes hunting trips as programs for rehabilitation of wounded warriors, which means they can't be anti-gun. That's great and I'm glad they're organizing these, but that doesn't trump their own policies. WWP's bias against firearms companies is something I can't agree with and in turn further pushes me away from them as a charitable organization.
Notes
I'll end the article with this. Is the WWP doing good? Yes, they are. They're one of the most widely recognized Veteran Service Organizations and their logo and "mission" appears on everything from ketchup bottles to nationally syndicated TV commercials. I just ask myself if this is really where their funds should be going. Are expensive TV commercials necessary to raise funds that Veterans and their families only see 58 cents of every dollar from? Don't get me started on their $19 a month program that paints Veterans like some Sally Struthers welfare project.
Just by example, the DAV (Disabled American Veterans) Charitable Service Trust has 96.5% of their expenses directly funding programs for Disabled American Veterans. That's 97 cents of every dollar raised going to where it should, versus the Wounded Warrior Project's 58 cents of every dollar. Granted the DAV's revenue was only $7.5 million in 2013 compared to WWP's $234 million, so you should know that if it factors in for you.
As the owner of ITS, a Service Disabled Veteran Owned Small Business, I'll continue to support Veteran organizations that I feel fully embody the spirit of what they were created for in the first place, which is to give back as much as possible to those their cause supports.
We've been proud to support the amazing organizations below throughout the years and I would highly recommend them to anyone wishing to donate.
What are some Veteran organizations you support?
America's Mighty Warriors
http://americasmightywarriors.org/
Charity Navigator Rating 
Warrior Dog Foundation
http://warriordogfoundation.org/
Charity Navigator Rating
Green Beret Foundation
http://www.greenberetfoundation.org/
Charity Navigator Rating
Chris Kyle Memorial Benefit / Guardian for Heroes Foundation
http://www.chriskylememorialbenefit.com/
Charity Navigator Rating: Not Found
Intrepid Fallen Hero's Fund
https://www.fallenheroesfund.org/
Charity Navigator Rating 
Navy SEAL Foundation
http://www.navysealfoundation.org/
Charity Navigator Rating
Disabled American Veterans
http://www.dav.org/
Charity Navigator Rating
Update: I neglected to mention Team Rubicon, which is an organization I belong to and fully support. I often overlook them when referring to charities, as I see their mission differently. Team Rubicon unites the skills and experiences of military veterans with first responders to rapidly deploy emergency response teams. They currently have a team of Veterans overseas right now on Operation Tenzing, helping with disaster relief in Nepal after the earthquake.
Update 9/2/16: Military Times has reported that "Wounded Warrior Project officials are firing half of their executives, closing nine offices and redirecting millions in spending to mental health care programs and partnerships as part of an organization overhaul in the wake of spending scandals earlier this year." To read more, click here.