Team Rubicon Picks a Fight with Sandy
Team Rubicon Picks a Fight with Sandy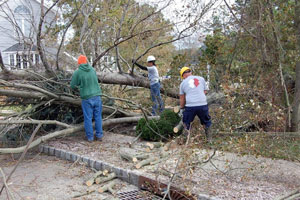 Hurricane Sandy cut a mean path into the East Coast last week, but wasn't able to affect the resolve of our country to pull together to help.
Team Rubicon is an organization I'm proud to personally be a member of and one that pairs the skills and experiences of military veterans with first responders to rapidly deploy emergency response teams into crisis situations.
Before Hurricane Sandy even hit the U.S., Team Rubicon deployed 11 Veteran Emergency Response Teams up and down the East Coast in Operation Greased Lightning. Hours after the storm devastated local communities, 102 Team Rubicon volunteers from multiple Regions were providing emergency rescues, post disaster damage assessments, debris management and flood recovery operations.
This was a catastrophic event and an opportunity to help people that are in massive need. Within the coming days, Team Rubicon hopes to mobilize 1,000 veterans to NY and NJ. Street by street, home by home; it will be Fallujah, but with chainsaws and shovels instead of tanks and rifles.
With your help, Team Rubicon can send 1,000 veterans to join the hundreds already on the ground. To do this, they need to raise $50,000 by Veteran's Day. 100% of every dollar you donate goes directly to the missions, NO salaries, NO overhead, NO exceptions!
Our friends at Triple Aught Design have joined in the pledge to support Operation Greased Lightning and you can too. Please click here to donate what you can, a $25 contribution will purchase a replacement chainsaw chain and a $100 pledge will cover the gas needed to get a team in place.
If you're a Veteran or posses skills that Team Rubicon is looking for, please consider volunteering to help. It's a great organization that I'm grateful to be a part of.