Carry Everything and the Kitchen Sink with the Eberlestock Skycrane II Pack
Carry Everything and the Kitchen Sink with the Eberlestock Skycrane II Pack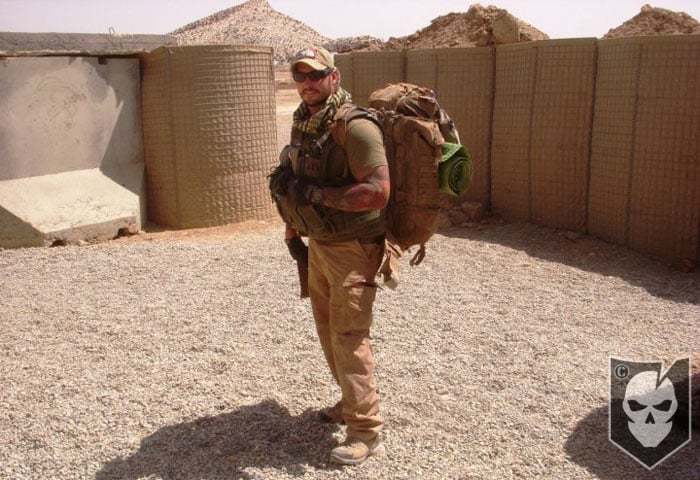 There are a lot of packs on the market today, some good, some bad and some great. The pack that I'd like to review today is in the "great" category.
My review of the Eberlestock Skycrane II is based on actual use while in Afghanistan, where I currently still use this as my only pack and will for the next year plus that I am deployed.
Perhaps a little background on me to qualify my use case and ability to review of the Eberlestock Skycrane II: I am a Private Military Contractor attached to the U.S. Marine Corps where I have spent nearly the past year on the front lines in both the mountains and deserts of Afghanistan. Wherever the Marines are in Afghanistan, so am I at some point.
I spend 20+ days a month in the field with the Marines, live with them, eat with them and rest my weary head whenever the mission allows. With me as always for the past 4 months is my trusty Skycrane II. I consistently carry 90+ lbs in my pack plus my body armor which weighs in at 35+ lbs. No easy task, but a necessity in this environment.
Beginnings
You may wonder how someone comes across a brand like Eberlestock and why spend around $500 on a pack without the same notoriety as Mystery Ranch, TAD Gear, etc.? Well, simply put, word of mouth while in Afghanistan. I met an Army Civil Affairs Army Soldier while in the field and he told me how much he loved his Eberlestock pack, so I inquired more about it and decided to do some research. I found out that Eberlestock had its humble beginnings in 1985 based on the owner Glen Eberle's experience as an Olympic level biatholon competitor and avid outdoorsman.
Glen used his experiences and rather than design packs as just something to carry things in, he designed them around the use and carry of a rifle. All of the Eberlestock packs have the ability to carry any of your rifle weapon systems large and small in basically what amounts to a scabbard on your back (think He-Man and that's the idea).
Details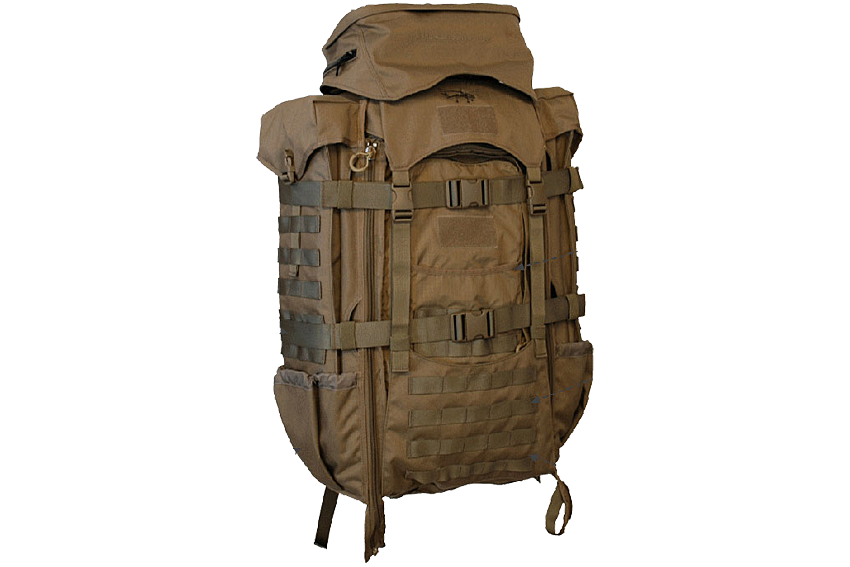 As anyone who has been deployed knows, your pack is your best friend in the field. Constant movements from one place to another with lots of gear require a pack which is versatile, durable and has a large carrying capacity. Where the Eberlestock Skycrane II excels is in ALL of the above requirement categories. To qualify my statements let's look at each individually:
Versitiliy: The Skycrane II is a modular system with basically 3 (perhaps 4) packs in one. 1x G1 "Little Bother" pack, 1x J79 and 1x fanny pack. All of these components can be used individually or combined into 1 pack via clips, MOLLE, or zip-in. For me this was great, hump all my gear out with the fully combined pack, then during patrols or small movements, bust out the 3 day "Little Brother" pack.
Durability: Construction is 500d + 1000d + 420d Ripstop Nylon.
Large Carrying Capacity: This beast, fully combined has a whopping 7975 cubic inches of space!!! Enough said.
Weight: G1 – 6 lbs. 12 oz., J79 – 4 lbs., Fanny Pack – 1 lb., Total System Weight – 11 lbs. 12 oz.
Notes
Some of the things that I noticed while on missions with the Skycrane II, that I would like to see addressed, are the need for more MOLLE webbing on the front top portion of the G1 "Little Brother." Also some way to eliminate the plastic on plastic creaking of the various buckles.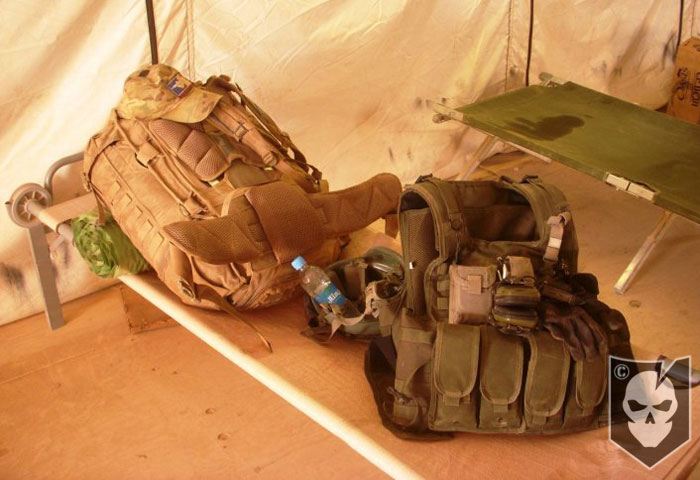 My impression after 4 months of rough use in Afghanistan is that this thing is outstanding! The Eberlestock Skycrane II has proven its weight in gold in the field. The lumbar support pad and shoulder support straps distribute the weight in a highly effective manner. Now obviously my body armor limits some of the key load bearing features like the waist band, but even without that, the Skycrane II does its job well. When in the rear, back from missions, I do use the waist band when practicing my ruck marches and it makes the movements that much more enjoyable and comfortable.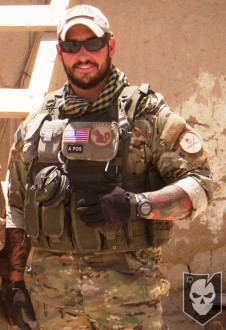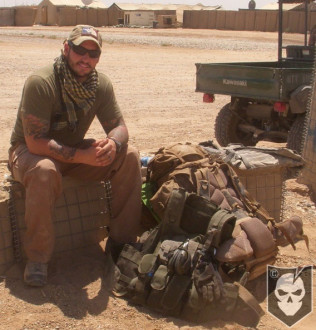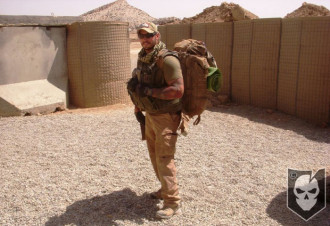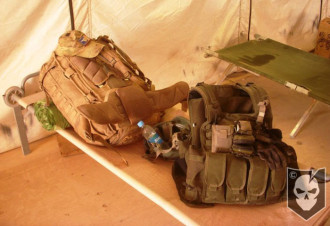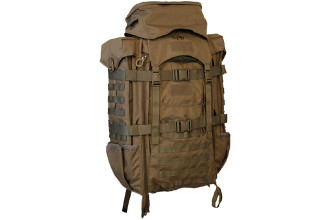 Editor-in-Chief's Note: Please join us in welcoming Brent M. Piatti as a contributor on ITS Tactical. Brent is the President of Operation Outpost and former Army 82nd Airborne Division Paratrooper currently working as a Private Military Contractor attached to the USMC in Afghanistan and supporting OEF & the War on Terrorism. Operation Outpost is a site dedicated to improving the quality of life for those on the front lines by providing the means to buy, sell, trade and donate items to those serving in Military operations around the world.