Roll With a MOLLE Visor Panel in Your Vehicle
Roll With a MOLLE Visor Panel in Your Vehicle
As an average guy with a day job, I spend about 9% of my waking hours inside my vehicle. This is mostly driving to and from work, but also driving my family around, running errands, and other assorted tasks.
Having a preparedness mindset, I decided that some self extraction tools for my vehicle would be a good idea.
One of the tools I felt best to acquire first was a Benchmade Rescue Hook Model 7 ( previously reviewed by ITS: Cut Your Way Out in An Emergency Situation). The 7 Hook is a excellent piece of gear, but being presented with a MOLLE sheath was a problem. Over time, MOLLE attachments have become pervasive in our environment, but not in our vehicles.
There are seat back panels for HMMWV and other vehicles, but I needed the 7 Hook up front and in reach. So I contacted Jones Tactical for a solution, and we came up with the MOLLE Visor.
Everyday Modular Platform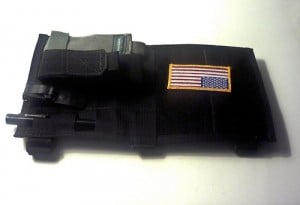 The design philosophy was to put a stable MOLLE platform in a discrete area of my vehicle, and Jones Tactical came through. The reason for putting the MOLLE platform on the visor was to keep it in an accessible area that was also not likely to interfere with normal vehicle operations. It was also not likely to draw attention if deployed properly.
All items are in subdued colors, hard to see from outside of the vehicle, and do not display any tactical cues from a reasonable distance. MOLLE will catch the trained eye, but it's not apparent to a person talking to the driver that it's a MOLLE platform. All around, the system has been successful for me. It immediately solved my Rescue Hook issue by placing it in an accessible position, even from across my body using my left hand.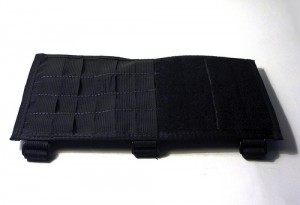 The visor itself is an extremely high quality piece of custom gear, with the attention to detail that we have come to expect from Jones Tactical. The base is made of two layers of 1000d Cordura Nylon, with milspec type 17737 for the PALS Webbing. The panel was made to the dimensions of my visor, and the end result gave me a PALS grid of four columns and six rows tall. The rest of the visor is loop Velcro.
I decided to shorted the grid to six rows because most of the items being placed would not be that tall. The Velcro is suitable for all my patch needs, but I've mostly run a standard full color USA flag.
Visor Loadout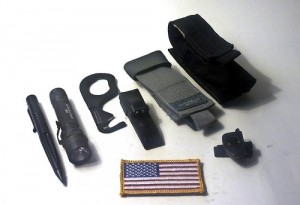 For the past year and a half the MOLLE Visor has remained rock solid and almost unchanged. I did swap out a center punch for a black S&W tactical pen. Primarily I use the visor to carry the following:
Benchmade Rescue Hook Model 7
SureFire E2E in an Emdom pouch
QuiqLite LED
S&W Black Tactical Pen
I also stuffed a black Sharpie under the visor and attached a County Comm SO-LED to a strap on the inside. The interior lights of my vehicle are very bright, so if I want to read something discretely I can use the QuiqLite or the SO-LED without drawing attention, silhouetting myself, or destroying my night vision.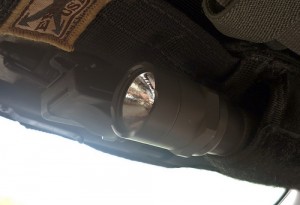 The SureFire E2E is a more discrete flashlight to grab than the Maglite clipped to the passenger seat, and a backup to my EDC SureFire, or a light that a passenger can use; it can't hurt to have a quality light on hand. The S&W pen, while on the low end of tactical pens, can be pushed into a tactical role, can also be used to pop safety glass, or in a pinch, write things. The Benchmade Rescue Hook Model 7 has been discussed before, but it can't be overstated how important the ability to cut yourself free in an emergency is.
Final Thoughts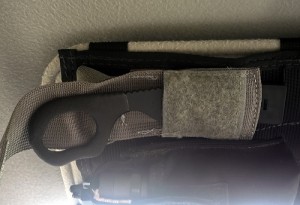 Since I've used the MOLLE Visor in my daily driving, it's been a source of comfort and security for me. I'm not sure how I'd discretely mount a rescue hook in my vehicle without it, and by going this route I've gained much more. Because of the modularity of the platform, I could place pouches for any number of items on the visor (although, thin, flat pouches work best).
If you drive often, I would not hesitate to recommend this item as an option for securing gear, especially if you are concerned about keeping your gear secure, organized, and in a discrete manner that is accessible by the driver. I can see use for the MOLLE Visor even if you roll with a patrol bag or seat organizer.
One functional thing to keep in mind about the MOLLE Visor is that the taller the pouches you place on the visor, the less effective a sun visor it becomes; the visor cannot move as close to the glass with pouches mounted on it. Other than that, in the year and half of service it's provided me the MOLLE Visor from Jones Tactical has given solid performance and I expect it to do so in for years to come.
~ mr.smashy
Editor's Note: Please join us in welcoming mr.smashy as an ITS Contributor. Smashy is a government IT Engineer in the gun-hostile Chicagoland area. Be sure to check out his fantastic photos on Flickr.