The Mega Admin Pouch Gets Awesomer
The Mega Admin Pouch Gets Awesomer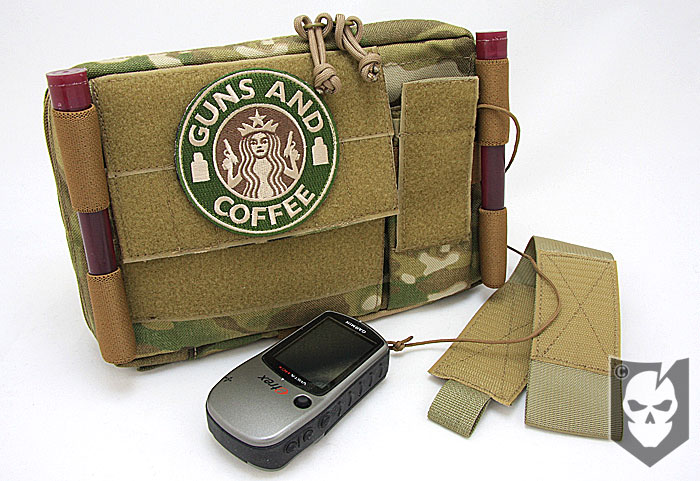 We've been huge fans of Zulu Nylon Gear ever since we first stumbled upon Joel's posts here in the early days of ITS. Today we'd like to review the 2nd Generation of the first video gear review we did on ITS, the Mega Admin Pouch.
Zulu is a company with a true passion for the industry, attention to detail and one that directly listens to customer feedback. This is clearly evident by noting the features of the new Mega Admin Pouch.
What's New?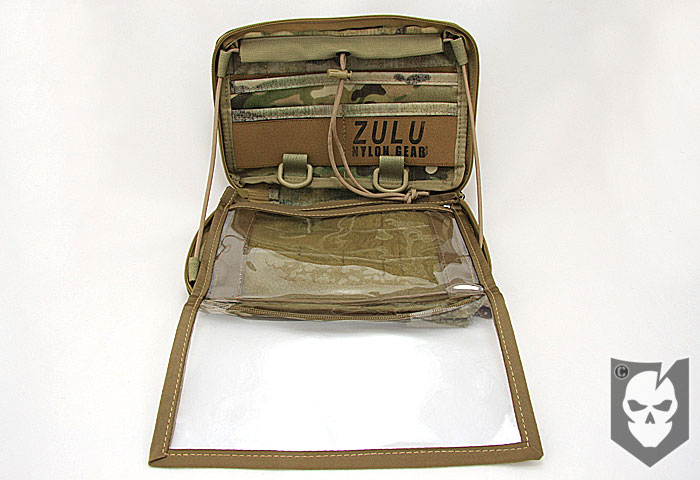 We don't want to toot our own horn, but if you remember from the review on the 1st Gen we suggested that the entire map pouch be made into it's own separate unit backed with hook velcro so that it could be removed. This would expose a large area of loop velcro underneath for attaching anything you'd like.
Bam! Here it is, a removable map pouch! So you're asking yourself, why is this a good thing? Having a removable map pouch allows you to pull out your map to hand it to someone (or view it more closely) without removing it from it's protective vinyl, which you may have written notes on with markers.
Secondly it gives you the option to not use it at all. The loop velcro field is perfect for mounting any kind of pouches you may be partial to, and really customizing the pouch.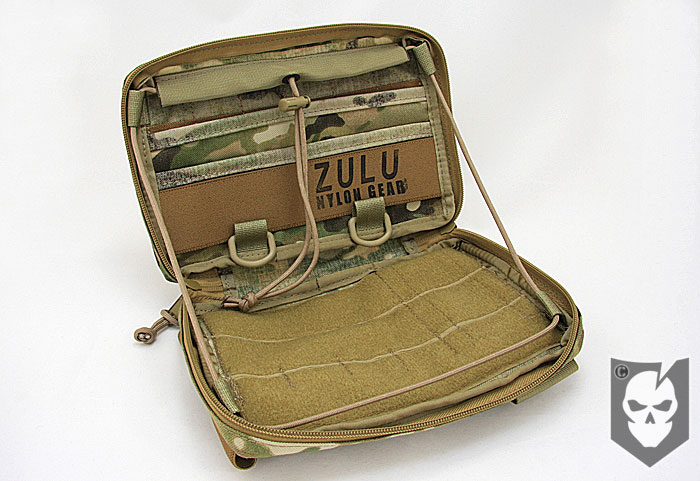 The original reason we suggested the loop velcro field, is that when using the drawbridge function of the pouch interior you can mount your GPS right to it for easy access. At the time the only way to mount a GPS to loop velcro like that was to get some kind of custom case made, which we tried…
That didn't work out so well because the case we had made by another custom gear maker didn't quite fit right and all the functions of the GPS couldn't be accessed.
The other way was to slap some sticky hook velcro to the back of the GPS, which didn't stick. While we never tried it, for fear of never getting the case back off, there was always gluing velcro to the back.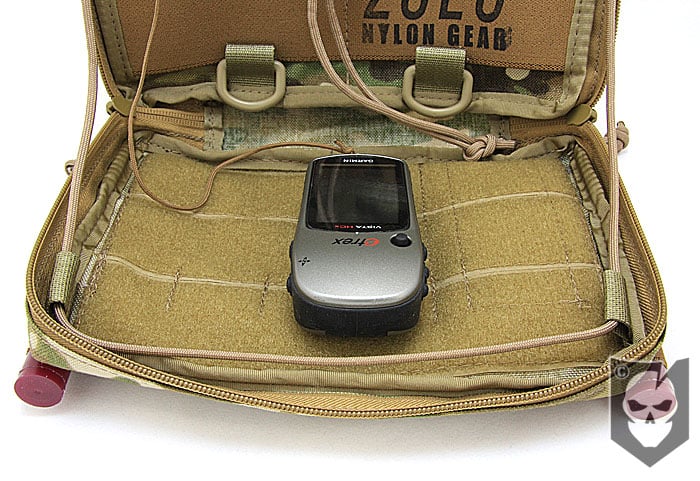 Now, a great new item has come out of a Emdom / Military Morons Collaboration that solves this problem. The Emdom/MM GPS Pouch includes a vinyl windowed sleeve that uses elastic and hook velcro to mount your GPS or other device to loop velcro.
Without intruding too much into this review with another product, they're able to be custom made for any device, so you can even mount your iPhone inside the Mega Admin Pouch if you wanted to.
One last new feature that's been added are two internal D-Rings in the main compartment for dummy cording in your electronics, compasses or anything else for that matter.
Dimensions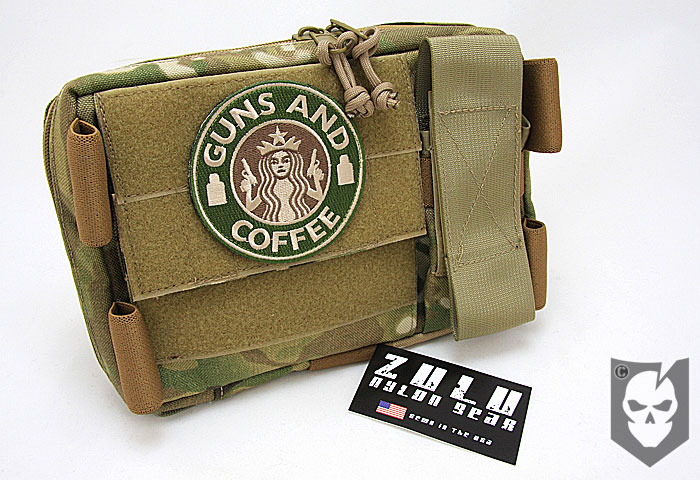 The Mega Admin Pouch has an overall dimension of 9″ wide x 6″ tall x 1″ deep and features seam binding-tape on all seams, true 550 cord zipper-pulls (not cheap 550), excellent quality stitching throughout, and hardcore attention to detail.
What's great about the zippers is that if you don't want the jingle jangle you can cut them off and use the perfectly sized 550 to retie through back through them. 1000d coated Cordura is used for water repellency, and all materials used in construction are mil-spec quality.
Front Admin Panel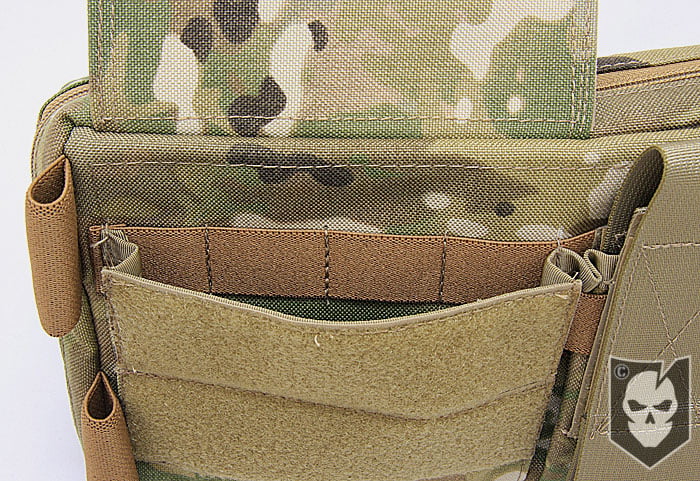 The front of the Mega Admin Pouch features two 2″ wide elastic retention loops on both the right and left sides, which are perfect for holding chem lights or even pens.
The main admin pouch measures 6″ wide x 5″ tall x 3/4″ deep and has 1″ tall elastic loop retention sewn into four 1.5″ columns spanning it's width. With a closed lid the admin pouch features a full 6″ x 6″ field of loop-velcro real estate for displaying your favorite things, like an ITS Patch or a Guns and Coffee Patch!
To the right of the main admin pouch is an adjustable flap pocket featuring a 2″ wide elastic retention band. The pocket measures 2.5″ wide x 4.5″ tall with around 1.5″ of depth. The adjustable flap pocket also features a completely removable 2″ wide velcro-backed flap, which is affixed to a strip of 2″ wide loop velcro running down the back side of the pocket.
On the bottom of the mega admin pouch is a 2″ wide elastic retention loop that creates a perfect location for a tourniquet. It's a tight fit, which is good to keep it secured until needed (hopefully you never do).
Main Compartment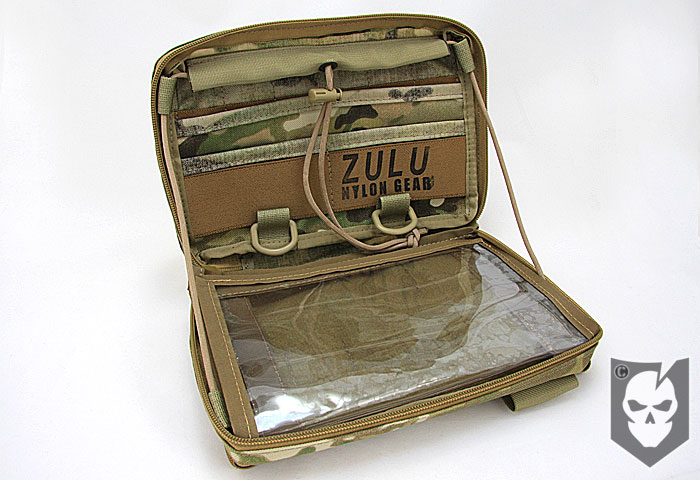 As we mentioned previously the main compartment is held open by a 550 cord drawstring that adjusts with a cord-lock for any angle you might need, and backed by a full loop velcro field. The optional 20 mil Marine Grade vinyl map pouch measures 12.25″ long x 9.5″ wide and features a seam binding around all the edges. It's also large enough to fit full 8.5″ x 11″ sheets of paper!
To the rear of the main compartment sits yet another area for admin supplies. There's a large 8.75″ wide x 4.5″ tall pocket featuring the signature 1″ tall elastic loop retention sewn into a four 1.5″ columns and one centered 2.75″ column.
In front of the large pocket are two smaller pockets, each measuring 4.5″ wide x 3″ tall. They too feature the 1″ tall elastic loop retention sewn into three 1.5″ columns.
Moving forward are two large 4.5″ wide x 2″ tall pieces of elastic retention for those last extras you need to carry, along with those two dedicated D-Rings we mentioned for dummy cording in your valuables.
Rear Attachment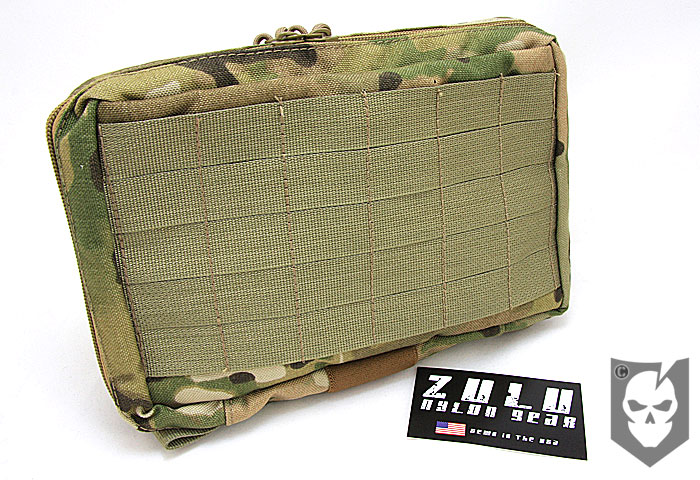 On the flip side of the Mega Admin Pouch is PALS webbing measuring six columns across and five rows tall. The pouch attaches with four tall MALICE clips (Make sure to get the tall ones, not the short ones).
Notes
We'd still like to see our other suggestion get implemented which is a drainage grommet if the pouch gets submerged, or hell as long as we're daydreaming why not a waterproof zipper! Wouldn't need or want a drainage grommet if that was implemented.
Also another brain buster idea would be to throw some HDPE plastic underneath the loop velcro interior to add some rigidity to it and turn it into a true field expedient writing surface.
The Mega Admin Pouch is available now in Coyote and MultiCam, with ACU/UCP coming soon. The Map Insert is also available separately with Coyote or Foliage Binding. Zulu Nylon Gear is proudly made in Chicago, be sure to head over to the Web site and check them out!