MAROPS Gear Review: Watershed Dry Bags
MAROPS Gear Review: Watershed Dry Bags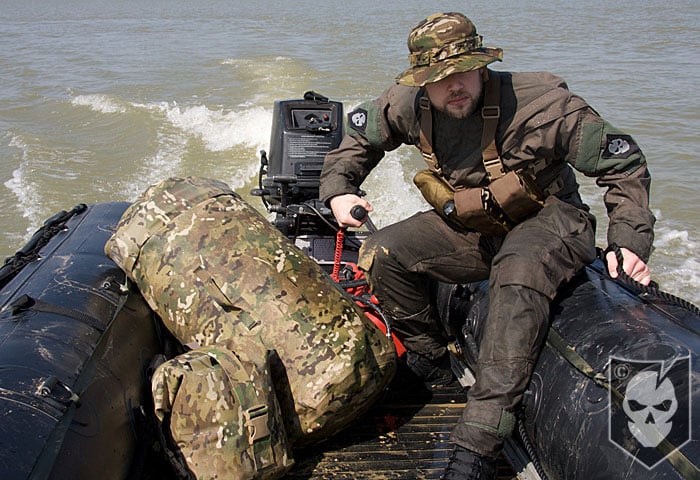 During MAROPS (Maritime Operations) the right gear can make all the difference in the world. Operating around a water environment demands a different level of performance from the gear you're used to running and gunning with.
Typical MAROPS involve the transition of men and equipment, usually via Zodiac F-470, in an OTB or Over the Beach insertion. Having to move equipment around water calls for complete waterproofing, no simple water-resistant stuff.
Whether this is via the Zodiac, also known as a CRRC (Combat Rubber Raiding Craft), or carried with a Swimmer Scout pair preceding the main element, your equipment must stay dry and usable in these conditions.
In our MAROPS Gear Review series, we'll be reviewing what we feel is some of the best equipment out there for maritime use. Today we'll be focusing on Watershed Dry Bags.
Watershed Dry Bags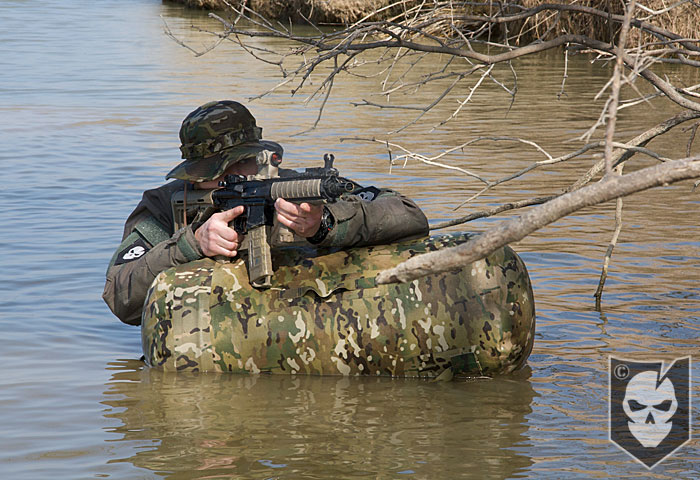 Watershed is a company that's been helping the military and civilian markets keep their gear dry since the 80s. With waterproof technology originally conceived around White Water Rafting, the Watershed MTP (Maritime Tactical Products) bags have been standard issue to Naval Special Warfare for a few years now.
These fully-submersible, air-tight bags are made with non-IR ITW Nexus hardware and webbing, and 420d double polyurethane-laminated Nylon featuring a non-IR reflective outer emboss. This material is UV stable, will not fade or crack and is 4-5 times more abrasion and puncture resistant than PVC, which a lot of waterproof bags on the market are made out of.
Saltwater is also no match for the material, although we'd recommend rinsing off any equipment in freshwater after use around saltwater.
Oral Inflation Tube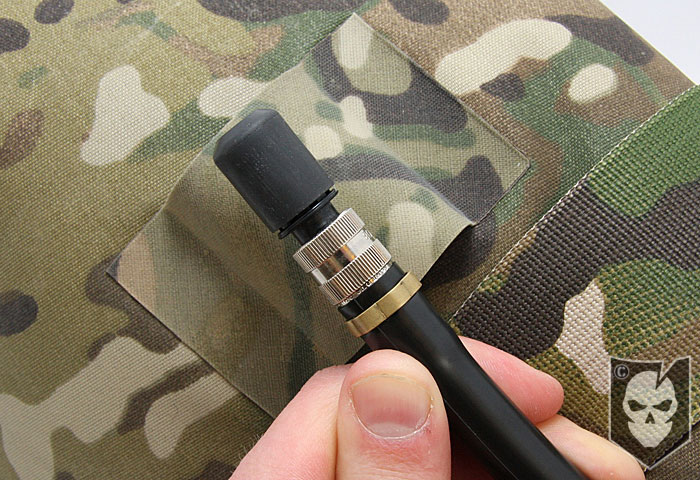 What makes Watershed MTP bags unique compared to other dry bags on the market, is the inclusion of an Oral Inflation Tube, which also doubles as a Purge Valve. This design carries over from the UDT Vest Oral Inflation Tube .
Using this Oral Inflation Tube, you can either put air into the bag or remove it. You may be asking yourself "why is this important?"
By putting air into the bag and inflating it, you can turn your dry bag into a float bag to either use for supporting your weapon coming into shore, jumping on top of to float down a stream, or even tow behind you with some 1″ webbing while swimming your equipment into shore.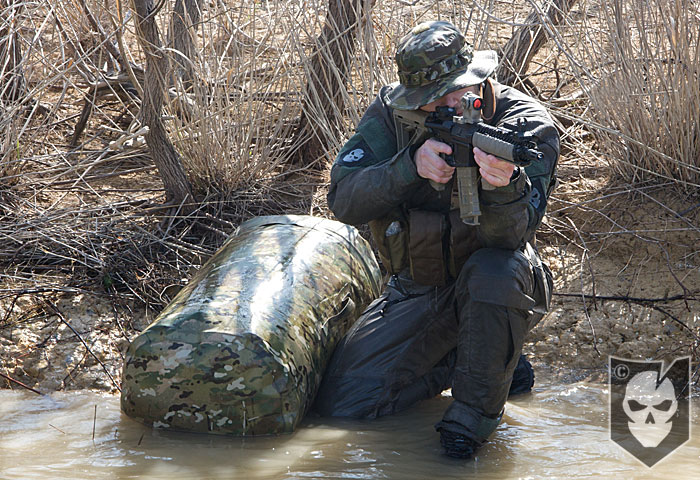 By using the Purge Valve to deplete what air you can from the bag, it can then be sucked down the rest of the way to remove the air. This would be important to either sink the bag for use as an underwater cache, or in diving operations, where the bag can be made neutrally buoyant (partial inflation) and towed along underwater. This last method is possible, but you have to be cognizant of Gas Laws.
Closure Systems
Yet another reason Watershed MTP bags stand apart is due to the closure systems that are used on their bags. While some bags on the market depend on rolling the top of a bag down to ensure waterproofness, Watershed has come up with their own closure system called ZipDry.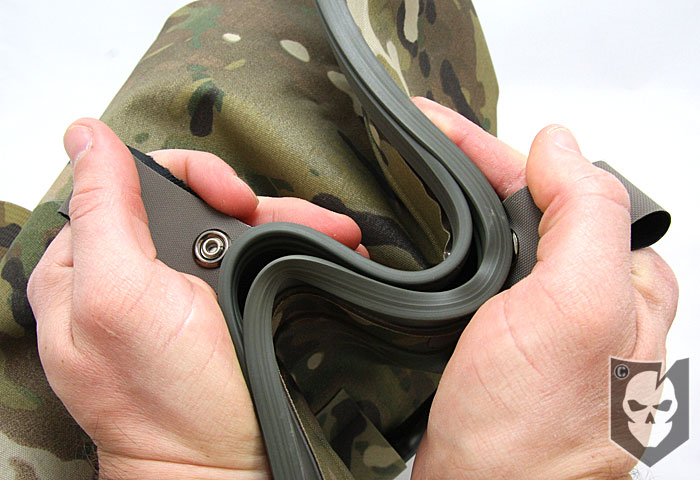 You may remember seeing a video we made at the SHOT Show this year, showing a demonstration of the patented ZipDry interlocking closure. It's a truly remarkable closure system that can absorb the weight of someone standing on it without bursting, whether the top of the bag is rolled down or not. It's also rated to a submersion depth of over 66 feet.
To open this closure, you simply have to kink an "S" shape into it and it will pop right open. Attempting to gorilla grip the tabs and pull it open is a sure way to damage the seal.
On their larger bags, Watershed uses a YKK Polyurethane Waterproof Zipper that's commonly seen on Dry Suits (like the one in these photos). These zippers are bombproof when properly taken care of. What this means is that they need to be rinsed with freshwater after saltwater use and to ensure debris is removed. They should also be lubed accordingly and stored almost fully opened.
Chafe Liner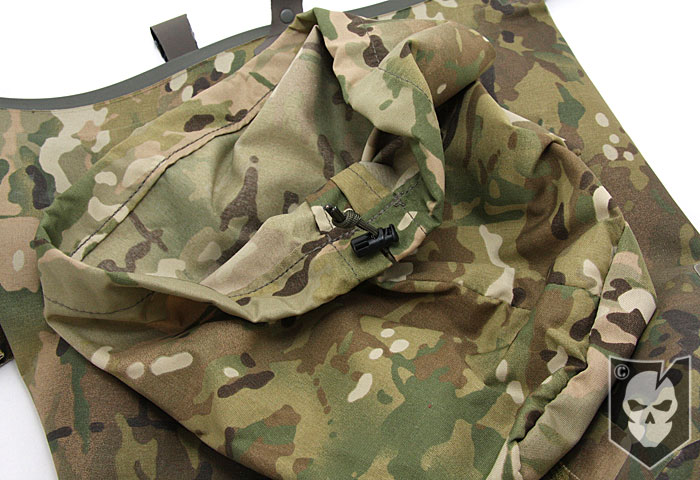 Each bag in the MTP series comes with a Cordura Chafe Liner to protect hard objects from chafing through the fabric and compromising the waterproofness.
The bags we reviewed had 330d MultiCam Chafe Liners, but are being replaced with 1000d Foliage Liners. All Watershed bags have always had 1000d Cordura Chafe Liners, these were just made up as samples to include in the bags we reviewed.
Small Utility Bag
The first of two bags we had the chance to beat up on, in the environment they know best, was the Small Utility Bag.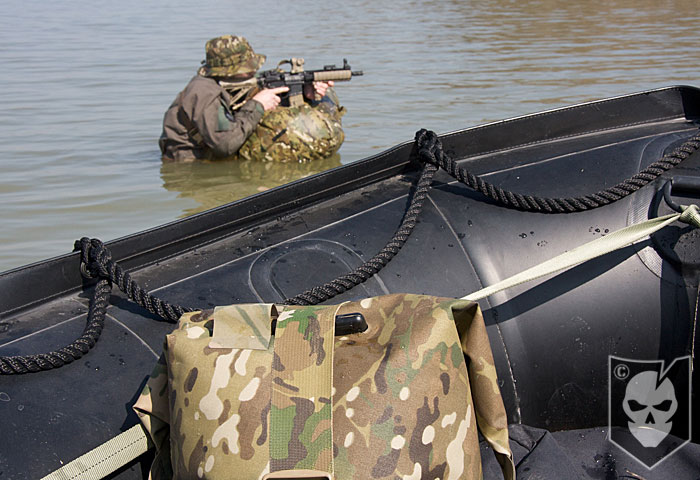 Featuring the ZipDry Closure mentioned above, the bag measures 10″ width x 11″ height x 6.5″ depth (closed and rolled-up). It also features a 2″ compression strap, and 1″ ITW Nexus buckles to secure the bag in its rolled-up state. Below those buckles on each side, are ITW Nexus D-Rings to aid in tying the bag down or to use as a lashing point.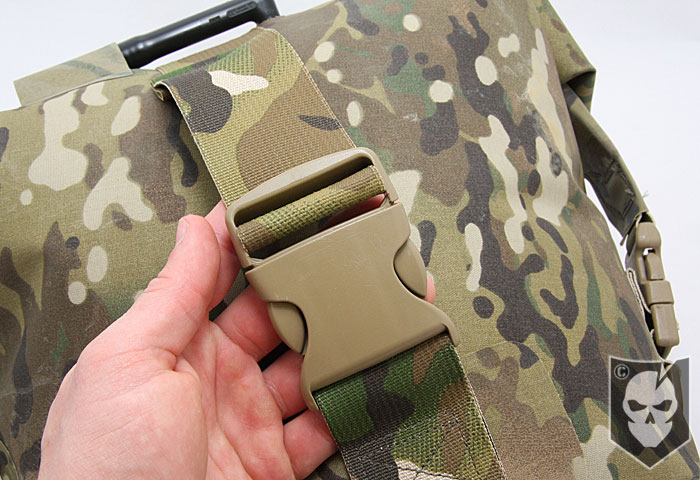 The Small Utility Bag is the perfect size to toss in your pack to keep clothes, cameras, electronics and other small sensitive items dry, or to use as a standalone dry bag. Yes, it may be overkill for some of you, but it's definitely peace of mind knowing whatever is in this bag will not get wet. You can't say the same thing about some of the other dry bags we've used in the past.
Stennis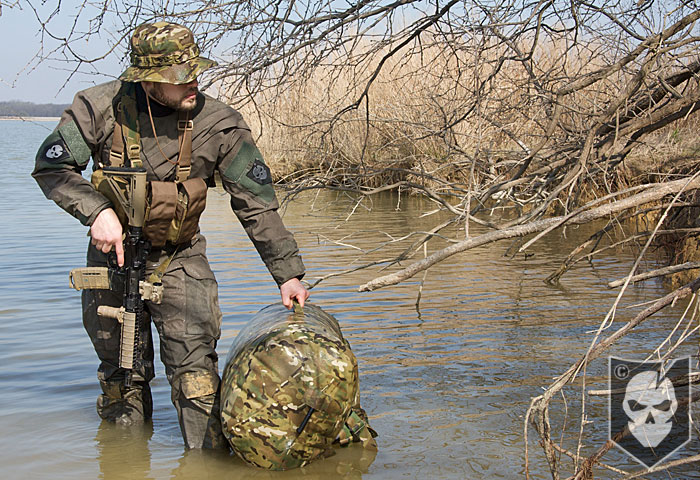 Brand new to the MTP lineup, and not yet featured on Watershed's Web site, is the Stennis. The Stennis borrows a few of the well known features of the Kodiak XXXL Backpack and the Waterproof Ruck Liner and combines them into this appropriately sized dry bag that can swallow a fully loaded 7000 cu. in. Mystery Ranch Kodiak Pack (previously known as BDSB).
Having been issued the Watershed Kodiak XXXL Backpack, it has been regarded as "too big" in some cases. While it definitely has its applications, the Stennis truly shines for its intended use as a dry bag solution for large backs like the Mystery Ranch or a Large ALICE.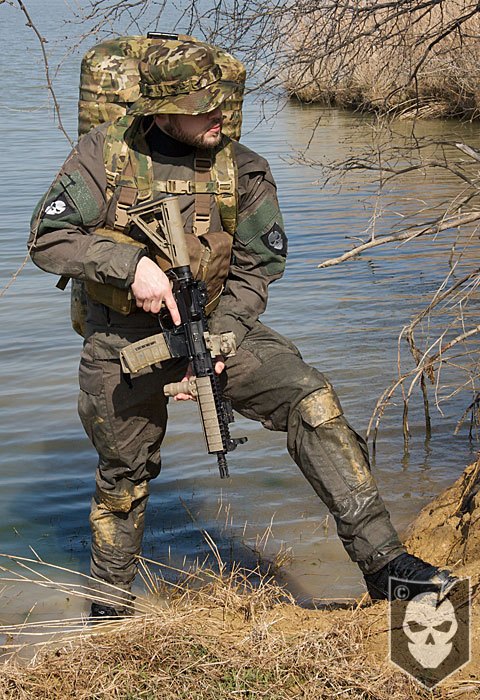 The slightly smaller size, and removable shoulder straps, also allows it to be used as a liner in these same packs and fill a dual role. The closure is handled with a YKK Polyurethane Waterproof Zipper, which creates a very large clamshell-like opening that aids in inserting a pack. The outside of the bag features a 1″ webbing carry strap on each side, to aid in lifting.
As noted, the shoulder straps are removable and only slightly padded with foam, in order to reduce the buoyancy when full submerged. There's also a sternum strap as well. Due to the smaller size of the Stennis, there's no need for the top compression straps like the Kodiak Backpack.
We didn't find the bag to be top heavy while wearing it as a backpack (with the fully-loaded Mystery Ranch Kodiak), but this is also due to how the internal pack was loaded as well.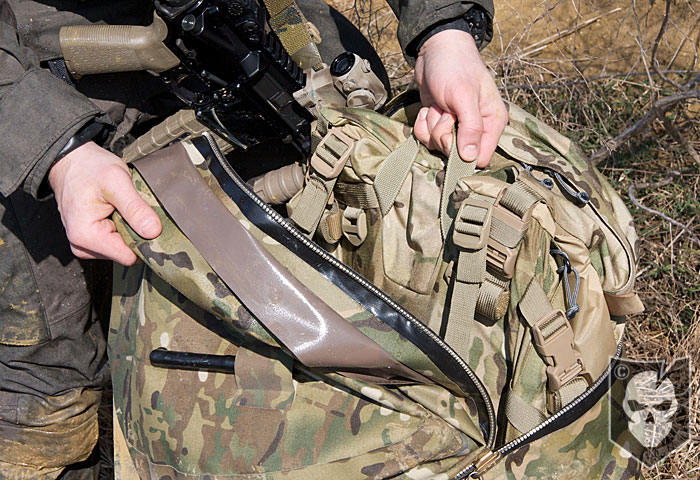 With no waist belt on the Stennis, its best to adopt the off-trail method of loading a pack. This is where heavier items are still centered between your shoulder blades, but moved a bit lower and away from the very top of your pack. This will help lower your center of gravity.
While the Stennis isn't a rigid frame backpack, its still great for short-range carry.
Closing Notes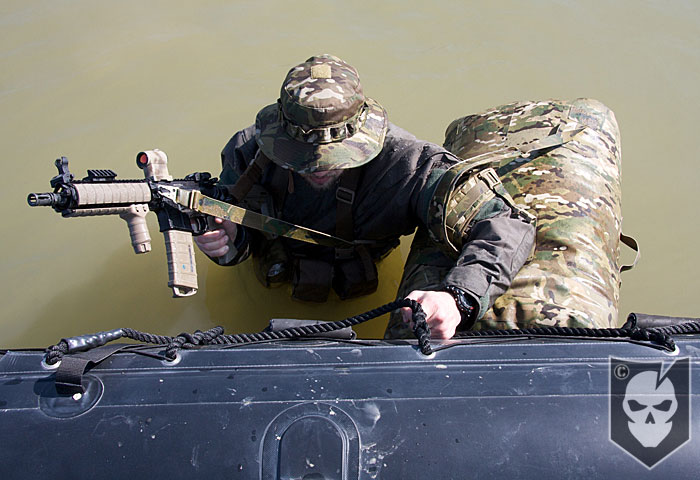 As you've read, Watershed bags have many different uses and come in a wide variety of accommodating sizes for different mission profiles. The MTP series used to be available in just Black and Smoke Green, but they're now also producing them in the licensed Crye MultiCam pattern you see here.
The construction, sewing and bonding on Watershed bags is second to none, and we're continually impressed with the quality and workmanship that goes into each and every one of their products. If the MTP line seems like overkill for you, we encourage you to check out their non-military line made with the same great quality, but without some of the bells and whistles.
Stay tuned as we continue to review all the gear you're seeing in these photos with our next MAROPS Gear Review!