Seeking Uniformity: Differences in Battle Dress, Field Cut and Combat Cut Uniform Bottoms
Seeking Uniformity: Differences in Battle Dress, Field Cut and Combat Cut Uniform Bottoms
Seeking Uniformity
Seeking Uniformity: Differences in Battle Dress, Field Cut and Combat Cut Uniform Bottoms
Editor's Note: This is the second part of a series on the differences in Military uniforms. Be sure to check out the first part where the author, Chris explains the differences between Battle Dress, Field Cut and Combat Cut Uniform Tops. Today he discusses various Uniform Pants, as well as common materials you might encounter when purchasing.
There isn't a huge amount to write home about regarding older styles of military uniform pants. (Trousers for my British compatriots.) As far as layout is concerned, the addition of the thigh mounted cargo pockets is generally the only real significant difference between this type of pant and a standard pair of civilian jeans.
As with the classic battle dress shirt, the features of the BDU/CS95 pant seen in service through the 90's and early 2000's aren't wildly different when compared to uniforms that had been in Military service for a long time prior. One exception being a move from wool or all-cotton construction to blends with nylon and polyester.
Classic Battle Dress Uniform Pants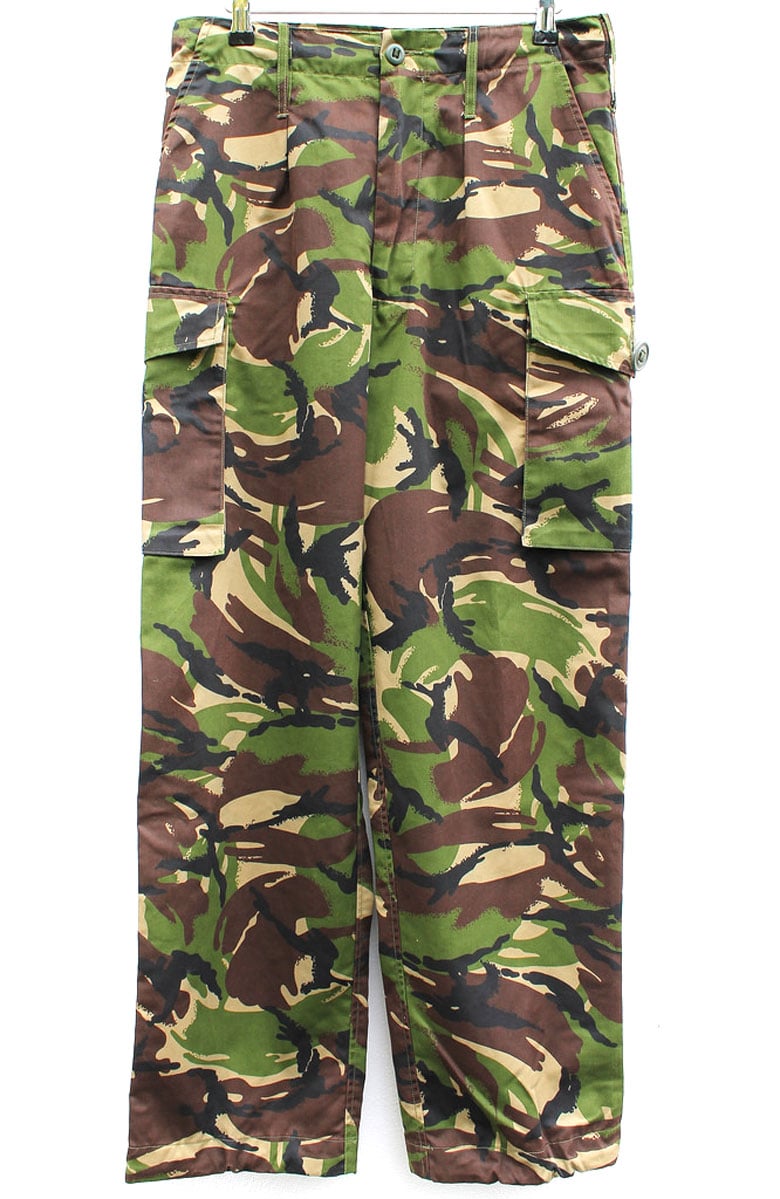 Along with the matching shirts, this style of pant can usually be purchased cheaply at a Military surplus store. US issued pants tend to cover the cargo pocket buttons, which prevents snagging, but makes opening and closing those buttons slower and sometimes trickier, especially in the cold. British DPM uniforms use what's referred to as Canadian style taped buttons. As opposed to the four hole type buttons, these taped buttons are far more resilient in terms of mounting and will likely never fall off or break away during the life of the apparel. However, the taped buttons will be exposed and vulnerable to snagging, especially in camo netting.
Common features on these pants are the following:
Standard Pocket Layout: These pants usually feature front pockets at the waist line, small rear pocket/s and a large pleated cargo pocket on each leg. The thigh/cargo pockets in particular come in handy for a multitude of small items like hats, gloves, maps and possibly medical gear, depending on your other load carrying equipment.
Button Closures: With BDU's, all closures will be via buttons with the exception of the ankles. This includes the top of the fly and the fly itself, as well as the back and cargo pockets.
Draw-String Ankle Closure: These draw-strings are designed to tighten the base of each leg around your boot and help keep out dirt, snow, bugs or anything else that wants to get at your feet and make your life miserable.
No Capability for Built-In Kneepads: This style of pants will likely feature a double layer reinforcement of fabric, as the knee is such a high-wear area. However, the concept of integrated joint protection in place of separate knee pads didn't significantly proliferate until much later than these uniforms were designed. This is the one aspect of these pants that's advisable to modify via tailoring if you have access to someone with the necessary skills.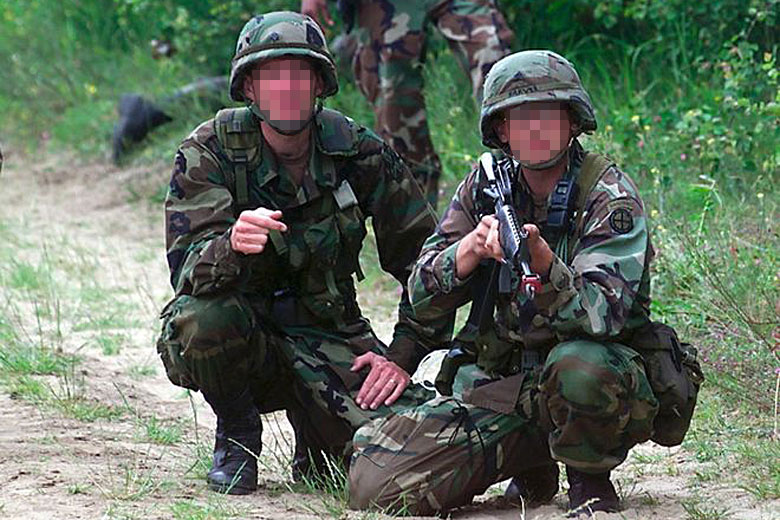 Whatever option is chosen, these types of pants are extremely simple. They have all the pocket capacity 99% of people will ever need and they're generally just as rugged as other more expensive options. When you do eventually wear a pair out, replacements can be found easily and cheaply.
It's advisable to buy a set of knee pads for use with them though. Be sure to research and buy a quality pair with a design that won't constantly fall down to your ankles. Alternatively, have a tailor add some retention loops to the backs of the pant knees for the straps on knee pads to route through.
Modern Field Cut Pants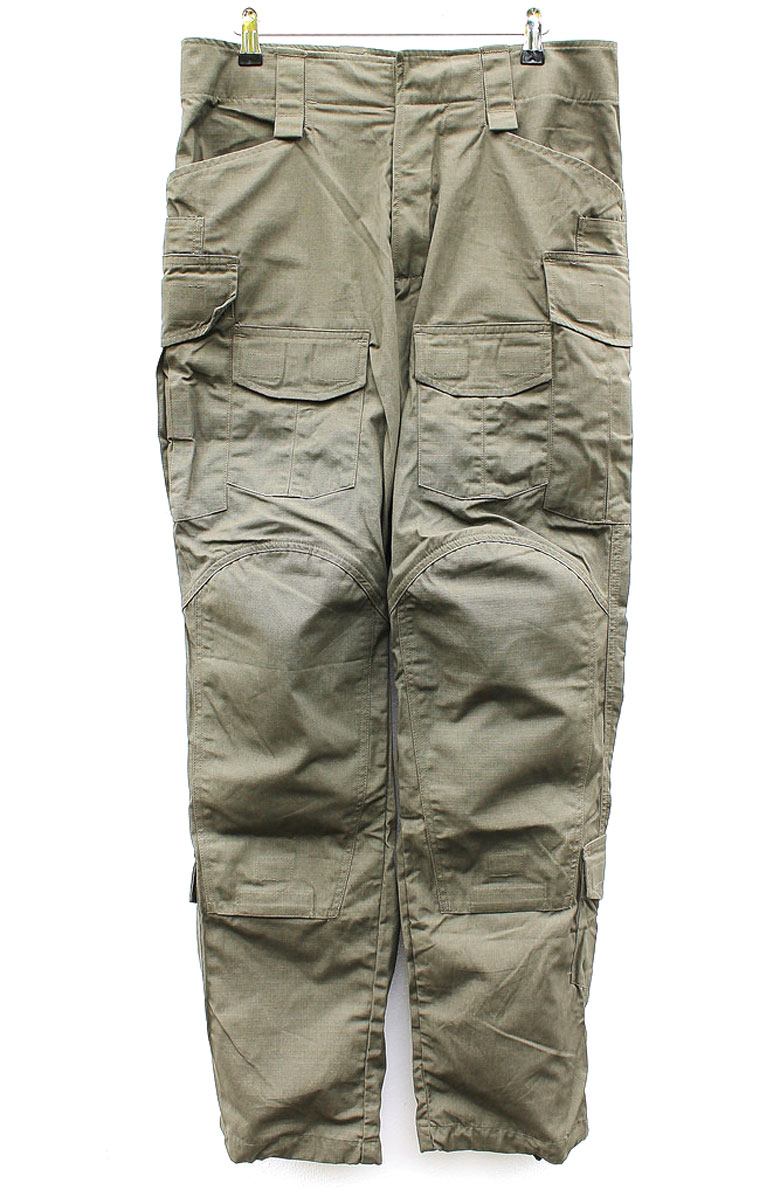 There's something of a disparity in this category between Military issue and commercial offerings. The new Scorpion W2 ACU (Army Combat Uniform) and MTP PCS (Personal Clothing System) pants for example, don't feature any pockets for mounting knee pads, whereas such mounting is a very common feature on commercially sold camouflage or tactical type pants. However, a lot of older variants of the ACU in OCP and UCP do feature pockets for knee pads, so do your due diligence before purchasing if you're looking for specific features.
Generally, when moving from the classic cut uniforms in woodland or desert patterns to the modern cut featuring transitional patterns, there are more visible and significant changes in the shirts than in the pants. This is largely due to the previously discussed proliferation of body armor over traditional belt and web gear. So the differences when comparing a CS95 pant to PCS, BDU, or ACU aren't substantial for the most part.
Remain consistent on where all those items are placed
There might be a pair of extra pockets, though most likely there will be less overall than what's found on non-issued pants.
There might also be slight changes to the closures on some pockets and other small details, but given that this style of pant in Military service is still largely worn around the barracks in an everyday manner, concessions towards combat practicality in current issued designs are minimal.
Given the above, the following are some features found mostly on modern camouflage or tactical pants that are sold commercially:
A Plethora of Pockets: Many of these pockets make extensive use of pleats/billows to allow for expansion when carrying equipment, but they provide a low profile when not necessary. The Crye G3 Field Pants pictured above feature a total of 10 pockets, providing extensive carrying capacity and the ability to segregate different items. Different sizes of pockets also suit different sized equipment, so small items aren't lost in a large space. Just be sure to remain consistent on where all those items are placed, lest you lose track of what you really need at a time you urgently need it.
Various Closure Methods: As with the modern field shirt, expect closures on pockets via hook and loop, zippers and buttons for the fly, as well as draw-strings for the ankle cuffs.
Lack of Integral Waist Adjustments: These built-in adjustments are usually deleted as a cost saving measure at this price point, despite being commonplace on cheaper Military issue pants. Many times this is a positive, as most people will be wearing a belt to facilitate carrying a sidearm, medical pouch or other kit.
Widened and Upgraded Belt Loops: Belt loops are widened compared to civilian attire, with extra bar tacks or otherwise reinforced stitching. If you're planning on wearing a belt rig with a holster and spare magazines, pay particular attention to the belt loops as thin or poorly stitched ones will easily fail when placed under load.
Lack of Stretch Panels: Compared to the combat pants that we'll discuss next, field pants usually lack any stretch panels, which actually helps increase the resilience of the apparel. That said, purchasing a size that has sufficient spare room for your body type does become crucial, as the key seams will be placed under more stress when adopting positions such kneeling or squatting, or when undertaking any other fast, dynamic type movement.
Built-In Section to Insert Knee Pads: Whether simple sheets of neoprene or a molded foam construction, these pants will usually allow for knee pads to be inserted in them. Compared to the bad old days of separate knee pads, the integration of joint protection within the pant is a huge step forward. The only issue comes in longevity, as the fabric in front of the pad, if not reinforced, will probably be the first thing to wear through as it gets abraded against the ground over time. This is particularly true when the pants are used kneeling or crawling repeatedly on gravel, concrete or sand.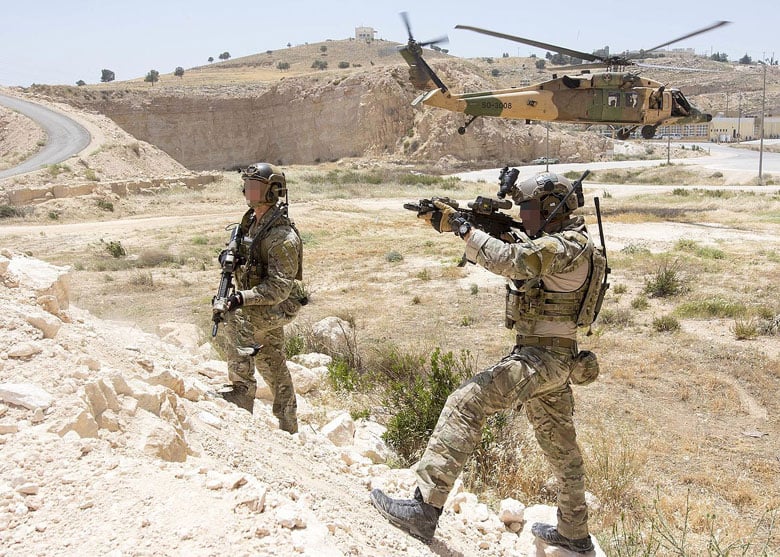 Some pants feature webbing or CORDURA reinforcement on the knee area, but pants that don't can easily have a repair patch applied when the outer layer of fabric eventually wears through. (This will still take a good amount of hard usage to achieve.) When aesthetics aren't a concern as they might be for everyday attire, patching and sewing up damage can dramatically extend the usable life of an item and save money in the long term.
Unfortunately, well priced options for this style of pant can be rare and diligent searching/selection may be necessary. As many Military issued pants don't feature things like integrated knee pad slots and extra pockets, a greater investment might be required if you'd like to step up to a more featured pant that can increase wearer comfort levels in numerous situations.
Assess how much equipment will be carried in the pant, the environments you'll be moving through and look at plenty of options through as many different reputable retailers as you can find. Check out pants both above and below your price range to compare and contrast. This will help you decide what's necessary, what's desired and what can simply be left out.
Modern Combat Cut Pant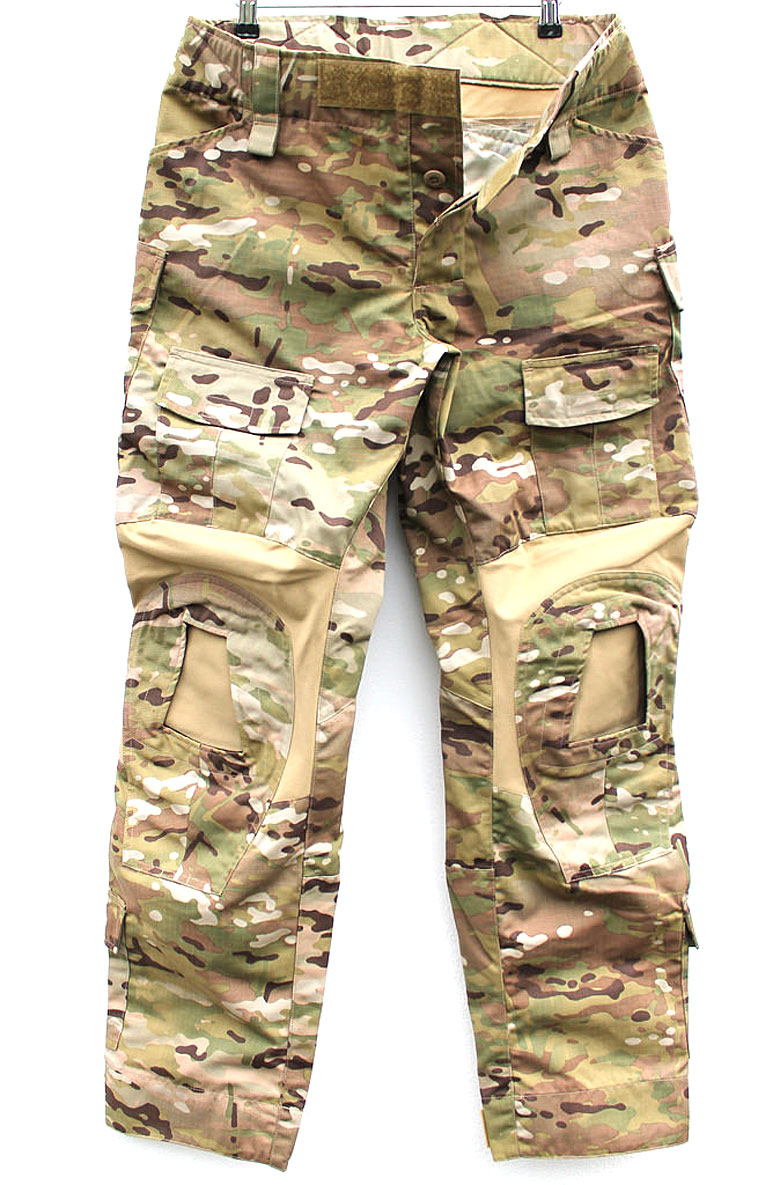 Certainly the newest and most tacticool variation of pants on the block are the Modern Combat Cut Pants. Crye Precision popularized this style in the early and mid 2000's and the concept caught on like a well-fueled wildfire. They bill this design as a "no-compromise assault uniform, aggressively cut for maximum mobility." Those are very valid points because there's most certainly no compromise to military pomp and parade in the layout of these pants. They're the antithesis of the starched and sharply ironed woodland uniforms of the Cold War and they allow for the highest level of mobility you can currently get in a uniform.
A simpler style of pant is definitely the way to go
Crye also refers to this design as "combat proven" and again this is quite correct. I'd wager early prototypes were being sent to select individuals in the Middle East during the early years of the war in Afghanistan and they've since been issued in the thousands to every acronym-named US and Allied Special Operations group you can think of. Not only that, but this design has become so ubiquitous that many Russian SOF units now make regular use of it.
The issue is that to physically create a pair of pants like these from quality materials is a costly endeavor, something that's reflected in the retail price point. The reality is that for 99.9% of people, the advantages that come with a premium pair of combat pants vs. some issued ACU's are minimal, while the cost increase is dramatic. It's the classic case of diminishing returns for increasing price. If you have the cash then feel free to go for it, but if sheer utilitarianism and making your dollars work hard is the goal, a simpler style of pant is definitely the way to go.
All that said, if you're opting for a pair of combat pants from either Crye Precision or someone else who makes a pant influenced by the Crye combat cut, the following are some of the features you'll find:
Pockets Galore: Combat pants will feature just as many pockets as the field cut pants, if not more. Again they make extensive usage of pleats and billows to maintain a low profile, but allow expansion when required.
Buttons are Rare: Pockets will be secured with zippers or hook and loop, but rarely buttons. Expect to find a zippered or hook and loop fly, though the picture I've chosen to use here is a non-standard set of Crye Gen 2's that happen to use buttons. Ankle cuffs will also feature hook and loop to quickly adjust to your boots for prevention of intrusion of foreign matter, or to open up air flow when desired.
Integrated Waist Adjustments: With combat pants, waist adjustment tabs are common and this means no pant belt is necessary. This is particularly useful if you're using a load carrying belt that doesn't interface with the belt loops of the pants, as the issue of double-stacked buckles is eliminated. Although this feature is frequently built into combat pants, the instances of someone wearing these pants with no belt for the likes of a holster seem fairly minimal. Unless a very poor quality belt is chosen, it's not likely you'd need a backup system.
Widened and Upgraded Belt Loops: Similar to the modern field pant, belt loops on the combat pants will be wider and sturdier in attachment than legacy uniforms. In some cases, hanging points will available at the base of certain belt loops for attachment of small carabiners and this can be a popular location to hang quick access items.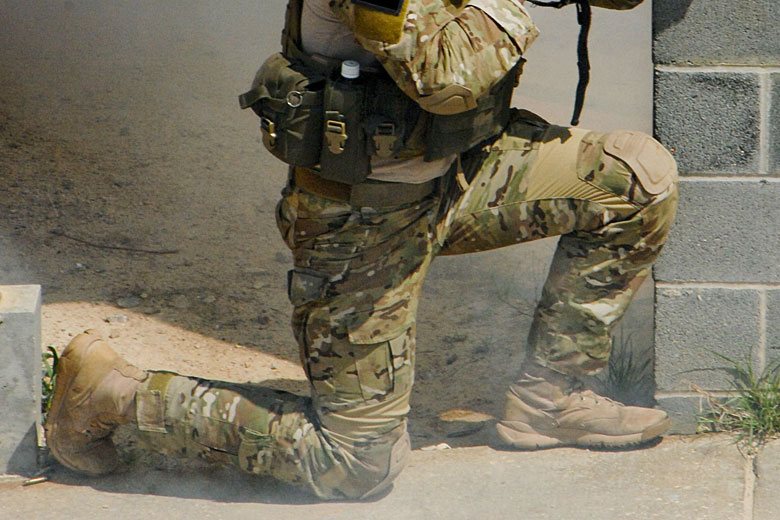 Acceptance of Combat or External Knee Pads: Combat pant knee pad options vary a lot more between brands than on a field cut pant. Crye was really a pioneer in the field with their design, which features foam padding on the inside of the knee area and a flexible plastic cap on the outside. This setup provides increased protection to your joints from blows and sharp edges/rock etc. It also takes away wear from kneeling or crawling from the pant itself and puts it onto the pad, which is extremely easy to replace.
The patterns of the Crye pads and pockets have been copied widely and there's good compatibility between a lot of brands, in addition to all the different generations from Crye. Apart from Crye, Patagonia and D3O have their own systems for a 2 part knee joint protection system, with foam inners and plastic outers. Pants featuring this style of pads usually attract the combat cut nomenclature. Also be aware that an exposed or external knee pad can be prone to loss in thick foliage, moving through woods etc. Many people prefer to stow a simple foam insert in the pad pocket to negate the chances of losing it. Crye's G3 Combat Pants, as an example, have a fabric cover for the pad pocket which can be stowed away if desired, facilitating use of either an external/combat or internal/field knee pad, depending on the user's wishes.
The cost of making pants like these to a high standard is still substantial
Integrated Stretch Panels: Stretch panels are a key component to the combat pants. Crye's latest Generation 3 design includes sections of an inherently stretchy synthetic fabric around the knees, on the lower back and in the crotch gusset areas.
Their Generation 2 pictured above didn't feature the stretch panel in the groin area and the change was made as that particular seam line between the legs is one of the most frequent failure points found on pants that have seen extensive usage.
This is especially true when the wearer does a lot of running and moves between shooting positions rapidly. These highly flexible areas built into the pants facilitate the wearer moving as quickly and as easily as possible, with little hindrance. However, the stretch fabric used isn't as resistant to abrasion, tears and punctures as the material in the rest of the pant, so there's an exchange of longevity for increases in freedom of movement. At this time there are no options on the market that provide a perfect mix of both and certainly not when minimizing weight is a concern.
As I mentioned, this particular cut and style of pant was popularized by Crye Precision, but has since been copied and emulated all over the globe, by both Military contract manufacturers and suppliers to the commercial market. Both large and small companies are producing this style of pants in the USA, England, France, Australia, Poland, the Czech Republic, Russia, China and many other nations.
Unfortunately, while that does mean the commercial availability is there, the cost of making pants like these to a high standard is still substantial. The US Army Combat Pant bears many superficial similarities to the Crye pants pictured above, including extra pockets and areas to mount combat knee pads, but military adoption of combat cut pants for regular troops has been relatively small in scale.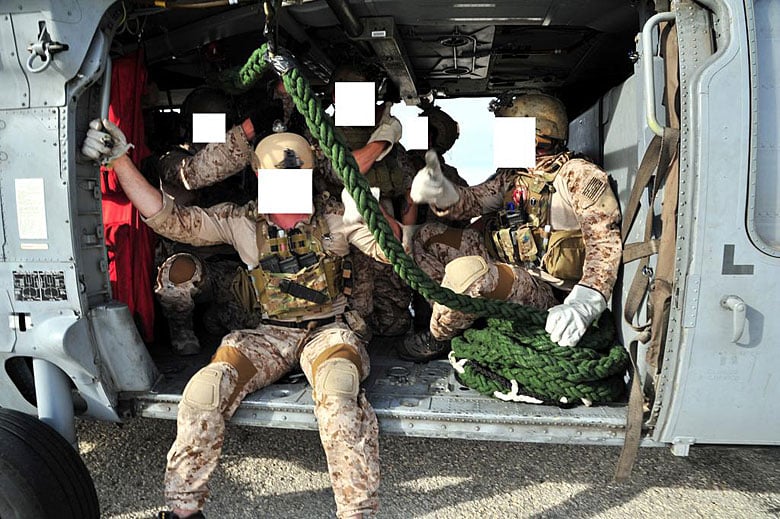 Special Operations Forces that have larger budgets and are equipping far lower numbers of personnel with the very best kit make extensive usage of combat pants, because every little thing the gear can do to ensure it doesn't hinder the wearer can be crucial in that line of work. These specific end users also have the option of using more flexible gear that's time intensive to manufacture, but wears out faster. Once this happens, they simply get new pairs and take better advantage of the longer feature list. However the big, bulk buying power of conventional forces hasn't played into creating a substantial availability of the combat cut pant on the surplus and used market.
There can be some misunderstandings among people commenting online with regards to these types of pants, given how much they usually cost. The question really comes down to whether the investment makes sense to the individual and what their personal budget is. Perhaps that person has the funds to just buy these and use them occasionally, as a luxury for activities undertaken outside of their employment. They may also be able to afford the high price for replacements when the pants do eventually wear out.
Don't forget though that value is hugely subjective and some people just prefer to invest in the designs that provide the most features and exhibit the best construction quality. All that said, despite what the higher cost may imply, the main fabrics themselves of combat pants are no more resilient than some far cheaper surplus pants. The pricing you see is a result of the lengthy and complex manufacturing process. This manufacturing necessitates highly skilled sewers and tailors, most likely using expensive production techniques and machinery.
Material Selection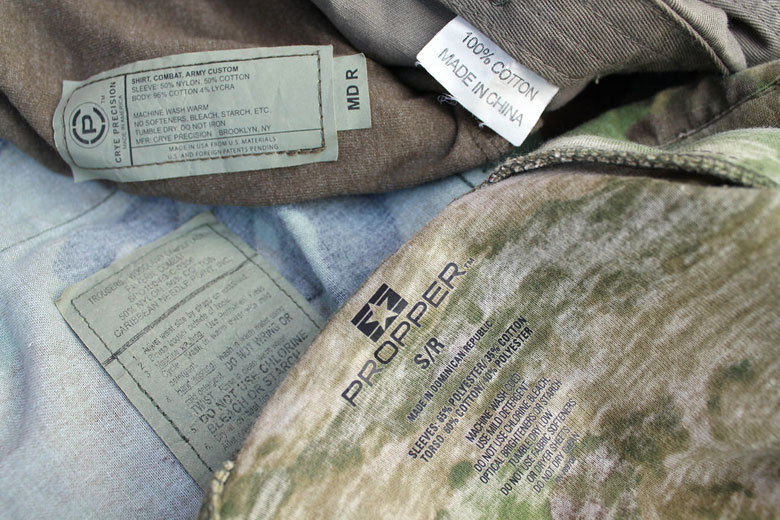 When it comes to choosing a piece of apparel to spend your hard earned money on, it's key to consider the features, construction and assembly quality standards of the brand in question and the materials used in making the piece. Important features will be based on individual needs and preference. It would take far too long to compare and contrast every brand currently on the market. However, material selection is a key aspect to consider that many people will forget, due to not understanding what properties are inherent in different fabrics and blends. I wish I'd known this information when I first took an interest in collecting Military style apparel and gear outside of my issued equipment.
With that in mind, I'd like to take the opportunity to outline three fabrics used in modern tactical clothing manufacture that you're most likely to come across when browsing.
100% Cotton Twill: This is generally a more old-school style of fabric from certain 80's jungle uniforms and the Hot Weather US Woodland BDU. Remember that cotton is rotten when it comes to moisture in the environment. So if your travels take you somewhere extremely, dry cotton is fine, but also consider that full-cotton apparel is almost obsolete. It soaks up lots of water, dries slowly and doesn't have the physical resilience of a blend of cotton with a synthetic fiber. It's a great fabric for comfortable everyday wear around town, but it's certainly not the most practical outdoors.
60/40 Polyester and Cotton Blend (PYCO): This material is generally found in a "ripstop" form, which simply refers to the small grid-like pattern visible in the fabric, a pattern that older twill fabrics generally don't exhibit. It can still be ripped, but rips won't expand or propagate nearly as readily. The mixture ratio of polyester and cotton can vary slightly, but the fabric properties won't vary drastically. Many military issued uniforms are made of PYCO and in fact, it's the most common type of fabric out there for all sorts of camouflage and tactical apparel. It has various improvements over pure cotton when it comes to resilience and moisture management but it's still quite economically priced. Unfortunately, polyester melts and drips easily when exposed to flash heat or flames.
50/50 Nylon and Cotton Blend (NYCO): I've only ever seen NYCO in a ripstop weave. It may exist out there in other forms, but the ripstop is what you'll encounter the vast majority of the time. This is the fabric most often used by Crye, Arc'teryx, Beyond Clothing and others when it comes to their field combat uniforms for temperate and arid climate usage. Opting for a nylon blend instead of polyester has various advantages. The fabric will simply last longer and resist tears and abrasion better, as well as holding colors and patterns for longer after exposure to sun, rain and wash cycles. Additionally, it's usually more flexible and will resist accumulation of odor for a longer period. Crucial for military applications, while not being fully flame resistant, NYCO is much less prone to melting when exposed to a flame.
Final Notes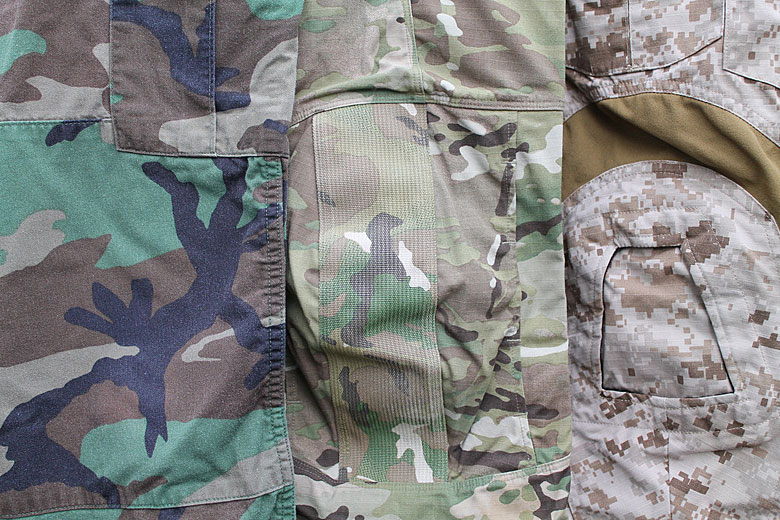 Always take an extra bit of time to fully read and digest the bullet points and description text provided by the manufacturer or retailer whenever shopping for apparel online. If you're in a physical store, take the extra time to look inside a garment to find any labels attached, read what they say and research the information if unsure.
As a rule of thumb, you'll have to spend around double the amount of money on a commercial item compared to a military surplus one before you begin to see a noteworthy improvement in quality. The issue as it stands today, is that there are a large number of social media professionals out there who have a great deal of influence with millions of followers. Some of those people make their money by directing you to certain stores or commercial brands. Or by providing perfect, glowing reviews for absolutely any piece of gear they're given for free by a store or manufacturer who want to boost sales of that gear. Nobody in that particular sphere makes money if everyone just buys good value military surplus gear, or even used non-surplus gear. Yet it's those in that sphere that many people will go to when seeking information on tactical gear and what to buy. This isn't to say everyone in the world of publishing reviews is lacking integrity, just don't take every single thing you read or hear on faith.
Overall I'd recommend a simple, low cost BDU or other Military standard issue pair of pants to the majority of folks who want to do the most possible on a budget. For those wishing to wear armor and be comfortable for any period of time, a combat shirt is worth picking up. However the standard shirts (which are available very cheaply) will provide a user with more camouflage, more protection and will hold up longer if using a belt system or chest rig with no back panel.
There's a very large and diverse secondhand market out there for tactical and outdoor apparel on forums, eBay and social media. Take the time to hunt down the deals that are available and be sure to wait for sales to take maximum advantage of discount codes whenever they appear. Identifying what it is you actually need for your use ahead of time, narrowing down options and then waiting to get the best price possible can pay significant dividends.
Editor-in-Chief's Note: Chris Kinnerley is currently 10 years into his service as an Armament Engineer in the Royal Air Force. He's humped and dumped a lot of ammo cans and fixed a lot of machine guns, rifles and pistols. Chris spent some time down the Falkland Islands and very briefly took a sunny holiday to Kabul, Afghanistan. When he's not busy being a REMF he's pouring over all sorts of gear with a fine tooth comb, from camo apparel and boots to modular pouches and plate carriers. He'd love to own various semi-automatic rifles and pistols but can't, so he visits the U.S. at least once a year to experience the superb freedoms he wishes he had at home. Visit his personal gear-related site, TheFull9