Salomon Forces Speed Assault Shoes: More Durable Than Your Grandfather's Speedcross
Salomon Forces Speed Assault Shoes: More Durable Than Your Grandfather's Speedcross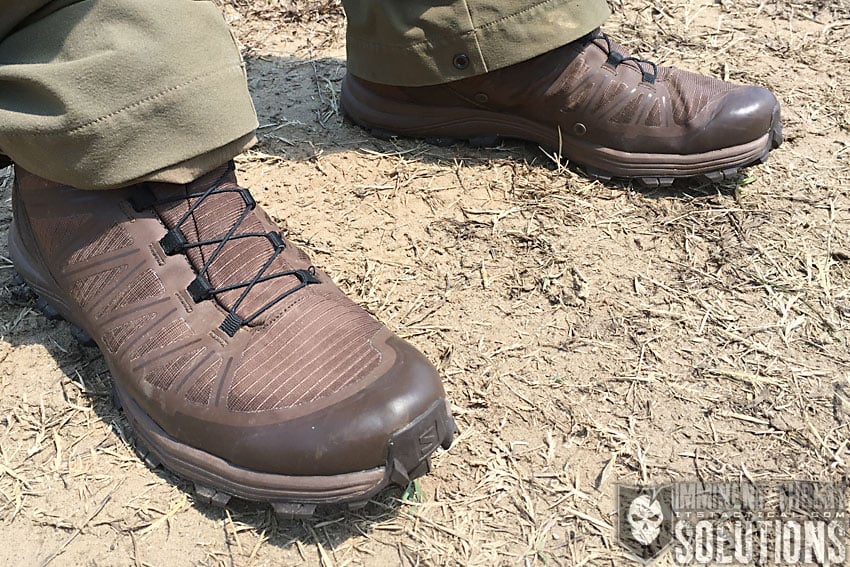 The Salomon Forces line was introduced in early 2016 to offer footwear geared towards the Military and Law Enforcement, but still ensure accessibility to civilians and those desiring a less than flashy look.
For instance, take the popular Speedcross 3. On the outdoor footwear side, the colorways can be quite bright and even in their more subdued black and grey offerings, you get pops of color that don't blend in well with nature and also feature reflective material.
The goal of the Forces line was to remove these features and "port" existing styles over, making them more desirable to the large segment of Military and Law Enforcement already using them quite extensively.
Salomon Wear Backstory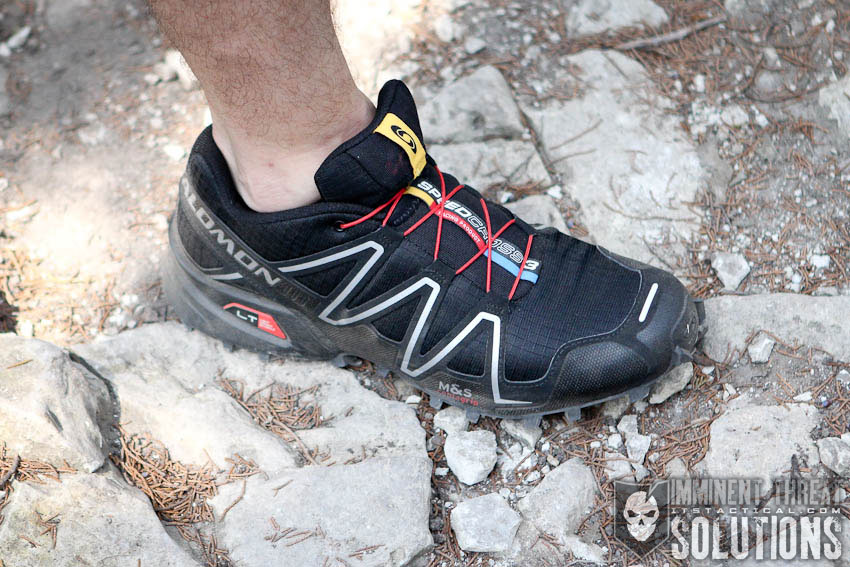 I've long been a fan of the Speedcross shoe from Salomon, shown above. They're stylish, easy to lace, comfortable right out the box and while the tread lasts, super grippy on a multitude of surfaces.
I discussed my love-hate relationship with Salomons and the Speedcross in an article back at the beginning of 2014, when I was on my 6th pair of them in just over 3 years.
As mentioned there and even above, my only real complaint with the Speedcross is how quickly the tread wears. Just to speak to the caveat here, I still don't wear the Speedcross as they were designed to be worn. They're built for trail running and my running and usage consists primarily of pavement with around 10% off road use.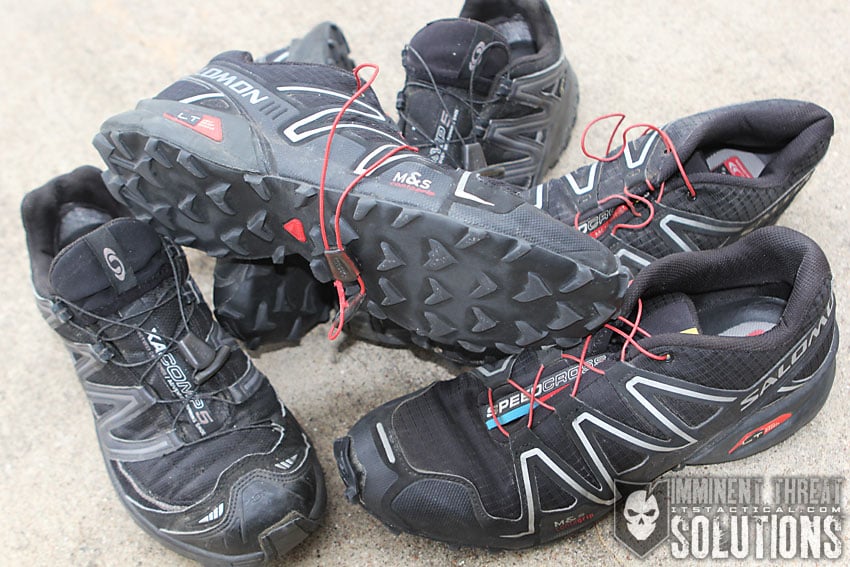 While the argument can certainly be made that the tread wears quickly because I don't wear Speedcross as intended, I'll just defer back to the aforementioned article for more discussion on that aspect, as it's all been covered there in detail.
The reason for this article is to highlight the new Salomon Forces Speed Assault Shoes and the advantage I've found they have over the previous 8 pairs of Salomons I've now purchased.
Salomon Speed Assault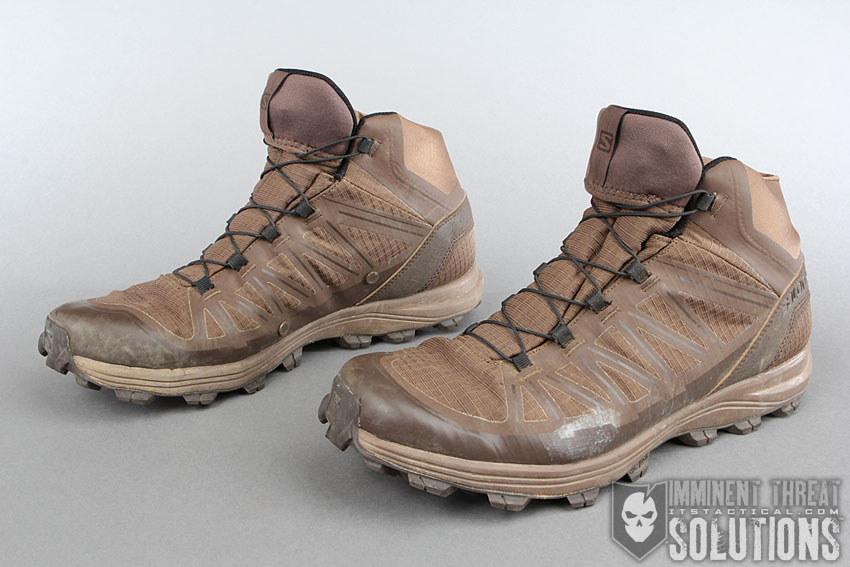 New to Salomon's Forces line and any Salomon line for that matter, is the Speed Assault Shoe. I first got a glimpse of these during their debut at SHOT Show 2016. Salomon describes the shoe as follows:
"Super-lightweight with ankle protection and outstanding grip, the Speed Assault is ready for any warm weather and wet operation. From desert deployment to jungle training camps, it will follow any need of speed and lightness."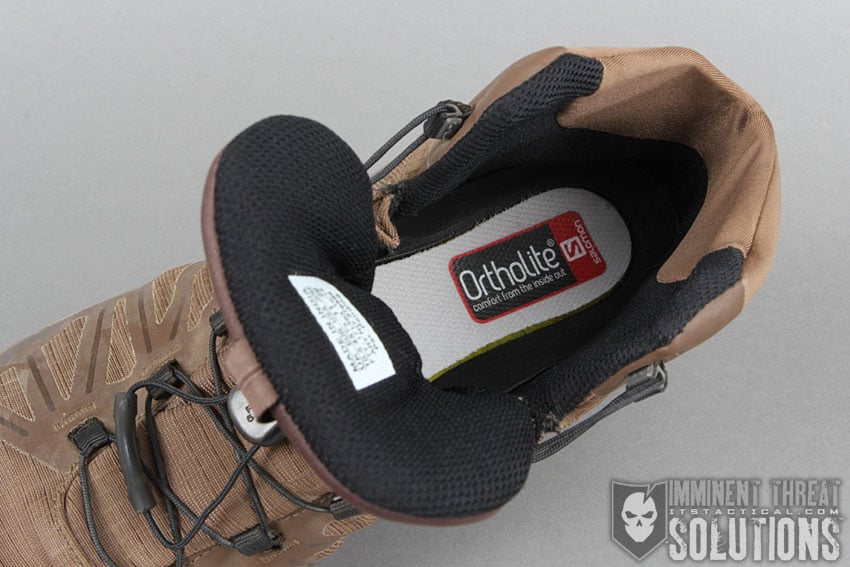 The Speed Assault is a mid-length upper with an awesome Stretch Heel feature that I'm loving more and more as I wear them. Specifically designed to prevent debris from entering the shoe, I've found it really increases the dexterity of the shoe, due the stretch material. I've never had footwear that featured a unstructured heel section like this, but I apparently didn't know what I was missing.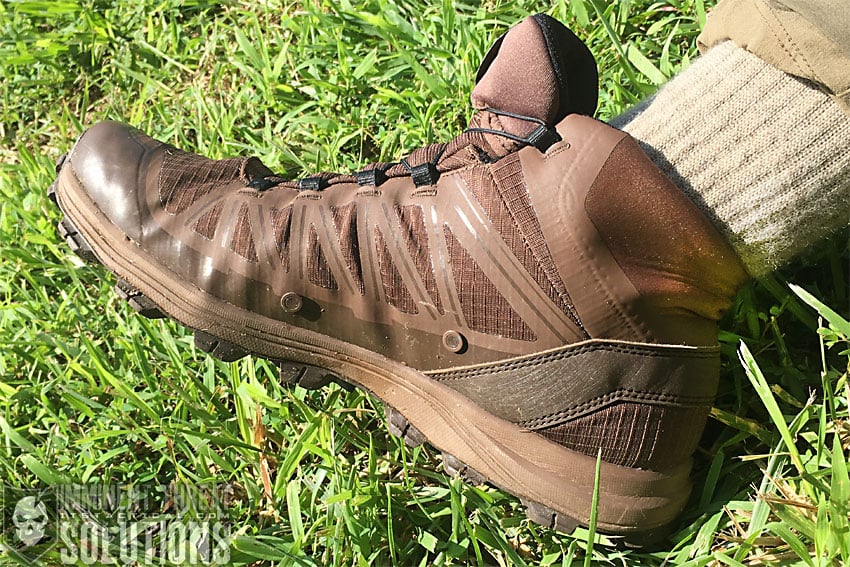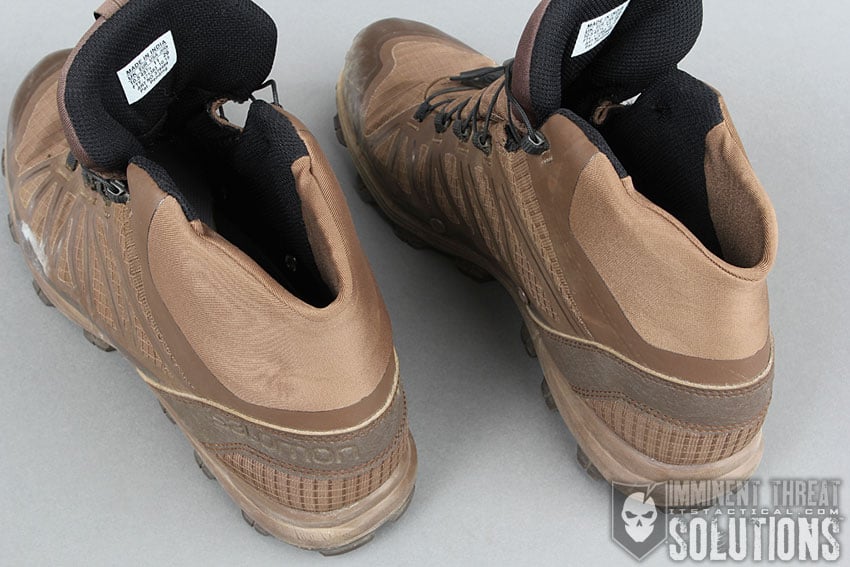 While the Stretch Heel is awesome, my favorite feature on the Speed Assault is that it has the same great lightweight-comfort and look as the Speedcross, but with heavier duty Contagrip tread lugs and toe protection for increased durability. That and it comes in the Forces line, which removes any reflective material.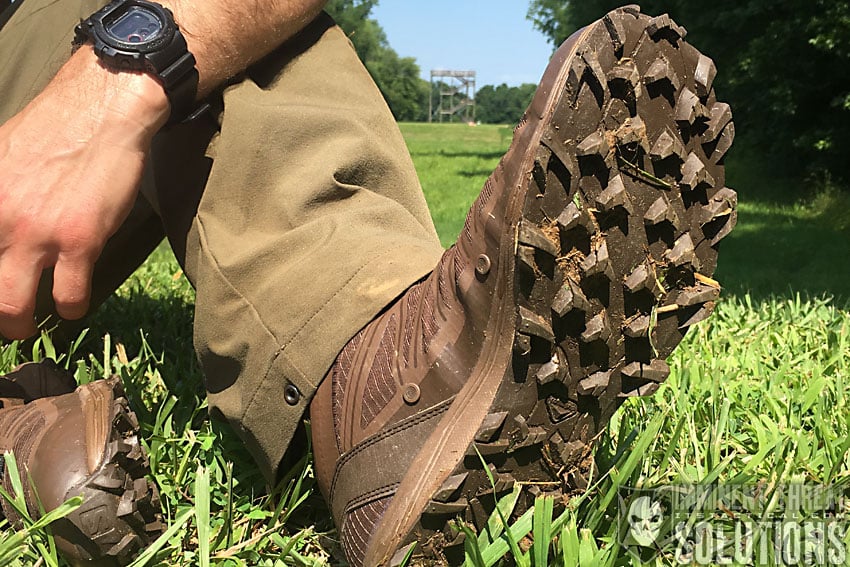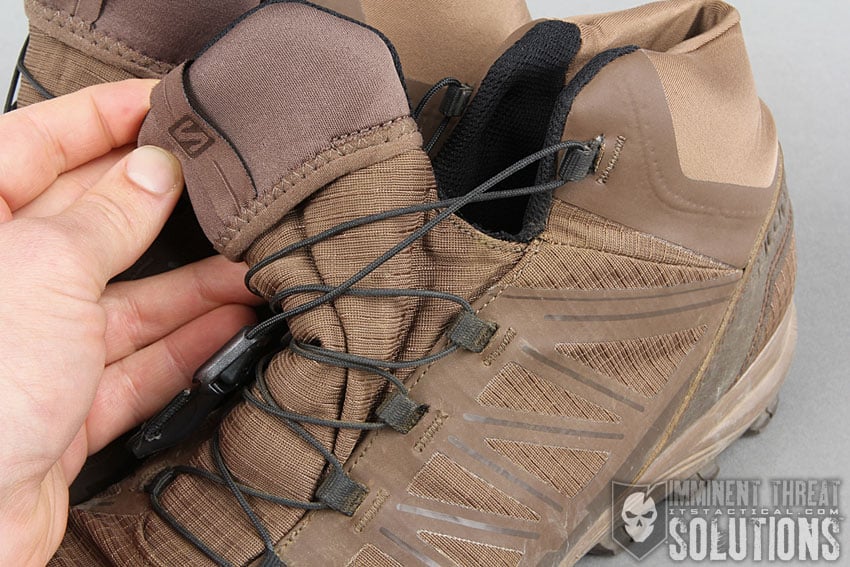 Debris in your shoes is definitely a negative and the Speed Assault also features a gusseted tongue to help with just that issue. Their inherent mid-height construction already reduces this issue, pairing it with the Stretch Heel and gusseted tongue are just icing on the cake.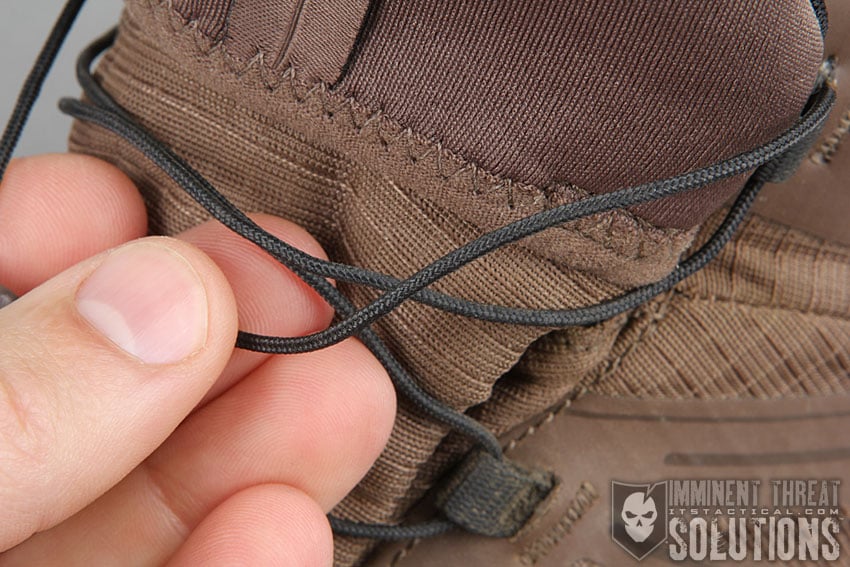 I'll also mention that the lace on the Speed Assault shoe seems to be the same kevlar makeup as the Speedcross 3 and as a weight comparison, the Speed Assault pair weights 11.3 ounces, while the Speedcross 3 pair weighs 11.0 ounces.
Wearing it Out
I've been bouncing my usage results off one of our ITS Life Members and frequent contributors, Matt Sharp, who has had a pair since they first became available earlier this year. Matt's usage is more telling than mine has been thus far, as he logs quite a few miles a day living (and walking everywhere) in San Francisco. His usage is predominately city streets and sidewalks, with a small amount of trail/field use.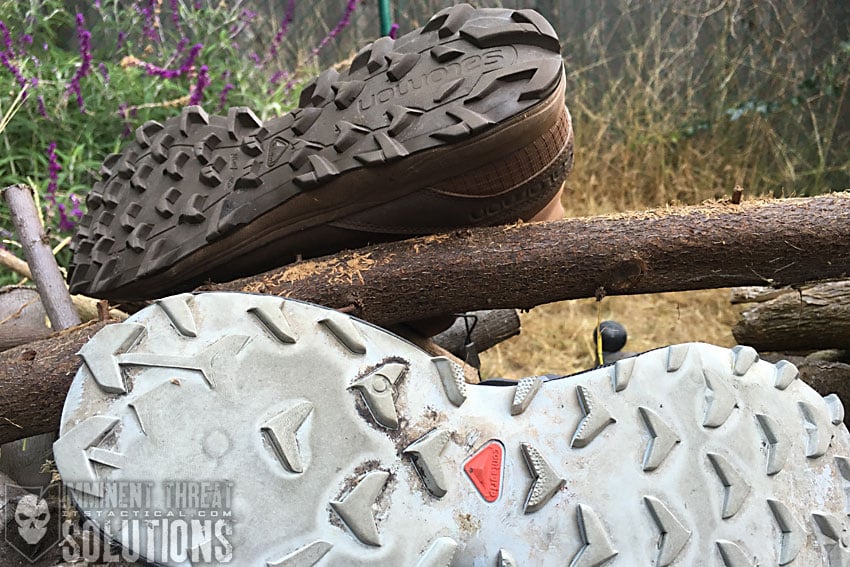 My reasoning for including his data here is that he has an interesting comparison. He purchased a pair of Speedcross 3's at the same time as bought the pair of Speed Assaults, which was late March of this year. He's been continuously wearing one or the other consistently since then, with the Speed Assault shoe being worn 5 times a week, compared to two times a week with the Speedcross 3.
I'll let his photo comparison of the two soles above, speak for itself. Just so it's clear, this data isn't a dig on the Speedcross 3's, it's praise for the tread life of the Speed Assault. In non-conventional environments, of course.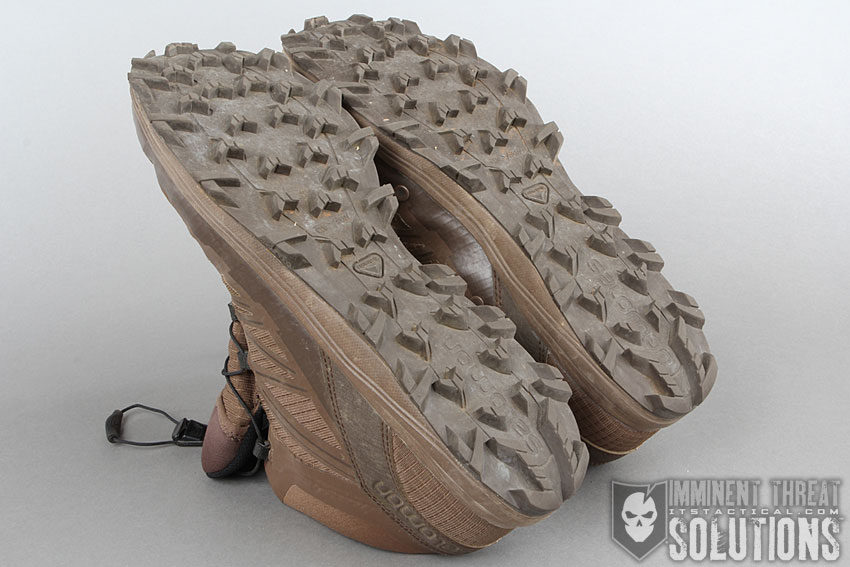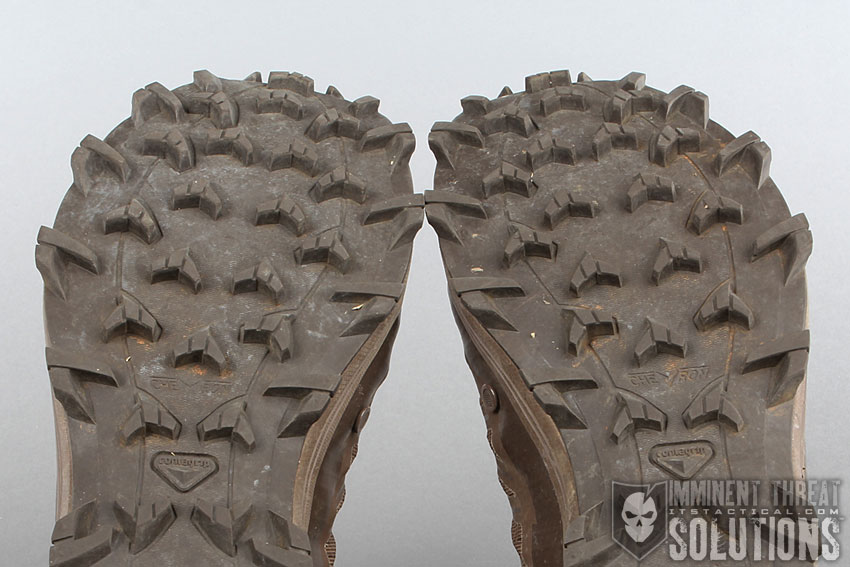 My personal usage is going on 4 months now of mostly off-road wear and the soles still look brand new. Granted I'm probably wearing them more like they were intended to, but you can compare what my tread looks like to Matt's nearly every-day wear above and still see how well they hold up.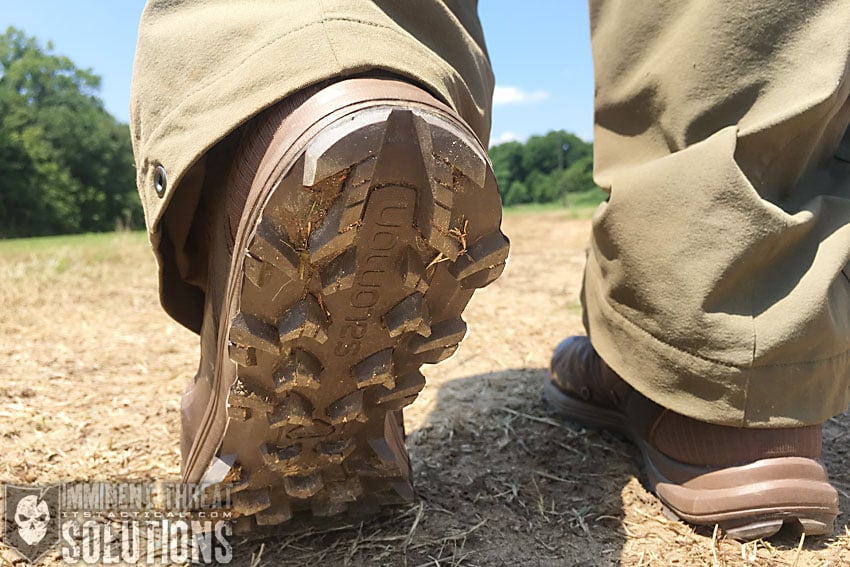 Another item I'd like to discuss the results of is the Quicklace system. The Speedcross shoes also feature this system with a lace pocket to store excess lace in after tightening, but as with my gripe on the Speedcross, the pull tab always shifts around. The problem is that when you tighten the laces and naturally grab that pull tab as the center point, there's inevitably shifting that occurs and you have to mess with the lace to get it to tighten evenly. I'm not sure if this is an element that's this way by design though.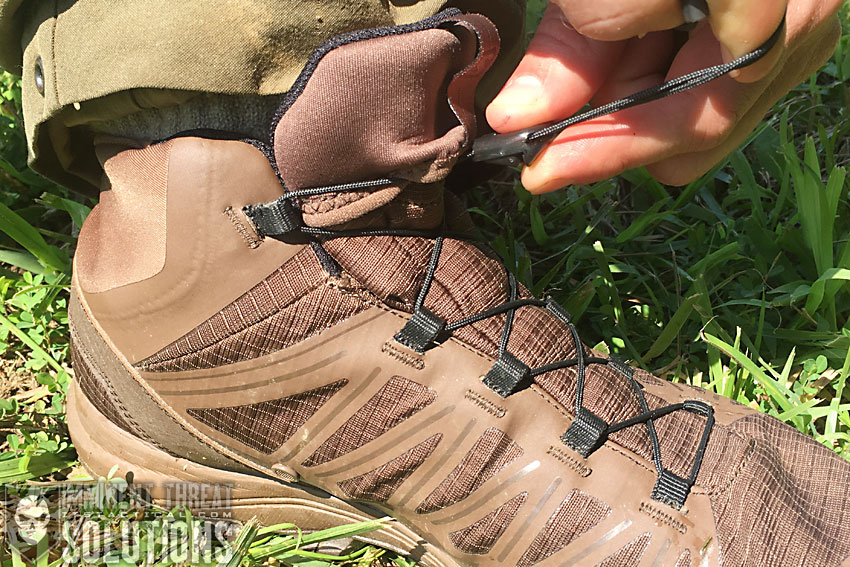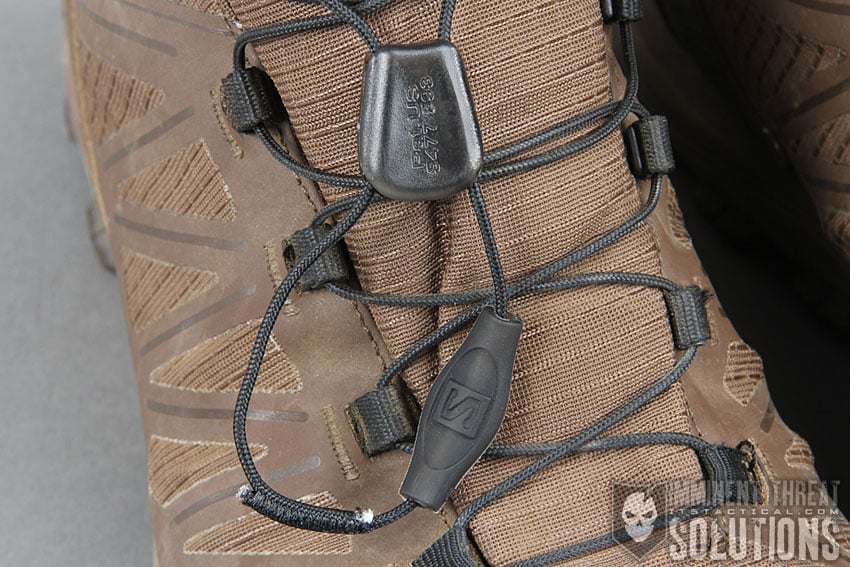 Lastly, I'd like to mention that the Speed Assaults breathe incredibly well, just like the Speedcross. This also aids in their quick drying nature when soaked, thanks to a little help from vent/drain ports.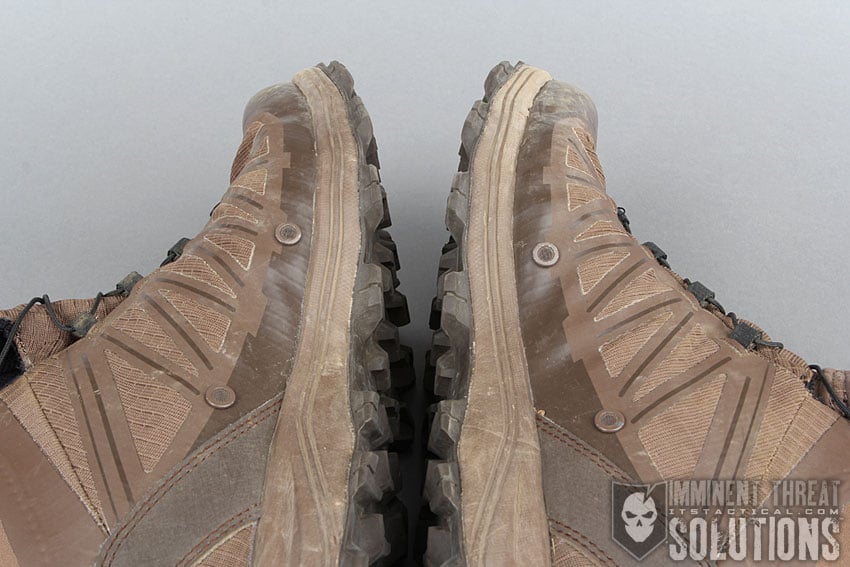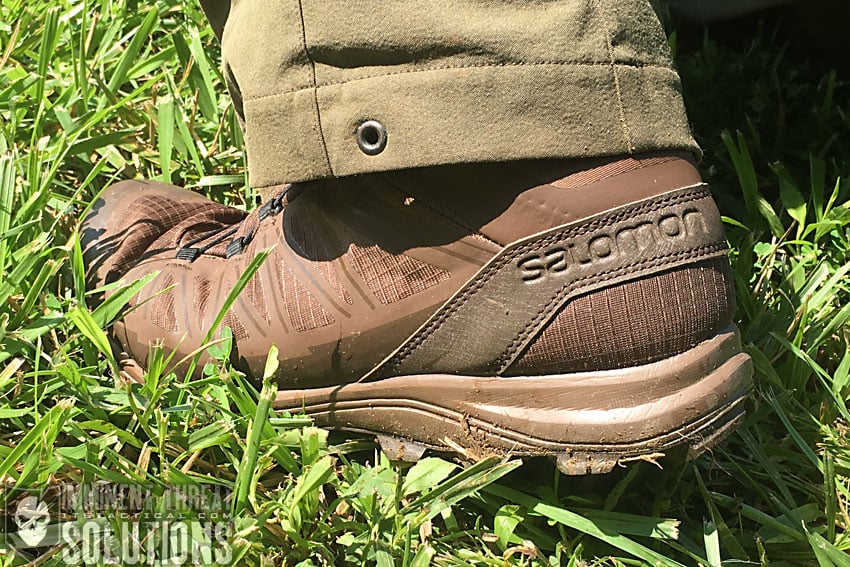 I try to avoid water-logged shoes whenever possible and dislike Gore-Tex in footwear with a passion. There's often no way around getting water in shoes and boots, even with a waterproof layer like Gore-Tex. I've personally found it makes my footwear breathe terribly, creating excess moisture that fosters stink and makes drying time unbearable.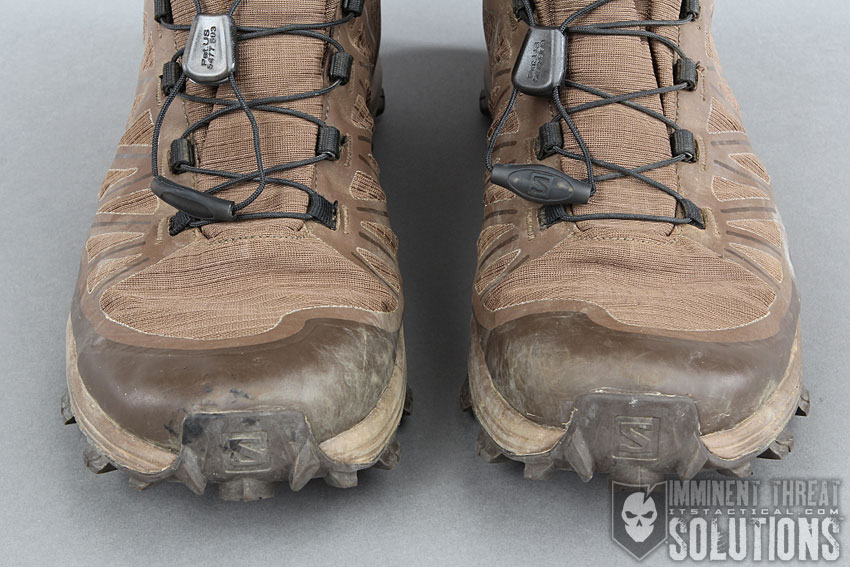 As a last note of sorts on my usage of Speed Assault shoes, I don't consider them replacements for hard wearing boots like my Lowa Renegades. I look at those boots as more of a mountain boot or heavy mileage boot. Salomon bills the Speed Assault as it's namesake; an assault shoe. They're designed for actions on the objective, not necessarily a multi-day journey.
Colorway Options
The available color options at the time of writing are limited to Burro, which is a brown colorway that works extremely well with MultiCam, as well as traditional Woodland Camouflage.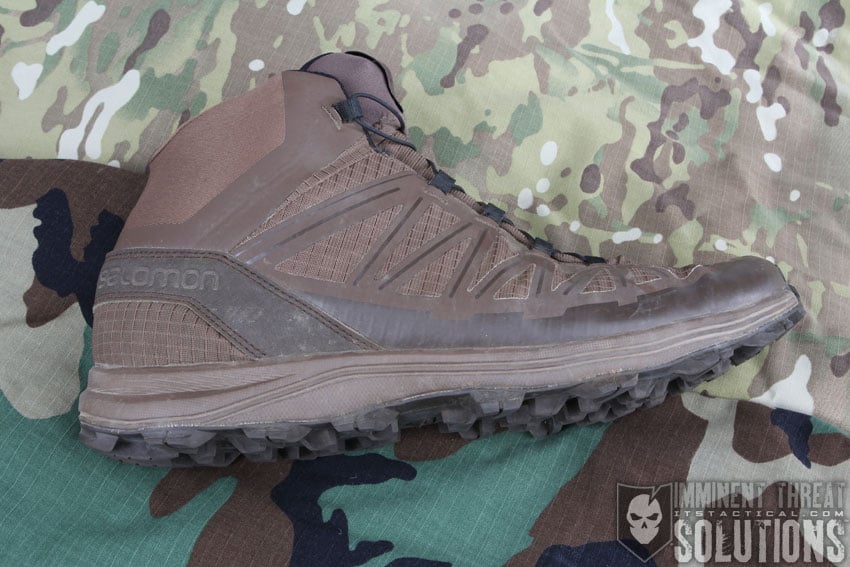 Here's hoping they're also released in black and grey as well. I've really been digging the all-grey version of the Speedcross shown below and hope to see that colorway come to the Forces line-up one day.
Availability
You won't find anything on the Forces lineup within Salomon's main website navigation and even when you do come across it, they don't sell them direct on Salomon.com like they do with their other lines. You'll have to visit an online retailer that carries the Forces line, like our friends at Tactical Distributors.