The Pack of All Trades? Using the CamelBak Urban Assault Pack for EDC, Training and Competition
The Pack of All Trades? Using the CamelBak Urban Assault Pack for EDC, Training and Competition
If you're like me, there's something inherently compelling about packs and storage solutions. I definitely fancy myself a pack connoisseur, although my wife uses a slightly different term.
So when ITS approached me about reviewing the Urban Assault from CamelBak, there was no way I could turn it down. I was coming up on my heavy teaching season (I primarily teach wilderness/austere medicine in the spring), which this year had a significantly higher tempo than in previous years. My plan was to run this pack throughout the season, but I also had a couple of "personal improvement" events that I wanted to use the pack during.
Having used dozens of packs throughout my life and in all manner of environments from urban college campuses to more "austere" environments, I've developed a fine grasp of what works for me and my packing systems. I say "systems" because there's no killer solution that works in all situations. My high alpine system is markedly different than my Sonoran desert system, which is different than my patrol bag.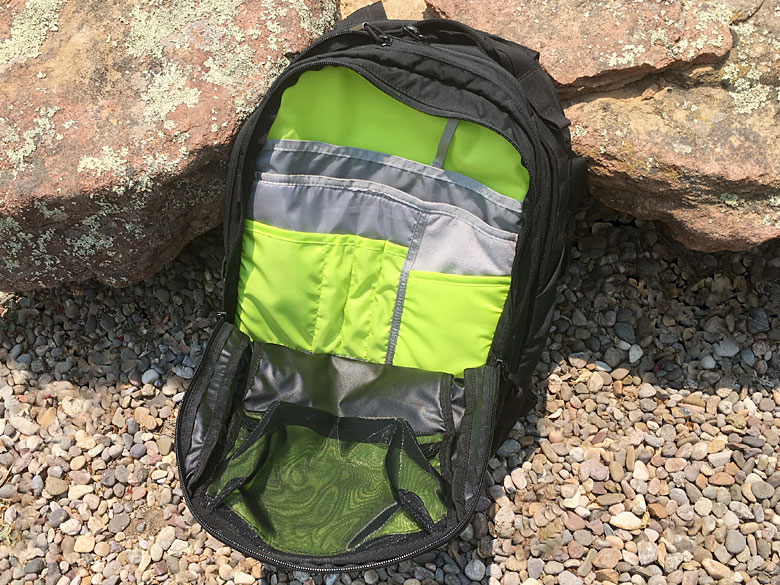 While I'd like to say that I've found one bag to rule them all, that's simply not the case. The closest I've come is a GORUCK GR2 and even that's not perfect. One of the biggest features I now look for beyond overall durability is internal organization. Being a little OCD, I want a place for everything and everything in its place (though I still love you, kit bag).
Enter the CamelBak Urban Assault. I'll admit, when I first got it I was a bit skeptical of its durability because it was pretty lightweight compared to my general EDC packs. I can't tell you exactly why I formed that initial impression, especially given the fact that I ran a CamelBak BFM down range. I know CamelBak makes solid gear; solid enough that I was unable to find its breaking point despite running it on a few raids and S&R missions.
The Urban Assault is designed with "travel and daily operations in mind" and is part of the "admin" category of CamelBak packs.
Observations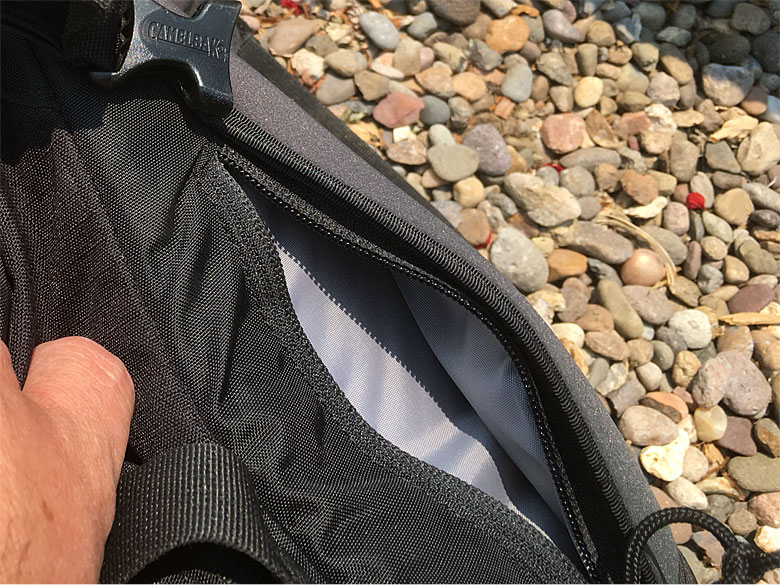 I'm a pretty efficient packer and I'm pretty good about running gear that has multiple uses; I'm not a big fan of single purpose items. I found that the Urban Assault, for me, is no more than a 3-day pack. Arguably, three days might actually be more than the Urban Assault is designed to accommodate.
It's a "covert" pack and doesn't scream "tactical," which I can only hope we, as a community, are starting to move away from. It does, however, have an unfortunate acronym, UA.
The Urban Assault features a small concealable area in the back, which I found to be pretty useless. They claim it's for passports or other small items, but honestly, I don't think it meets any covert standard. It was certainly less useful than the covert area on my Gen 1 ITS Messenger Bag. The CamelBak's small pocket isn't hidden and I can't see putting anything in it that you'd want to conceal. Also, it was way too small for a gun, even a little mouse gun. Maybe I'm just not imaginative enough, but I couldn't see any purpose for it.
The Urban Assault did run easily through airport security (I didn't get any pictures because, you know, reasons) and it was nice to carry on overnight trips, which it certainly excels at. At no point did I have any doubts about use as a carry-on and it fit under the seat quite well (I will say that my overnight packing is very minimal though).
For the numerous courses I taught this spring, the UA was a great daily bag. I bring a laptop, iPad Pro, cables, notebook, reference materials, etc. as well as a big heavy blade to prep my "patients" for the wound cleaning lab.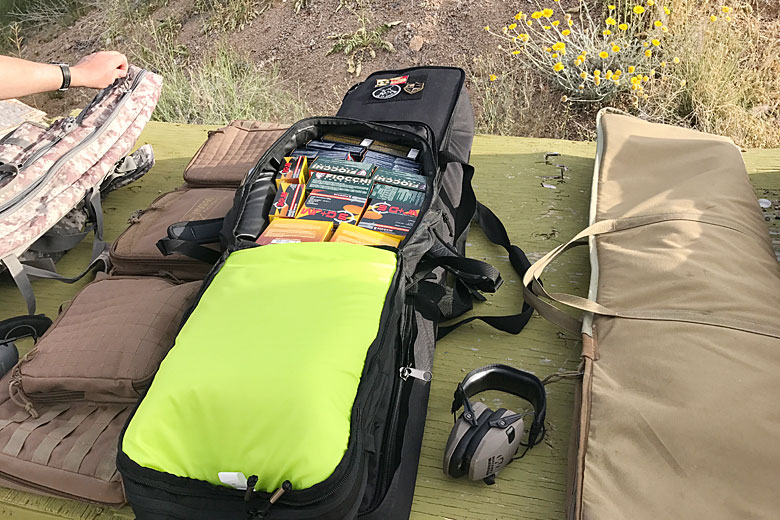 I had a diversionary trip during my busy season to play at the Superstition Mountain Mystery 3-Gun (which I highly recommend if you're into such things). The Urban Assault did a great job of carrying all of my ammo (I refuse to use a baby stroller like many at the event) and support gear.
For reference, last year I carried my ALICE pack, which also contained my shotgun and rifle. This year I was running an Explorer Cases 3-Gun Kit for the weapons and I managed ammo, water and support gear in the UA.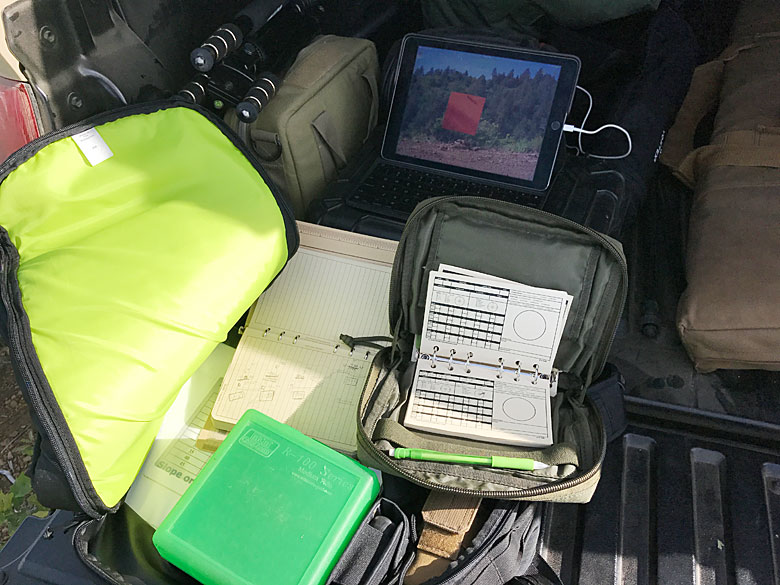 The Urban Assault also got some time at a Precision Long Range course I took at the NRA Whittington Center. I used it for carrying all of my support gear as we transitioned between firing positions. Its organization helped me keep the tools where I could easily find them and I could even direct others to grab specific pieces ("The range finder is in the padded area of the middle section.")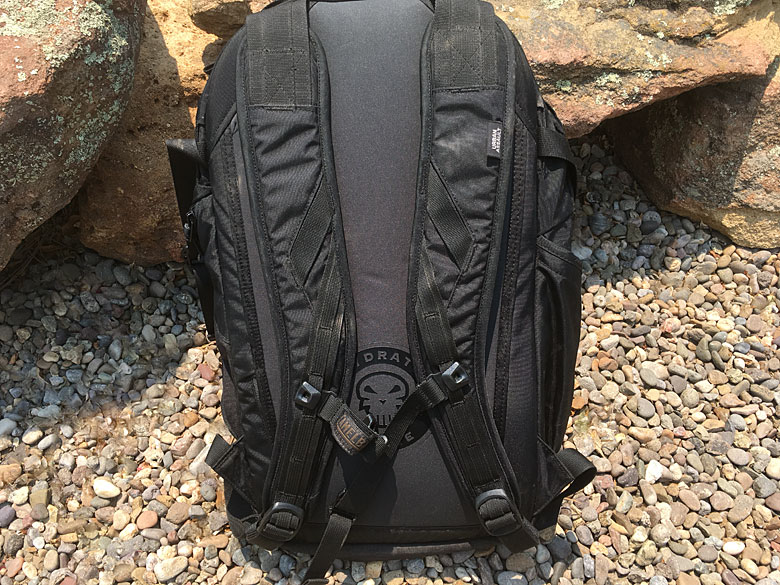 Overall, the pack carries the weight close to the body and the back panel has good padding and contour lines. I thought the straps were a little under padded, but really you shouldn't be carrying a super heavy load. That said, carrying the ammo wasn't a problem. I did read that the previous version of this pack had narrower straps, which was a complaint they addressed and I thought these were fine.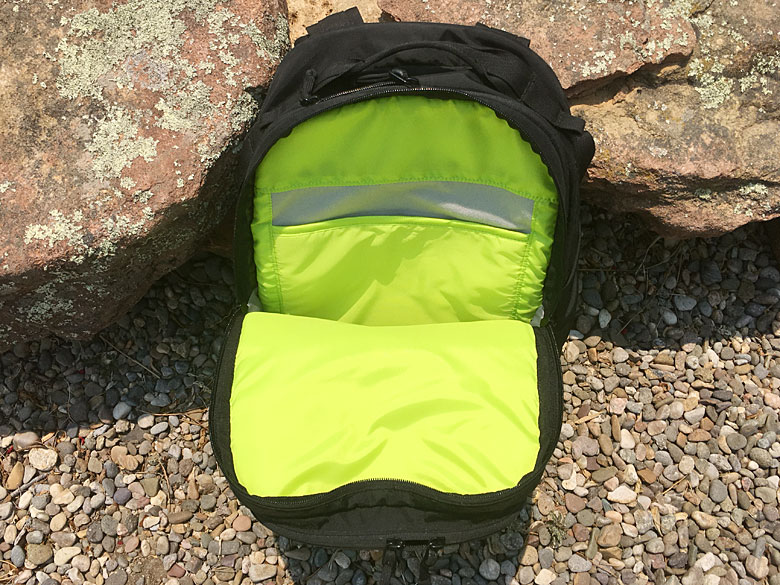 The padded areas were nice and I didn't have any issues situating my electronics in those areas. The minimal abuse I put the pack under didn't translate into any damage to my gear.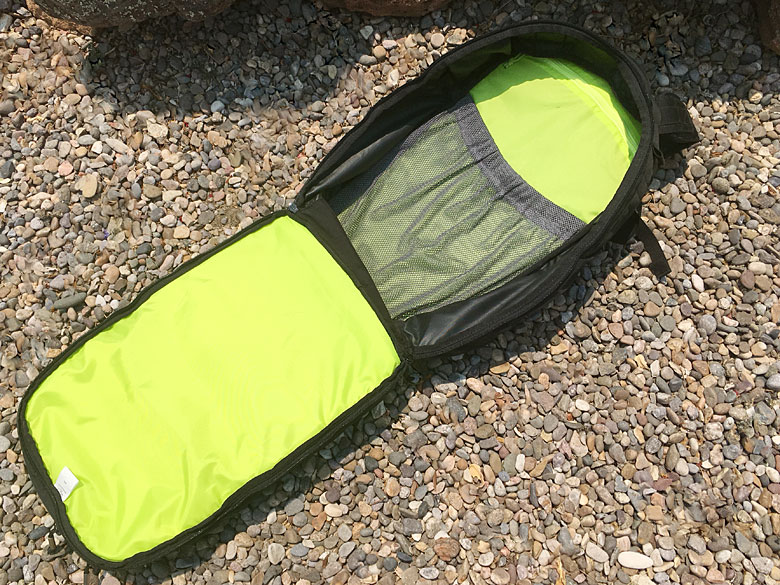 The high visibility interior was refreshing to me. I was able to locate gear easily and in a survival "signaling" situation, you could open the clamshell compartment and have a ready to go signaling panel. It was also much easier to find things in lower light situations, or with just a red LED.
It's also important to note that this isn't a "hydration" pack. It's not designed to accommodate a bladder and there is no porting on the top to route a drinking tube. However, there is a generous zippered pouch on the side that will hold a large bottle of water.
I do want to point out that I didn't run this as hard as I could have. I didn't do a GORUCK Event with it and didn't do any morning rucks. The most continuous mileage it had was during Superstition Mountain Mystery 3-Gun and overall, that wasn't too much. That being said, the Urban Assault held up to pretty consistent daily use, including getting tossed around, stacked with other packs and getting wet, dusty, baked in the sun, etc.
How I Packed It
I used the pack in a few different configurations; as a business tote, an overnight bag, ammo (and support gear) hauler for 3-Gun and as a support bag for the precision long range class.
Business Tote
This role is where the organization came in handy!
Coursebooks
Handouts
15″ Macbook Pro and power brick
iPad Pro
Mini Projector (and connectors)
Charging Kit (Lightning/micro-USB cables, battery pack, universal plug with USB)
Khukri (for prepping patients for wound cleaning)
Hand Sanitizer
Pens/Pencils (and sharpener)
Water
Lickies and Chewies
Overnight Bag
I know it seems like a lot, but even after all this I had tons of room to spare.
Microfiber Towel (because it's the most massively useful thing an interstellar hitchhiker can carry)
15″ Macbook Pro and power brick
iPad Pro
Charging Kit Lightning/micro-USB cables, battery pack, universal plug with USB)
Change of clothes
Pens/Pencils (and sharpener)
Water
Lickies and Chewies
Ammo Hauler
If you can't carry your ammo for the day, go home.
Eyes/Ears
Cleaning Kit, Lube, Tools
200 rounds .223 Win
300 rounds 9mm
100 shells, 12 ga, bird
40 shells, 12 ga, buck
20 slugs, 12 ga, 1 oz
Water
Lickies and Chewies
PLR Support Bag
Anyone that shoots precision rifle knows that you're not just carrying a rifle.
100 Round Ammo Box
Cleaning Kit, FAT Tool, bits, Torx
Shemagh (makes a great drape to keep direct sun off ammo, rifle, and mat)
Eyes/Ears
Protractor
Pens/Pencils (and sharpener)
Water
Lickies and Chewies
Features and Specifications
Padded IT compartment for a laptop and tablet
Zippered full clamshell opening on main cargo for easy packing
Hi-Viz interior makes it quick to locate items
Back panel security pocket for passport or wallet
Zipper side compartment for power cables and chargers
Slip in bottle pocket
Gear Capacity: 32L/1950 cu inches
Pack Weight: 1.24 kg/2 lbs 10 oz
Dimensions: 50 x 33 x 33 cm/19/7 x 13 x 13 in
Back Panel: 420D High-Density Nylon Oxford
Harness: 15 mm Eva foam shoulder harness
Number of exterior pockets: 7
Conclusion
In total, I logged 63 days of travel in 3 months and the CamelBak Urban Assault went with me for all of it; though it was too small to be my only personal pack. I'm typically transporting training equipment, so I wasn't constrained on overall space. However, I couldn't have used it alone for all of my clothing, hygiene and electronics for a week-long course. I was able to use it to manage all of my electronics and daily working equipment though. It worked great schlepping ammo and support equipment when I used it for those purposes.
The organization, which I initially thought to be a bit much, ended up being pretty thoughtfully designed and I found it enhanced my ability to locate what I needed without being too cumbersome (with the sole exception of the "covert pocket").
If you're looking for a decent, non-tactical pack that has versatility in both urban and active environments, the Urban Assault is a good choice and would serve you well. Feel free to ask any questions about the pack in the comments and I'll answer anything I can related to my use of the pack.
Editor-in-Chief's Note: Please join us in welcoming Tom Rader as a Contributor here on ITS. Tom is a former Navy Corpsman that spent some time bumbling around the deserts of Iraq with a Marine Recon unit, kicking in tent flaps and harassing sheep. Prior to that he was a paramedic somewhere in DFW, also doing some Executive Protection work between shifts. Now that those exciting days are behind him, he has embraced his inner "Warrior Hippie" and assaults 14er in his sandals and beard, or engages in rucking adventure challenges while consuming craft beer. To fund these adventures, he writes medical software and builds websites and mobile apps. He hopes that his posts will help you find solid gear that will survive whatever you can throw at it–he is known (in certain circles) for his curse…ahem, ability…to find the breaking point of anything.