What We're Reading at ITS: An Updated Glance at our Nightstands
What We're Reading at ITS: An Updated Glance at our Nightstands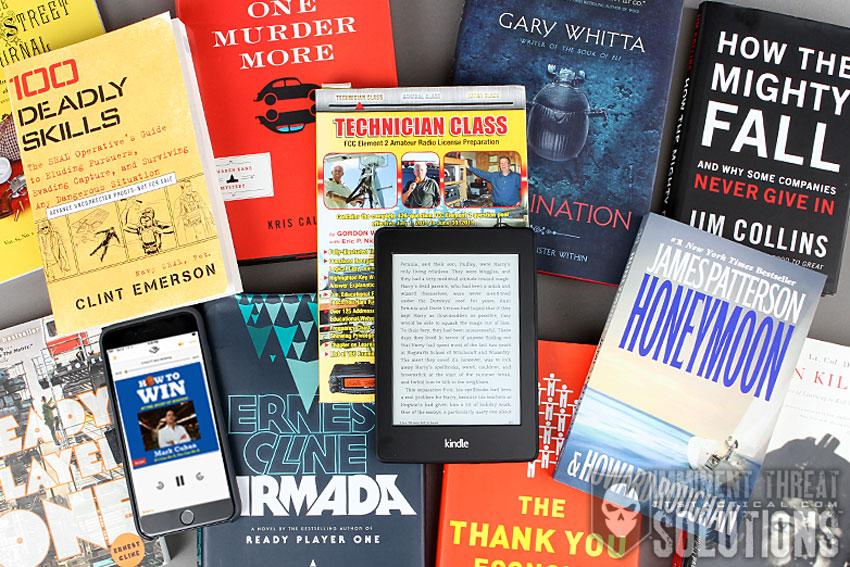 "I cannot live without books." — Thomas Jefferson
While you might think that we've always got our nose buried in the latest Guns & Ammo or Military Survival Manual, the ITS Crew has varied backgrounds and interests and our reading list might surprise you. Take a quick glance at our nightstands and you'll see a mixture of horror, fantasy, business and even some technical titles. We wanted to take a moment today and share what we've been reading lately.
Bryan Black – Editor-in-Chief
How the Mighty Fall and Why Some Companies Never Give In by Jim Collins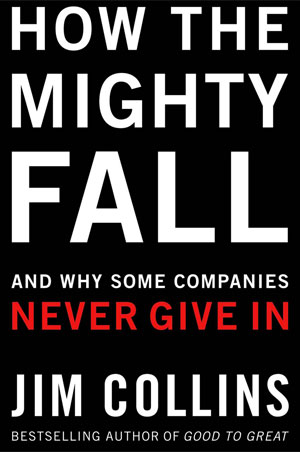 I first stumbled upon Jim Collins and his book Built To Last, about two years ago through a recommendation by a friend. He has a very analytical style to his writing and I really admire all the due diligence and research that goes into the companies he digs into to uncover what makes them tick.
Not only is Collins the king of extracting amazing information about what makes a company succeed, but in How The Mighty Fall, he applies that to what's led to companies failing and even those that have been on the brink of failure and recovered to rally later in their history.
As a business owner, you never want to spend too much time thinking about how a few poor decisions could mean the fall of your company and I appreciate being able to learn from what Collins has uncovered as the reasons it could happen.
100 Deadly Skills by Clint Emerson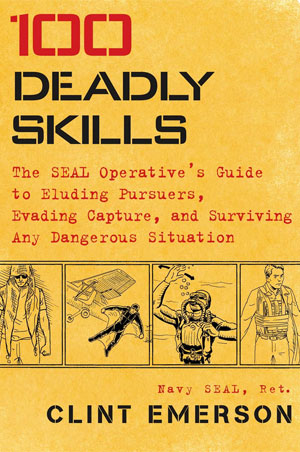 I was approached a few months ago by Clint Emerson, a retired Navy SEAL who spent 20 years in government service with SEAL Team Three, the NSA and DEVGRU, about his upcoming book, 100 Deadly Skills.
This book is right up the alley of ITS readers and provides short, easy to digest tips on many of the skills we advocate here, as well as a few that you might not have ever known about. The illustrations are excellent with each tip and really help showcase the information being described. Ted Slampyak, who's work I first saw at our friend Brett McKay's website, Art of Manliness, is responsible for bringing the book to life with his awesome illustrations.
I definitely recommend pre-ordering 100 Deadly Skills, I know you'll pick up some new tips you can use if you ever find yourself in certain situations, even ones that require leaving no DNA.
Armada by Ernest Cline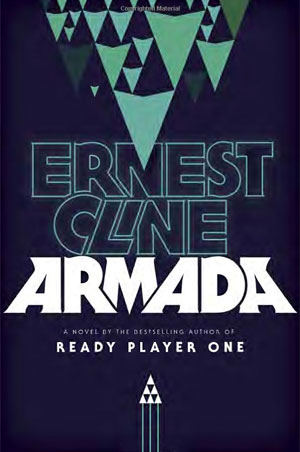 First off, if you haven't read Cline's first book, Ready Player One, pick that up first. If you grew up anywhere close to the 80s, it's a must read filled with video games, movie references and nostalgia from that era.
Ready Player One is set in the future around a treasure hunt to win the fortune of the OASIS creator, a virtual reality utopia the youth of this future generation use for everything from school to social interaction.
Cline's most recent book, Armada, is a gripping read that's also set in the future around a character, Zack, who's coming to terms with the fact that the video game simulator he's been playing for years is about to pay off in the fight against alien invaders who want to see Earth destroyed. Cline again adds awesome pop culture references that bring out the kid in all of us and have solidified him as a author I'll always read. I'm not really into science fiction in book form, but Cline's books have been a welcome diversion that I've enjoyed thoroughly.
Technician Class by Gordon West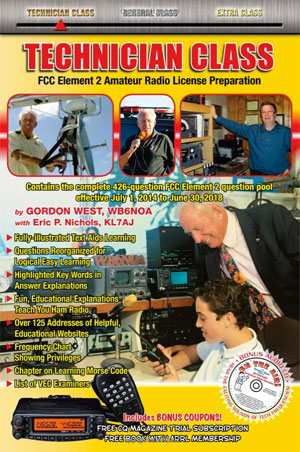 I'm finally scheduled to take my Technician Class test for my HAM Radio License and I've thoroughly used and abused this Technician Class book. While there are some tremendous resources available online for studying, in my opinion, nothing beats carrying around a book with you to study anytime you have a chance to.
I also like that the questions in this book, which are the same that are seen on the test, also provide a brief explanation of the question and why the correct answer is, well, correct.
If you've considered getting into communications and handheld radios, be sure to not only pick up a copy of this book, but check out our series on radio communication here on ITS. Even if you don't plan on getting a Amateur Radio License, there's a lot of knowledge contained in this book that will help you understand how radios work.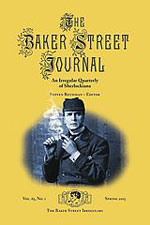 I'm a self confessed Sherlockian and have read everything written by Sir Arthur Conan Doyle. In my search for more, I stumbled upon The Baker Street Journal, a "premier publication of scholarship about Sherlock Holmes," which is published quarterly and aggregates a variety of articles and Sherlockian news.
I can't get enough of the mystery and intrigue that follows the quirky detective around and it's neat to read others interpretations on Conan Doyle's works, as well as hear about the different events and news that travels around the community. There's never been a time that more people have known about Holmes and been interested in his character. From movies to television shows, the game is certainly afoot!
Kelly Black – Chief Operating Officer
The Personal MBA: Master the Art of Business by Josh Kaufman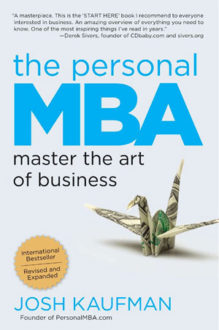 This book condenses a lot of necessary information about business that it would take reading numerous books to otherwise get; so much of learning about business is based on experience not just learning theories and terms, so it's good to hear the author's research based on year's of compiling data and experience.
Getting an MBA is an expensive choice-one almost impossible to justify regardless of the state of the economy. Even the elite schools like Harvard and Wharton offer outdated, assembly-line programs that teach you more about PowerPoint presentations and unnecessary financial models than what it takes to run a real business.
Josh Kaufman argues that you can get better results (and save hundreds of thousands of dollars) by skipping business school altogether.
How to Win at the Sport of Business by Mark Cuban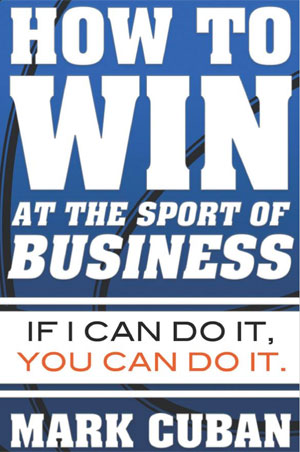 This was a great, straight forward perspective on what worked and what didn't work for Cuban as he began his career and ultimately achieved success. It's motivating for me to hear insight from professionals who aren't worried about hurting feelings or impressing anyone, that's the kind of advice I find most helpful.
Using the greatest material from his popular Blog Maverick, Cuban has collected and updated his postings on business and life to provide a catalog of insider knowledge on what it takes to become a thriving entrepreneur.
He tells his own rags-to-riches story of how he went from selling powdered milk and sleeping on friends' couches to owning his own company and becoming a multi-billion dollar success story. His unconventional yet highly effective ideas on how to build a successful business offer entrepreneurs at any stage of their careers a huge edge over their competitors.
Honeymoon by James Patterson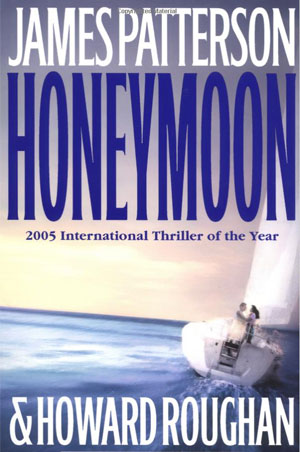 This is a fictional suspense novel about a successful, desirable woman who ends up being very dangerous to the men who fall for her. This is definitely a page-turner and an escape into a world that's completely foreign to me.
How does it feel to be desired by every man and envied by every woman? Wonderful. This is the life Nora Sinclair has worked hard for, the life she will never give up. She doesn't just attract men, she enthralls them. So why is FBI agent John O'Hara interested in Nora Sinclair?
Mysterious things happen to people around her, especially the men. And there is something dangerous about Nora, something that lures O'Hara at the same time that it fills him with fear. Is something dark hidden in the gaps in her past? As O'Hara spends more and more time getting to know her, is he pursuing justice? Or his own fatal obsession?
Rob Henderson – Community Manager
Abomination by Gary Whitta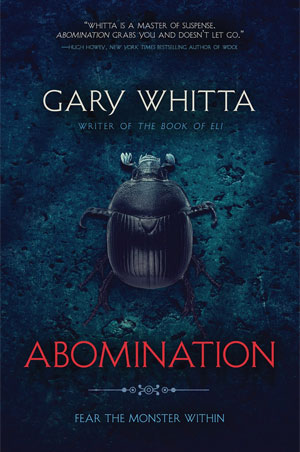 Growing up, I was always fascinated by the Medieval ages and I picked up any book that involved knights, swords or battles. So when I saw that Gary Whitta would be crowdfunding a book set during these times, I immediately put myself down for a copy. Whitta promised a medieval horror story and this really intrigued me as you don't often see those two genres combined.
I placed an order through Inkshares, which is much like Kickstarter for books and I couldn't wait for it to arrive. I'd never had a chance to read anything Gary Whitta had written, but I knew him as a writer on the movie The Book of Eli, which I greatly enjoyed. He's also a main writer on the upcoming Star Wars film, Rogue One.
Abomination, like many books set in these times, has its own lore and history and it's an immersive world. It starts as you might expect, a veteran knight called back into service, but quickly detours from other stories with the introduction of monstrous beasts known as Abominations. The book's two main characters end up pitted against one another and with a great twist, Whitta keeps you turning the pages of this book.
One Murder More by Kris Calvin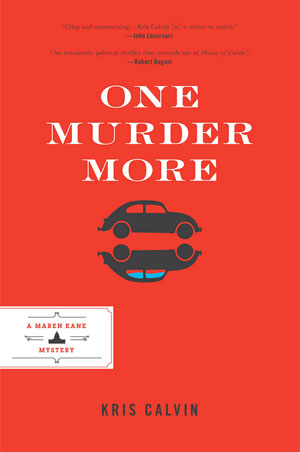 This was another purchase from Inkshares and I'll admit that I purchased it on the title alone. If there's one thing I like, it's a good mystery book. I enjoy books that challenge you to guess the ending before it happens and One Murder More doesn't disappoint.
Following a California lobbyist, this book tells the story of a murder of a legislative aid during a tense political fight. To make matters worse, the police then arrest a colleague of the main character and she has to keep up the legislative fight and attempt to prove her coworker's innocence.
As with many political mysteries, there are backdoor deals and secret information that are uncovered as the story unfolds. I haven't finished this one yet, but I'm loving the story so far and I'll definitely be looking to pick up more titles by this author.
The Thank You Economy by Gary Vaynerchuk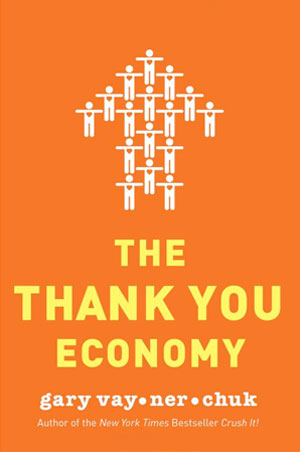 As a child of the Internet, I've always been interested in the latest Internet trend and jumped on social media as soon as it was introduced. While most businesses today have some sort of social media presence, there are many that still discount it as a fad or trend that will disappear. Entrepreneurial poster boy, Gary Vaynerchuk doesn't believe this and in The Thank You Economy, he explains why the Internet is where business is headed.
The Thank You Economy is almost required reading here at ITS HQ and this copy was actually given to me by Bryan to read through. Vaynerchuk makes excellent points about the power of social media and the realization that one single customer has a much louder voice than they did in the pre-Internet era. This book drives home the point that if you lose yourself in profit reports and metrics, you can miss all the conversation that's happening around you. Customers today aren't just numbers on a sheet, they're people that have opinions and more often than not, a group of followers that listens to those opinions.
After finishing this book, I started to see social media a little differently and it definitely helped me understand the reasons behind the customer service method we use here at ITS. Not only that, this book gave me an appreciation for what a good online interaction with a company should be and forever changed the way I felt about feedback and how it's handled. Whether you're a small business owner or not, this book is a great read that will definitely give you insight into where business is headed.
Amanda Millard – Community Support
On Killing by Lt. Col Dave Grossman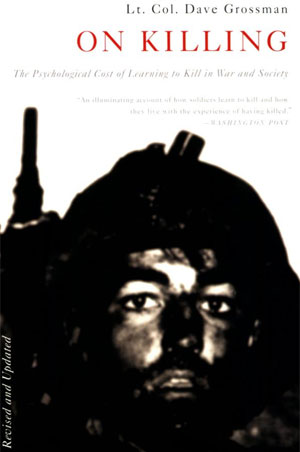 Written by a former West Point Professor of Psychology and Army Ranger, this book is an eye opening look into the psychological cost it takes when learning to take a life in war. It's a study based in reports and observations giving the reader an ability to dive in to what it means to take a human life, and the psychological scars the act leaves.
It pulls reports from studies on World War II which gives a perspective that was very different from public opinion. This book is a required reading for FBI Academy and the U.S. Marine Corps Commandant's. Though a heavy read, it's opened my eyes to some observations that I have not previously considered.
This is an interesting read whether you carry a firearm daily or not as it deals with the psychology of taking a life. Before this book, I hadn't really considered the emotional scars that an action like this could have on someone. Whether it's a solider, police officer or citizen, taking a life is nothing to take lightly and this book is definitely an eye opener into these issues.
Harry Potter and the Prisoner of Azkaban by J.K. Rowling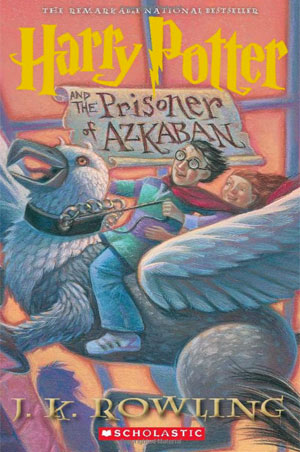 As a child, I was introduced to the Harry Potter series and immediately fell in love. While waiting for the remaining books of the series to be released, I was forced to read the copies I had and one of my favorites is the Prisoner of Azkaban. The third installment of a seven book series, this book sees Harry introduced to a darker side of the magical world he lives in. Harry learns that an escapee of the wizard prison Azkaban has broken out and is pursuing him.
Always a fun read, this book has me reliving my childhood and late nights reading this out loud to my younger brother. I always enjoy the characters, plot and details. As an adult, I see all the serious subjects that lie just below the surface. Each time I read this book, I'm always picking up new details.
One of my favorite parts of the Harry Potter series is that each book stands on its own. While together, the series has a more well rounded story, you're not left hanging and don't feel like you're missing out on details from previous books.
What books are you currently reading?