Military Working Dog Adoptions
Military Working Dog Adoptions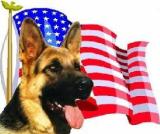 We'd like to pass along a great resource for anyone considering dog adoption. Military Working Dog Adoptions helps Veteran MWD's find homes after they've served in America's Armed Forces.
Here's what you can do to help out the MWD Adoption program further:
CALL AND WRITE the Air Force Chief of Staff, General Norton A. Schwartz!
ASK for these Proposed Changes to the Retiring MWD Adoption Program:
Implement a Standardized Operating Procedure among all the services regarding MWD Adoptions.
Set a standardized length of time for the retiring MWD's paperwork being processed through Lackland AFB.
Make it MANDATORY to list all adoption-suitable MWDs world-wide on the Lackland AFB DoD Web site.
Make it MANDATORY for all adopted OCONUS (OVERSEAS) MWDs to receive transport back to the U.S. via military air. Retired MWDs have no "return to home station" benefits even though for the time of their service we proclaim them as bonafide "military members." As it now stands, retired OCONUS (OVERSEAS) MWDs must be transported at adoptive owner's expense as a "pet"!
General Norton A. Schwartz
Air Force Chief of Staff 1400 Defense Pentagon Washington, DC 20301-1400 (703) 697-9225
Let's all help these heroes find the homes they deserve!