Pocket Survival Kit Reviews: Pocket Survival Pak by Adventure Medical Kits
Pocket Survival Kit Reviews: Pocket Survival Pak by Adventure Medical Kits
Pocket Survival Kits
Pocket Survival Kit Reviews: Pocket Survival Pak by Adventure Medical Kits
The fifth kit in our Pocket Sized Survival Kit series is the Pocket Survival Pak from Adventure Medical Kits.
Doug Ritter, founder of Equipped to Survive, worked with Adventure Medical Kits to develop this Survival Pak. As you'll soon read, this kit is full of high quality items, but also has some great notes in the packaging that aims to better equip you for survival.
In the packaging itself, on the second page under "Improving The Odds In Your Favor" there is an important piece of survival information. Something so essential that I'm going to share it here. Are you ready? Don't blink!
"Your fundamental survival tool is your brain."
There it is. That's the key to survival right there. Having the tools in this survival kit will only be of use if you are in the right frame of mind and if you have the know-how to survive.
Contents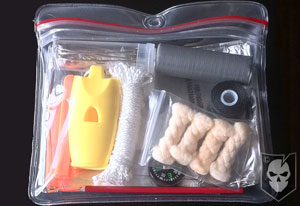 Rescue Howler Fox 40 Whistle
Rescue Flash Signal Mirror
20mm Survival Compass
Spark-Lite Firestarter
Tinder-Quik [4]
Duct Tape [2″ x 26″]
Scalpel Blade [#22]
Stainless Steel Utility Wire [6 ft. of 0.020″]
Fresnel Lens Magnifier [2″ x 3″]
Heavy Duty Nylon Thread [50 ft.]
Braided Nylon Cord [10 ft., 150 lb. test]
Fish Hooks [4], Sinkers [2] and Snap Swivel
Heavy Duty Sewing Needle
Safety Pins #3-2″ [4]
Pencil and Waterproof Note Paper [2 pcs.]
Contents List [gives examples on how to use each item]
Waterproof Instructions [10 pages]
Testing Notes
Weight: 4.0 oz
The kit itself was strong, sturdy, resealable, waterproof, and even floatable. While it was very easy to open and close, I had no worries of it opening on it's own and dumping the contents.
To say the whistle was extremely loud would be an understatement. It's said to be able to reach 122 decibels and can be heard over a mile away! It exceeds the specifications set by The International Convention for the Safety of Life at Sea (SOLAS) and the U.S. Coast Guard.
This was my first time using a signal mirror and I was more than happy with the results. There are easy to follow instructions on the back and it took no time at all to figure it out. With a plane or helicopter flying overhead, this will be one of your best options for getting rescued.
When I first saw the compass, I thought it might be the cheapest quality item in this kit. But it actually surprised me. It is extremely small and accurate. The liquid felt to be very viscous with ultra smooth movement.
The Spark-Lite Firestarter worked extremely well and even continued to work after being submerged in water for a few minutes. It claims to have over 1,000 sparks so I'm sure you won't have much trouble starting a fire if you have this on you.
The Tinder-Quiks lit quickly and stayed burning for almost 3 minutes. This is certainly something you will need if working with wet material.
Duct tape was super sticky and easy to tear. Pretty much just your basic duct tape. Since this kit didn't come with any first aid supplies, I would probably save some of this to use as a bandage. It actually burned pretty well, too, and gave off some good black smoke. You could use it as a fire starter or signal device.
The scalpel was crazy sharp! It is indeed a surgical blade and while you should always carry a decent knife, in a pinch you can use this blade. It's not very easy to work with but it's better than nothing. I was able to fashion a 'knife' with just duct tape but it still wasn't very easy to make something like a fuzz stick.
I made a snare (but didn't test it out) with the wire which was pretty easy to manipulate. Very strong yet still able to be 'broken' by just folding back and forth as fast as you can; it melts at the joint and separates so that you can trim to size.
The Fresnel Lens Magnifier (I believe it's pronounced 'fruhnel') worked very well. It took a while for me to start a fire because the sun kept going behind clouds but eventually I got a decent flame.
The nylon thread was strong and there was a ton of it. It works well as fishing line (though I didn't catch anything), but could also be used for lashing or repairing gear and clothes.
The braided nylon thread was very strong and claims a 150 lb. test strength. I couldn't get it to unravel on me and when you burn the ends it really seals up nicely.
The fishing gear was great. Just about everything you need to fish except for the bait. While there was no 'official' lure, you could use the keyring from the whistle or a piece of tin foil. I wonder why most of these kits don't include actual fishing line. Does the nylon thread have the same strength?
I didn't have to use the sewing needle, but it could be used for repairing gear or possibly even a makeshift suture (though I'm no doc!). It has an extra large eye that made it very easy to thread.
The aluminum foil was just as expected and luckily didn't have any holes from being folded. I used it to boil water but you could easily cook with it too.
The safety pins are huge and can be used for any number of tasks, such as clipping the whistle onto your clothes or using them to keep your backpack closed if the zipper breaks. Like duct tape, they have a million uses!
The pencil was crazy small and took up no space. It was also very easy to sharpen. The paper it came with was waterproof yet still burned easily if you needed it to start a fire. Even when burned, the water proofness of the paper still held its integrity.
In addition to all of the standard survival contents, they threw in a waterproof instruction booklet that told you (and showed with pictures in some examples) how to handle medical issues, build a shelter, start a fire, find food and water, signal for help and more. This little booklet could be worth it's weight in gold (although it's pretty light, but you get what I mean) and is especially worth having on you whether you go with this kit or not.
Grading
Cost

5/5 – You can find this kit online or in stores between $25 and $35. I almost gave this kit a '4' in this category but the contents are of such a high quality that I reconsidered. I'm sure you know the saying of quality versus quantity but this kit doesn't skimp on any of the items, so you really have the best mixture of quality and quantity.

Waterproofness

5/5 – This case is waterproof and resealable. Also, the plastic feels super tough so drops or scrapes on and over rocks shouldn't be a problem. This bag is IPX7 rated (submersible to 1 meter for 30 minutes).

Size/Weight Portability

5/5 – Even when repacked, this kit is tiny. Roll the top over, stuff it in your pocket, and you're good to go. It's hard to ask for something smaller.

Shelter

4/5 – This kit has just about everything you need to build a shelter even though there is nothing in the kit that can be used as a shelter itself. You have enough cord, thread, and wire to lash together some branches; add some natural foliage with a bed of leaves/boughs/etc. and you have yourself a shelter.

Water Purification

4/5 – No water purification tablets but I was able to bring water to a boil with the included tin foil. And unlike the last kit, there were no holes in this tin foil so the water didn't leak. Also it's a pretty big piece of tin foil, so you could possibly use it to carry some water.

Food

4/5 – No food or candy was included in the kit itself, but there are a plethora of options for catching, preparing, and cooking your catch. You can set snares or go fishing and then use the scalpel to prepare your dinner and the tin foil to cook it!

Fire Starting

5/5 – You have a few different options when it comes to starting a fire with this kit. There are Tinder-Quiks which are great for wet environments where you have no sun and little chance of starting a fire. Then you have the flint fire starter which you could use on either the Tinder-Quiks or just dry tinder. And lastly, if you have some sun, you can use the magnifying lens.

Signaling

5/5 – Finally, some real signaling devices! This kit has an amazing whistle and a legitimate signal mirror. Both are important to your rescue and cover two different angles of signaling.
Overall Remarks
This is by far the best pre-made kit I've yet seen. Everything included is high quality and the additional reading material supplied is top notch. My favorite line from this kit? "This Pocket Survival Pak cannot, however, contain all the equipment or supplies you might need or want in an emergency."
It then runs through a list of items that everyone should carry in addition to this kit. Having that disclaimer may sound like a no brainer but not many other kits would put that in print and I believe it shows integrity. I would trust this kit with my life and it did not disappoint.