Pocket Survival Kit Reviews: Pocket Survival Pak Plus by Adventure Medical Kits
Pocket Survival Kit Reviews: Pocket Survival Pak Plus by Adventure Medical Kits
Pocket Survival Kits
Pocket Survival Kit Reviews: Pocket Survival Pak Plus by Adventure Medical Kits
Even though we just reviewed the near identical twin brother of this kit, the sixth kit in our Pocket Sized Survival Kit series is the Pocket Survival Pak Plus from Adventure Medical Kits.
As the name implies, it's quite similar to the standard Pocket Survival Pak. But this kit has some tricks up its sleeve.
What I like about these past two kits from Adventure Medical Kits & Doug Ritter is that the packaging includes a section on "Improving The Odds in Your Favor."
It urges you to not only go over the survival instructions before stowing your Pak, but to also practice with it beforehand.
The advice makes sense no matter what Survival Kit you're using, you can never practice too much before you're in the situation where you "have" to use it.
Contents
RSK Mk5 Knife
Pico Lite LED Flashlight
Sterile Water Container
Katadyn Micropur MP I Water Purification Tablets
28″ Ball Chain
Fesnel Lens Magnifier (2″ x 3″)
Rescue Flash Signal Mirror
Spark-Lite Firestarter
Tinder-Quik (4)
Rescue Howler Fox 40 Whistle
Compass (20 mm)
Fishing Kit (4 fish hooks)
Duct Tape (2″ x 26″)
Aluminum Foil
Nylon Cord (10 ft., 150 lb. test)
Stainless Steel Utility Wire (6 ft. of 0.020″)
Safety Pins #3-2″ (4)
Sewing Needle & Nylon Thread (50 ft.)
Pencil & Waterproof Note Paper
Testing Notes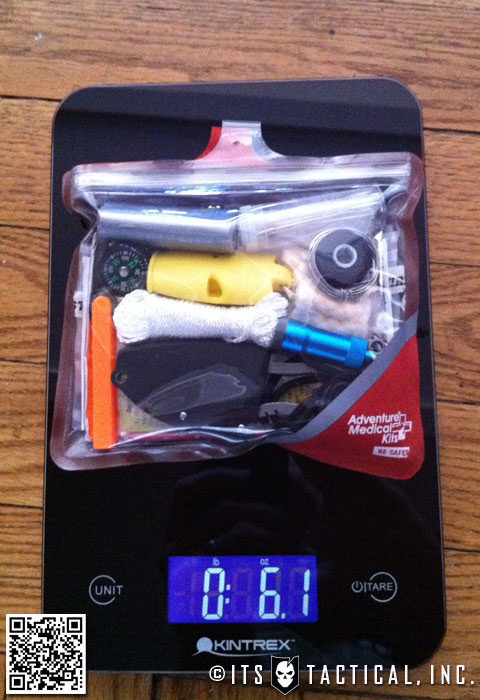 Weight 6.1 oz.
I was impressed with the construction of the kit itself but I would have liked to see it in a much brighter orange color, rather than the subdued red that it actually is. In a survival situation you are going to want as many signaling devices as possible.
The included flashlight worked as well as expected, and I don't mean that in a bad way. It's extremely small, so you can't get a very large beam from it, but the luxury of having some light to operate when the sun goes down is quite handy.
The RSK Mk5 knife is so light, it's almost the same weight as the Magpul Executive Field Case for the iPhone 4. It's easy to grip and use for most tasks. I can't think of anyway for them to make this knife smaller and still have it be as comfortable as it is. The attached lanyard and sheath allow a few different carrying options.
The instructions on the water purification tablets were easy enough to follow but actually a little funny. "Wear protective eyewear, protective clothing and rubber gloves." Don't they know this is a survival situation? The tablet dissolved in only about a minute or two but the instructions say to leave it untouched for 4 hours and away from direct sunlight.
The one liter water bag was great. It held the exact amount of water that could be purified with one tablet so that you have the potential for six liters of purified water. It was constructed fairly well and survived some small drops from a height of around three feet before popping at the bottom. But you could possibly fix that with some duct tape.
[The rest of the items in this kit were duplicates from the last. Click to view their testing notes.]
Grading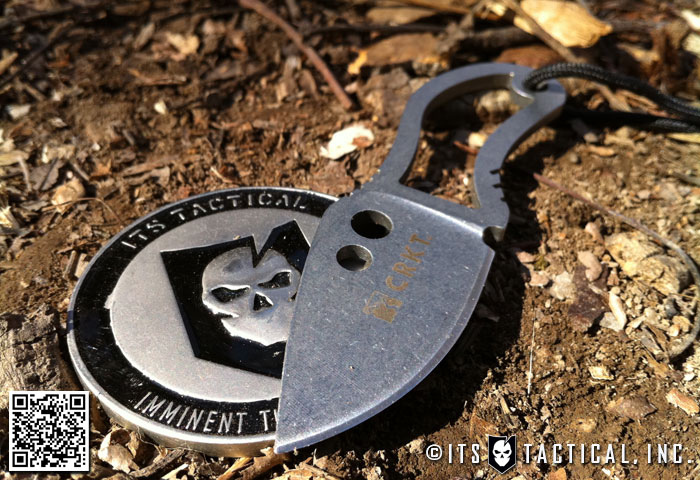 Cost

3/5 – This section of the grading was a little tricky. While the quality of the contents merits the higher price, it's still a little steep for some people. That said, you also need to take into account who this kit is geared towards. It's geared towards individuals that don't carry a knife or flashlight on a daily basis.

Waterproofness

5/5 – The waterproof pouch is made by Pacific Outdoor Equipment and is easily resealable with the ziplock-style enclosure. With sturdy plastic on one side and durable 40D ripstop on the other, I'm fully confident that this case will survive being dragged over the rocks down a river or creek. In my tests, this bag is IPX7 rated (submersible to 1 meter for 30 minutes) if not better.

Size/Weight Portability

4/5 – Fits best in a cargo pocket but still fits in most front pockets with no problem. If you wanted to shrink the kit down a little and make it more pocket friendly, move the knife, whistle and flashlight to the ball chain and wear them around your neck.

Shelter

4/5 – You have to be creative but you shouldn't have any trouble making a shelter, especially with the included survival knife. I wanted to give this a perfect 5/5 but without any included type of shelter, I knocked it down to a 4/5.

Water Purification

5/5 – 6 water purification tablets and a one liter container make this kit stand head and shoulders above the others.

Food

4/5 – There's nothing included in the kit food-wise, but all of the items you would need to catch and cook your own food are included. Go fishing and set some snares to increase your chances of a catch.

Fire Starting

5/5 – The fire starter flint works well even when soaked and when you couple it with the tinder-quiks, you should have no trouble getting a fire going. If you want to save the tinder-quiks for a wet situation and you have the sun available, you can use the included magnifying glass without much trouble.

Signaling

5/5 – A lot of these kits get in trouble because they don't provide tools for signaling. That's not the case with this kit. You can use the signal mirror, the extremely loud whistle or even the flashlight. I have no doubt that one of those could save your life. It's good that these items didn't get skimped on.
Overall Remarks
Simply put, if you aren't going to carry a knife, flashlight, or liter of water on a daily basis then buy this kit. It has just about everything covered. Keep in mind it's not 'the' ultimate survival kit but it's pretty close to being the ultimate pocket-sized survival kit, thanks to high quality items included.
Just as I believe that the best camera in the world is the one that you always have on you, I feel the same about survival kits. Having an amazing survival kit in your truck or kayak that allows you to survive for a week can easily become unreachable in a true emergency or survival situation.