Pocket Survival Kit Reviews: Ultralight Survival Kit by Lifeline
Pocket Survival Kit Reviews: Ultralight Survival Kit by Lifeline
Pocket Survival Kits
Pocket Survival Kit Reviews: Ultralight Survival Kit by Lifeline
The fourth kit in our Pocket Sized Survival Kit series is the Ultralight Survival Kit by Lifeline. You may remember the low scores I gave the last kit by Lifeline, so you can understand my apprehension when I found out that this one was from the same company. But looks can be deceiving and I was willing to put this kit through its paces.
I like their tag line on the front of the packaging:
"A mixture of essential items to help you survive if lost or stranded in the outdoors."
That's the key thing to remember with all of these kits. A good kit should include some of the basics and have multiple uses for each item. There is no true 'one size fits all' kit, but most do contain a few truly essential items that, when paired with your creativity, can help you survive in an otherwise difficult situation.
Contents
Weatherproof Carry Case
Waterproof Matches
Aluminum Foil (18″ x 12″)
Emergency Blanket (50″ x 80″)
Fishing Line (50′), Fish Hooks (4), Sinker Weights (4)
Snare Wire (8′)
Map Compass
Emergency Whistle
Emergency Cord (10′)
Duct Tape (36″)
Survival Guide
Reusable Zipper-Lock Bag
Surgical Blade
Wound Closure Strips (5)
Safety Pins (3)
Testing Notes
Test weather: 34 °F (wind chill of 23 °F)
Weight: 5.4 oz
The 'weatherproof carry case' was a nice tough plastic ziploc style bag. A little hard to open because of the small 'grab' area. It closed pretty easily though.
The matches were indeed waterproof and lit very easily. Due to the wet and windy conditions, I had to use almost all of my matches and even some of the matchbox to get the fire going.
The aluminum foil did not work for boiling water because the creases in the folds caused some holes. It would still work for building a reflector or signaling device as well as cooking a fish or something.
The emergency blanket really surprised me. This thing should be in every kit. I honestly couldn't believe how well it worked.
This kit had the most complete set of fishing gear but I still couldn't catch anything. I'm starting to wonder if these kits should come with some artificial bait.
The snare wire is super tough. The strength of this thing surprises me.
The compass seemed accurate enough but it did feel flimsy. It would give you a basic sense of direction though.
The whistle worked extremely well. It was actually the same exact kind that was in the previous kit.
The emergency cord was pretty standard. It felt strong enough to do most tasks.
I thought the duct tape was like every other kind of duct tape but I actually really liked this tape. It was super easy to tear.
Including a survival guide in these kits is a great idea. It helps give you something to focus on. If you find yourself already knowing all of the survival tips, just use it as a fire starter.
The ziploc bag came in handy because of its size. All of the contents could be easily swapped if you didn't have any real need for the 'super protection' of the hard plastic bag. The zipper part of the seal felt a little weak but clicked in well. Maybe it was just thin.
The surgical blade was crazy sharp. I would feel bad using it on wood because I wouldn't want to dull the blade. I did fashion it into a sort of spear (but not without a little bit of help from my pocket knife).
The wound closure strips didn't stay on very well. I just put one on my hand and it just was not very sticky.
Safety pins were pretty standard. They could be really good for fixing gear or clothing.
Emergency Blanket Testing Notes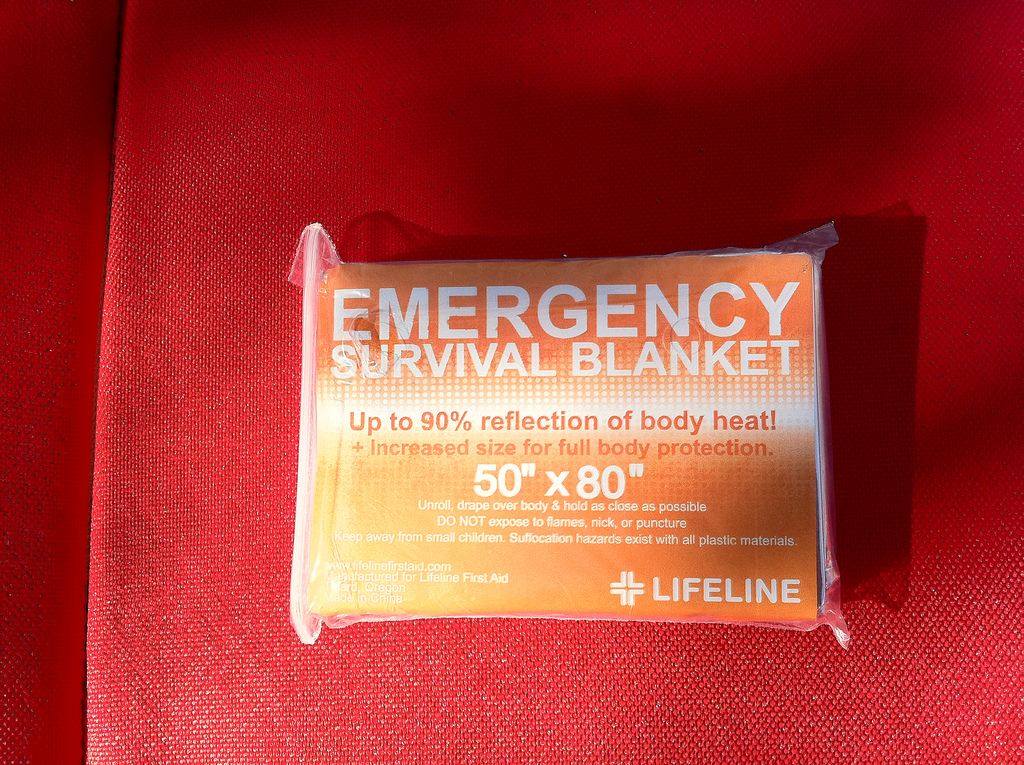 I started off inside of the tent, thinking it would be more like a traditional shelter. Then I realized it would be a much better test if I were truly outside with no shelter at all. So, I did just that with only the emergency blanket and the clothes I was wearing. Oh, and my hat and some light gloves.
While I wasn't out there the entire night, I quickly realized how important the emergency blanket was. Without it, I would have been very cold and uncomfortable. It was pretty easy to rip and you should be careful when unfolding it. I put a pretty good gash in mine which affected its heat retention. It's worth noting that not once did I get a shiver though. The wind would keep blowing the blanket off of me even though I tucked it under my body.
What I want to do for the next time is spend the entire night outside with (or even without) a shelter in something like the Heatsheets Emergency Bivvy by Adventure Medical Kits.
The temperature when I left was 26 °F with 13 °F windchill.
Grading
Cost

5/5 – For the gear it provides, this kit is worth the money ($14 on Amazon.com)

Waterproofness

5/5 – Waterproof, resealable and tough. This bag is IPX7 rated (submersible to 1 meter for 30 minutes). It even repacked well, as it had a separate ziploc bag. Two is one and one is none.

Size/Weight Portability

4/5 – Weighed in at under 6 ounces and in a form factor that makes it extremely portable, this kit scores gets almost a perfect score.

Shelter

4/5 – This kit scores the highest in this category out of all of the ones I've tried out so far. The emergency blanket is a true shelter, keeping you warm and at least semi protected from the elements. And there is string and other gear for building a true shelter.

Water Purification

4/5 – I gave this kit a four out of five but that's banking on optimum conditions. Boiling water in the tin foil is certainly possible but my piece of foil had small holes in the seams from being folded.

Food

4/5 – While there is no food included in the kit (not even a piece of candy), they did provide you with the means to catch and cook food. A pretty complete fishing set and the wire for snares will make a huge difference.

Fire Starting

3/5 – Waterproof matches are a start but what this kit needs is some sort of fire starting cube like the others. That comes in very handy when dealing with wet wood.

Signaling

3/5 – This kit didn't have any designated signaling device other than the whistle. You could possibly use the emergency blanket or the tin foil but there isn't any real accuracy with either of those.
Overall Remarks
Out of all the kits I've looked at so far, this is the one that I liked the best. It's got a little bit of everything and honestly, I think the one thing that set this over the top was the emergency blanket. Keeping (somewhat) warm in freezing conditions is nothing to scoff at. Also, it was just a full featured kit for around the price of the sardine can style kits.
Stay tuned for more pocket survival kit reviews coming your way!