S.W.A.T. Magazine TV Show
S.W.A.T. Magazine TV Show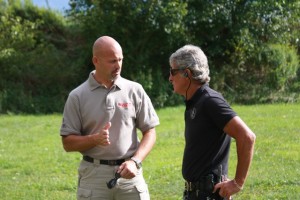 S.W.A.T. Magazine has recently alluded to a new TV show they'll  begin airing in January.
Rather than paraphrase, we'd like to share the show details straight from the Press Release on S.W.A.T.
S.W.A.T. Magazine TV will begin airing its weekly show January 2010, on Wednesdays at 7:30 p.m. (EST) on the Outdoor Channel.
The show will mirror the same integrity, professionalism and thorough insight that S.W.A.T. Magazine (www.SWATmag.com) has published for more than 25 years, under meticulous oversight of Editor Denny Hansen.
Rob Pincus, staff S.W.A.T. Magazine writer since 2001 and host of S.W.A.T. Magazine TV, said, "S.W.A.T. Magazine is a trusted and respected magazine, which provides its readers with valuable information on the latest weapons and tactical training techniques.
It was only natural for S.W.A.T. Magazine's next development to become a TV show. Our goal with the show is to provide the same quality information that we provide in the magazine, but delve further into topics that our readers want to see.  We have many great guests that will be appearing, and, they'll discuss a myriad of topics from what their roles are in providing safety and security to the importance of using realistic targets."
S.W.A.T. Magazine TV guests include S.W.A.T. Magazine staff writers, instructors, industry representatives and people who are interested in developing their firearms knowledge and tactical skills.
Featured guests include Louis Awerbuck, Tony Blauer, Travis Haley, James Yeager and other instructors currently active in the military and law enforcement professions. Special segments will offer a unique look at the special teams and components of law enforcement, private security and the military world.
Other segments include a feature with S.W.A.T. Magazine columnist Brent Wheat, where he'll discuss issues that affect everyone interested in personal safety, as well as instructor and team profiles.
Here's a YouTube clip of the promo: