Keep Your Neighbors Guessing with the LWRCI Ultimate Discreet Rifle Case by Blue Force Gear
Keep Your Neighbors Guessing with the LWRCI Ultimate Discreet Rifle Case by Blue Force Gear
We wanted to bring your attention to a discreet product you may have not seen before.
LWRC International, who produces some of the finest piston guns around, has teamed up with Blue Force Gear to bring you an awesome guitar-shaped weapon case called the Ultimate Discreet Rifle Case. While we've seen this case previously, Matt P. tipped us off to a recent AAC Blog article with some great photos showing that a 16″ Carbine with AAC's 8.625″ SPR/M4 suppressor fits perfectly in the case.
This is a fantastic way to transport your weapon to and from the range, while keeping your nosy neighbors assuming you're loading up for your next gig.
Features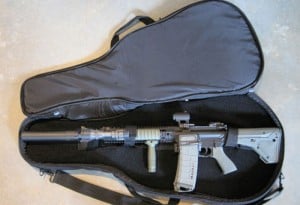 The Ultimate Discreet Rifle Case features two velcro backed straps on a full-length segmented molle strap to secure your weapon in infinite mounting possibilities and an external pouch for magazines, ammunition or optics.
Each case also features an LWRCI logo guitar, two carry handles and a shoulder strap. The case measures 38″ in overall length and is available in black and tan for $149.99 from LWRCI.com.
All photos copyright Advanced Armament Corp.