The Kitchen Sink of Range Boxes
The Kitchen Sink of Range Boxes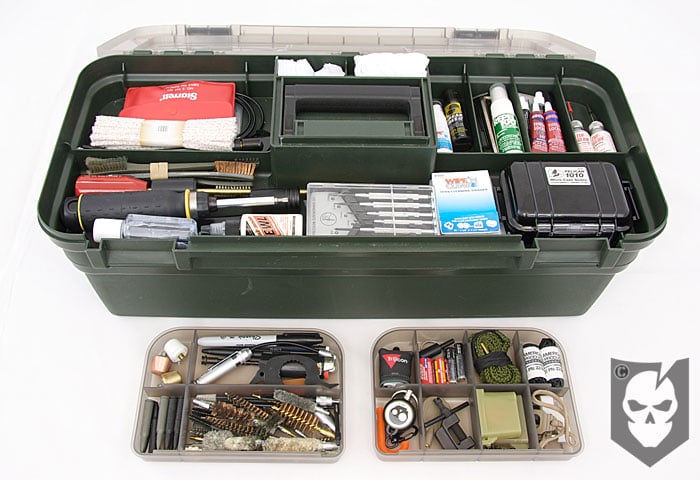 A fantastic product we've been running for a little more than a year is the MTM Case-Guard Shooting Range Box.
This thing is HUGE! It stores all of our cleaning equipment for multiple weapon platforms, as well as the parts and tools needed to make repairs if necessary.
The Shooting Range Box is great to take for a day of shooting, or a multiple day class located far away from help if your rifle goes down.
Most classes we attend do their best to help a shooter out in the case of a problem with their weapon, but the ability to have the parts and tools needed to make the repairs yourself is invaluable.
Even if you've never assembled your own rifle, just knowing and having the right parts could mean the difference between an experienced individual being able to fix your gun or not.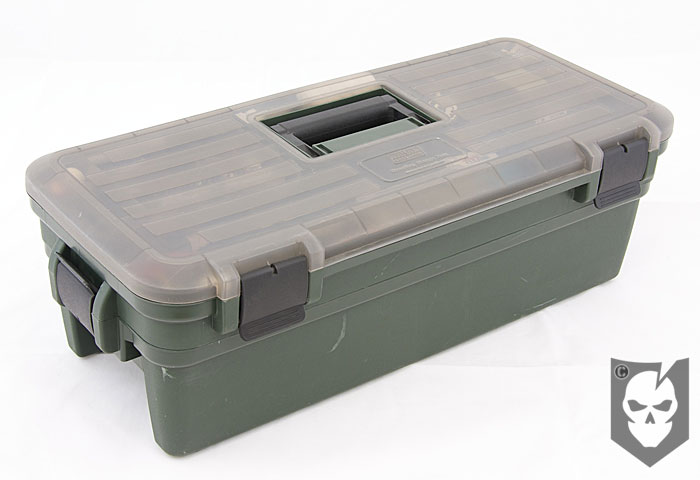 We primarily run this range box as an AR-15 / M4 platform and keep the necessary parts to completely rebuild up to two weapons, depending on where we're going.
Obviously we don't carry large items like barrels or even gas tubes, but the primary parts that have the greatest chance of wearing out, are all included.
Description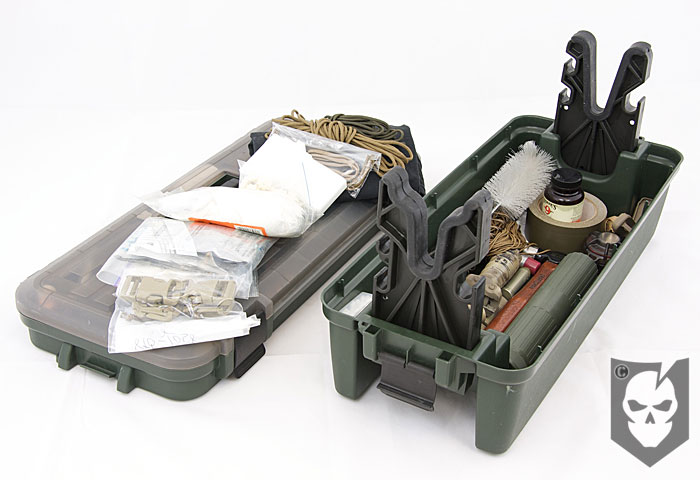 The upper section of the case features 18 different compartments for storing cleaning gear, two removable trays and is detachable from the lower section.
Releasing the clips on both sides of the case allow you to access the deep storage area underneath, which houses removable fork brackets that form a rifle rest to aid in making repairs and diagnosing problems.
Fork brackets are rubber coated, and non-marring for all you guys who care about gun finishes.
The case measures a whopping 25″ long x 11.5″ wide x 8.75″ tall, the lower section is about an 1 to 1.5 inches smaller in length and width than the upper section.
It's made in the USA from chemical-resistant polypropylene.
What We Carry
For the sake of brevity, this won't be an all-inclusive list, but will touch on the primary components of our setup.
The basics we recommend that everyone running an AR carry with them are as follows:
Extractor Spring Assembly (Extractor, Copper Extractor Spring, Black Extractor Buffer, Retaining Pin)
Firing Pin and Firing Pin Retainer
Gas Rings (Minimum of three)
Cam Pin
Complete Bolt (Headspaced)
Hammer / Trigger Pin Set
Action Spring (Referred to as Buffer Spring or Recoil Spring too)
Whether you have a large range box or not, just having these basic parts will take care of most of your problems.
Additional items we carry in our range box:
Pens / Pencils / Sharpies / Notepad
Flashlight
Lighter
LaRue Dillo!
Broken Shell Extractor
Magpul Dummy Rounds
Various Caliber Jags, Brushes, Mops and cleaning rods
Pipe Cleaners (w/ Bristles)
Starrett Drive Pin Punch Set
Starrett Center Punch
Roll Pin Punch Set
Bolt Catch Pin Punch
Various Caliber Cleaning Patches
Lens Cleaning Cloth and Solution
Various Batteries
Bore Snake (Multiple Calibers)
Nitrile Gloves
Sinclair AR Cleaning Link
Tango Down Grip Chip Tool
Spare Hearing Protection
Sight Adjustment Tools
Bore Light
Various Sized Allen Wrenches
Locktite (Blue)
Craftsman Screwdriver w/ Multiple Bits
Slip 2000 EWL (Extreme Weapons Lubricant)
Hoppe's #9 Solvent
Bore Rod Guide
Dewey Chamber Cleaning Rod
Castle Nut Wrench
Precision Screwdriver Set
Q-Tips (Lots)
Hand Sanitizer
Pelican 1010 Case for Spare Parts
AR Upper/Lower Vise Block
550 Cord / Dummy Cord
Repair Fastex Buckles
Spare PMAG Followers, Springs and Plates
Upper Receiver Chamber Brush
Riggers / 100 MPH Tape
AR Armorer Wrench
Multi-Tool
Spare Charging Handle
Spare Buffer (H)
Trauma Shears
Ballpeen Hammer
Hammer w/ Nylon, Brass, Plastic and Rubber Heads
Notes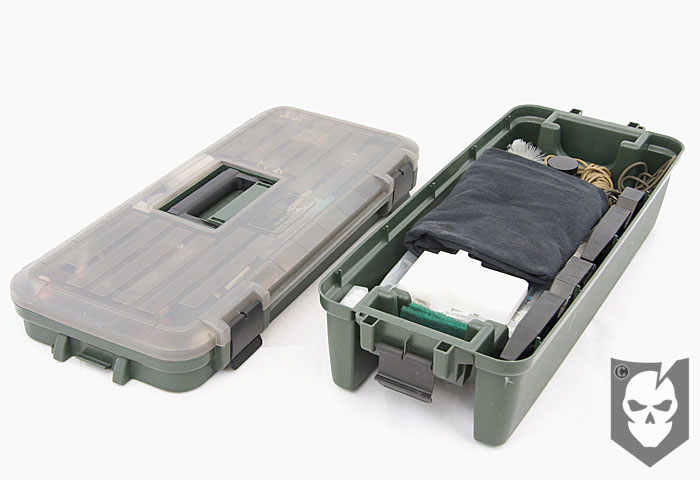 Our only critiques of the range box would be adding a dedicated "deep" area for truly storing all sizes of brushes upright, and also coming in other colors, but that's us being picky.
The MTM Case-Guard Shooting Range Box is available from Amazon for around $50, and is a great deal for this all-in-one range box that outperforms anything we've ever used.
Let us know in the comments if you'd like any clarification on what we're carrying and why.