Mammoth Sniper Challenge AAR
Mammoth Sniper Challenge AAR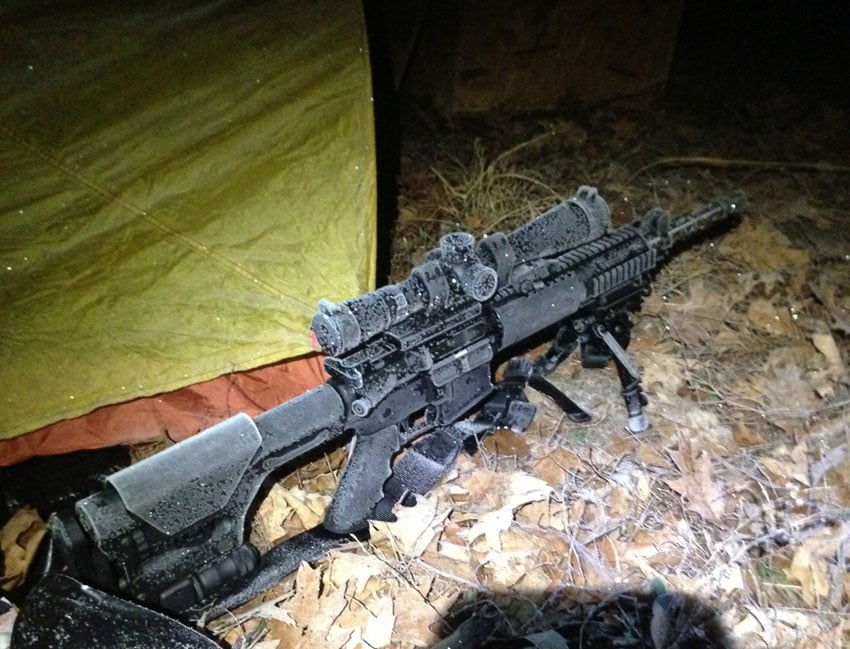 January 4-6 2013, I participated in the Mammoth Sniper Challenge at the Rockcastle Shooting Center in Park City, KY with my good buddy Brian. It was the first such event either of us had participated in and I hadn't had any formal precision rifle training.
Brian attended McMillan's Precision Rifle Course earlier in 2012 and brought some of that information home to coach me up over a couple of weekends prior to the event.  He shared good basic info, like how to get behind the rifle, how to range and what all the MOA and MIL thingys meant.
The Genesis
While attending the "Muster" skill building outing with ITS Tactical in late 2012, Brian and I really had our fires lit for tactical adventure. That's where the adventure/tactical race ideas were first sown. Thanks to Brett with Triple Aught Design, Brian and I placed Survival Trial and 24 Hour Sniper Challenge on our list. I'll won't deny that my impeding 40th birthday in March had me a little "concerned" about my overall shape and health, but adventure has always been a part of my life. The past 4-5 years spent racing cars can attest to that. But, in car racing you don't have to be in great shape. This new plan would demand a high level of physical shape.
Physical training for me started immediately after Muster. Brian was already in good shape and serves as his group's fitness officer in the Navy. Our goal was Survival Trial but it seemed so far away. I don't remember who found Mammoth, but like with most things we do, it took zero provocation to get the both of us registered. This would be the perfect event, an opportunity to sharpen our shooting skills and get some serious PT along the way. We would be entering the Extreme Tough Man Division which required teams to stay outside on the property and walk between stages at a pace no slower than 20 minutes per mile. That doesn't sound like a very fast pace and we certainly were never in jeopardy of missing our mark, but as you'll read later on, there were some heartbreaking failures in the group.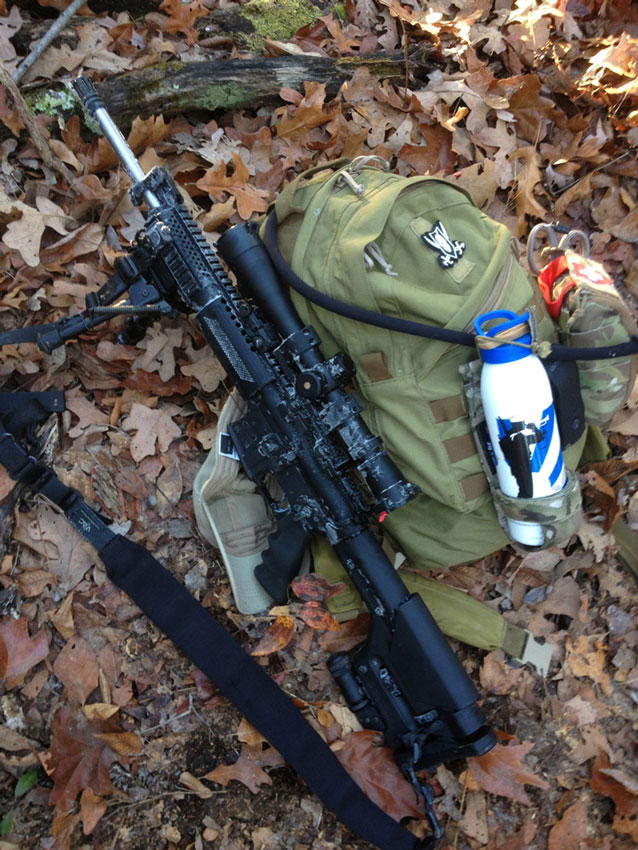 The Event
Rockcastle Shooting Center is a fantastic place and the perfect venue for such an event. The event coordinators set up an extremely difficult course with 7 shooting stages. The event offered two divisions, regular for those who wanted to sleep in a bed and drive to the stages and the Extreme Tough Man Division. The field consisted of a few hacks like us, top notch civilian shooters, Law Enforcement shooters, Army, Army Special Forces guys from 3rd and 5th Group, Army Rangers, Military Sniper School Instructors, Army B4 Snipers and probably some guys who were from divisions not yet known to the common man. Brian's chief instructor from McMillan was also there, a former SF guy and sniper.
Again, Muster really prepared us for the ETM division of this event. With the weather being as cold as it was and the trails between shooting stages being as difficult as they were, packing light and having the right gear would be imperative. Even with a 2′ x 2′ x 2′ box being provided and moved between campsites for us, we held an advantage over the other civilian competitors in terms of fighting weight. Our Triple Aught Designs gear performed incredibly and I will venture to say we sold a few pieces for TAD during the event. Most competitors were in and out of outerwear all day while Brian and I stayed warm and dry from head to toe with all of our gear on and no Gortex or Thinsulate on our feet. The event was cold, 20's at night and 30's in the day and the terrain was above average in difficulty; some stretches were very steep and supported only foot or ATV travel.
Both Brian and I started the event with a combination of Capilene base layers coupled with TAD Ranger and Stealth Hoodie LT's. They proved to be a fantastic combination, but our equipment advantage ended with our clothing and gear. As the primary shooter, Brian was shooting a McMillan TAC .308 bolt gun with a NightForce scope. Hardly a slouch on the battlefield, but compared to the custom .243 WSM, .260's and the like, out-gunned. As the secondary shooter, I was equipped with my M4 based 5.56 AR. Before the event I had purchased a 16" Rock River precision upper by PK Firearms and coupled that with a Leupold Mark4 3.5-10/LaRue mount combination. The hardware used at this event by many competitors was amazing. We knew going in that we would be out-gunned and were fine with it. The goal was to learn and PT. We did both.
Thankfully the organizer put the SF guys in the same group. Our group was mostly civilian with one Army team. That would be critical, because the first team to arrive at the next stage would choose the shooting order for that stage. Brian and I wanted to show well physically and we really gave 100 percent in the stage to stage movements. The Army team consisted of a couple of 20 something kids that were fully capable of beating us between stages. They knew we wanted to win the rucks and they didn't want to get beat by a couple of 40 year olds. As you will read later in this report, it didn't always work out for them!
Day 1
We were up at 0530 after trying hard to sleep. Last shower for 3 days done, we headed to the zero range at 0600. We were required to be at the start area at 0730 to start packing our camping boxes. With zeros confirmed we headed to the starting spot. We were amazed when we saw the sizes of the boxes. I just didn't understand how big 2′ x 2′ x 2′ was! We were totally prepared to ruck ALL of our gear and that's how we packed. After putting camp only needed gear in the box, we'd used about 40% of its volume. We had brought some stuff that we planned on leaving in the car, like tools, cleaning equipment, spare compressed fuel, etc. It all went in and we had no issues getting the lid closed. Even with the ample storage space, most in our group had their packs heavily laden. Brian had his Eberlestock pack with sheath to hold his gun; I was sporting a LBT 3-day Assault pack that was easily the smallest pack in the group. On to stage one.
With the intent of winning the ruck between stages we set out at a good pace out front. Within 100 yards the 20 something Army boys ran by at a ridiculous pace. Oh well, we decided to still go as hard as we could and arrived about 2 minutes behind them and still way in front of the rest of the group. Second to these kiddos wasn't awesome, but understandable. First Stage was "Cowboy Town" which consisted of tennis balls hung from string at distanced ranging from 140 to 7 yards. An added twist was that primary and secondary shooters switched places which meant our first shooting stage ever would have us shooting a gun we had little practice with. Fun.
We learned two things on this stage. First was that the 8 minute time limit would go by like seconds. Second was that I would rarely shoot from a supported position; both of which I was unprepared for.   Shooting a tennis ball with a scope set on 10x at 7 steps is hard. Standing with no support makes it harder. At this stage we couldn't touch the scope for any reason so you had to set it before starting. Even with us getting through half of the stage before time expired, we scored enough points to put us in the middle of our 7 team pack.
Brian's first shot of the weekend was a hit on a tennis ball at 135 yards with my gun; a fact that he didn't let me forget all weekend. Before we left this stage we fired up and enjoyed a hot lunch while the rest of the squad looked on in envy, chewing their energy bar lunches like cows and cud. The meal would serve us well as we set out for our next stage.
Red Barn was up next and on the opposite side of the property, which would be the second longest ruck of the weekend. We set out behind the Army kids going as hard as we could. Within minutes, the boys had stretched out far enough that we couldn't see them and well before the first required turn. Near the end of the ruck we turned down a gravel road that led across a field that was at least 1000 yards. We STILL couldn't see them and thought to ourselves, damn, these kids are fast. As we arrived at the barn the RO announced his congratulations for us winning the ruck. The Army boys had taken a wrong turn!  Awesome, we were one for two and damned happy about it.
The RO's went out after the boys and eventually got them on the right path. They had to flat out run to make the time limit and did so with only seconds to spare. Being in charge of the shooting order, we considered making them shoot first but decided against starting a full scale war on the second stage. These boys would certainly pick the shooting order at most stages so we decided to extend the olive branch.
The stage briefing revealed a challenging stage with targets ranging from 350 to 850 yards with no known distances. We were given 15 minutes to mil and range targets. As the secondary shooter, I would have to shoot through a wooden frame with the gun at 90 degrees (sideways) while on my knee, while not touching any part of the frame with my body. This was also at targets no bigger than 8" across at 400 yards.  Second shooting position was prone but had to be through the frame which was certainly going to end up being higher than my tripod. Joy.
Brian started the stage, firing at the targets in order. With a few hits and me not being able to follow any trace or splash, we finally moved to the longest target located on a hill. Finally a splash!  I walked Brian into the last target from his point of impact and we scored a hit. It was clear that inexperience spotting would hamper us. We quickly learned that with targets placed along tree-lines we wouldn't be seeing splash. It would be 36 hours before I acquired the ability to consistently see trace.
My turn. After a 100 yard sprint to the target, I placed the gun on the frame sideways and let three rounds fly. It was a requirement to shoot at least once at each target from that position and we wanted to get that out of the way as soon as we could and get to the prone shooting. As I feared, my bipod wasn't tall enough. I used the rear bag on one leg of my bipod to clear the frame and tried to bring my reticle to rest on a 6" plate at 385 yards. No points scored. At this point I'll tell you that out of 150 rounds or so I fired for the entire event, 30 came from a solid rest of bipod and bag, 20 of which were from Brian's gun. The administrators set out to mentally challenge me and at this point had the upper hand. We set out for our first camping spot driven by anger and disgust.
First camp site was a solid ruck but we lost no one in any of the ETM squads. We found the provided burn barrels and got to work setting up tents and starting some wood burning. It was quite a sight to see over 30 tents pitched. As is my personality, I "moseyed" through the area chatting up teams and potentially scavenging a sip of whiskey. I can honestly say that 95 percent of the guys were absolutely awesome. The 5th Group SF boys set up tent directly behind Brian and I and were awesome to hang with. Did I mention they had Jack Daniels? I made sure to locate their tents at the next camp site!
It was damned cold that first night, 22 degrees by my watch. I had left my rifle uncovered and the next morning it was iced up pretty good; it was dubbed "Snowflake" by my squad mates the following day.  There were more than a couple of guys huddled by the burn barrel when we got up at 0500. It seems they had kept the fire going all night and some hadn't slept at all. Brian and I were snug as bugs in our gear that night and hit the trail to our first spot well rested.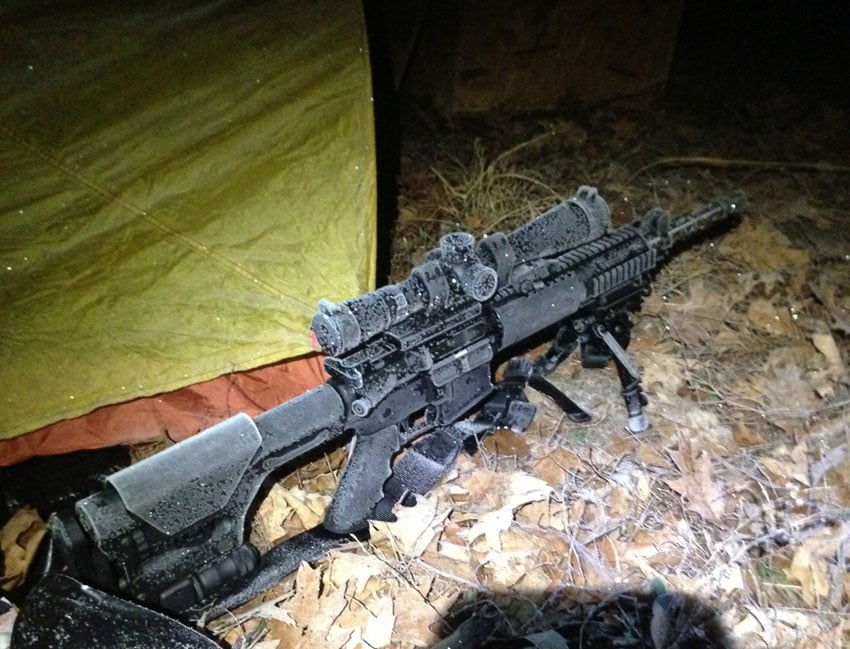 Day 2
Our first stage was Front Ridge. It was only a mile ruck but the administrator warned us not to dally, the last 500 yards were straight up. As was protocol for the weekend, Brian and I jogged the downhills and pushed the uphills as best we could. The final stretch was undersold as gruesome. Embarrassing to admit, I had to stop once for a couple of seconds while I managed to push the pain further back in my mind.  We arrived second again to the Army boys and crashed into our packs to rest. This stage almost got 2 of our teams, but we cheered them on to finish just seconds under the time limit.
The stage briefing revealed an awesome stage shooting from one ridge to another, primary targets with a central known distance of 852 yards and secondary targets at 250 and 300 yards. Brian would have solid rests and of course, I would have to shoot seemingly with one hand tied behind my back. Seriously, I would have 3 prone targets and then reengage standing with partner assisted support.
After enjoying a hot breakfast, coffee and listening to some of the other guys shoot, we got our turn. Once again, spotting trace or splash was made extremely difficult on the primary targets by the backdrop and the sunlight. Brian did get a couple of hits on target and we moved to my position. I was able to get a couple of hits from prone and went to the standing position with Brian bracing against a tree offering me a rest. I let my last round fly just a fraction of a second before time was called and it hit its mark. That was a nice finish to a mediocre-at-best stage.
While waiting for the rest of the squad to finish, we shared stories with the law enforcement team from Pigeon Forge, TN. These guys were great and ended up being friends we have kept up with since. My partner Brian had seen combat and received wounds in Afghanistan. One of the policemen had engaged and terminated a bad guy in a justified shooting in the line of duty. For once I kept quiet and listened to these two share their stories and draw support from each other in doing so. OK, not totally quiet, but I can say this was but one of the many times I felt honored to be participating in such an event with great Americans.
Next we set out for Thunder Ridge and Tobacco Barn, these two stages would dominate our team mentally and physically. We arrived behind the Army boys and again, well ahead of the rest of the squad. In order to get to the staging area we had to walk across a field that was at least 1030 yards long. Yes, Brian had that shot. Also, we had to walk past an area that Barrett had set up with suppressed .338 and not suppressed 50 cal rigs. What I will tell you next will blow your mind and speaks to our mental and physical status at the time – neither of us accepted the offer to fire either or both guns. Crazy I know. We set up at Thunder Ridge and got our briefing.
We would have to crawl down the dirt between cedar trees for about 50 feet under rope and then take position on a small flat-bed trailer. Most of this I didn't get from the briefing rather repeated to me by Brian and other competitors. We were all fairly cooperative with each other and it was a nice weekend from that stand point. We again were almost last which took over an hour. My difficulty in comprehending and accurately ranging targets alerted Brain and I that I was getting dehydrated, he was too. We came up with a rehydration plan and did the best we could prior to shooting.
When it was our time, we rolled out and down the hill, up onto the trailer and into position and I proceeded to miss every target. Bad. Brian followed and blanked as well. It was tough as hell and neither of us were seeing any trace or splash. When time was called the RO asked in a condescending tone "where was the wind call?" Not a good move on his part and I expressed my displeasure with his poorly timed comment and lack of compassion on a green horn. I lost my grip on things for a few minutes partly from blanking the stage, partly from poorly timed comments and mainly because of dehydration. After the stage was done the RO walked up to me and apologized and I did too, all was good. Now to get my act together.
Rehydration and some nutrition was going to take a while and we all knew the evening's ruck was going to be the defining one of the weekend. After Thunder Ridge, our next stage was literally 200 yards down the hill, past the Barrett setup. We walked over, got our stage briefing for Tobacco Barn and sparked up the JetBoil for lunch. The plan: secondary would shoot first from inside the Barn and roll over to underneath the Primary to get after the multitude of targets he had. This stage required Brian to run in and climb a makeshift three level platform to get to his position. I shot from the ground and was required to be off the ground on Brian's platform before he could fire.
Of all of the stages, I felt like I should have done better here. By this time I doubted the zero on my gun, doubted myself and broke just about every other mental rule in the book. I rushed shots, rushed my dope sheet and blanked the stage again. Regrettably, Brian did too. Two blanked stages in a row. Our momentum had been lost, but with some help from our LE buddies, I got my head out of my butt and got motivated for the ruck back. I mean, we knew we would stink at shooting; we came to represent and PT, right?
It's hard to hydrate in the cold and I wasn't prepared for it. I learned that you have to drink water regardless if you're thirsty, have to eat your scheduled calories hungry or not. We were playing catch up. Alas, ITS Tactical saved the day again, I pulled a pack of Oral IVs from my bag and Brian and I downed one each along with the water we were consuming in mass quantities. I can promise you that the Oral IV units had a huge hand in getting us right. For this ruck, we staged with Group 3 which was the group made up entirely of military badasses; they had been shooting Thunder Ridge right next to us. It was announced that the winners from each squad would be awarded space in an abandoned bath house at the night's campsite.
We had to remind ourselves that we weren't competing against Group 3 guys, just our group. Good thing, because those guys were insane. We started out in front and that lasted to the first slight incline. The Rangers went by walking at a speed that was a medium run for us. My 5th Group whiskey buddies cruised by at a slightly slower speed but much faster than us still. These guys were chiseled warriors, mid-twenties and do this stuff for a living. In retrospect they did provide plenty of motivation as we tried to keep them in sight as long as we could.
The ruck was long, 4.7 miles and back across the property. It included the worst hills and an extremely steep portion of the access road that was at least a mile long. Good news, we had worked hard to hydrate and build up some nutrition stores. Better news was one of the Army boys in our group had decided racing us 40 year olds was overrated and had dropped back, much to the chagrin of his partner who was still in front of us. The climb was insanely difficult but we kept going thinking of how sweet victory would be. We made it to the line first in our group, behind one of the Army boys but in front of the other. It really was a great achievement for us, one we needed for morale. Things in camp got interesting soon after we got settled in. As the ruck cut-off time neared there were multiple teams still out. More than a few of us gathered at the finish line to cheer on struggling teams. A couple made it, a couple did not. It was hard to watch, we didn't want to be one of those guys tomorrow.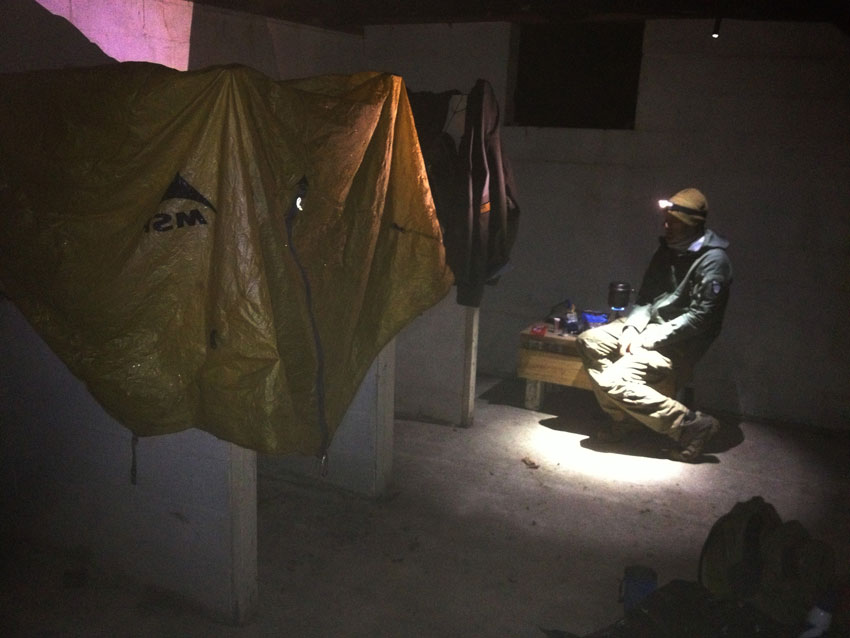 Our prize was a bombed out and depleted bath house with half a roof; not even a diamond in the rough.  More than one guy walked in with toilet paper in their hands asking where to go to the bathroom. It did have block half walls that we used to make a clothes line, thanks Muster again for taut-line hitches and bowline knots. It also came equipped with wooden structures we could use as tables to set our stuff out on and sit. I took this opportunity to change underwear and base layers as well as took a backpacker's shower with sanitary wipes. I noticed Brian was a little less than responsive, the day had taken a toll on him as well and he was down on fluids and food. As I went out into camp in search of my 5th Group SF buddies (and their whiskey,) Brian stayed behind to eat and drink.
Out "on the town," I met and talked to the some of the Rangers as well as some fellow "regular" guys. This was a fantastic group of people that included ammo manufacturers, a guy who worked for Remington, as well folks representing other parts of the gun industry. Good times. I made it to my buddies and the whiskey before it was gone and they were asleep. While bad things happened earlier in the day, it sure as hell finished on a better note.
Day 3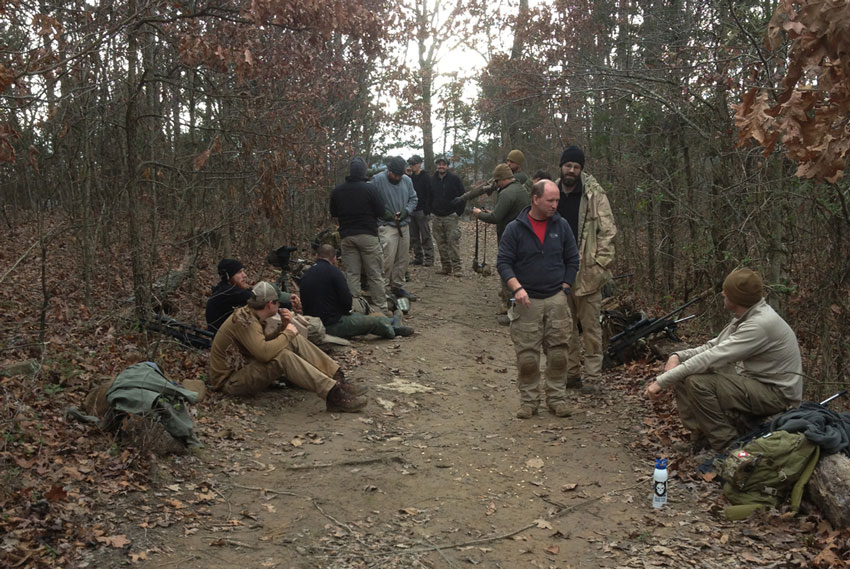 Up and at 'em at 0530. We broke down camp, packed our box and were ready to go. Instant Starbucks and Mountain House eggs were the initial fuel for the day. We had lost quite a few teams the night before, about 25% if I remember correctly, but it was time to push on. Our first stage was the golf course, all downhill from camp down Mt. MoFo (use your imagination,) the hill that had taken out our buddies the night before.
Before I started racing cars my passion was golf, so I really felt comfortable at this stage. The yardages made sense, there were flags still in the holes for wind indicators, it just felt right. Of course the briefing revealed that I would not be shooting from a decent rest. Surprise, surprise. I would be shooting from behind a swing, gun on the swing platform not touching the support chains, nor any of my body touching the swing. Brian did have a good shooting platform for his first position and had to shoot over a barrel on his second. Half of the primary targets were known distance and two out of the three of mine were as well.  The one unknown target for me was a 2" x 8" ruler at about 300 yards. Yeah, really.
Brian started off getting a couple of hits and more importantly, I started seeing his trace!  I was able to walk him down into a couple of targets. Brian also saw mine as well as some splash behind targets, things were looking up. I managed to get a couple of hits off the swing, including one on the 8" diamond at 458 yards. We were happy with our improvement.
The final stage, Back Ridge, would be the greatest 8 minutes of the weekend, maybe the month. The ruck was short, less than two miles but like the Front Ridge, Back Ridge finished with 500 yards of near straight up hill. Hydrated, well fed and riding momentum from the first stage, we cruised on up. This stage again involved shooting from one ridge to the next. Most of the other stages had a three or four shot maximum per target with only one hit counting. This stage was different in that Secondary had 15 shots at 3 targets, one relatively large. Primary was the same with 20 shots and a larger known distance target at 715 yards, hit a target as many times as you want. Let's clarify large; at home practicing for this event, large was 24" x 36." At this match, large was 12" x 18"  at 700+ yards.
We had 20 points for the match. Some teams had more than 20 points in a single stage and we were behind to say the least. Our plan for this stage was to hone in on the largest target and try to get as many hits on it as possible. After the first hit on target, each shooter was allowed three misses. We had to switch positions too, Brian on my gun as Secondary and me on his as Primary. Brian would shoot first from a position behind some rocks, standing and resting on a large rock and I would try to get behind a log for my shots in a position we both felt would be very good. Brian's targets were unknown distance so he created a card with my dope for 200 to 400 yard ranges to MILS. The plan was to run up and MIL the target. He would tell me the size and I would read off the dope from the card.
"Shooter ready? GO!" We ran down into the Secondary position. He got behind the scope and called out 1.5 Mils. I yelled back 2.5 MOA up. I was standing behind Brian, spotting with his rifle held freehand.  Not the most stable rest, but as he let the first one go I saw it splash right of the target. "Move half target left!" I yelled. The next shot was one of very most beautiful sights of the weekend and one we would see over and over for the next seven minutes. It shattered on the steel and the RO yelled "HIT!". "HIT! HIT! HIT! HIT!" shouted the RO as Brian slammed round after round into the plate. The RO's voice yelling "HIT!" was supplemented by me yelling "Pour it on her SON!" When his 15 rounds were spent he yelled out to move to the primary position and we moved out. He had scored 12 hits!
As I slid into position behind a nice and flat and fairly level rock, I looked at the time. Only two and a half minutes had passed, we had all day. I got the gun pointed up the hill, dropped the sand back under the rear of the stock and saw a beautiful sight. The gun was a rock, planted and stable with the first target in the crosshairs. At that moment I paused, then retrieved the spare magazines from my leg pockets and stacked them neatly beside my position. Brian barked "Let's roll son!" but I knew I needed to take a breath, get my stuff together and take advantage of the best opportunity in three days to hit targets. All weekend we had been short of the wind. We had made the conscious decision for this stage to figure for the worst, 10 mph gusting to 20 from the 4 o'clock. We had dialed that in to Brian's scope and he had dialed in the elevation from his dope. It would turn out to be just about perfect. First shot broke and Brian yelled, "Just Left!" as we both saw the splash. I held on the right edge for the next shot "HIT!" yelled the RO. "HIT! HIT! HIT!"
It seemed too easy; this is how it must have been for the experienced teams with good dope!  I swapped mags and let one go as the wind picked up. The splash was a couple feet high and left. I let another go, just as bad on the other side. The wind had changed badly and Brian told me to wait until it settled back down. On his call I broke the next shot "HIT!" Three more were hits with another miss in the mix. Then we waited with about a minute left and eventually I let the last round go that missed sorely in a completely different directions. The wind had become impossible as the time limit neared.
You would have thought we won the whole damned match, as we'd just hit 20 targets! 20 was our total up to that point for the entire weekend. It was an awesome feeling. The guys in front of us hit a bunch, but not everyone did. We'd gotten our act together on the last stage and rocked it out. Even as I write this, I can't get the smile off of my face, it was a great few moments. In retrospect, the timing was perfect. Had we strung 40 points together through the weekend or worse, had made 20 hits the first day and ended with getting blanked twice, it would have been terrible. I'm glad it went the way it did!
Last Ruck
Needless to say, after the last stage our feet barely touched the ground on the way back. It was a medium length ruck of about 2 miles with some worse than average elevation, but it didn't matter. We talked like giddy school girls the entire way. As we finished up, took some pictures and unloaded our gear, we kept our eye on the finishing timing line. Many teams were coming from the back side of the property and had long uphill rucks. It was heart breaking to watch and hear but the last team, a husband and wife, came up literally 20 feet short of making the finish. It was truly a terrible thing to watch, as it had been such a long a difficult weekend. They had made it to camp the night before and that was a tougher route in my opinion. But, we had made it and we had shown damn well in the footwork department winning exactly half of the timed stages. A tear was shed for the ones who failed and then on with the party!
Awards
If you've never attended one of these events, be informed that the prize table is awesome.  We had beaten 17 teams, it was easier to count from the bottom than the top and by the time we were called to go to said prize table we still were able to make off with $600 worth of gear. All the gear was top shelf; USA made tactical and shooting related stuff. The package we selected included a Tactical Tailor Rigger's Belt, JP Precision AR firing system, AR Charging handle, ammo gift certificates and much more. Cool thing was that Brian really needed a Rigger's Belt and was planning on getting the same one I had upon his return home. I also needed a trigger, as mine had failed prior to departing for the event. I had borrowed Brian's AR trigger and installed it the night before the event. Talk about applicable prizes! The winning teams won rifles and there were prize packages worth thousands of dollars with Kestrels, US Optics scopes and all kinds of stuff. As bad as we finished, we still had more value in prizes than we'd paid in entry fees!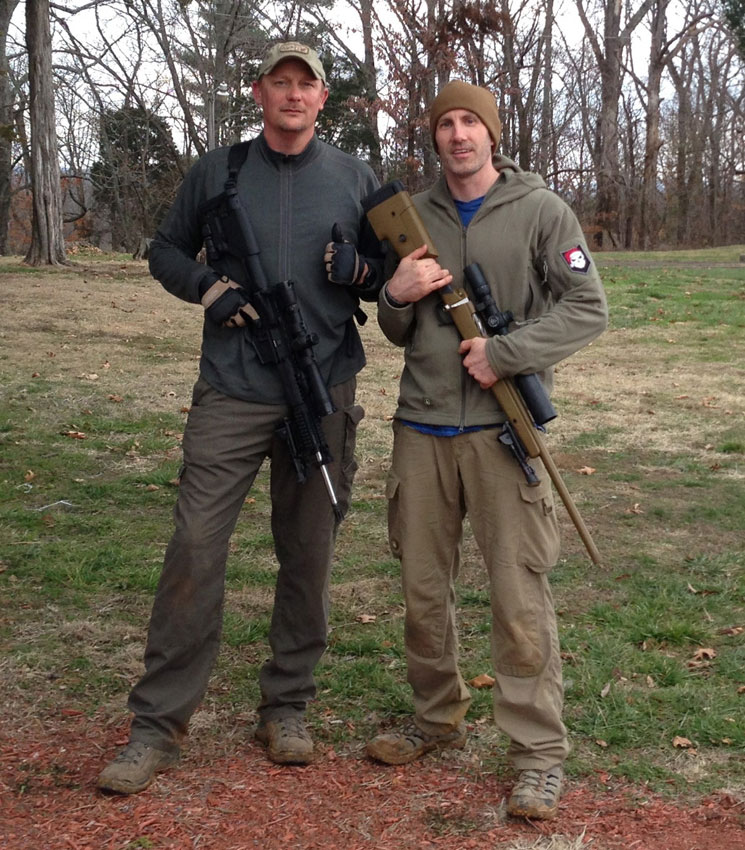 Conclusion
The goals we set for this event in relation to future adventure races, were to learn precision shooting in a dynamic environment and to physically train. Our goals related to performance at this specific event were to improve and finish respectfully in the shooting and leave a mark rucking, I feel like we accomplished those goals. The main factors in achieving the physical goals were packing light, having the right gear and training prior to the event. People who didn't make it failed for many reasons. Most were unprepared, over packed, had brand new boots on with no break-in, poor hydration and nutrition, all of which tore their bodies and their minds down. Some spoke of wanting that bed and heater and the next morning tried to boast how comfortable both luxuries were. To Brian and myself, as well as others in our group, those amenities represented failure and we wanted no part of them.
We can attribute the lessons learned at Muster and subsequent relation with fellow members and administrators at ITS Tactical to our measured success. The right gear, the right preparation, the right fixes at the right time. The right mindset and also a couple of well-timed Oral IV doses!
Next Time
We will be back. This event was difficult, but was awesome. If you plan on competing, I can offer a few tidbits of advice. Read and learn about the environmental impact on your bullet, beyond wind. You should practice shooting on one foot balancing on a tricycle, especially if you are shooting the Secondary position. Pack light and right. Ruck in full gear for months before going. Trust your gun, when things go bad the first natural thing to do is doubt your zero. Trust me, it only makes things worse!
Special thanks from both Brian and I to ITS Tactical, Triple Aught Design, and our fellow Muster buddies. CHARLIE!!!
Gear List
Primary Rifleman
McMillan TAC308
NightForce 3-xxxxxxxxxx
Harris bipod
Black Hills match 175gr Match Ammo
Eberlestock Pack
MSR Cook ware and stove
Mountain House assorted meals
Merrel Moab Ventilator non-Gortex boots
Patagonia Capilene 2 base layer
TAD Vesper Sweater
TAD Ranger LT Hoodie
TAD Stealth LT Hoodie
TAD Amphibious Cargo pant
MechanicsWear gloves
US Army issue 3 piece bag and Bivy
MSR Hubba Hubba tent
Secondary Rifleman
Bushmaster M4 based lower, Rock River Arms stainless 16" upper
Geissele SSA 2-stage trigger
Leupold Mark4 3.5×10 scope, LaRue mount
Harris Bi-pod, Accu-shot mono-pod
Black Hills Mk262-mod1 Match ammo
LBT 3-day assault pack
JetBoil
Mountain House assorted meals
Lowa Renegade LL boots
TAD Ranger Hoodie LT
TAD Stealth Hoodie LT
5.11 cargo pant
Patagonia Capilene 2 and 3 base layer
WX gun fighter gloves
REI 15 degree down bag
Visit the Mammoth Sniper Challenge website for more information on this event.
Editor-in-Chief's Note: Jason is a small business owner in Virginia specializing in Physical IT Infrastructure and Electronic Security. He splits his free time between racing cars and all things tactical. Jason is very proud to have attended the Inaugural Muster event with ITS and we're stoked to have him as a Life Member!