Survival Trial IV AAR: Team Charlie Company
Survival Trial IV AAR: Team Charlie Company
"Adventure Year 40" continued this May as my buddy Brian and I competed in the Survival Trial IV, an event held at the NRA's Whittington Center in Raton New Mexico. Kindled at ITS Tactical's Inaugural Muster event and fueled by the panic of turning 40, our fire for adventure and physical accomplishment is burning bright with little signs of stopping (hours 21 to 24 of STIV on Sunday May 19 aside as those hours found us moving fairly slow).
The Survival Trial is billed as a 24-36 combination Adventure Race and Shooting Competition focused around real world survival-based events. While the event certainly met those criteria, I can tell you it was mainly a daunting ruck-fest. We covered approximately 35 miles of scorched earth over the 24 hour period with an emphasis on scorched as 9 of 10 cactus encountered were dried up and dead.
The event coordinators did a fantastic job making water available and we never had a situation when we were without. We didn't see many evaluators but the ones we did were helpful (within the rules) very pleasant and they provided positive motivation for us as we negotiated the Arena. The event founder, Jon Weiler, moved around all night and seemed almost omnipresent as he was at every manned checkpoint we hit. They all did a great job.
To say the Arena was slightly larger than we anticipated is a tremendous understatement. I had visited the area a few weeks before to obtain some local maps and "boots on the ground" experience which certainly would have paid off had we actually made it to the Whittington Center during the event. Yeah, the event is billed to be there and half of it was, but covering more than half of the Arena is damned near impossible. So, if you are preparing for this event, you certainly can recon some, but Jon does a heck of a job keeping you off balance.
Preparation and Gear
Nothing that I have done to the point has put as much stress on my gear and my body as this event. Any lapse in good gear sense paid immediate penalties. For example, Brian chose to run a set of poly-blend athletic socks at one sock change. He went from a toe blister to long blisters on the outsides of his feet. Thankfully we did have a solid foot repair kit that kept us moving along.
Our physical preparation included a couple of rucks each week, building up gear to our anticipated competing weight, over the span of couple months. We had this event on the schedule before we competed in the Mammoth Sniper Challenge in January so our training never really stopped from last November save for a couple of weeks recovery after Mammoth. This really paid off for both of us as we made fantastic time on our feet throughout the event.
Along with rucking, Brian and I both continued our strength training. I stuck with my P90x workouts and Brian did a mixture of functional strength and traditional weight-lifting.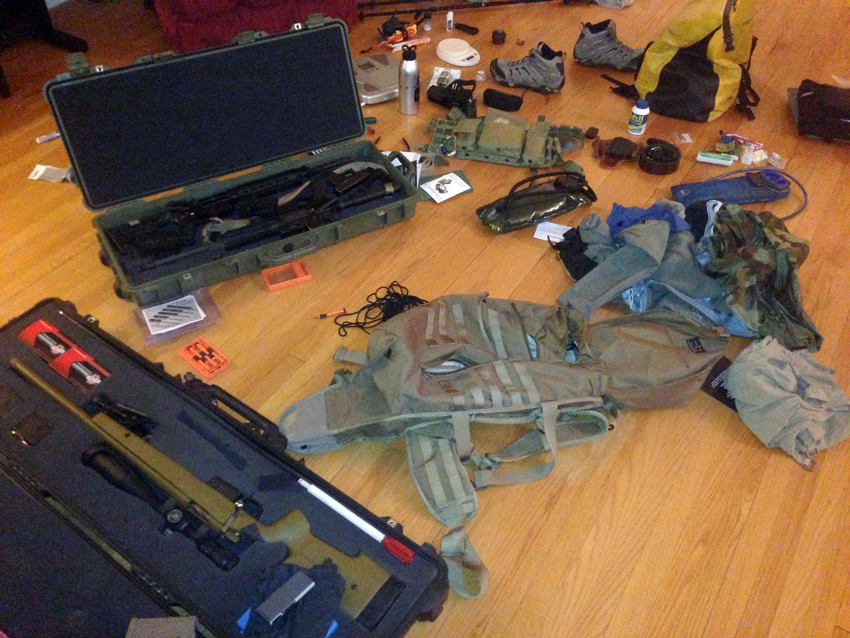 I'm still working to shed those last few pounds accumulated from 15 years of neglecting my fitness, Brian is in damned good shape at optimal body fat.
Gear shortfalls were few and far between as Brian and I don't buy junk. As you could have guessed, weight was the number one concern and we certainly will do better next time keeping our gear light and to a minimum.
We did have one very important gear revelation that Brian and I both agree caused his initial foot issues. DIRT. Our first sock change revealed Brian's toes were filthy with dust and dirt.
The same boots that performed flawlessly at Mammoth under similar load were not optimal for the New Mexico environment. The vented mesh toe tops had allowed dirt to breathe in and through his socks, sticking to his feet like tar and feathers. We all know the basic contributors to blisters: heat, friction and moisture. Throw in an aggregate and you have a recipe for disaster. Even with the blisters, Brian finished this race on his feet, making good speed and even dispatching the 'Ssault Shaker in hour 22. He was a real trooper.
I learned why boots have heavier ratings than others. I completed this event wearing AKU's NS-564 boots. They held up great and were comfortable during the event but caused some issues afterwards. I had pretty severe foot pain during the last few hours of the event but I figured that was from covering so much ground in such little time; afterwards I had numbness followed by tingling and overall nerve issues in my toes on both feet. These symptoms lasted about a month and were undoubtedly caused by having too much load on the soles of the NS-564 hikers. I have since purchased the higher load rated Pilgrim boots by AKU as they have a much stronger sole for handling the 50 pounds or more encountered in Survival Trial. I'm looking forward to the next event so I can see how much of the pain I suffered at the end was due to improper footwear load rating. So far I have not encountered the nerve sensations wearing the Pilgrims on heavy rucks!
The Start
After check-in, the ST crew loaded us into 15 person vans and headed towards the entrance gate. When the van turned right onto the highway, my hopes of actually having recon and good maps on the Arena blew right out of the window. It was pitch dark and any effort I made to get my bearings were futile other than a glance at my wrist compass and a half-assed attempt at measuring the distance we covered. It would turn out not to be a problem as we were given good maps and navigation would never really hurt us. We knew where we were; one helluva long way from the next point.
After gear check and briefing, we received our maps and checkpoint coordinates and quickly got to work on a basic game plan. We did a pretty darned good job as our initial plan was good and only took basic tweaks as we made our way around the Arena for the next 24 hours. We set out for our first checkpoint.
Our first challenge was a physical one that required us to fill sandbags and use them to build a levy. It was extremely demanding but we went to work and completed it quickly; on to the next spot. Route selection would be critical through this event and our initial route from the start point had us traversing an open field. All open field crossings had uneven footing causing ankle rolls and uneven landings that were certain to multiply foot issues. We had a shortcut to the next checkpoint but decided to stick to the road to save the wear and tear.
It took a LONG time to get to the next checkpoint. We had almost beaten the Evaluators to the first checkpoint and did beat them setting up a mental challenge checkpoint on the way to our second spot that we were able to complete on our way back up north. Our second stop was a shelter building challenge that Brian came up with a fantastic solution for. This challenge taught us a valuable lesson; when we have a great idea, do it. Brian had the idea of reinforcing our shelter material with duct tape prior to lashing – pure genius as the wind was blowing like CRAZY. I had the idea of splitting out material long ways in order to have more to work with. As we started the challenge, we both took each other's ideas yet didn't follow our own. Really?! Lesson learned, come up with a plan and execute. We did eventually complete the task and set off for the next point a bit wiser. This event is designed to challenge you physically and mentally, the latter mainly due to the former.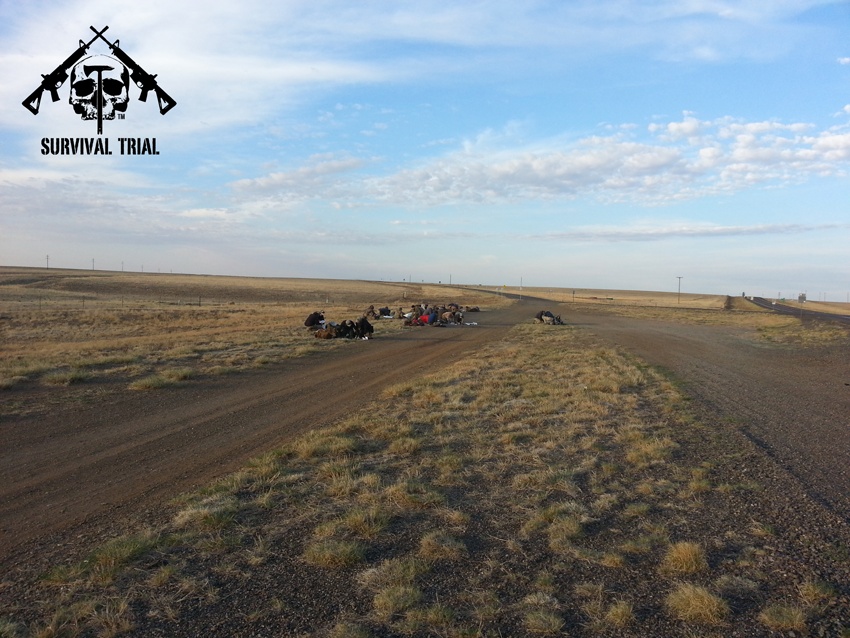 The Decision
Brian and I are headstrong A types that want to win. We keep our goals realistic but no matter what, there's a part of us that expects to win. This event had 14 other teams that undoubtedly feel the same way. For those of them who will read this – all due respect to you, but as we left the second checkpoint, Brian and I made a decision that would keep us from winning. We knew that it could and made a pact to be OK with our decision if in fact it did end up costing us.
As we were leaving our second checkpoint, we mentioned to the Evaluators that we were considering running up the mesa to the precision rifle checkpoint. The challenges at each checkpoint were not made known to us prior to arriving but this was one of the two that closed at dusk so we felt certain that it was a long range one. When I said this out loud, one of the evaluators hawed a little, commenting that it may be a risky decision. I didn't really understand what he meant by that but as we made our way back up to that intersection, we realized that it may take too much time to get there and back. Considering it was only a 100 point checkpoint and we risked being able to get to a 300 point "Mandatory" one, we knew – prior to making the turn – that it could cost us 200 points. It did and with the 200 points we would have been the overall winners.
It took us 6 hours to climb, shoot and retreat from this checkpoint and aside from the crying I just did, it was worth it.
Banging Steel
Brian and I are long range shooters. It's what we do. Yeah, we shoot our pistols and carbines and would put those skills up against anyone, but we compete and train as snipers. We labored over the decision to go after this checkpoint but there really was no way we were going to pass on it. We turned right at the intersection and started to climb.
Upon our arrival we dropped our gear, made ready for the stage and received our briefing. The scenario was one of "disposing" IED's by rifle shot. Good times. We had spent the day before the event getting dope on Brian's gun and had a range in which to deal with. I made a choice of which range to use, grabbed my carbine to spot with and we headed to the firing position. The targets were approximately 10" steel plates at 415, 550 and 660 yards. Each one had Tannerite affixed to the face so identifying a hit would not be an issue. With the wind at the time, we decided to dial in an MOA of left and holdover any more that was needed. Our up numbers were 7.5, 10 and 15.5 MOA.
The Evaluator gave us the signal to start and Brian's first shot broke, high left. I gave him a correction and his next shot splashed just right. Another correction and the Tannerite exploded. Without hesitation we dialed in 10MOA and pounded the second target. One shot left, one target left. 15.5 MOA up, hold left edge – BOOM. Brian had cleared the stage. Our exuberance overflowed as I tackled him into the dirt in celebration. The previous team we passed on the route to this stage said they hadn't touched the first plate and that it was ridiculously hard. We had labored over the decision to come here and getting skunked would be a demoralizing blow. Not to be, Team Charlie was on cloud 9.
The Evaluator handed me my 5 rounds and we made ready with Brian under my carbine as spotter and me under his as shooter. With his hold-overs I broke the first shot. 6' high, what? Held low, high again??! I looked at the vertical turret, SHHHIIIIIT!!! I had forgotten to change the turret back to the shorter target from 15.5 MOA! Dammit! We recovered, dialed in the appropriate numbers and BOOM, BOOM, BOOM. Charlie had cleaned the stage.
Before leaving the stage we sat down and made some hot food. Mashed potatoes and corn mix was on the menu with a side of pride. After woofing that down, refilling our water and reloading our gear, we headed back down the mesa to the trail that would take us back to the Whittington Center.
Trail of Tears
The descent down from the long range shooting stage would take us 2.5 hours even with our feet barely touching the ground. We were certainly motivated by the stage but it was a long damned way, well, relatively. What was a long damned way was the return back to the Whittington Center. It was approximately 1800 hours when we reached the intersection and headed right. We would spend the next 10 hours on that trail.
We plotted a course that afforded us a couple more unmanned checkpoint opportunities and we picked them up along the way. Time on our feet, mileage and the terrain were really taking their toll. We were doing about 3 kilometers before needing to take a break. We both commented that we wished we could walk slower but our normal stride was all we could comfortably do.
The physical effects had really set in and some mental stumbles were in our future. I said earlier in this article that navigation was not an issue and it wasn't, but our one back track occurred in the death march that was the return to the Whittington Center. Pitch darkness was a contributor as well as some confusing intersections but at one point we did go about 1 KM too far past a turn. We stopped at the intersection and considered turning but on my lead we continued straight until another physical boundary illustrated my poor choice. So, we quickly backtracked and got back on the right route, after rightfully being called a jackwagon by my partner.
For those of you who have been around us, you know Brian and I incessantly hack on each other. It's our way, it works for us and it keeps things fun and light hearted. Brian and I learned a lot about each other on this trip, mainly that we make a good team and can count on each other to keep the other going.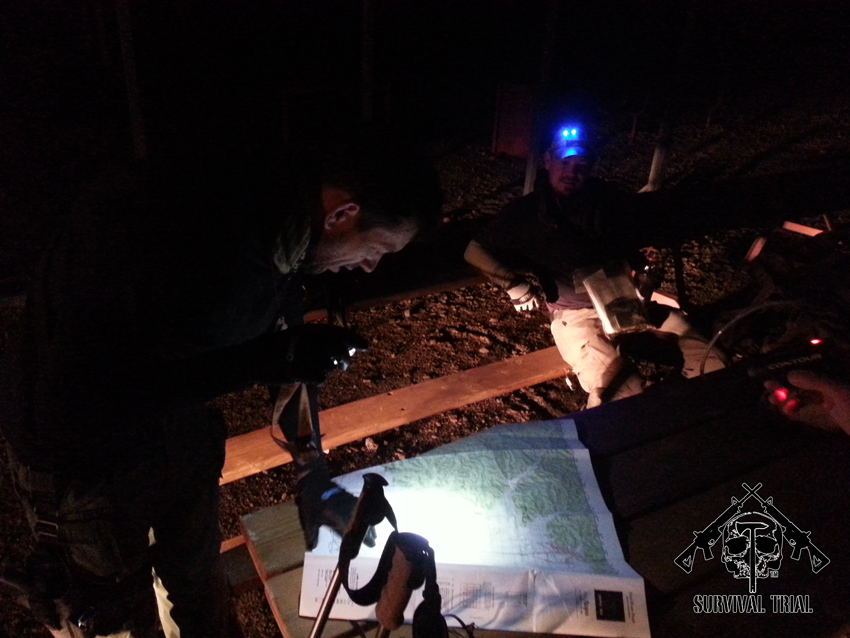 On this route back, we took turns motivating each other. One's mental lapse, complaint or cry would be met by a "tighten up you sumbitch" from the other. We stopped for another hot meal as we reached an identifiable landmark on our route. These spots let us know we were on the right track and were nice moral maintainers. I say maintainer because actual "boosts" were almost impossible based on our condition. We were truly in survival mode and Charlie, by god, wasn't gonna stop.
We made it to the left turn, over the railroad tracks, which we had been looking for and took a short break to check the map and drop our gear for a few minutes. This area was also an unmanned checkpoint. Loaded back up, we set off across what I estimated would be the last field before we made it to the Whittington Center. We spotted lights after a couple of hours and worked our way closer to them. Maybe it was the sleep deprivation and exhaustion, OK it certainly was, but we couldn't decide what lights we were looking at. To me it looked lights in someone's back yard; I actually could see some elaborate glass porch and patio. I knew better than to trust myself, besides, who in the hell would have their back patio lit up at 2 in the morning? We decided to scope the area out with a team shooting position. Brian "assumed the position" and I laid his rifle over his back and check it out. It was the entrance to the Whittington Center. Alas, it looked like an oasis in the vast desert of, well, desert.
"Pass the 'Ssault Shaker"
Leading up to this event, the event organizer had been posting some helpful (his words), misleading (our words) and somewhat frightening (everyone's words) videos. One particular series of videos had everyone's attention. Those involved John being chased by some zombie looking creature. During our event briefing, we were told these creatures were 'Ssault Shakers and that they would be out on the prowl looking for us starting at 1030 hours. Up until this point we hadn't seen any.
As soon as we had approached the final fence crossing between us and the Whittington Center entrance, two trucks swarmed in on top of us with lights blaring and camera crew rolling. Standing on top of the culvert we had to cross was the 'Ssault Shaker, backlit from headlights and looking pretty damned evil in a green hoodie and a dark mask. The biggest fear factor was the unknown, what the hell was thing guy gonna try to do to us? He certainly wasn't running towards us at this point and we had made it clear to ourselves and the event organizers that were had no intentions of running from this thing; we were too exhausted to do so and it would take a lot less energy to apply "nature's lead pipe" to his neck than to take off with 60 lbs on our backs.
As we struggled up the hill towards the ensemble of unknown evil and paparazzi, including the omnipresent John, we were greeted by another guy wearing a green hoodie and no mask. He started reading off a sheet of paper describing the situation, the opportunity to make points by engaging the Shaker or the loss of points and/or time by not. There was no doubt we were engaging this guy and I looked over to Brian to give him the opportunity to back out; he had been talking trash all day about how he was going to lay into this thing whenever we ran into it.
After 21 hours and around 30 miles of ruck to this point, a couple of mental hiccups and more than any man should have to endure, Brian stepped right in with a "You're going down son!" I won't give any more details from here other than to say that Brian moved like a cat with the strength of a grizzly bear to secure our point bonus; another real high point in the event. After our stage debriefing we chatted with the Shaker who had run the encounter for us (not in the mask). "We've been tracking you guys for 10 hours!" he said. "The last team we engaged was a little after lunch time". They had engaged every team but us and while certainly resting and doing other things, they searched for us for the good part of the night. We took a little pride in that, we stayed on the move!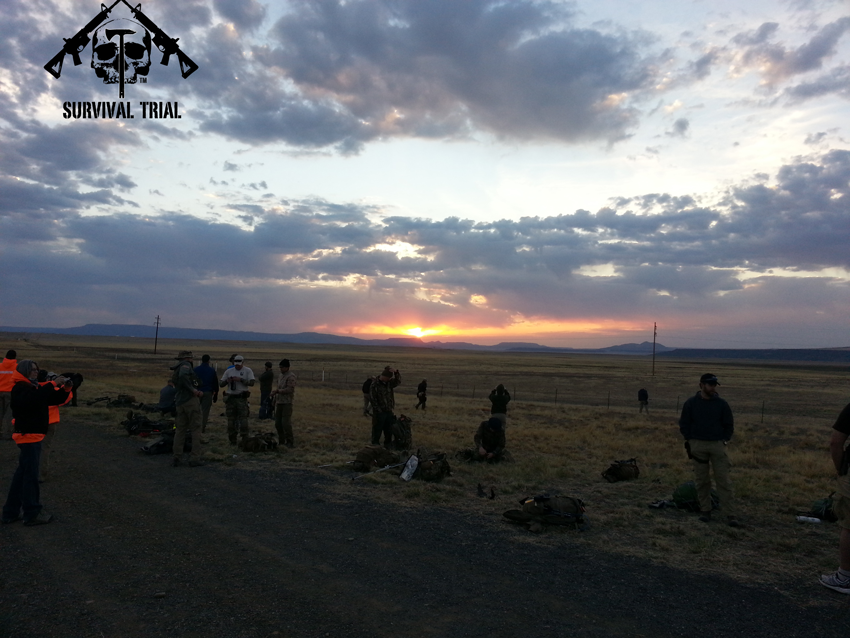 The Finish
After dispatching the Shaker we paused briefly to gather ourselves and check the maps. We didn't feel like we had enough time to make it up to the checkpoint in closest proximity but we decided to walk it up to where we checked in and see how much ground we made and how much we had left after that. Upon reaching the building, we realized we certainly didn't have enough time left and we were greeted by 4 or 5 other teams who had already ventured to the spot including the eventual overall winning team.
Done. Sore. Throbbing.
We had made friends with some great folks before the event and enjoyed catching up with them and sharing stories as we waited for the awards ceremony. We ended up finishing in 4th place, less than 200 points from the overall winners. We were certainly pleased but, even though we had promised to be at peace with it, hindsight was beating us down for our decision to climb and shoot the precision stage.
Looking Back
The previous section was titled "The Finish" as it certainly was the finish of the event, but Brian and my adventures were far from over. We had to beat a quick exit at 0930 to make it to Denver Airport in time to catch our departing flight. We did, barely, only to find Brian's seat request not be honored and me to make it to Atlanta and end up spending the night there – in the terminal. I got two hours of sleep in the airport but overall was up from Saturday at 0200 to Monday at 1200. Brian stayed with family in Denver that night and was rewarded with a first class upgrade on his return to the airport the next day.
For the event, we had covered more total mileage than any other team and we were darned proud of that. The GPS tracking website showed every tenth mile covered, every minute stopped and every minute underway. We were a little surprised to see that some teams got a full night's sleep while out there, especially the 20-something Army LT's that we thought we would get crushed by. A good buddy and former SEAL told me before the event, "Be smart, but if you can't be smart, be hard." I thought we did a good job of being smart, our routes were good and we knew where we were the majority of the time. We certainly were hard. The fear of failing, the fear of losing, the fear of disappointing those we care about, drove us to keep moving. We didn't really think we were in a position to win, we just wanted to make it back to the property on our own terms.
We learned a lot about gear and kit, what to take and what not, but the most valuable lessons we learned were about ourselves. We weren't the strongest, the most fit, the best equipped or best trained guys in the field, but we were among the most determined. It was an honor to compete with all of the teams that participated.
Gear
Folks always end up asking for a gear list so here it is:
MacMillan TAC 308 precision rifle with NightForce 3×15 illuminated reticle, MOA/MOA
Bushmaster M4 variant carbine with ACOG TA31F optic, MagPul BUIS
Spikes tactical carbine with Eotech optic, MagPul BUIS
Viking Tactical slings
Glock 19's
Bladetech and the dreaded and evil SERPA retention holsters
Eberlestock Gunslinger I and Gunslinger II packs
JetBoil
Benchmade Auto Stryker and Presidio knives
TAD Ranger Hoodies
TAD Legionnaire Pants
Wiley X and Mechanics Wear gloves
Loksack, Cammenga, Surefire and many others.
Merrell and AKU NS-564 Boots
For the next event I may consider a lighter pack and just sling my gun like I did at Mammoth; the Eberlestock packs are awesome but weigh at least 6 pounds. The primary precision rifleman really does need the gun scabbard capabilities of the Eberlestock as he/she is required to carry two long guns.
During this event I fastened my G19 to the back of my pack. We weren't allowed to have any ammunition so I didn't need quick access to it. Next time I would consider carrying it inside my pack. When I got home and cleaned it, it was totally saturated with that ultra-fine desert dust. It's a Glock so it still functioned, but was filthy!
As mentioned earlier in the article, the AKU Nave Seal boot is not a long distance heavy load boot. It doesn't have the toe-spring, sole cushion and strength required for heavy loads over 30+ miles.
Thanks
A big thanks to John Weiler and the STIV staff. These guys provided an impossible task and encouraged us all the way. First rate event.
Special thanks to Brett with Triple Aught Design. He helped prepare us for the event fairly without giving up any specific details and turned us on to TailWind nutrition. Again, as at the Mammoth Sniper Challenge, TAD gear served us extremely well in the field – USA made extreme use outerwear that has always been up to the task.
ITS Tactical and our Muster 1 brothers and sisters. My recent charge to fitness and physical accomplishment is owed to these guys. They were the ones we didn't want to see or hear of us failing.
TailWind Nutrition. I hate to give away secrets to potential future competitors but this stuff is for real. I'll leave it at that.
Editor-in-Chief's Note: Jason is a small business owner in Virginia specializing in Physical IT Infrastructure and Electronic Security. He splits his free time between racing cars and all things tactical. Jason is very proud to have attended the Inaugural Muster event with ITS and we're stoked to have him as a Life Member!