Chinook Crash in Afghanistan leaves 31 Dead in Greatest Loss of Life since Red Wings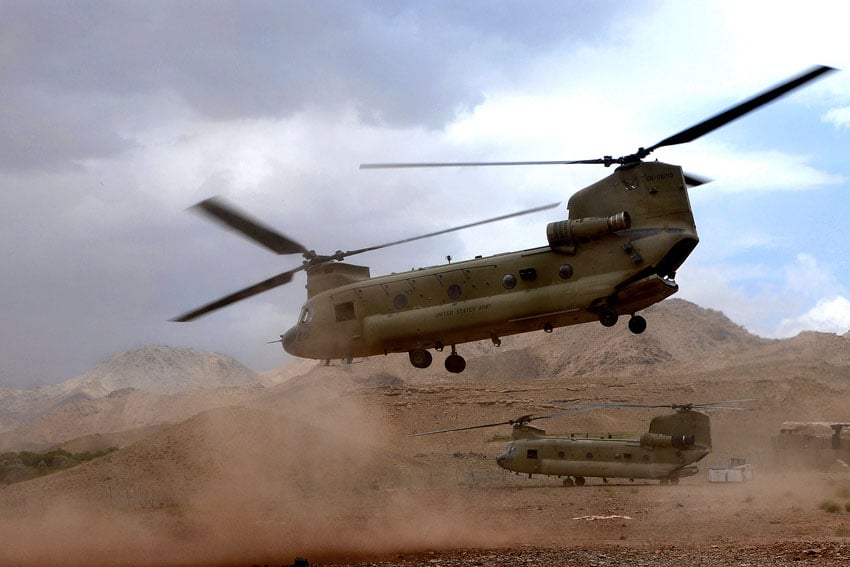 The media has been a buzz this weekend, reporting on the single deadliest disaster to impact US forces since Operation Red Wings on June 28, 2005.
While the stories and headlines seem to be changing by the hour, it appears that 31 have been left dead, including 23 Navy SEALs, an Army Special Operations Aviation Regiment (SOAR) crew, Air Force Special Operations, a SEAL K9 and an Interpreter.
Late August 5th, the Chinook carrying this QRF (Quick Reaction Force) was hit with an RPG (Rocket Propelled Grenade) in the province of Wardak on their way to rescue four SEALs under attack. Three of these SEALs were also killed and the fourth rescued.
What has unfortunately been made public is that the SEALs were from DEVGRU (Development Group) which is also known as SEAL Team 6. Of course the media jumped all over the fact that this was the same unit responsible for taking out Bin Laden and the wrong things have been brought to light because of this. We have an upcoming article written by former DEVGRU Operator Craig Sawyer that talks directly about OPSEC (Operational Security) and the responsibility of the press on matters like these.
This loss is tragic to all involved and especially to DEVGRU, which is a very small community of SEALs. A few things have already been set up to help the families of the fallen and we're working hard to come up with our own fundraiser to do all that we can as a community here at ITS Tactical, much like we did for America's Mighty Warriors.
The Navy SEAL Foundation has set up a way to make a $10 donation benefiting the families by texting SEAL to 90999. A one-time $10 charge will be added to your wireless bill and donations of more than $10 can be made directly by visiting their Website at http://navysealfoundation.org/
Arc'teryx has also set up a Special Operations Support Fund through PayPal for the charities that support the families of those involved.
Please keep the families of those involved in your thoughts and prayers today and continue to check back with us throughout the day as more information becomes available.
Are you getting more than 14¢ of value per day from ITS Tactical?
Please consider joining our Crew Leader Membership and our growing community of supporters.
At ITS Tactical we're working hard every day to provide different methods, ideas and knowledge that could one day save your life. Instead of simply asking for your support with donations, we've developed a membership to allow our readers to support what we do and allow us to give you back something in return.
For less than 14¢ a day you can help contribute directly to our content, and join our growing community of supporters who have directly influenced what we've been able to accomplish and where we're headed.