NEMO Equipment Tent Topographics: A Better Way to Visualize Your Next Tent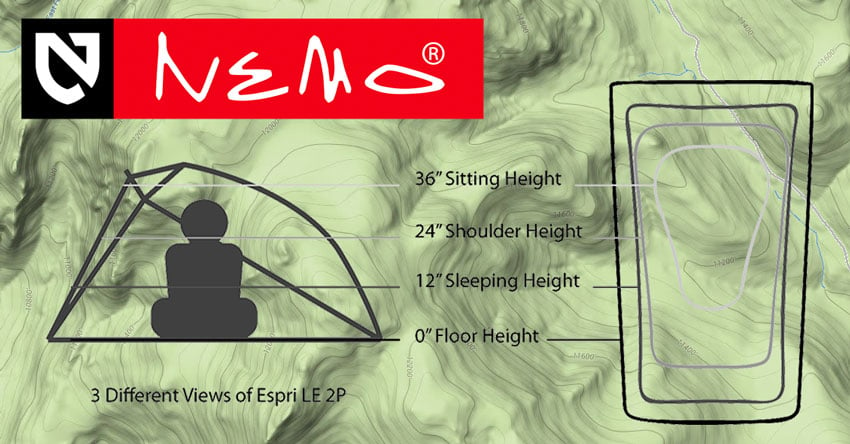 NEMO takes a lot of pride in their designs and how they come about. It all starts with the adventurous lifestyle of their staff and it's often their experiences that allow the development of innovative solutions for common camping problems.
In 2004, NEMO debuted their first generation of AirSupported Technology tents and immediately got the attention of the outdoor industry. They've since refined that idea and added a lot to their tent lineup. In 2012, they launched another game changing design with their Spoon sleeping bags.
It's been awhile since NEMO Equipment introduced the idea of tent topographic diagrams on their blog, but it's certainly something the outdoor industry could benefit from.
If you're in the market for a new tent, you'll undoubtedly look over all of the specs, but will most likely make your purchase based on the floor dimensions and peak height. After all, you want to make sure you'll fit when you lie down and be able to sit up without hitting your head on the roof of the tent.
The problem with basing your decision on those specs alone is that you don't have the best idea of how much usable space there is internally without getting to see one of the tents in person. NEMO wants to change that.
For those unfamiliar, topographic maps or "topo" maps are used as a visual aid for terrain on a 2 dimensional map. Their primary purpose on a map is to accurately represent the shape of the Earth's surface through the use of contour lines which will illustrate elevation. The key thing to remember about contour lines is this: The closer the spacing, the more rapid the change in elevation.
Along the same idea of getting the shape of a mountain from a topographic map and analyzing the steepness of the slope based on the contour lines of the map, with tent topos, you're able to visualize the steepness of the walls of the tent your interested in.
"NEMO's tent topos show you the contours of a tent at various heights so that at a glance, you can understand where in a tent you can sit up, sleep, and fit your shoulders. If you're not able to set the tent up before buying, this is an easy and quick way to understand the livability of a tent."
In this example, both tents have roughly the same floor area and height, but it's obvious that the interior volume arrangement is completely different.

As a full example, here's the tent topo diagram as seen on their award winning Losi 3P Backpacking Tent: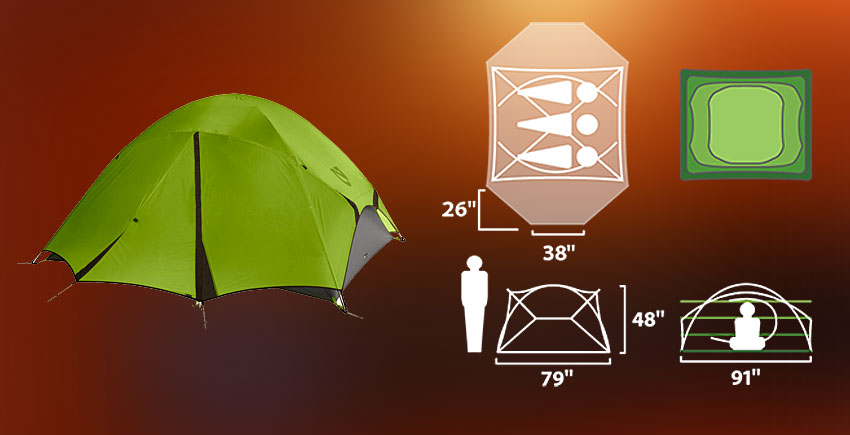 We've utilized NEMO's tent topo overlays on a few of our NEMO tent reviews on ITS and have always loved this way of looking at the interior dimensions. Right now, it seems that only NEMO Equipment is using tent topographic diagrams but they have hopes others in the tent industry will adopt the visualization and it will become a standard practice. This will no doubt give customers a highly useful metric when selecting their next tent.
Are you getting more than 14¢ of value per day from ITS Tactical?
Please consider joining our Crew Leader Membership and our growing community of supporters.
At ITS Tactical we're working hard every day to provide different methods, ideas and knowledge that could one day save your life. Instead of simply asking for your support with donations, we've developed a membership to allow our readers to support what we do and allow us to give you back something in return.
For less than 14¢ a day you can help contribute directly to our content, and join our growing community of supporters who have directly influenced what we've been able to accomplish and where we're headed.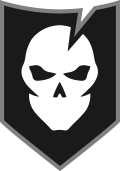 Marmot is the only other tent brand that has been pushing tent topography, only they haven't made this avaiable to the general public since there's a couple of issues.  The hurdle is two-fold: 1) Getting an accepted metric by a world-wide mathematical organization and 2) More importantly, getting the rest of the industry to accept this metric.  
Without a easy-to-read/understand metric to use, it's near impossible for a needle mover like REI to incorporate this into their tent selling information.  A brand like Big Agnes, who are the industry leaders in lightweight tents, would loose all their marketshare if such a metric is developed.  Their tents have very little headroom vis-a-vie floorspace.