An Important Announcement from ITS Tactical
An Important Announcement from ITS Tactical
The purpose of this announcement today is to clear the air on not only what we stand for, but what ITS Tactical was created for.
We'd like to ask that you please take a few minutes and watch the following video first before continuing…
As the video mentions, we've been accused in the past of creating videos and content so that people can evade Law Enforcement. Our primary purpose behind these videos is to ensure people are not illegally detained by amateurs and Law Enforcement Officers are not using inferior products.
Our Escaping Zip Tie videos, which you can review here again, not only shows the different methods of restraint, but notes the hand positions where people are most likely to escape from.
We firmly believe that plastic zip ties have NO business being used in a potentially dangerous situation where lives are on the line. Use handcuffs, in fact, for dangerous situations use two pairs. Why? because that antiquated crap design for handcuff locks you're using is left over from 1862! Please don't trust your life to this either, as we showed here that these can be defeated with a simple bobby pin (single and double lock).
So we're stating the obvious, right? Every Officer Safety Bulletin across the country already talks about how to get out of these, and how unsafe they are. Great, so we can organize a Space Flight to Mars, but can't invent a pair of handcuffs that are unpickable? Have you seen what a handcuff key looks like?
Jersey Cuffs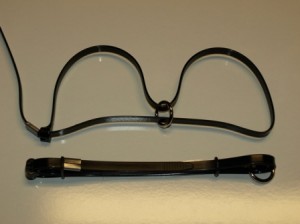 As I mentioned in the video, I went to SHOT Show this year where I met up with the owner of Jersey Tactical, who manufacturers Jersey Cuffs. This is a description from their Web site:
"Almost every flexible restraint on the market is currently being defeated by criminals. They are being "slipped", broken or picked. The Jersey cuff was designed to prevent most of these issues!"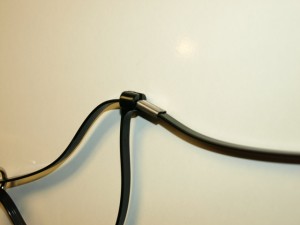 Jersey Tactical had been in contact with us about a month prior to the SHOT Show inquiring about sending us some for T&E. We'd agreed to meet up at the show so they could pass us some product. At the show, the owner gave me a personal demo of the second generation cuffs by placing them on me with my hands in front of my body, wrists together. These are the new model that features the small metal bar that acts as a "double lock."
He then challenged me to try and get out of them. Now mind you this is in front of a crowd of people in the path of SHOT Show traffic, which if you know the show, it's busy!  I then asked him twice if he was sure he wanted me to do that right in public like this, and answered with a resounding, yes. I raised my arms above my head, just like the in the first video we show. SNAP! the product immediately broke apart at what we feel is the weakest link of restraints like these, (the locking mechanism) and fell to the floor.
NTOA Approved

So let me say this, if you're a Law Enforcement Officer and you're reading this you should be  concerned that Jersey Cuffs are now being marketed as "NTOA Member Tested and Approved." From what we can tell these are only available to Law Enforcement and Military.
In this video on YouTube, which the company had as a promotional video on their site before the SHOT Show, shows the common misconception that everyone is a complete moron when it comes to plastic restraints. I know I had a good laugh at this video, its ridiculous.
To Jersey Tactical's credit, after the demonstration that I broke, the owner asked if I'd come out into the hallway away from the crowd and try breaking out of them behind my back. He affixed a new pair and I attempted it twice with no success. I feel that these have the potential of being defeated behind the back as well, even though I was unsuccessful at my attempt. In our videos another member of ITS is demonstrating the behind the back method because the truth of it is I suck at that technique. I haven't perfected it yet, so we went with him in the video.
Jersey Tactical has this disclaimer in small type at the bottom of their site:
"Warning: Wrist and Ankle restraints are considered temporary restraining devices. This also applies to the Jersey Cuff. Restrained subjects must be under constant supervision for both officer safety and the safety of the subject. The subjects wrists are to be secured behind his or her back when using the Jersey Cuff. If applicable use more then one Jersey Cuff in order to secure the subject due to an injury or physical deformity."
Negative Reviews
We don't normally waste your time reviewing any inferior products on ITS Tactical, but in this circumstance using Zip-Tie like products could potentially get someone killed.
If your department is staking their lives on disposable zip-tie like restraints, you should implore them to think twice.
If you're a sleaze bag down on the border of Mexico attempting to take people hostage, please use these, because some day you'll restrain someone like me who will get out and break your neck.
Are all Law Enforcement grade disposable restraints bad? I don't know, we haven't tested all of them, but the one being marketed as superior doesn't work.  If you think there's a product we can't get out of, send them to us and let people who truly don't have a motive other than saving lives test them. When we actually find some that can protect the Law Enforcement Community, we'll endorse them.
Imminent Threat Solutions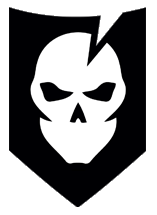 We put our Zip Tie videos and content out so that people who are accosted, or become the victims of a home invasion, have the ability to fight back. Also, so that Law Enforcement Officers know about inferior products and don't trust their lives to them.
We're a lot like hackers in the 80s, who pointed out the holes in operating systems not so someone could steal money from a bank, but so the operating system's manufacturer could make it better.
Today, we're drawing a line in the sand and you either support what we do here on ITS, or we don't want you as a reader plain and simple. If you're a Plank Owner reading this article and don't feel like you can continue to support what we do at ITS Tactical any longer, please contact us and we'll give you a refund.
Thank you for your time and support,
Bryan Black, Editor-in-Chief
Please take the time to share this article and get this information out to those that need it!
No comments will be moderated in this post, everything written will be displayed (with the exception of the comment that just said "Kill:::" give me a break…)