His and Hers: Triple Aught Design Ranger Hoodie and Valkyrie Hoodie Reviewed
His and Hers: Triple Aught Design Ranger Hoodie and Valkyrie Hoodie Reviewed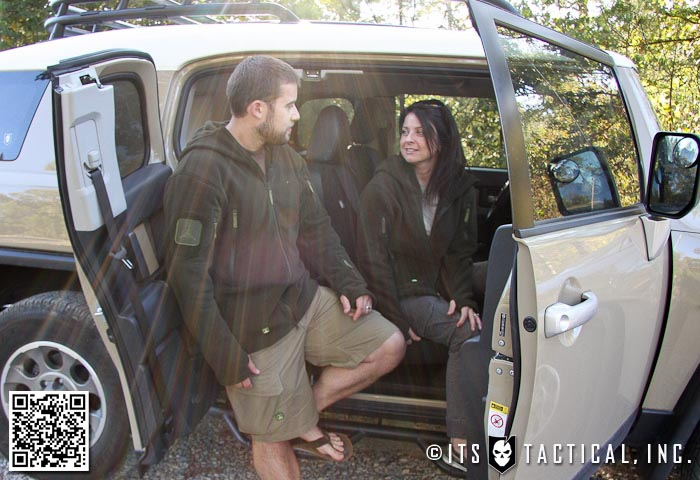 When Triple Aught Design presented Kelly and I with the opportunity to review their brand new Ranger Hoodie and Valkyrie Hoodie, we jumped at the chance. I'd been trying to get Kelly to check out TAD for quite some time, ever since they first released their women's apparel line.
I've been a customer of TAD for a long time, even before starting ITS Tactical. In my opinion, they're one of the top tactical apparel companies out there today and I've always respected their company values and dedication to customer service. I'm also excited that everything I've purchased from them lately, in addition to these two garments we're reviewing today, are made in the USA.
It seems like almost every apparel item you pick up on a shelf today is made overseas. It's discouraging, but the more I've been learning about apparel manufacturing, the more I understand the trials and tribulations of getting apparel made in the US today. Something refreshing on TAD's Website is that they tell you exactly where every apparel item is made under the specs section.
Layering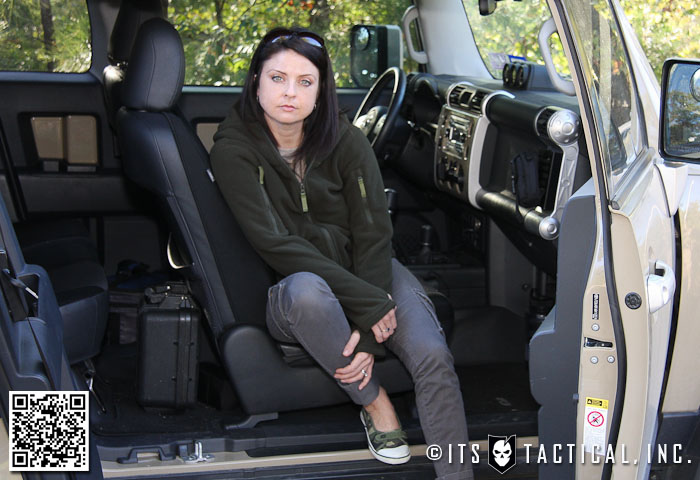 Something we haven't addressed much on ITS, that we will soon, is layering. Layering is extremely important as not only seasons change, but as your outdoor adventures continue to take you into changing environments. What comprises a true layer system is three layers that manage your body's heating and cooling system. A base layer, mid-layer and outer layer are all important parts of this system and can include an optional wind shirt as well.
While I'll keep this layer system explanation short, it's important to have a grasp of this when we're talking about the "flexible mid-layer" of the Ranger and Valkyrie Hoodies.
A base layer is worn next to your skin and wicks moisture away from your body. You don't want cotton here or anywhere for that matter. Remember "Cotton is Rotten." A good base layer should keep you dry. The mid-layer's job is to keep you insulated and warm, thus trapping air is the objective here. You want a certain amount of breathability here though too, because that moisture that's being wicked away from your base layer still needs a way to continue to escape. The outer layer should protect you from wind and rain and is often called a hardshell. While providing wind and water resistance, this layer must too be breathable. That moisture still has to find a way out.
Now that you have a basic understanding of layering, let's get into the hoodies.
Ranger and Valkyrie Mid-Layer Hoodies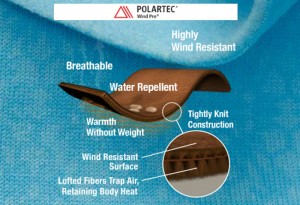 Advertised as a flexible mid-layers, the Ranger and Valkyrie Hoodies utilize Polartec Wind Pro fleece that's been treated with DWR (durable water repellent). Maintaining the comfort of traditional fleece, the DWR-treated Polartec Wind Pro provides up to four times as much wind resistance than traditional fleece. Couple that with being able to repel rain & snow and being able to maintain 85% of traditional fleece breathability.
Polartec Wind Pro Fleece is also marketed as retaining a pill-free performance and insulating ability through repeated use and laundering. It's important to note that is can also be washed in a standard washing machine.
While definitely not the smallest or lightest weight mid-layers available, what truly makes these hoodies appealing is the versatility. Being able to wear them both as a true mid-layer, or even an outer layer and not have to worry about rain and snow, is a definite plus.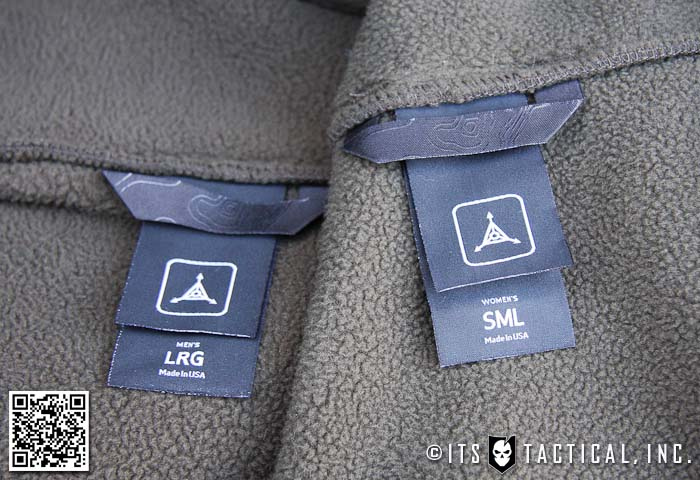 Rain truly does bead up on the DWR surface, but in a torrential downpour you'd be better off with a hardshell. However, the Wind Pro won't soak through like cotton will in the rain and takes a lot to become saturated. Even when it does, it can be wrung out and still maintain a degree of insulation.
Despite not being the smallest or lightest weight mid-layers, compared to other fleece layers Wind Pro is definitely more tightly woven and doesn't have the "loose" feeling that most fleece has.
Common Features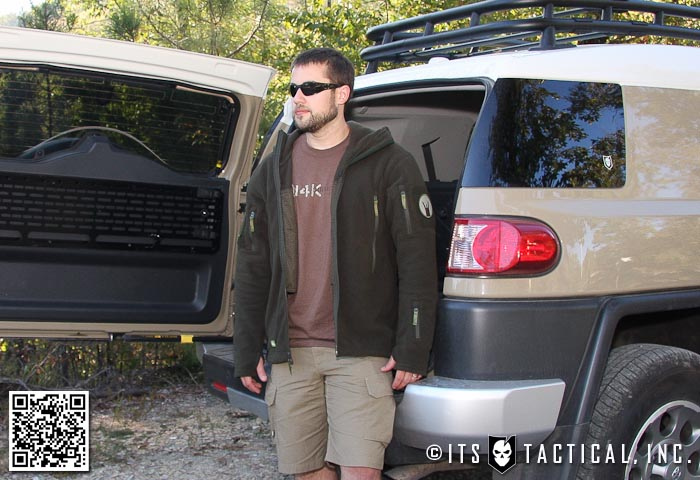 The Ranger and Valkyrie Hoodies both share many common features including material and an active fit. There are differences between them though, which we'll highlight separately in sections below.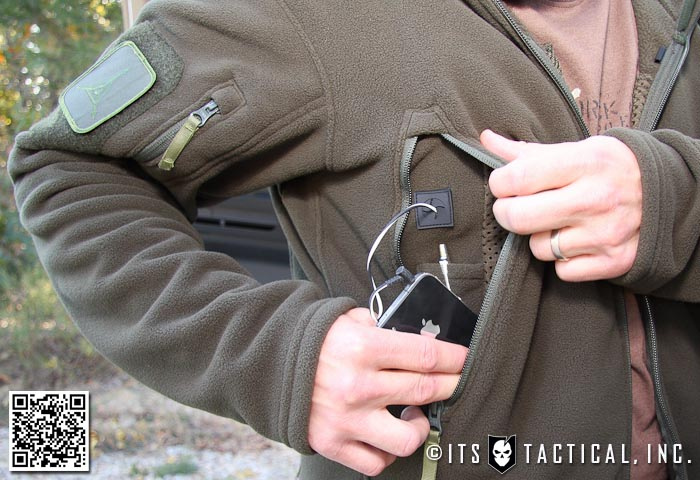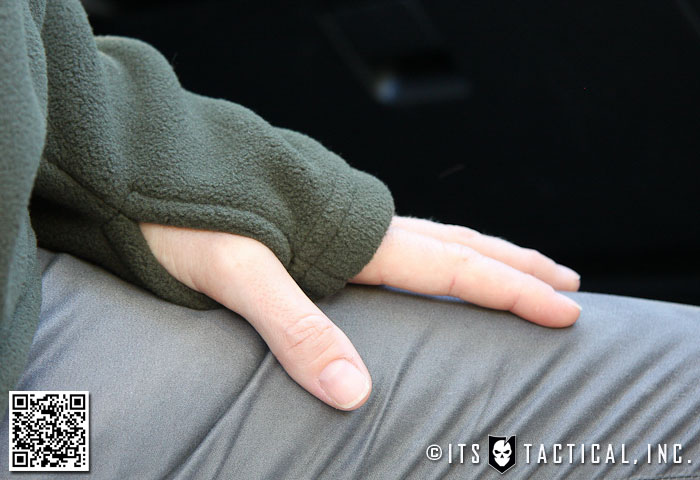 Single Underarm Panels w/ Pit Vents – The pit vents are a button-hole like shape versus traditional full zippers.
Aero Hood Design – A great design consideration that went into the Aero Hood was the ability for it to lie flat, reducing bulk around the neck.
Two Large Chest Pockets with D-Ring, Pen Pocket and Media Ports – The Ranger's chest pockets seem a bit higher up than the Valkyrie's, but are still not too high on either to rest your hands in.
Two Upper Arm Pockets with D-Ring and Media Ports – Traditionally with zippered upper arm pockets, opening and closing them can be difficult without holding the sleeve. The thumb hole sleeve cuffs make this entirely manageable.
YKK Zippers with Zipper Garages and Pull Tabs – Another element of the attention to detail that's visible throughout these hoodies!
Thumb Hole Cuffs Integrated into Cuff and Sleeve Seam – These thumb loops truly feel as if they're made to be there.
Drop Back Hem and Adjustable Locking Waist Drawcord – Ensures that the insulating properties of these mid-layers aren't wasted on a draft at your waist.
1″x1″ Loop Swatch with Included Logo Patch at Right Hip – The TAD PVC logo patch is glow-in-the-dark.
Made in the USA – Enough said.
Ranger Hoodie: Bryan
As mentioned I've been a customer of TAD for a long time and it's been awesome to see them continuously evolving their line-up of functional apparel and hard-use gear into all that it is today. Used by outdoor enthusiasts, Military and style conscious individuals alike, TAD has truly made a name for themselves since 1997 and is a company I find much in common with. Their devotion to attention to detail and design runs parallel with the principles that ITS was built on.
The Ranger Hoodie is no exception to TAD's legendary apparel. Each aspect of the construction has been meticulously honed and shaped into a product that exudes design perfection. I don't say that lightly either, it's impossible for me to spot any kind of flaw in the stitching or construction.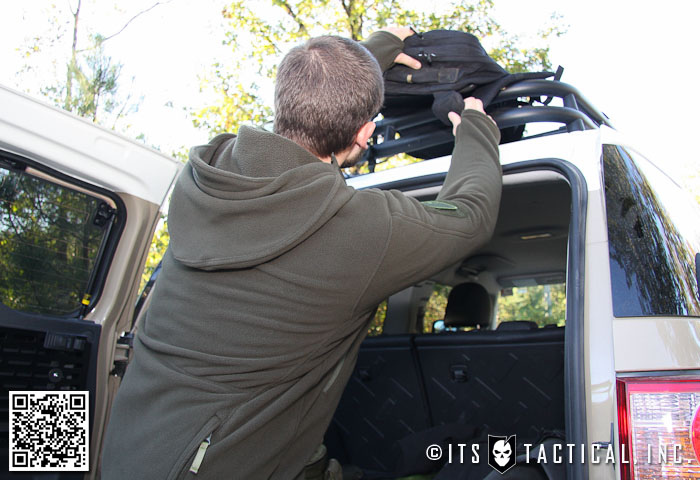 Features
Other than what we discussed above, there are quite a few features that the Ranger Hoodie has that the Valkyrie doesn't. The largest visual differences are the rear double-entry hunter's (duck) pocket and the left forearm pocket. I'm not a huge hunter and probably wouldn't stick a duck back there anyway if I did, but it's a nice feature to have. I've stored a beanie and gloves back there in both this Ranger Hoodie and the other jackets I own from TAD. It also makes a good magazine dump pouch for either a right or a wrong-handed person.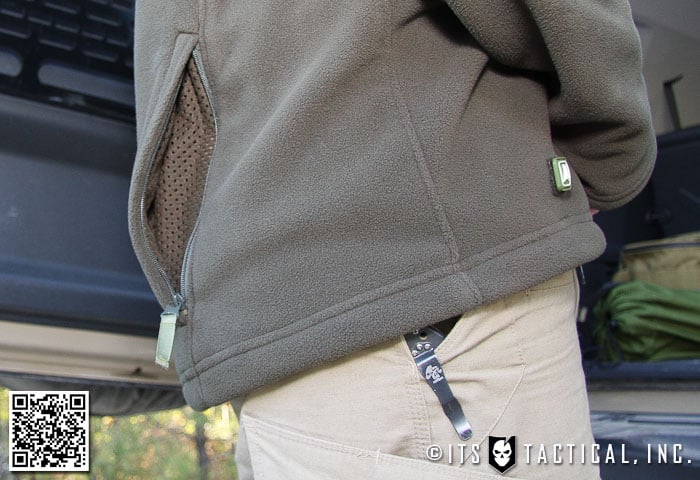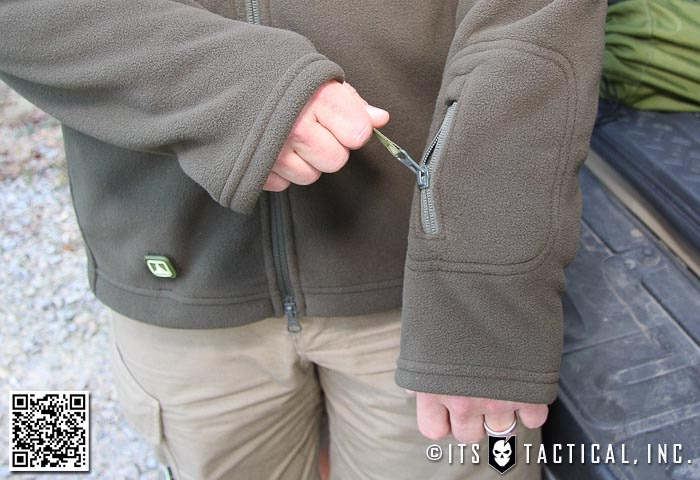 The left forearm pocket is also great for smaller items that might be included in your EDC, such as knives, fire starters, etc. While we're talking pockets, I need to note that the zipper caves that TAD has integrated really do a great job of silencing the zippers. The quality YKKs Covert Zippers they use also have some degree of silencing already with a spring-type pull that helps keep them from flopping around. The pen pockets, media ports and d-rings are all excellent features found on the pockets. Being able to dummy cord or lanyard in a device with something like a Coiled Lanyard we've shown on our KOTW is a tremendous benefit!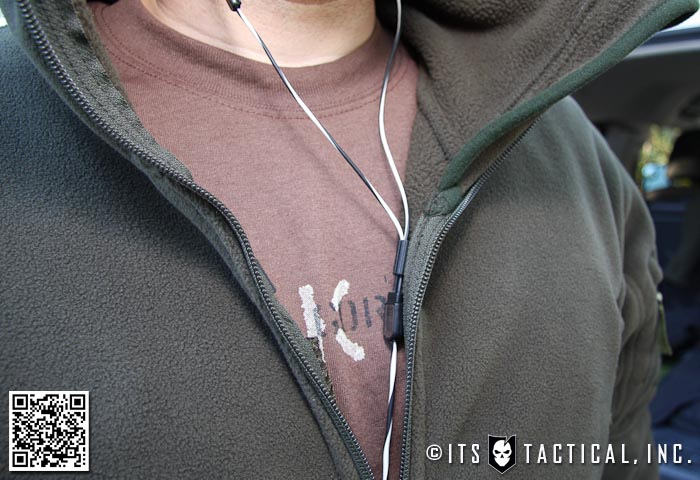 Chest pocket positioning also allows easy access if you're wearing a chest rig or body armor over the Ranger Hoodie. The media port contained in the chest pockets, as well as the sleeve pockets, is a small 1″x1″ PVC patch that's cut to allow easy routing of cords and headphones. A small but perfect example of the attention to detail again, is the inclusion of a small hard-plastic cable-routing tube sewn into the interior of the main zipper on both sides. This allows you to conveniently drop your headphones without worrying about them falling down below your waistline or hunting for them.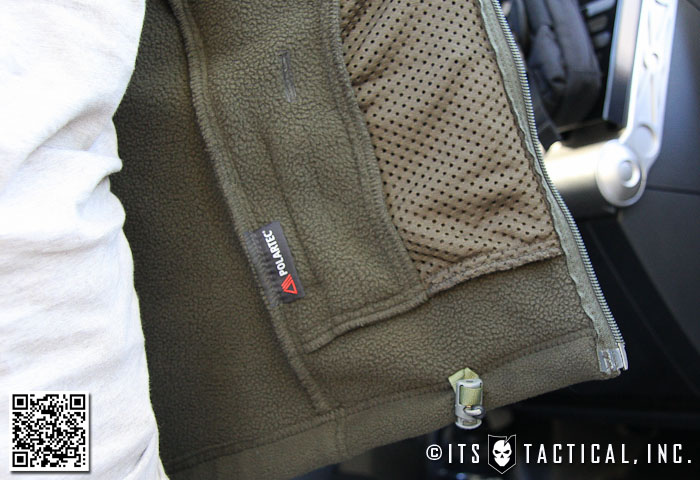 Pocket interiors are also lined with a sturdy mesh-like material that I really like. The interior is coated with what feels like fleece, so it maintains the overall softness of the hoodie, but allows ventilation at the same time. Many mesh pockets I've come into contact with feel thin and that they won't hold up to abuse, but this isn't the case on the pocket lining of the Ranger Hoodie.
Something the Valkyrie doesn't feature is the option to include or exclude die-cut 3″x5″ loop panels for patches on the sleeves. They're very nicely done; the rounded edges, color-matched loop and nearly invisible stitching all contribute to the seamless appearance of the loop panels.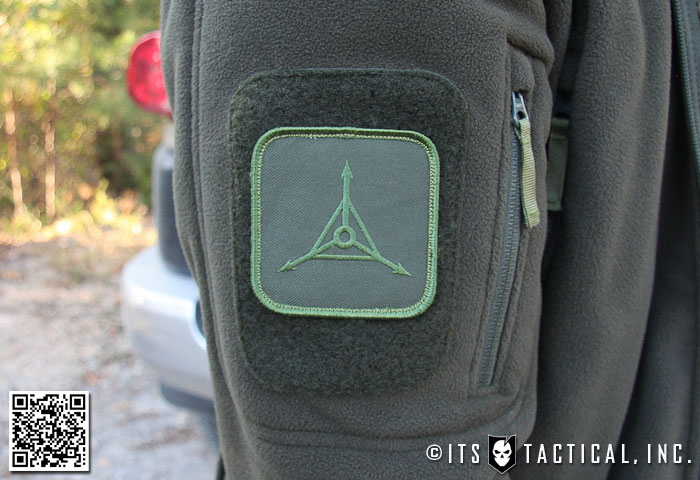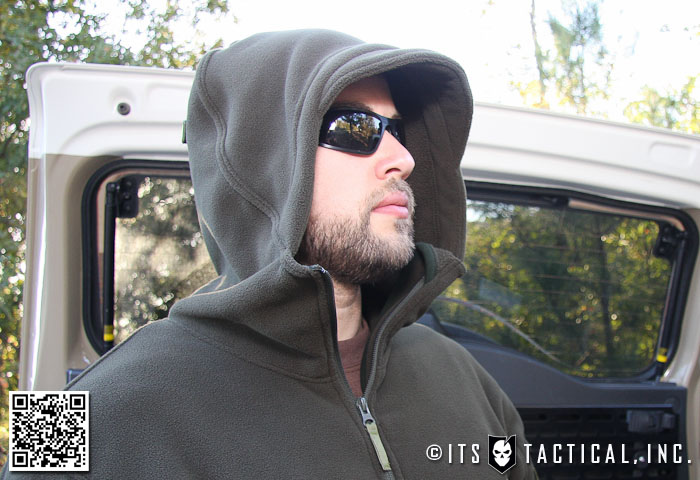 Another subtle difference on the Ranger Hoodie is the description of the flap on the main zipper near your chin. On the Ranger it's called a beard flap to prevent getting your beard caught up when your zipping up the jacket, but on the Valkyrie Hoodie it's called a chin guard. Nevertheless, another fantastic item of detail.
The last small feature is the inclusion of "Ranger Eyes" on the back of the Ranger Hoodie. Two 1″x1″ rounded-edge loop swatches are placed for reflective/glow-in-the-dark/IR identifiers.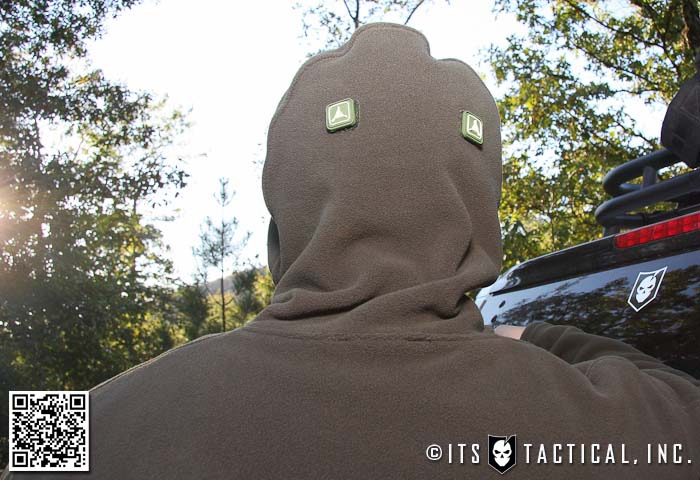 Ranger eyes are traditionally used for IFF (Identification Friend or Foe) and their purpose on the Ranger Hoodie is no different. It's a nice touch to be able to visually recognize friends or members of a unit without having to see them. TAD also offers a complement of glow-in-the-dark Ranger Eye velcro patches.
Usage and Fit
It's starting to get cold around here, even for Texas. I've been able to try out the Ranger Hoodie in quite a few different temperatures already and I'm really liking the versatility and warmth it provides. One particular outdoor adventure I was on recently, involved traveling at around 40 mph on a boat in cool early morning weather (40s). While not all the wind was blocked with the Ranger, it did an excellent job of keeping me warm and dry from the water spray while traveling.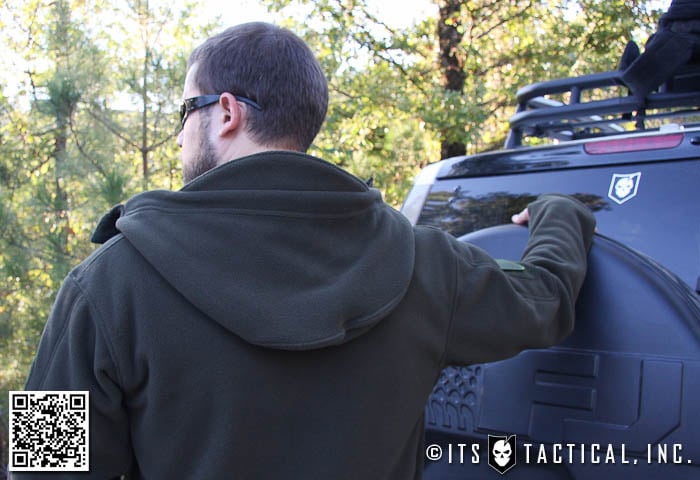 I was just backpacking last weekend and grateful I had the Ranger Hoodie along to wear in conjunction with an OR merino wool long-sleeve I have. That combination of a base and mid-layer, kept me warm enough through a mid-40 degree evening.
I've typically been a Medium to Large fit in most garments and it can often be challenging to know which to get when shopping. For you Military guys out there, I'm a Medium Regular. In t-shirts, large seems to work best. The Ranger Hoodie I'm reviewing is a Large and isn't too loose at all. I'm sure I could have fit into a Medium as well and might have gone with that if I was using it solely as a mid-layer, but because of the versatility of being an outer layer as well, I'm glad I went with the large. Additionally, the large fits well under a hardshell.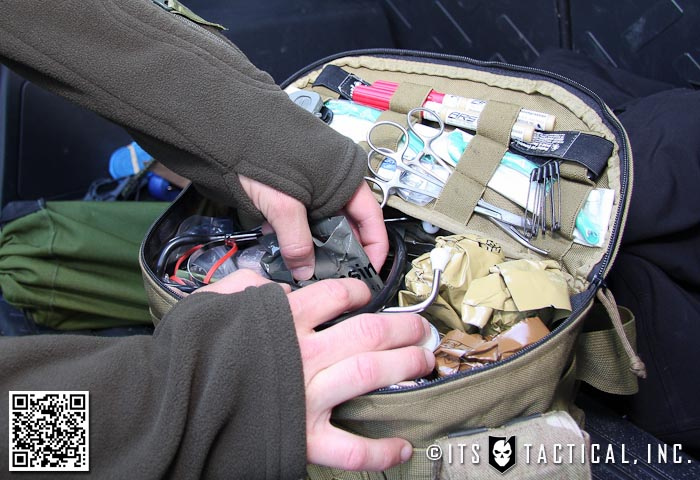 This is the first garment I've worn that features thumb holes and while I admit it was odd at first, I'm really enjoying having them. It's one more feature that adds to the versatility of the Ranger Hoodie and a stylish element not seen on many garments. It also feels like my hands stay warmer, but that may just be in my head.
The Triple Aught Design Ranger Hoodie is available in S, M, L, XL, XXL and XXL (each with or without upper arm patch loop.) It comes in Loden Green (as seen here), Black and UE Grey.
Valkyrie Hoodie: Kelly
Those of you who live in Texas know that our weather can go from sunny and 90 degrees, to 70 and windy with a chill to the air in less than 10 minutes. The current change from summer to fall has been no exception. Fortunately for me, I had the TAD Valkyrie Hoodie with me at a recent football game where that's exactly what happened.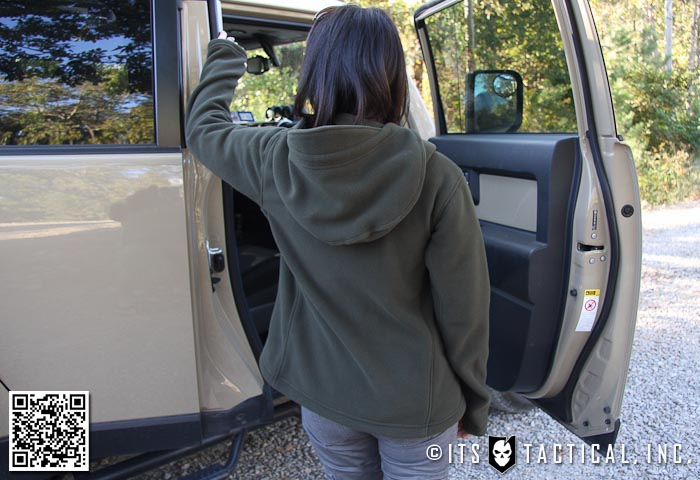 I looked around and saw plenty of ladies in the thin, mainstream hoodies and track jackets who were hunkered down trying not to shiver in the 25 mph cold gusty winds. The thumbhole cuffs kept my hands warm and also kept the draft from entering the sleeves and moving up my arms. The adjustable draw cord around the hem kept the bottom of the hoodie snug over my pants so that my torso also stayed toasty.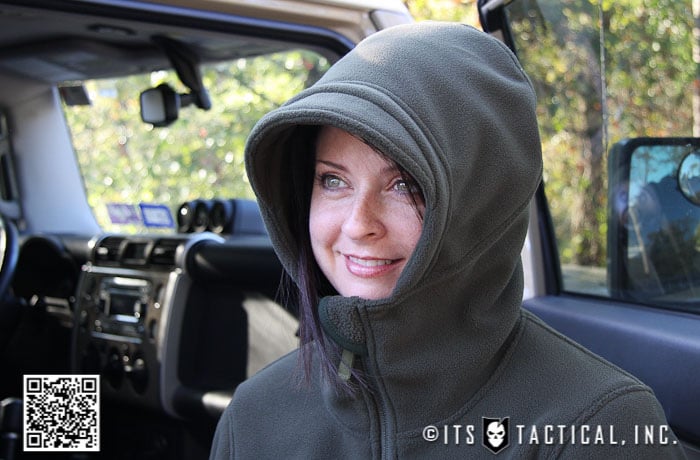 Recently, I was also in Arkansas where the nighttime temperatures were in the 40s and we spent a lot of time relaxing near a campfire. It was great to sit far enough away from the fire so I didn't feel the intense heat, but was protected from the cold while wearing the Valkyrie Hoodie and a simple cotton short-sleeved t-shirt underneath. I'm one of those gals who gets cold easily and is typically shivering with the slightest chill in the air, but while wearing the Valkyrie Hoodie I've actually been comfy in the cold air.
Blocking the wind and chill isn't all that's great about this hoodie. The hood has an extra brim on the front that TAD refers to as having an Aero Hood Design that lays flat against the back when it's not being used. There are multiple vents under the arms to help keep air circulating and the interior of the chest pockets and sleeve pockets have d-rings and media ports to help secure gloves, phones, keys or whatever you may need to keep handy.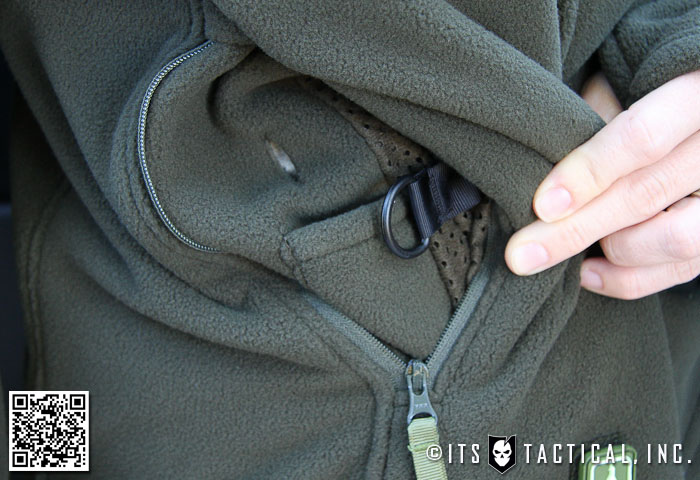 The media ports also run up through other strategically placed points inside the hoodie to help keep ear phone wires from flopping around or getting tangled in the zipper. Something to note is that the chest pockets are more like hand pockets and are a bit lower on the Valkyrie, as compared to the Ranger Hoodie above.
I also want to point out that I love the subtle branding that TAD includes on this garment. Close to the hem on the front of the hoodie, just to the right of the zipper, is a simple 1″ x 1″ loop square with the TAD logo patch which glows in the dark.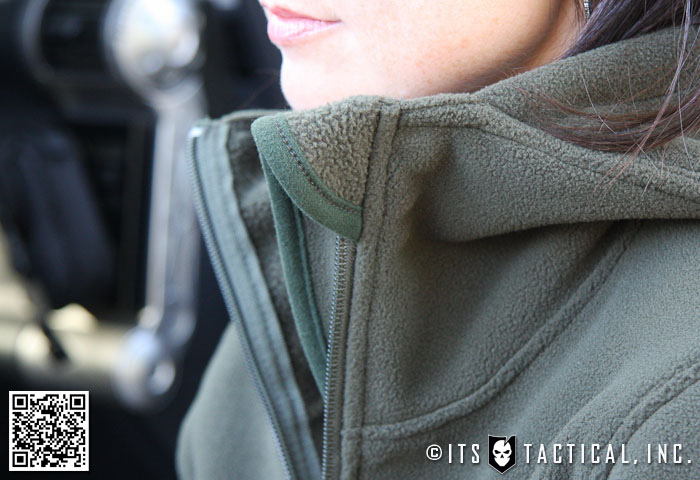 The styling is modern, sleek and complimentary to a feminine physique, which is hard to find in a fleece hoodie. I consider the 100% Polyester Polartec to be easy care too (I wash it and dry it in cool temps in a machine). I'm excited that the cooler weather is here to stay in Texas so that I'll have even more opportunities to stay warm in the Valkyrie Hoodie.
The Triple Aught Design Women's Valkyrie Hoodie is available in S, M, L and XL. It comes in Loden Green (as seen here), Black and UE Grey.