Carry The Load 2013: Lessons Learned and Event Information
Carry The Load 2013: Lessons Learned and Event Information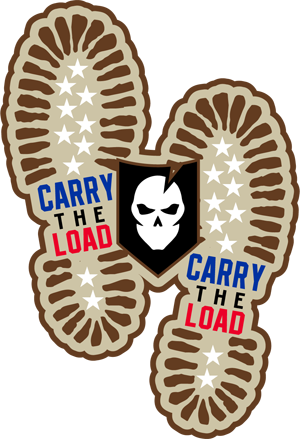 Carry The Load 2013 is just a few weeks away and today I'd like to give you some information on where the ITS Tactical Joint Task Force Team we've organized will be meeting up before the event, how to join if you haven't yet and a few tips and tricks I learned from participating last year.
If this is your first time hearing about Carry The Load, it's  a  life-changing journey for people as they walk or run as long or as little as they can in the 20-hour period from Sunday afternoon, May 26th through noon on Memorial Day, Monday, May 27th. Like the service members they honor, they carry more than they have to, longer than they think they can.
We'd love to have you out there walking with us, even if it's just for an hour. Head to this link to join our team! If you can't make it out and still want help us reach our goal of raising $5,000.00 for the charities that Carry The Load is sponsoring, we'd sincerely appreciate you donating here.
Lessons Learned
While these tips won't necessarily get into preparing you for walking, I'm going to touch first on some lessons learned from my experience last year at Carry The Load and what I'll do differently this year. During 2012, I walked a total of 33.81 miles in the 20 hour and 12 minute event, wearing a pair of Under Armor workout shorts, Under Armor loose fitting T-shirt,  TAD Fast Pack EDC (weighted with a 20 lb. pill) and Salomon Shoes. My socks were also thin, short cotton socks. Big mistake.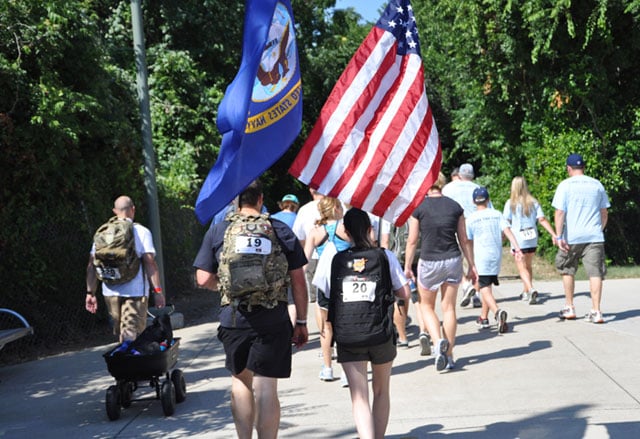 I tried to tough-guy it last year and didn't take care of my feet properly, which led to massive blisters and wearing flip flops for a few days afterwards to avoid putting my feet back into shoes. I also never stopped to change socks at all, nor did I even bring an extra pair. I honestly knew better, but don't really recall what justification I used to neglect some important aspects of foot care. The blisters really didn't hit me bad until the wee hours of the morning and I stopped by a medical station to wrap them up to prevent infection.
I also had some chafing that could have been treated by bringing along some body glide and pre-applying it before starting to the areas I already know I'm prone to chafing at. For me this is usually where my arm rubs my body from swinging just below my armpits and the insides of my legs.
A few of the better lessons learned were bringing a Source Hydration Bladder and properly hydrating before, during and after the event. There are three water stations as well as one at the start point (base camp) to fill up. With a 3 liter bladder I was just fine on water throughout the event and usually needed to just fill up at base camp.
I really liked the RunKeeper app that I used during the event to track my distance, it was nice knowing the ground I'd covered. I also brought plenty of snacks in my backpack, such as Lara Bars, Honey Stinger Waffles (the best), Energy Gels and trail mix. This year, as well as last, if you raised $200 you could stop for three free meals during the event as well. I can't recall what times the food was available, other than the single time I stopped at around midnight or so. I truly don't even remember what I ate either.
Plans for This Year
One thing I'm going to do is switch to boots this year, as well as bring an extra pairs of wool socks to change into when I start feeling hot spots. The pair I take off will get hung on my pack to dry out as I walk in case I need to switch back into them again. Depending on the temperature, I'm more than likely going to stick to shorts again, but haven't made up my mind on that one. I'll be pre-applying body glide too.
The boots I'm using are Lowa Renegades that are leather lined. I've really taken to leather lined boots in the past few years and have ditched gore-tex. I find that the leather lining conforms to my feet better and prevents odor. That and being super comfortable are the reasons I really love Lowa Renegades.
Other than those changes, which include focusing on taking care of my feet and body better, I've been trying to get out with a weighted pack. I'm a bit behind the curve on that one and I'm using these last few weeks to add that in. I don't plan on carrying any more than about 25 lbs. of weight total (including backpack weight) which is about what I carried last year.
If you're going to carry a weighted pack, I suggest to start integrating it into some aspect of training. There's obviously no requirement during the event to carry weight, but it's just something I'm doing to honor those that I'm carrying the load for on Memorial Day. Putting some mileage in walking is also important if you plan to walk the whole event.
Where to Meet?
Carry The Load is taking place on the Katy Trail in Dallas, where participants walk a 6 mile loop multiple times during the event (if you stay for the whole thing.) The starting point is at Reverchon Park  (click the link for directions), which also serves as the base camp for Carry The Load. Here's a map of the route.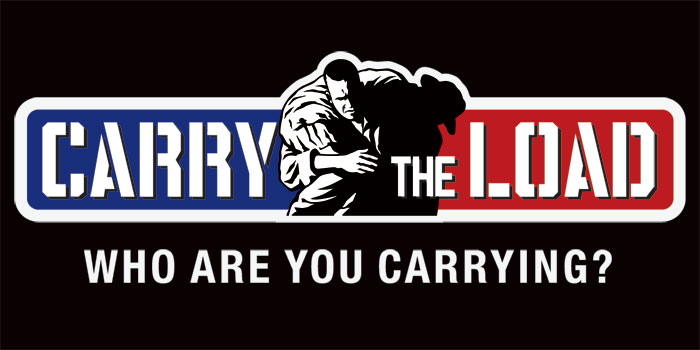 It's important to mention that registration for the event is free, but those that raise $200 will earn a free t-shirt, 3 meal tickets and a parking pass. If we're one of the first 50 teams to raise $5k, we'll qualify for a spot in the tailgate area for our group to use during the event and can plan out some other things to do there. It would truly be great for storage of team gear, extra food, etc.
Opening ceremonies for Carry The Load begin at 3:30 pm on Sunday, May 26th and the walk begins at 4 pm. We'd like for everyone to meet just outside the entrance into the event at Reverchon Park at 3 pm. We'll only be there to meet everyone until about 3:20 pm and will then enter to attend the opening ceremonies. We'll certainly have some ITS swag for everyone too!
Everything will wrap up at 12:13 pm on Monday, May 27th and be followed by closing ceremonies and awards at 12:20 pm. Don't forget to pick up your registration packets at Luke's Locker in Dallas or Plano on May 24th or 25th from 10 am until 6 pm.
We look forward to seeing you at Carry The Load 2013! Even if you're just coming out for a bit, please register here for free, so we know to look for you before the event.