Combat Flip Flops Offers Exclusive Discount to ITS Members
Combat Flip Flops Offers Exclusive Discount to ITS Members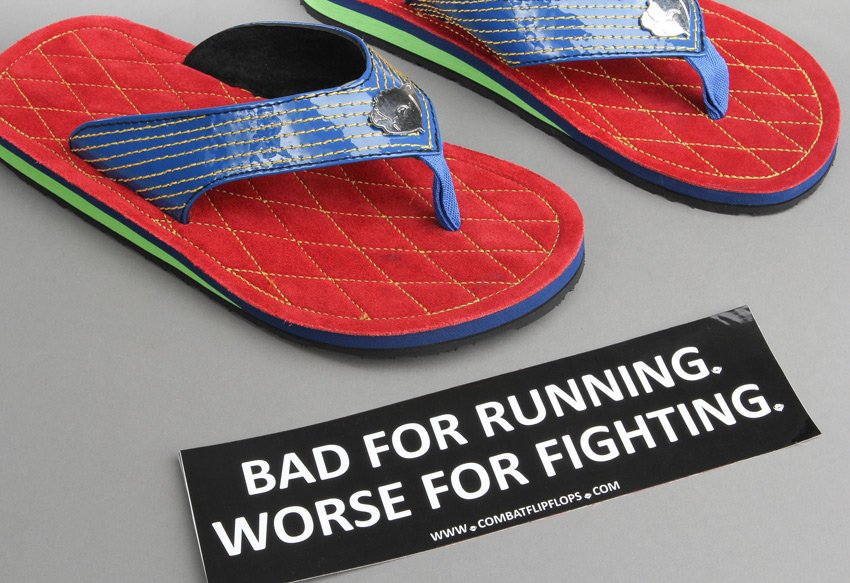 They may be "bad for running and worse for fighting" but they're comfortable, stylish and by supporting Combat Flip Flops, you're helping to build a strong economy through their manufacture in Afghanistan. Their signature style draws inspiration from the Afghan culture and works to create a connection with the wearer.
Bryan and Kelly have both tried a pair for themselves and were truly impressed with the craftsmanship and quality of these flip flops. We decided it was something we needed to share and we worked out a deal with Combat Flip Flops to provide a discount to members of ITS Tactical.
Combat Flip Flops History
The company was started by two American soldiers who spent numerous deployments in Afghanistan. Together they saw first hand the need for jobs as Afghans worked to build a sustainable way of life for their families.
As international forces withdraw in 2014, the mature Afghan National Army and Police will take the lead. Footwear manufacturers in Kabul depend heavily on military contracts, so any decrease in volume has a huge impact on operations. The team is working to expand and fill orders as quickly as possible while also enabling locals to make a living.
Combat Flip Flops has been generous enough to offer ITS Tactical Members 25% off their entire order through combatflipflops.com. This deal is good on anything in their store which includes stickers, t-shirts, etc. and obviously flip flops.
While you're there, you should also check out their Blamo's selection. These flip flops may have a minor blemish but they still are perfectly good to wear, have the same warranty as their counterparts and they come at a great discounted price.
Sometimes mistakes happen. We get a little glue on a footbed, a stitch line gets crazy, natural leather appears natural. Others may refer to their less than perfect products as "seconds," "B grade," or the like. We like to call our special creations "Blamo's".

Want in on this deal?
To become a Member or to check out the full list of participating vendors in our Discount Buyers Club, click here.
Here are some of the other awesome benefits you'll receive when you enlist as a Crew Leader:
Access to the Tactical Discount Buyers Club!
Members only Forum with Crew Leader distinction (Forum requires separate registration)
Free ITS Crew Leader Rocker Patch and ITS Logo Patch to proudly display your Crew Leader affiliation (color of patches based on availability)
Free copies of all eBooks we release on ITS Tactical
15% off all ITS Tactical Merchandise (Code available on Dashboard once membership is processed)
Downloadable mobile ready versions of our YouTube videos
Subscription to the ITS Tactical Newsletter
Exclusive Members only giveaways and contests
Exclusive Members only videos
ITS Members: Make sure you are logged in and then head here for more information.