Adventure Anywhere with the Lightweight, Packable NEMO Meta 1P
Adventure Anywhere with the Lightweight, Packable NEMO Meta 1P
I arrived to my camp site around 2 in the morning. The full moon gave decent light but the drive into Yosemite Valley was completely foggy so I missed out on the scenery.
Searching for a spot to set up my tent, I eventually found one that someone had recently dug out. I wasn't prepared to clear the hard pack frosted layer of snow so this was perfect.
Even in the dark, setup was a breeze with the Meta 1P. Pitched and  ready for sleeping, I threw my bag in the tent and racked out.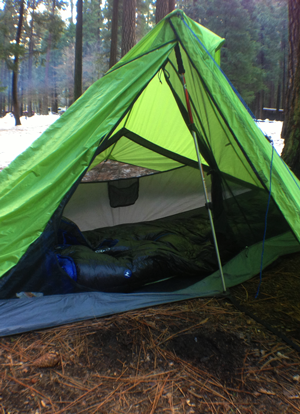 While I was only in California for a few days, I decided to spend them camping and made sure to pack the Meta 1P and a trekking pole. That's all you need to set it up and it packs down to roughly the size of a cantaloupe.
NEMO was kind enough to send it as a sample to use during the GORUCK Ascent and I've used it many other places since then. In fact, I've used everywhere from my backyard to almost 12,000 feet in Colorado.
The NEMO Meta 1P has served me well for over a year now. A combination of good looks and ease of use make it easy for me to recommend to others.
Important Numbers
Capacity 1P
Minimum Weight 1 lb, 15 oz / 879 g
Trail Weight 2 lbs, 8 oz / 1.1 kg
Floor Dimensions 100 x 36 in / 254 x 91 cm
Floor Area 26 sq ft / 2.4 sq m
Vestibule Area 13 sq ft / 1.2 sq m
Interior Height 50 in / 127 cm
Number of Doors 1
Packed Size 6 x 6 in / 15 x 15 cm
Shell and Vesituble Fabric 20D PU Nylon
Floor Fabric 30D PU Nylon Ripstop (5000mm)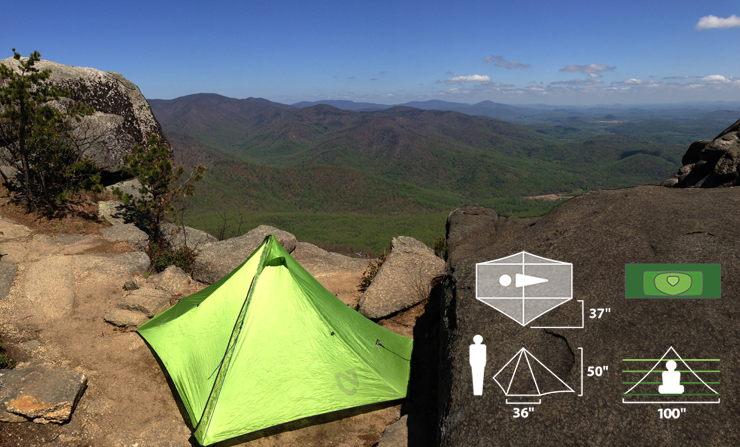 Note: See that graphic on the right part of the image above? NEMO Equipment just introduced new way of illustrating tent height with a tent topographic view. It's a great new way to give you an idea on the interior space of their tents.
Capacity
This tent is labeled as a one person tent but Bryan and I can vouch for the fact that it can handle two adult males with their gear just fine. To save weight on packing items for the GORUCK Ascent, Bryan and I decided to share one tent. It was a bit tight and didn't allow for a lot of movement but we weren't too uncomfortable.
You can sleep two head to toe if you put your gear outside of the tent protected by the vestibule. With the vestibule area around half the size of the interior floor space, I bet you could fit four people total in an emergency situation with two inside and two under the vestibule but I haven't tested nor do I recommend it if comfort is your goal.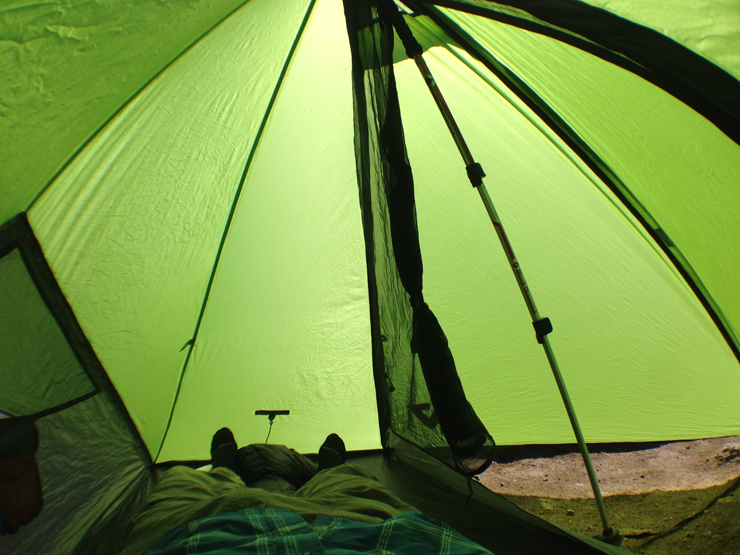 Setup
Setting up is extremely simple.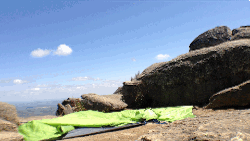 Find a level surface for the tent
Stake out each anchor point
Insert and extend your trekking pole
Stop when tent is taught
Comfort
It's really great to use as intended and when it's just you and your gear in the tent, the spaciousness and comfort are a perfect marriage. I never feel cramped in the Meta 1P. You may have seen Bryan's review of the NEMO Gogo LE and while these tents are similar in many ways, they are also very different.
The Gogo is a bivvy style tent that is really only designed for lying down while the Meta 1P provides most people the ability to sit up just fine. When out camping, I like to read and being able to sit upright is a huge benefit for me. You'll also appreciate the headroom while getting changed or going through your gear.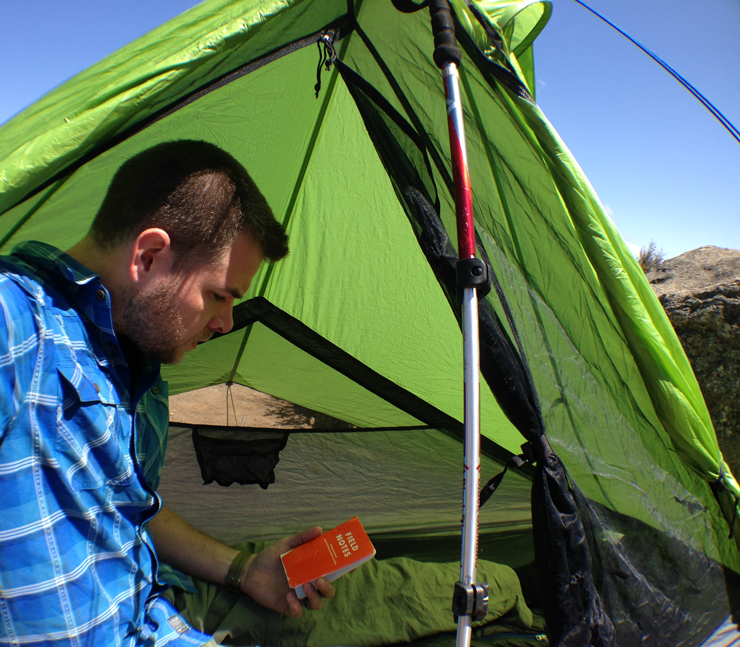 Even with a small top vent and one on the back, I never felt that fresh air wasn't being brought in. Weather permitting, you can also fully roll back both parts of the vestibule to leave the screened interior completely exposed for maximum ventilation.
Weight
The packed weight is 2 lbs. 8 oz. but it can be trimmed down to be as light as 1 lb. 15 oz. That's even lighter than the GOGO LE that Bryan reviewed which can be only get down to 2 lbs. 2 oz. One way I save weight is by using a Polycryo Ground Cloth from Gossamer Gear. It starts as a large sheet at 3.65 oz. but can be cut to fit your specific tent.
Just as Bryan mentioned in his review, NEMO includes the minimum number of stakes to set up the tent but you'll benefit from carrying a few more. In this case, having two more to extend guy lines away from the head and the feet will help keep your body or gear from getting damp through condensation.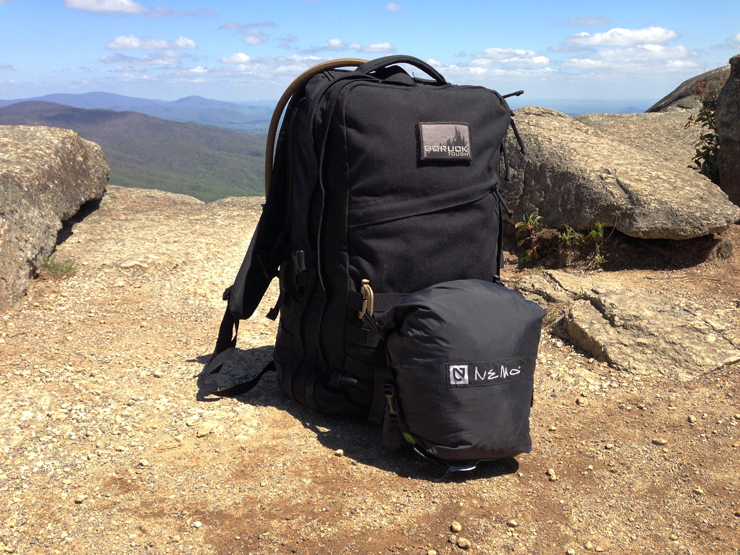 GORUCK GR2 [40L volume] shown for size comparison
Critiques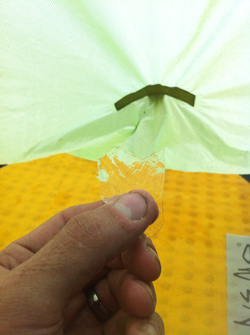 It's a single wall tent, so you may get some condensation on the inside. One freezing night, I awoke to a thin sheet of ice on the inside of the tent by my head. There were two of us in there sleeping and breathing which may have amounted to more condensation than usual but it's still something you have to deal with.
This tent uses a single trekking pole as the main support and that may be an issue if you don't usually camp or hike with trekking poles. NEMO does sell a lightweight (4.8 oz) pole made just for the Meta 1P and if you are really looking to save some money, I bet you can find someone with a broken trekking pole who will give you their second one cheap or even for free.  I have also used a stick before and it worked just fine but I wouldn't want to rely on it.
Conclusion
What I like most about the Meta 1P is that it feels at home in a variety of situations. Everything from an overnighter in the backyard, a week at a campground for the Muster, or setting up camp at 12,000 feet in Colorado, there isn't much this tent can't handle.
There may lighter weight shelter options out there but they are often more expensive and confusing to use. The NEMO Meta 1P is something almost anyone can set up easily if they are looking to camp in a more minimal fashion without sacrificing space and comfort.

 Click here to view more photos of the NEMO Meta 1P
Where to Get It