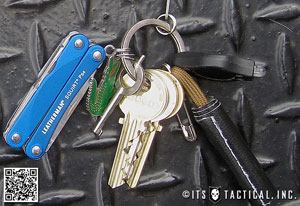 I've always believed that having tools close at hand is essential to being a highly effective, prepared human being. Because of that philosophy, I usually carry quite a bit of stuff with me — 12 different items distributed between five pockets!
While I love having good kit close at hand, I don't always have the time or luxury for a full EDC loadout and sometimes this stuff just gets left at home. However, the one constant, regardless of time or clothing, are my keys. Unless I've locked myself out of the house, I will always have my keys with me.
Most people I know don't carry nearly as much stuff as I do, but they all carry a set of keys. Because everyone always carries keys, it's my opinion that keychain based tools are the most universal and logical foundation for any EDC loadout.
While this advice is useful for gear heads like us, it's especially relevant when it comes to equipping our friends and family members who are currently not interested in preparedness. In my experience, adding a few small, well-chosen items to someone's keychain is the most reliable and effective way to ensure they will have the right tools when they need them, without pushing them beyond their comfort limits. [Read More…]
{ 43 comments }